Soulbound Double Strike ⚔ Splinterlands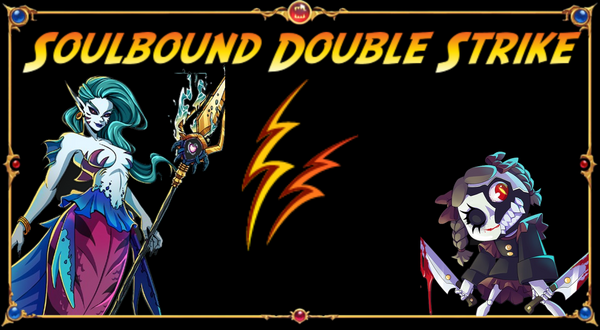 Com o lançamento das cartas Soulbounds foram adicionadas ao Splinterlands inúmeras cartas interessantes e muito poderosas. O fato delas não serem negociáveis as tornam ainda mais especiais pois é difícil conseguir evoluí-las rapidamente e você depende muito da sorte para ganhar várias unidades ou uma Gold Foil no baú. Dentre estas cartas eu quero destacar as que possuem a habilidade Double Strike

pois já consegui ganhar várias cópias de quase todas as cartas e pude experimentá-las em batalha. Ao todo são 4 as cartas Soulbound que possuem Double Strike

, sendo duas comuns e duas lendárias.

Tanto a Possessed Puppet quanto a Coastal Sentry são cartas capazes de atacar duas vezes mas não possuem nenhuma outra habilidade que lhes permita bater de outras posições, a Drybone Raider possui o mesmo problema mas com o adicional de também ter ataque a distância para compensar. A única exceção é o Sorriel the Bale que é capaz de atacar de qualquer posição por ser uma carta mágica às custas de estatísticas de defensivas e velocidade medíocres. Sabendo disso fica óbvio que a melhor de utilizar estas cartas é selecioná-las nas partidas com as regras Equal Opportunity

, Melee Mayhem

ou Super Sneak

.
Sobre o level up das cartas comuns existem 2 níveis principais que fazem muita diferença. O primeiro é o level 4 pois as duas cartas recebem um aumento no seu ataque (que é duplamente efetivo por causa do Double Strike

) e no level 6 pois elas recebem mais uma habilidade que combina perfeitamente com a premissa de cartas focadas em causar dano. A Drybone Raider no seu level 2 também recebe uma ótima habilidade que aumenta sua eficiência enquanto o Sorriel the Bale apesar de Blind

ser útil não acredito que seja uma carta que compense o seu custo de mana (a menos que exista muita mana disponível para justificar esse gasto).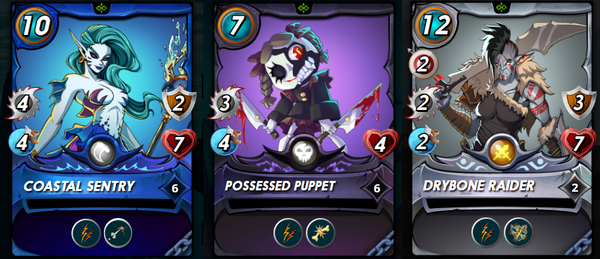 Eu acho todas as três extremamente úteis por possuírem habilidades ótimas para causar muito dano no adversário (apesar de serem dependentes de regras de combate específicas) mas a minha favorita é a Coastal Sentry no level 6. Apesar do alto custo de mana ela possui um ótimo conjunto de estatísticas defensivas e ofensivas, além ganhar a habilidade Piercing

que contribuiu bastante para que ela cause seu altíssimo dano sem ser interrompidas por armaduras. Ao combiná-la com um invocador como a Daria Dragonscale e a carta Demented Shark você será capaz de causar 12 de dano por turno em uma única carta, THAT'S A LOT OF DAMAGE!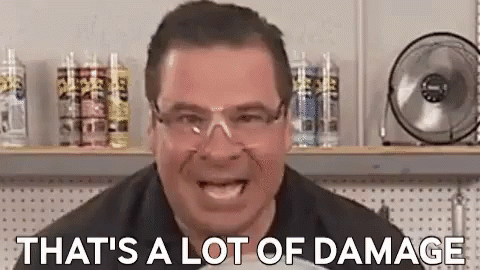 Ainda não tive sorte o suficiente para conseguir nivelá-las para o level 6 mas as duas comuns já estão no level 4, portanto possuem um de dano a mais para acertar com força meus inimigos. Combe-as com as regras e cartas mencionadas acima e seja feliz!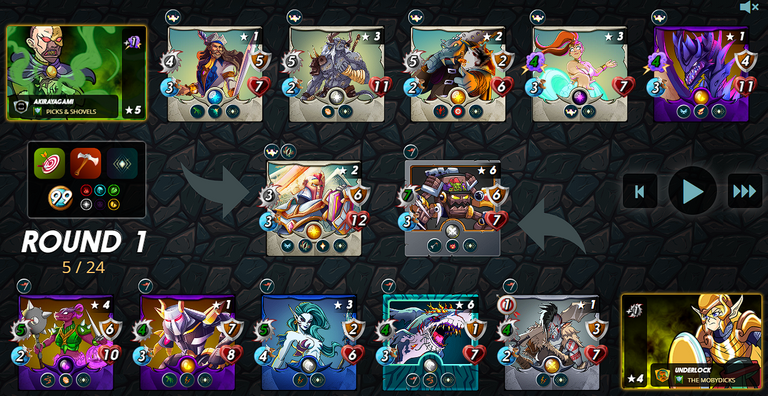 (Nessa batalha a Coastal Sentry ainda estava no level 3)
Elas sempre serão cartas situacionais e não há como fugir disso, mas mesmo assim se você utilizá-las nas partidas adequadas será possível extrair um potencial de dano absurdo, portanto não esqueça de nivelar suas cartas e testá-las conforme seus leveis forem subindo pois você não se arrependerá.
Nessa partida em específico minha composição destruiu completamente o time inimigo causando incríveis 44 de dano por turno (ignorando as reduções das armaduras), possibilitando uma vitória rápida.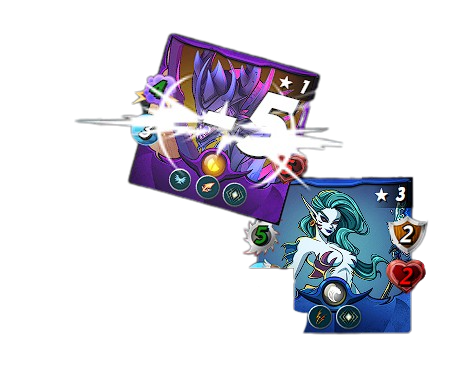 Muito obrigado a todos que leram até aqui, espero que tenham gostado. Se vocês curtirem meus conteúdos, peço que deixem o seu voto na postagem e sigam o meu perfil para poderem acompanhar as futuras postagens.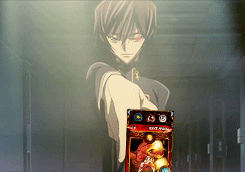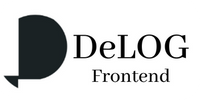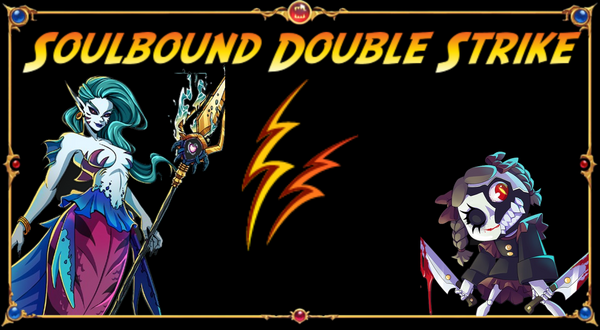 With the release of the Soulbounds cards, a number of interesting and very powerful cards have been added to Splinterlands. The fact that they are not tradable makes them even more special because it is difficult to evolve them quickly and you depend a lot on luck to open several units or a Gold Foil in the chest. Among these cards I want to highlight the ones that have the ability Double Strike

because I have managed to win several copies of almost all the cards and I could try them in battle. In all there are 4 Soulbound cards that have Double Strike

, two being common and two legendary.

Both Possessed Puppet and Coastal Sentry are cards capable of attacking twice but have no other ability that allows them to hit from other positions, Drybone Raider has the same problem but with the additional of also having ranged attack to compensate. The only exception is Sorriel the Bale which is able to attack from any position because it is a magic card at the expense of mediocre defensive stats and speed. Knowing this it becomes obvious that the best way to use these cards is to select them in matches with the rules Equal Opportunity

, Melee Mayhem

or Super Sneak

.
About the level up of the common cards there are 2 main levels that make a lot of difference. The first is at level 4 as both cards get an increase in their attack (which is doubly effective because of the Double Strike

) and at level 6 as they get one more ability that perfectly matches the premise of damage-focused cards. The Drybone Raider at its level 2 also gets a great ability that increases its efficiency while the Sorriel the Bale although Blind

is useful I don't believe it is a card that makes up for its mana cost (unless there is plenty of mana available to justify that expense).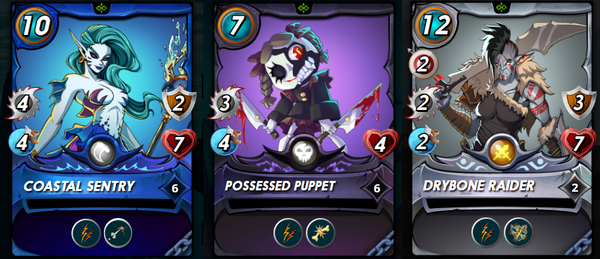 I find all three extremely useful as they have great abilities to do a lot of damage to opponents (although they are dependent on specific combat rules) but my favorite is the Coastal Sentry at level 6. Despite the high mana cost it has a great set of defensive and offensive stats, plus it gains the Piercing

ability which has contributed greatly to it doing its very high damage without being interrupted by armor. By combining it with a summoner like Daria Dragonscale and the Demented Shark card you will be able to do 12 damage per turn on a single card, THAT'S A LOT OF DAMAGE!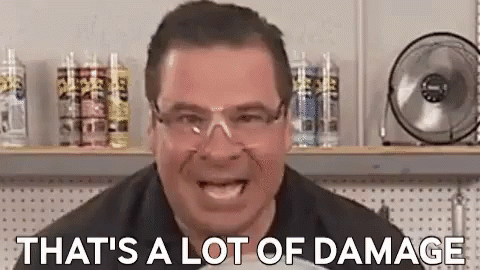 I haven't been lucky enough to level them up to level 6 yet, but the two commons are already at level 4, so they have an extra one of damage to hit my enemies hard. Combine them with the rules and cards mentioned above and be happy!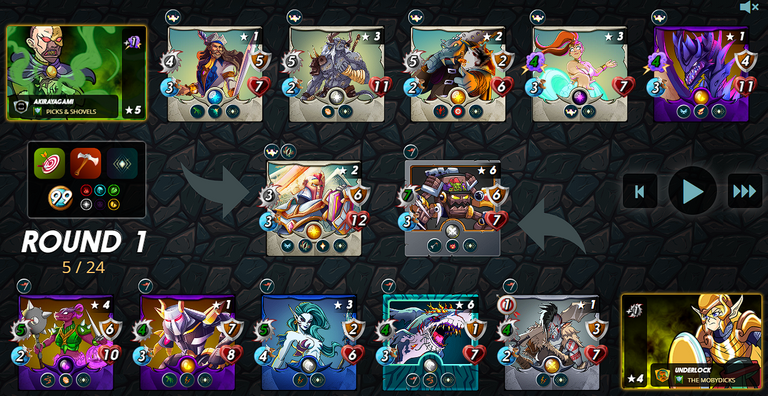 (In this battle the Coastal Sentry was still at level 3)
They will always be situational cards and there is no getting away from that, but still if you use them in the right matches you can extract absurd damage potential, so don't forget to level up your cards and test them as your levels go up because you won't regret it.
In this particular match my composition completely destroyed the enemy team causing an incredible 44 damage per turn (ignoring armor reductions), enabling a quick victory.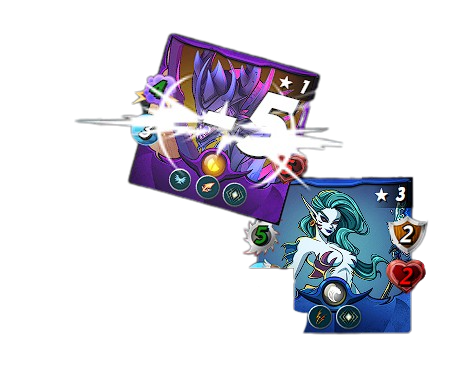 Thank you so much to everyone who read this far, I hope you enjoyed it. If you like my content, I ask you to send your vote on the post and follow my profile so you can read future posts.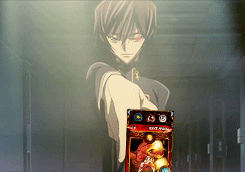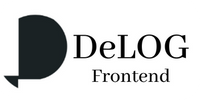 ---
---