War Among Brazilians ⚔ Splinterlands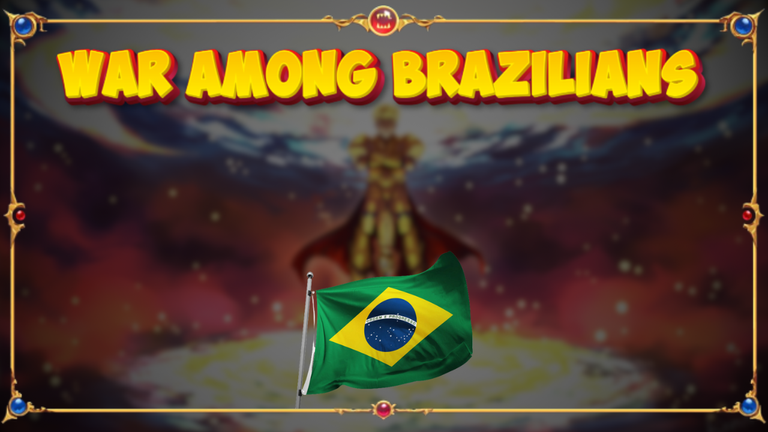 Alguns dias atrás eu perdi uma partida de Splinterlands para o @pablito.saldo que também é um brasileiro bastante ativo da @Hive-br por ter esquecido de montar o time (passei tempo demais no facebook 🤣), mas agora durante o meu farm diário eu tive a chance de enfrentá-lo novamente e dessa vez eu queria ter um resultado diferente, então me empenhei bastante para montar a melhor composição possível e sair como vitorioso dessa vez (aquela competição saudável).

Nessa situação não há para onde fugir, tendo apenas a opção do elemento Vida

como escolha, as possibilidades se limitam às cartas disponíveis na coleção de cada jogador e vencerá aquele que possuir as melhoras cartas e conseguir montar a melhor estratégia. Por não gostar tanto de composições Ranged eu possuo pouquíssimas cartas alugadas/compradas com esse foco, então tudo que me restou foi optar por uma composição mais defensiva utilizando o Grandmaster Rathe como opção bem sólida para invocador e criando um time composto por cartas com muitas habilidades de suporte.
O maior diferencial entre nossas composições foi que eu optei pelo Jared Scar na Frontline com foco em causar dano (e com potencial de ser amplificada com os efeitos de Bloodlust

) e posicionei o Shieldbearer na última posição para que seu Taunt

pudesse controlar o campo enquanto ele recebe os efeitos de Triage

e Repair

para permanecer vivo o máximo de tempo possível. Já o Pablito focou em tankar o máximo possível com as primeiras cartas, dar suporte com as duas posteriores e causar dano com a Celestial Harpy e o Silvershield Assassin.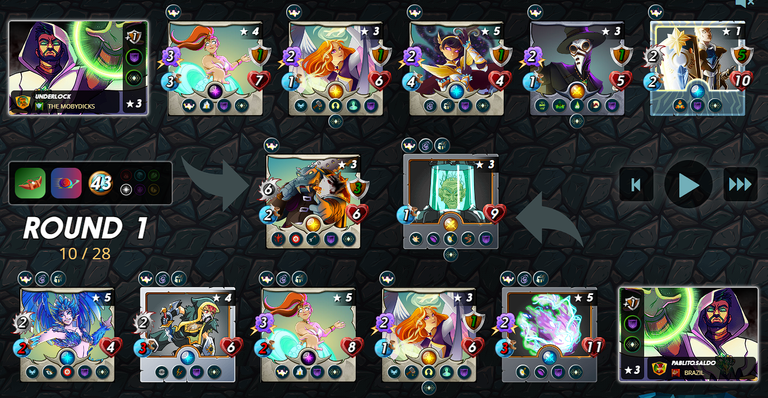 Apesar da composição dele ser muito mais robusta e diversificada no dano, a concentração dos meus ataques na frontline permitiu que o Lord Arianthus fosse eliminado no início da segunda rodada (ele recebeu Resurect

mas morreu novamente logo em seguida pois não possuia armadura para protegê-lo) por causa do Poison

.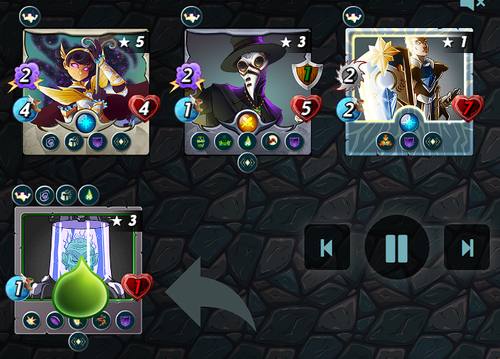 O Shieldbearer também foi eliminado na segunda rodada mas foi revivido e teve sua armadura completamente regenerada, isso impediu que ele morresse rapidamente e deu tempo que novas curas e regenerações de armadura fossem aplicadas nele. A principal desvantagem do time inimigo foi escolher cartas com pouca armadura e depender exclusivamente da armadura gerada pelo invocador, isso permitiu que a Time Mage counterasse completamente essa proteção com a habilidade Rust

.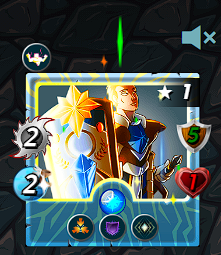 Esse conjunto de fatores garantiram uma grande vantagem para o meu time e apesar das minhas cartas terem chegado bem perto da morte, a partida foi finalizada com todas as 6 cartas permanecendo vivas, uma ótima vingança né @pablito.saldo?!
Muito obrigado a todos que leram até aqui, espero que tenham gostado. Se vocês curtirem meus conteúdos, peço que deixem o seu voto na postagem e sigam o meu perfil para poderem acompanhar as futuras postagens.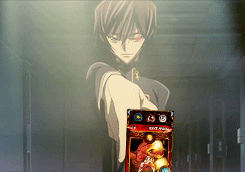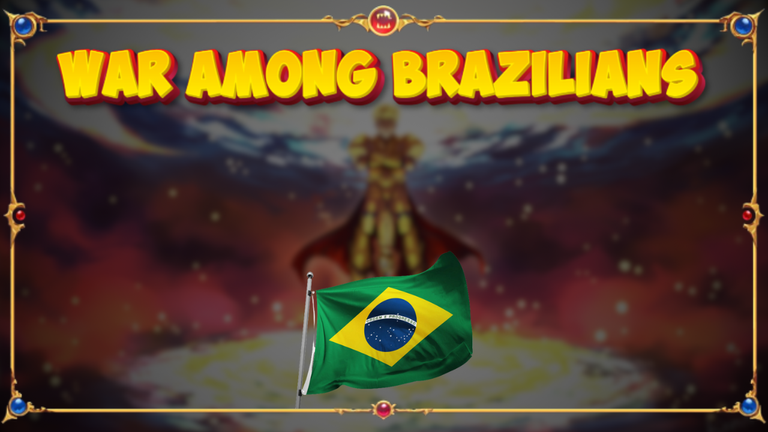 Translated by ChatGPT.
A few days ago, I lost a game of Splinterlands to @pablito.saldo, who is also a very active Brazilian player from @Hive-br because I forgot to assemble my team (spent too much time on Facebook 🤣). But now, during my daily farming, I had the chance to face him again and this time I wanted a different outcome. So, I put a lot of effort into building the best possible composition and aiming to come out as the victor this time (that healthy competition).

In this situation, there's no escaping it, with only the Life

element as the choice, possibilities are limited to the cards available in each player's collection. The winner will be the one with the best cards and the ability to assemble the best strategy. Since I'm not a big fan of Ranged compositions, I have very few rented/purchased cards with that focus. So, all I had left was to opt for a more defensive composition using Grandmaster Rathe as a solid option for summoner and creating a team composed of cards with many support abilities.
The biggest difference between our compositions was that I chose Jared Scar on the Frontline with a focus on dealing damage (and with the potential to be amplified by the effects of Bloodlust

) and positioned Shieldbearer in the last position so that his Taunt

could control the field while he received the effects of Triage

and Repair

to stay alive as long as possible. On the other hand, Pablito focused on tanking with the first cards, providing support with the next two, and dealing damage with Celestial Harpy and Silvershield Assassin.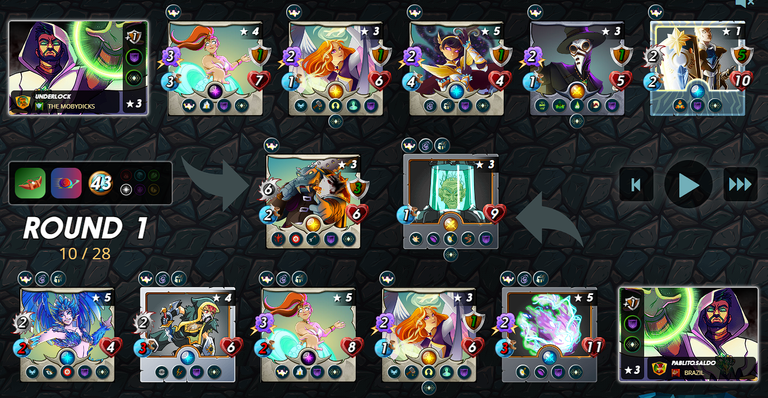 Despite his composition being much more robust and diversified in damage, the concentration of my attacks on the frontline allowed Lord Arianthus to be eliminated at the beginning of the second round (he received Resurrect

but died again shortly afterward because he didn't have armor to protect him) due to Poison

.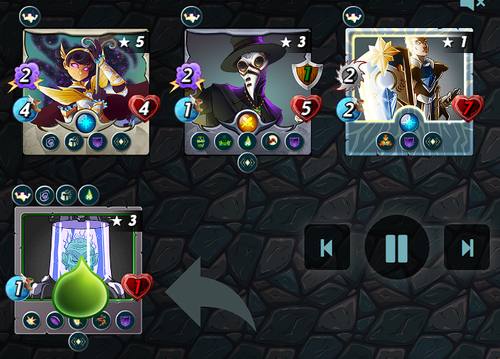 Shieldbearer was also eliminated in the second round but was revived and had his armor completely regenerated. This prevented him from dying quickly and allowed time for new healing and armor regenerations to be applied to him. The main disadvantage of the enemy team was choosing cards with little armor and relying solely on the armor generated by the summoner. This allowed Time Mage to completely counteract this protection with the Rust

ability.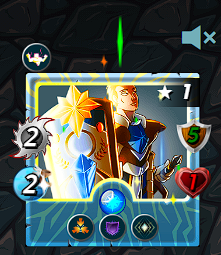 This combination of factors ensured a significant advantage for my team, and despite my cards coming very close to death, the game ended with all 6 cards remaining alive. A great revenge, right @pablito.saldo?!
Thank you so much to everyone who read this far, I hope you enjoyed it. If you like my content, I ask you to send your vote on the post and follow my profile so you can read future posts.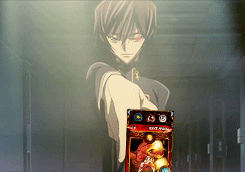 ---
---