What's stopping u from inviting a friend to Splinterlands? ⚔ Splinterlands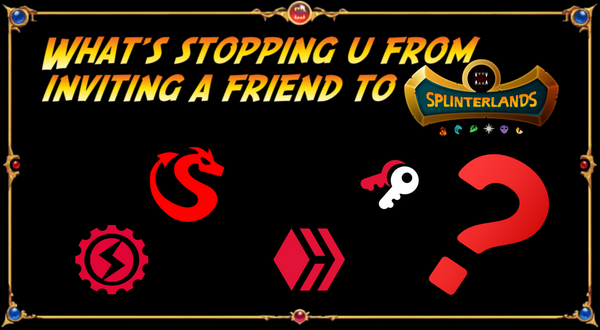 A ideia do post de hoje é apenas conversar abertamente sobre possíveis barreiras que desencentivem os jogadores de Splinterlands a convidarem seus amigos para jogar. Não precisamos nos prender apenas aos problemas vinculados ao próprio Splinterlands afinal eu acredito que as maiores dificuldades estão relacionadas à UI e UX da própria Hive e desse universo criptográfico como um todo.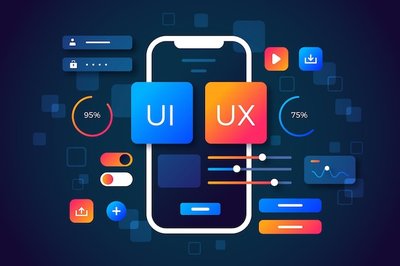 Ao longo deste 1 ano e vários meses que comecei a jogar Splinterlands eu convidei vários amigos e consegui convencer 7 deles a começarem no Splinterlands, porém alguns em poucos dias e outros em algumas semanas acabaram desistindo e isso me deixou bastante frustrado, porquê há tanta dificuldade em reter jogadores?
Na época ainda havia muitos problemas no Splinterlands envolvendo mecânicas extremamente complexas que visava afetar negativamente os bots mas que afetava completamente a experiência do novo usuário. Algumas destas mecânicas já foram reformuladas como é o caso da Energy mas há outros mecanismos que ainda precisam ser reformulados para facilitar o entendimento do usuário. Este é um problema já reconhecido pelos desenvolvedores e acredito que futuramente virão atualizações para incrementar alguns tutoriais e instruções sobre como evoluir no jogo (comprando ou alugando cartas) e o como conseguir ganhar recompensas nas partidas.
Agora falando sobre a gameplay particularmente eu me divirto bastante ao pensar estratégicamente e criar times no jogo mas já vi reclamações de outros jogadores (incluindo alguns destes amigos que convidei) que o jogo era chato. Talvez isso se dê ao fato de que inicialmente é difícil competir adequadamente contra os bots otimizados e para superar isso é necessário alugar cartas boas para superá-los através da força e estratégia. Isso é bastante contra intuitivo afinal novos jogadores não sabem alugar cartas e nem quais são realmente boas para os seus times. É aqui que eu acredito que incrementar elementos PVE como um modo campanha seria uma ótima maneira de instruir os jogadores e oferecer recompensas aos seus esforços em aprender mais sobre como jogar Splinterlands.
Falando sobre a parte estrutural, criptomoedas para usuários não familiarizados é algo extremamente complexo e o fato de precisar configurar a Hive Keychain para facilitar o uso das suas chaves e interagir com inúmeros sites como a Hive-engine e o Peakmonsters torna essa experiência inicial bastante carregada de informações e muitos usuários irão desistir ao esbarrar com essa quantidade absurda de coisas necessárias à se aprender para conseguir jogar adequadamente. É claro que tudo isso é um problema estrutural que envolve todo o universo de criptomoedas e acredito que ao longo dos anos estes problemas irão ser solucionados aos poucos, mas esta na minha opinião é a maior barreira de entrada para os jogadores!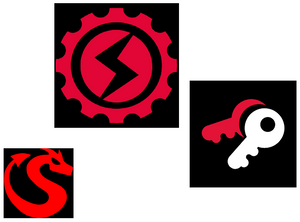 E por se tratar de algo estrutural há pouco o que se pode ser feito no curto prazo, portanto para driblar isso é importante que os desenvolvedores continuem focando em melhorar a UI do Splinterlands e substituam sistemas complexos por outros mais enxutos e fáceis de interagir. A alteração na Energy foi perfeita e espero que mais acertos como esse sejam realizados no futuro. Em resumo as minhas dificuldades ao convidar pessoas ao Splinterlands foi a quantidade excessiva de coisas que eles precisavam aprender à utilizar para conseguir interagir com esse ambiente, muitos desistiam ao enfrentar dificuldades em comprar o Spellbook e configurar sua Keychain, outros desistiram ao jogar Splinterlands e se depararem com uma gameplay chata (considerando que há poucas estratégias disponíveis no início e você está constantemente enfrentando bots otimizados para te vencer). Oferecer um caminho PVE em que o jogador possa evoluir antes de se aventurar nas partidas ranqueadas é a saída que eu sugiro, mas e você? O que te impede de convidar um amigo para jogar Splinterlands?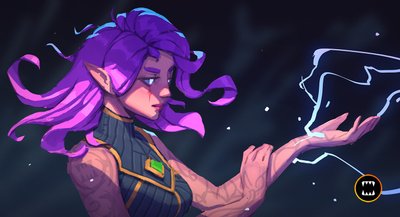 Muito obrigado a todos que leram até aqui, espero que tenham gostado. Se vocês curtirem meus conteúdos, peço que deixem o seu voto na postagem e sigam o meu perfil para poderem acompanhar as futuras postagens.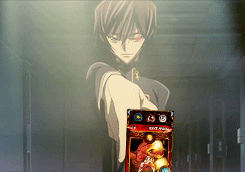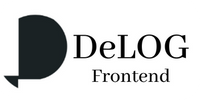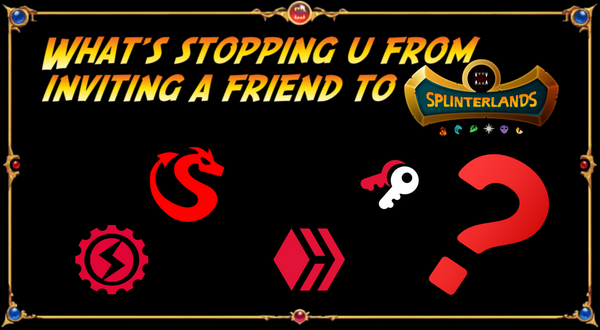 The idea of today's post is just to talk openly about possible barriers that discourage Splinterlands players to invite their friends to play. We don't need to stick only to the problems linked to Splinterlands itself after all I believe the biggest difficulties are related to the UI and UX of Hive itself and this crypto universe as a whole.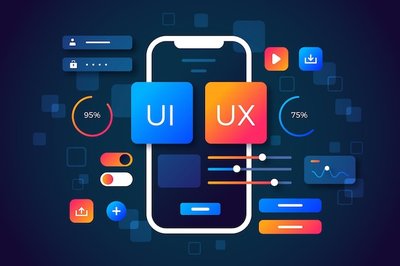 Over this 1 year and several months that I started playing Splinterlands I invited several friends and managed to convince 7 of them to start on Splinterlands, however some within a few days and others within a few weeks ended up quitting and this left me quite frustrated, why is it so hard to retain players?
At the time there were still many problems in Splinterlands involving extremely complex mechanics that aimed to negatively affect the bots but completely affected the experience of the new user. Some of these mechanics have already been reworked as is the case with Energy but there are other mechanics that still need to be reworked to make it easier for the user to understand. This is a problem already recognized by the developers and I believe that future updates will come to increase some tutorials and instructions on how to evolve in the game (by buying or renting cards) and the how to get rewards in the matches.
Now talking about the gameplay particularly I have a lot of fun thinking strategically and creating teams in the game but I have seen complaints from other players (including some of these friends I invited) that the game was boring. Perhaps this is because initially it is difficult to compete properly against optimized bots and to overcome this you need to rent good cards to overcome them through strength and strategy. This is very counter intuitive as new players don't know how to rent cards or which ones are really good for their teams. This is where I believe that increasing PVE elements like a campaign-mode would be a great way to educate players and offer rewards for their efforts in learning more about how to play Splinterlands.
Talking about the structural part, cryptocurrencies for unfamiliar users is extremely complex and the fact that you need to configure the Hive Keychain to facilitate the use of your keys and interact with numerous sites such as the Hive-engine and Peakmonsters makes this initial experience very information heavy and many users will give up when they encounter this absurd amount of things needed to learn in order to play properly. Of course this is all a structural problem that involves the whole cryptocurrency universe and I believe that over the years these problems will be solved little by little, but this in my opinion is the biggest barrier to entry for players!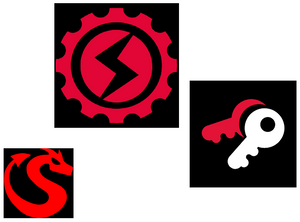 And because this is something structural there is little that can be done in the short term, so to circumvent this it is important that developers continue to focus on improving the UI of Splinterlands and replace complex systems with ones that are leaner and easier to interact with. The change in Energy was perfect and I hope more fixes like this are made in the future. In summary my difficulties when inviting people to Splinterlands was the excessive amount of things they needed to learn to use to be able to interact with this environment, many gave up when facing difficulties buying the Spellbook and setting up their Keychain, others gave up when playing Splinterlands and encountering a boring gameplay (considering there are few strategies available at the beginning and you are constantly facing bots optimized to beat you). Offering a PVE path where the player can evolve before venturing into ranked matches is the way out I suggest, but what about you? What's stopping you from inviting a friend to play Splinterlands?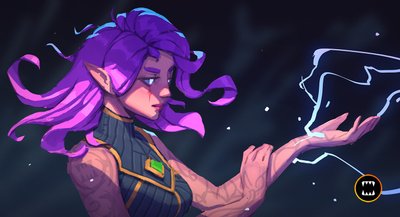 Thank you so much to everyone who read this far, I hope you enjoyed it. If you like my content, I ask you to send your vote on the post and follow my profile so you can read future posts.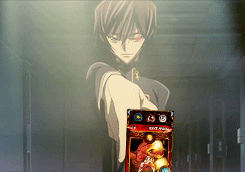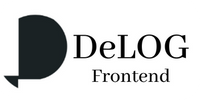 ---
---