NEW BOOST 8 - October 25 - 11am CST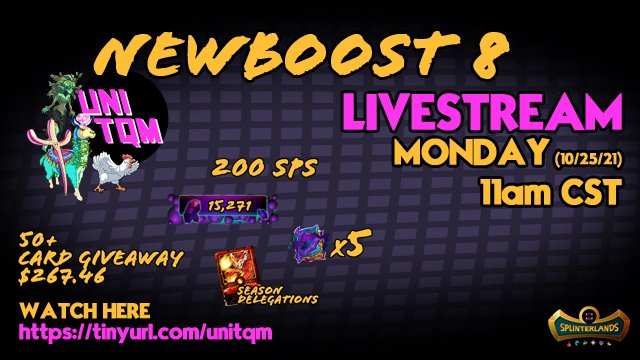 What is New Boost?
The Splinterlands community gets together to give new players a boost. "Boosters" will play for 1 hour and then send their DEC winnings and/other prizes to the account @newboost. Then we have a livestream where the @newboost account will give away everything to Noobs. All of the Boosters that give at least 100 DEC get a commemorative NFT. Those NFTs are worth 1 entry into the final New Boost event grand prize giveaway. This grand prize event has not yet been announced.
How do you enter for a boost?
Players receiving a guaranteed boost have already been selected. Now the only way to get a boost is to come to the livestream. Must be a youtube subscriber to enter livestream drawings.
When is the New Boost Live Event?
Monday
October 25th
11am CST
Watch Here
https://tinyurl.com/unitqm
Who is Getting a Guaranteed Boost?
@slappahoe
@higherlow
@fineas
@siddhartaz
@rampage247
@legnare
@shamzz
@luckyshot1
@restongungui
@gibbo1996
@fuinha
@mcgilli
@dedman19
@sperare4511
@yras
Who is giving the boost?
Hopefully you! I still have some NFTs to give out from NewBoost 7. Anyone who donates at least 1000 DEC to @newboost will be entered for the grand prize giveaway valued over $1000. Good Luck.
Who is Getting a NFT entry for massive giveaway for being a Booster?
@monstermother | a31r.wam
@unitqm | wfbaw.wam
@thegcc | s52qy.wam
Bottom of the post SPAM...
Sign up for Splinterlands using my referral link to get a free card when you first sign in. https://splinterlands.com?ref=unitqm
Check out the wiki. We're making a Splinterlands wiki and need your help.
https://www.splinterwiki.com
Watch the full Starting out in Splinterlands series here...
https://www.shorturl.at/drJW3
More Referral Codes
Upland
https://r.upland.me/YhDa
---
---