Starting Out In Splinterlands: Day 32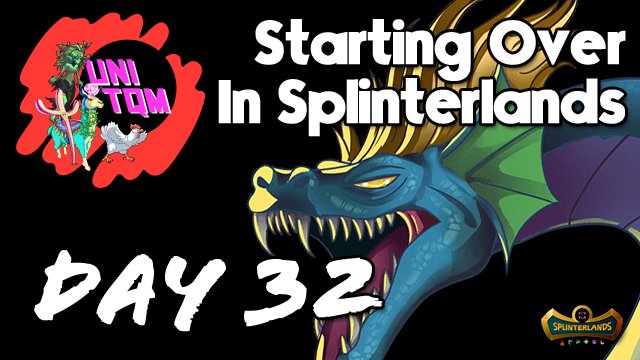 A month ago I started this journey. I wanted to see if I could make some profit without having a big bankroll. I am happy to report that I am 4x my initial investment.

So what's it like starting from nothing.
It's kinda boring.
I'm playing the same lineups everyday.
I'm not renting a lot of cards or trying to climb the ladder cause it's so much work for so little reward.
The rewards have just not been worth it the past few days.
BUT HARK...
WHAT GOES THERE?
New Reward Cards Are Live
Now that there are new cards are in the pool and they drop at 50/50 to potions it looks like I'll start actually playing my daily quests.
Today I even picked up the infamous Quest Potion and pulled these sweet rewards...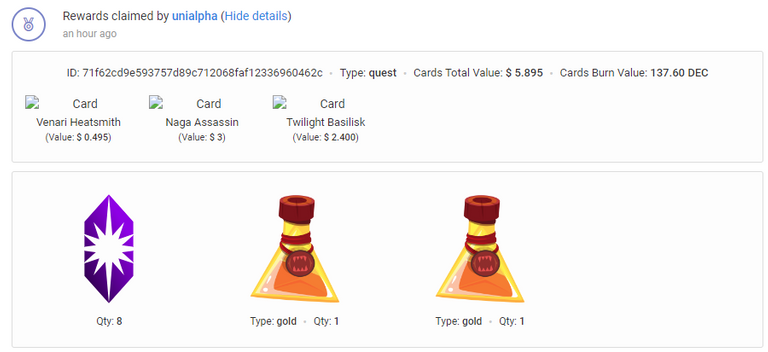 Looks like some work is needed to sort out the card images in peakmonsters. I am sure that will get fixed soon. The card total value is likely inflated. Everyone always lists new rewards for way high and impatient people always rush in to overpay.
I thought about taking advantage of this and selling these cards but at such a low level I really need the collection power.
So I put the cards up for rent.
End Of Season
So the season ends in a few days and I think I might rent some cards and make a push to bronze 1. Taking all my cards off the rental market is an option too.
All of my cards combined give me a collection power of 680. 1000 will get me to bronze II and 5000 will get me to bronze I.
I can pick up about 5000 collection power easy for 40 DEC.
I think 4 extra chests are worth 40 DEC. I'll do the rental inside 24 hours of season end so I can be sure the cards don't disappear after season ends.
Final Thoughts
Play Smart
Be Patient
Have Fun
SPAM
If you sign up for splinterlands using this link I get a lil bit of credits anytime you make a purchase.
https://splinterlands.com?ref=unialpha
What are the Crypto Games you play. Send me your referral codes below.
Also, if you're not following me on youtube get your shit together and do the right thing.
---
---