Splinterlands Is Dominating the Dapp Space Globally, Even Outside of NFT Gaming!
Blockchain based gaming using NFTs is booming, with the CEO of EA Games stating that NFTs were the future of the industry - but what is the most successful NFT game in the world? According to new data from Dapp.com - it's Hive's @splinterlands - though Axie Infinity is probably ahead!
Congratulations to the Splinterlands team (@aggroed, @yabapmatt and others) - as I'm sure they are already well aware, Splinterlands is one of the most successful blockchain game in the world at present.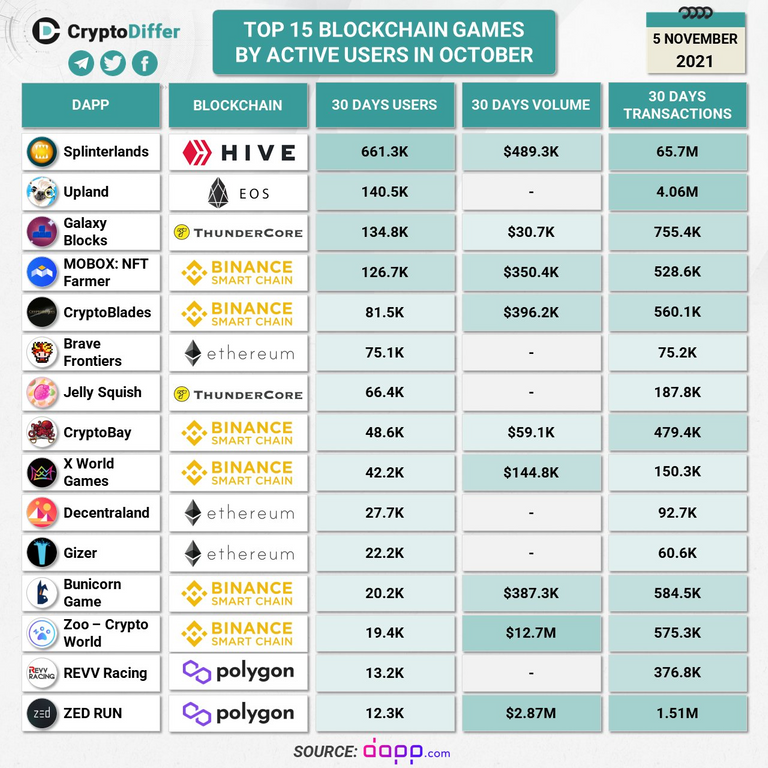 source: Dapp.com
While Dapp.com doesn't list data for the massive Axie Infinity game, which boasts well over 2 million active users, Splinterlands still dominates the NFT gaming space presently, with an estimated 661,000 users in the last 30 days. Dapp.com lists $65.6 million worth of transactions in the last 30 days for Splinterlands, which is pretty huge for what is ultimately a fairly simple game at this point.
Splinterlands is currently listed in the top 25 most active Dapps in the world across all blockchains, including all of the non games too!
In terms of the level of users in the last 24 hours, Dapp.com estimates that Splinterlands in number 3 in the world for all Dapps (excluding Axie Infinity and perhaps some others that they aren't tracking properly at present).
If nothing else this makes abundantly clear that gaming is not only a successful use of NFTs, but that the interest in gaming can be translated to the blockchain in a massive way. This is only the beginning too.
Having played Splinterlands a while, despite never having been particularly excited by 'magic' card games, it became obvious that part of the draw of the game is that rounds don't take long to play and the levelling up process gives people a sense of building something, which is deeply engrained into our psyches. With the price of Splinterlands cards on the rise, the combination of building a valuable portfolio of cards with the dopamine hit of playing short rounds with random strangers seems irresistible to many.
I have met several people who say they have made very large amounts of money via Splinterlands already, having bought in early on. Once again I missed my opportunity, having been 'that guy' who knew about Bitcoin when it was $5 and didn't buy any! :)
What are your thoughts on Hive's prominence in the NFT gaming space? Do you see a need to try to draw Splinterlands players into other areas of Hive that they may not be aware of?


Wishing you well,
Ura Soul
---

Read My User Guide for Hive Here
---
---
---
---
---