How to Engage And Earn on Splinterlands
It's getting to three months of being active on the HIVE blockchain. It has been a beautiful adventure of sharing creative content and ideas and others, reading and staying updated on the happenings in the world.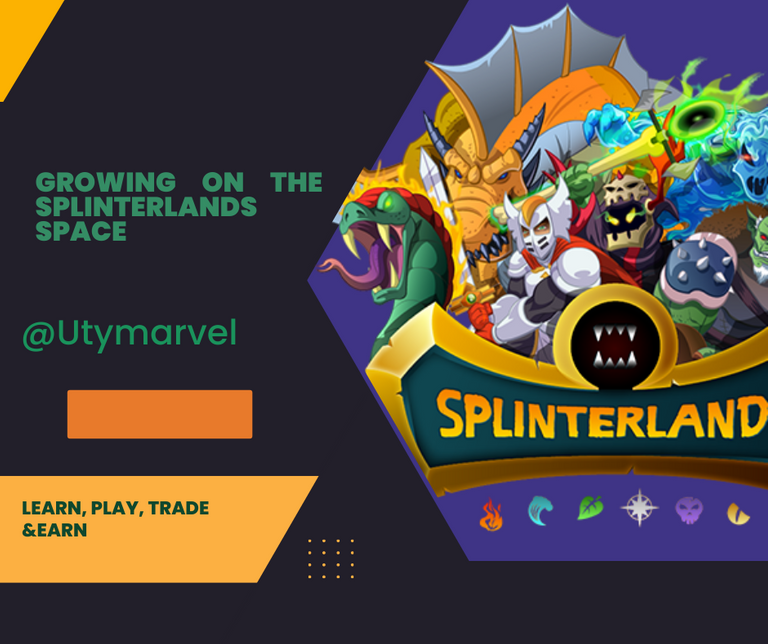 Within these few months, I have been able to harness a lot of information about the crypto space. Here I have engaged in a handful of communities, the likes of foodies bee hive, model agency ecotrain, self-improvement, Leo finance, etc then finally the current community I found Splinterlands. I have also grown my reputation from 55 to 60 and my HP lazily from 94- 170. My Godfather @uyobong asked the other day about my job on hive if it is way better than the former, he reviewed the account and confirmed it was way better.
I have learned a lot about these amazing collectible card games, read exciting content, I have played, and also created content on it as well.
I was just scrolling down the walls of HIVE when I stumbled on a post by @clove71. She shared a very touching but beautiful story about her son Adil and how she has been able to gather a lot from scratch to take care of herself and her family as well by being consistent on hive blockchain.
She also confirmed my hypothesis about ways one can earn a living from this play to earn crypto game.
I am bold enough to share these few tips on earning by playing crypto games like splinterlands.
---
One vital way of earning in splinterlands is by creating splinterlands content, meaningful content as well on the Hive Blockchain. By doing this you obtain upvotes or curate for it. Inasmuch as it requires a lot of time and intellectual reasoning, it is a pure gold mine. People everywhere need to know about the play to earn crypto games, so your content goes a long way in creating awareness, especially for the newbies who are just finding a road map around the space.
I am in love with HIVE! It is filled with opportunities for everyone and has many great communities for you to join! Fun opportunities as well. Just in the comfort of your home, you can make quality contests and research and share with the masses, the likes of players that are unaware of the different ways you can earn crypto in splinterlands. You can also engage in battling in ranked battles, tournaments, end-of-season rewards, daily focus, Guild brawls, renting out your cards, and more.....but you can earn for creating content too!
You can also join the many weekly contests and challenges. You participate by creating original content on hive and receiving upvotes and earning crypto as well. The rule is to enter two splinterlands posts per week during the contest and challenge, if you try more than two you might as well get queried or banned.
Splinterlands is worth promoting and advertising around the world so creating quality content and sharing it on social media handles is one of the fastest ways to publicize the game. Why? because it is a digital age and there is a high use case for social media.
The aim is to attract new players around the world into the splinterlands ecosystem. It's simple and fun to invite new friends to play and earn in their comfort zone.
I have talked about creating meaningful content and advertising splinterlands on social media. Try this and you don't only earn a lot but also contribute to the splinterlands community on hive
Just in case you haven't started just click on my referral link below and get started.👇
Do have splendid moments for the rest of the day✌
---
---