Compounding Profits on Splinterlands: 2.5k SPS Stake and More..

The most beautiful aspect of investing in hive blockchain is the array of compounding opportunities. My venture into Play to earn related investment in 2021 has been an exciting run so far. The Splinterlands game remains the GameFi leader in the cryptoverse is still a crypto community that is bubbling despite the long crypto winter. many are still playing and new investors still joining on daily basis.
Being built on the Hive blockchain makes splinterlands the most decentralized blockchain game where players enjoy the full deliverables of web 3.0, while cashing out their lots from the multiple earning opportunities and sources. Beyond being a play to earn game, we now have DeFi as part of the gaming ecosystem of splinterlands.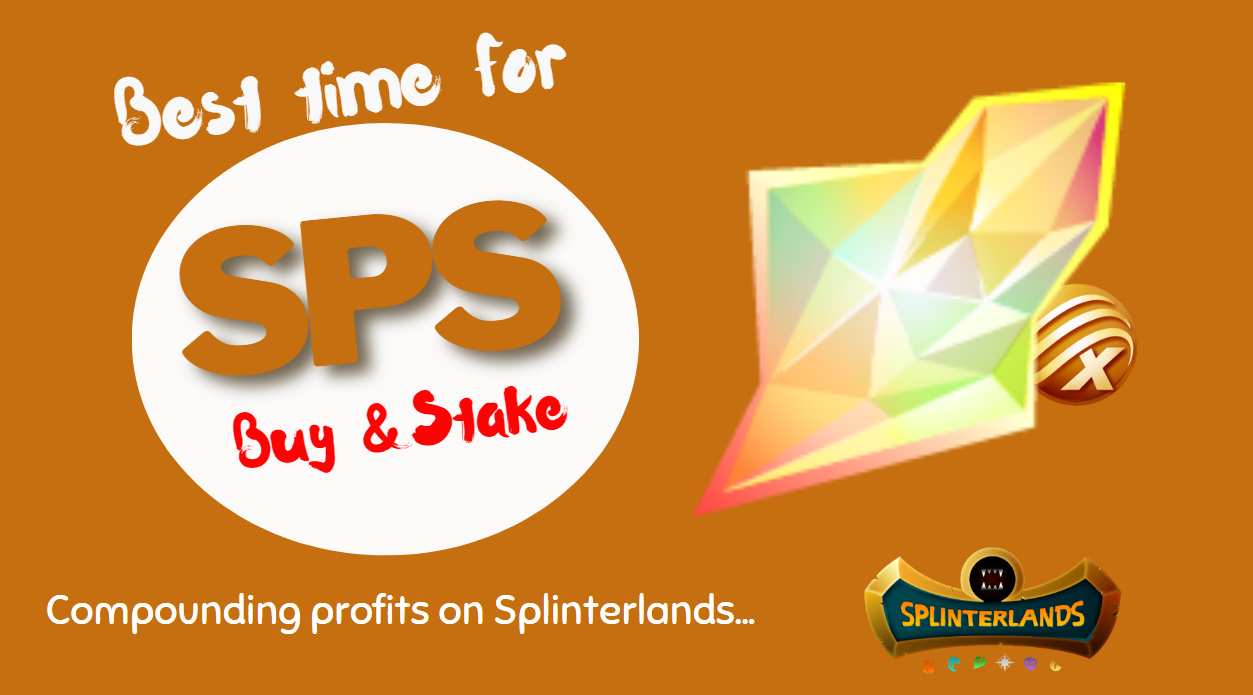 Best Time to Buy SPS is now!
SPS, short for Splintershards is the governance token of the splinterlands ecosystem and is one asset of the gaming ecosystem that cannot be ignored. Staking SPS is one of the ways to contribute to the build of the Splinterlands ecosystem and in the decision making process via DAO.
Staking SPS allows a player or investor to participate in Splinterlands governance as well as affords the player to earn daily SPS and GLX rewards. In 2021, I earned over $200 worth of SPS for hodling/staking splinterlands assets. From October 2022, Splinterlands started another year-long airdrop of $GLX to SPS stakeholders in the game, and it's been great getting some good chunks of GLX daily.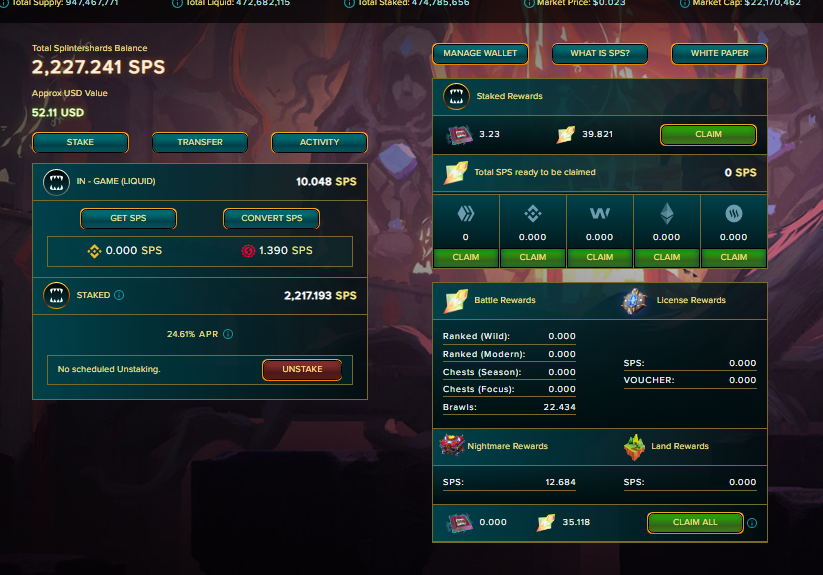 The SPS market has been down alongside other cryptos as this winter lasts but the trading volume for SPS is active. Many investors who understands the operations of Splinterlands game are stacking as much SPS as possible while this discounted prices lasts.
For me, now can be the best time to buy some SPS ahead of the next crypto bull run. Selling for pennies of around 2.5 Cents is a good giveaway price, but for how long can we endure?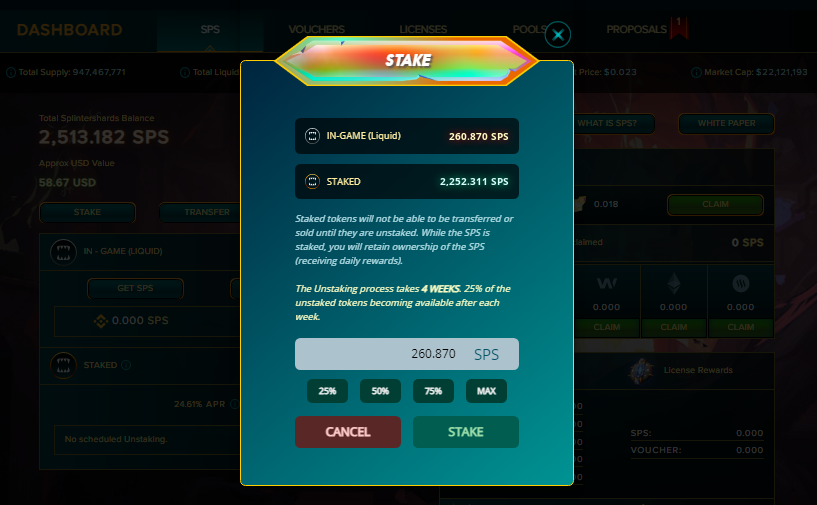 Staked 260 SPS to reach 2.5k Stake Milestone
Today, I stepped up with my SPS stake with 260 more tokens. That grind bring me to the 2.5k SPS stake milestone and it's just the beginning. SPS staking is paying 24% APR but there is more. I'm earning 1.110 SPS + 1.443 GLX + 0.105 Voucher daily which compounds the APY at 47%. Decent!
Reaching 5k SPS stake by this year end won't be bad. However, I'm pushing more efforts in staking GLX which is paying a little above 300% APR. The proceeds would be used to push SPS investment further as soon as GLX experiences a price boost.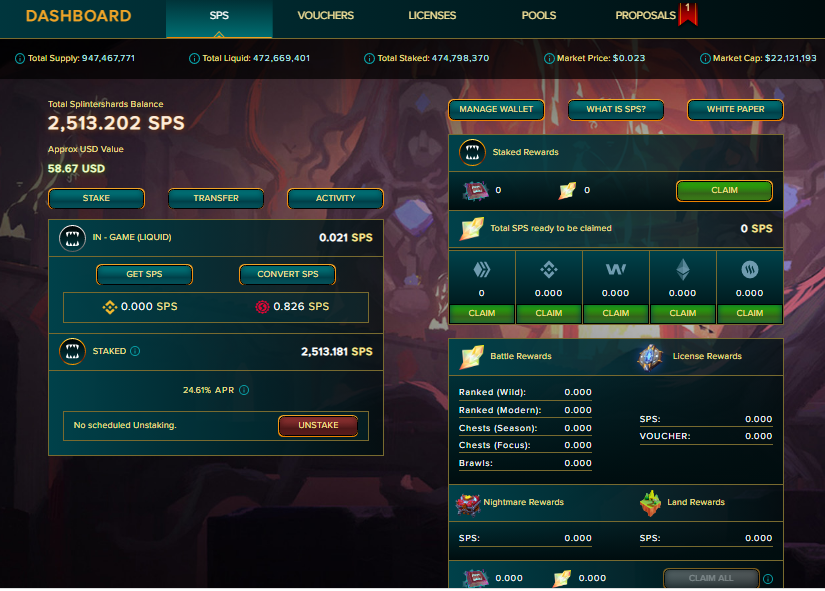 Compound your Profits on Splinterlands
Compounding profits is the secret in crypto investment. Knowing where your investments can be compounded is crucial for an early break-even. The splinterlands gaming ecosystem is one of such places. here is how it works:
You stake SPS and earn SPS + VPOUCHER + GLX
You stake your earned GLX and you earn more GLX
You use your earned VOUCHER to get discounted buys at Splinterlands in-game marketplace
Restart the loop.
We hope the crypto bull comes sooner to help relieve the tension that is amassing. It can only get better!
---

Splinterlands game is termed the "next generation of collectible card games" in which allows players to collect, trade, and battle with provably scarce digital collectibles with real-world value. Battles on Splinterlands Unlike most trading card games, are fast and furious, and are usually completed within few minutes. The Splinterlands gameplay is simple and easy to learn viz: reviewing combat rules, making and submitting of the team and watching the battle unfold.

If you found the article interesting or helpful, please hit the upvote button, share for visibility to other hive friends to see. More importantly, drop a comment beneath. Thank you!
Let's Connect
Hive: https://leofinance.io/@uyobong
Twitter: https://twitter.com/Uyobong3
Discord: uyobong#5966
---
Posted Using LeoFinance Beta
---
---