Maximizing the Bear Markets - 5,000 SPS Stake in-view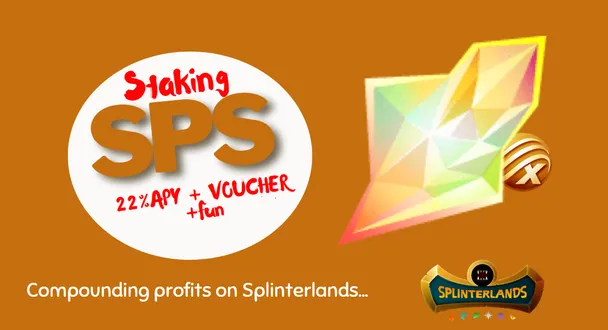 The global Play-to-Earn NFT games market size is projected to reach $8856.95 million by 2028. The value presently sits at about $4000 million nd play to earn gaming has become a profitable venture for many who are earning Cents to hundreds of dollar worth of cryptocurrencies on daily basis from interacting on play to earn gaming platforms.
Splinterlands is one of the top play to earn games, built on the Hive blockchain. Users have many crypto earning opportunities from winning battles to staking in-game assets to hodling card NFTs, burning cards and more. The market cap for Splinterlands game is about $21 million, about 0.5% of the total Play to earn NFT games market size. The 5-year old Splinterlands game has Splintershards (SPS) as its governance token. SPS can be earned through battles and can be earned by staking SPS in the game as well as participating in SPS related DeFi.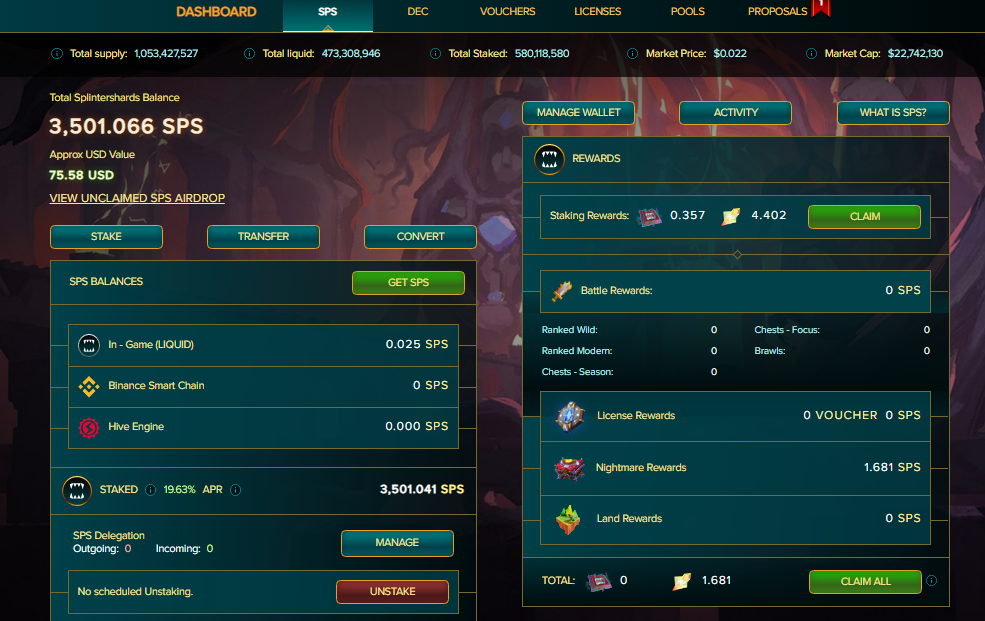 Staking SPS pays about 20% APY which is a decent return for a pleay to earn gaming asset. SPS is presently worth 2 Cents and its a far fall from its all-time-high (ATH) value of $1.23. It is believed that buying SPS and staking them now is the best way to maximize profit from the leading battle game in the play to earn gaming category.
Play-to-Earn NFT games market is synonymous with innovation. This is achieved by collaborating with other companies to the development of new products, services, or technologies that can help to drive growth and revenue. This, the SPlinterlands game has achieved with it several collaboration strides. One of such is the collaborations with the Major League Soccer players Association (MLSPA) to create the Genesis League Goals soccer NFT game. To drive support for this new game, Splinterlands rewarded SPS stakers with a year -long GLX airdrop which is ongoing. That is just one of the added benefits for staking Splinterlands' SPS.
I've been staking SPS in bits since last year and its interesting that staking more SPS now is cheaper than I first started. Being a long term investment engagement, buying some hundreds of SPS now is worth less than the prize of candies compared to what it was a year ago. At $0.022, SPS is highly discounted and it is happening at a time that more new use cases is added to the asset.
Over the weekend, I purchased and staked 285 SPS tokens and that helped me to reach 3,500 total SPS stake. The 2023 goal is to reach 5,000 SPS staked and then we decide whether to set another higher goal which is expedient. I'm not earning a tangible amount of SPS form game play, thus, trading Hive earnings into SPS is the only source of earning SPS in addition to my staking rewards.
My personal research has shown that SPS price is bottoming and a breakout is possible anytime from now. While getting back to the days of $1 SPS may not be an easy ride, A 10 Cent SPS is possible in the near term and that means 5x of whatever investment committed now. I'm hoping to add at least 250 SPS to my stake each week to reach a record 5k SPS stake by the month of July 2023.
The bear market which has lasted for long is not a permanent thing, sooner, it would give way for the next bull run. However, enjoying the bull market is dependent on how an investor interacted during the bear market. this bear market is an opportunity to buy in cheap to later on cash out big.
---
You want to learn more about Splinterlands, SplinterGlossary is a hot reference center for you.
---

Splinterlands game is termed the "next generation of collectible card games" in which allows players to collect, trade, and battle with provably scarce digital collectibles with real-world value. Battles on Splinterlands Unlike most trading card games, are fast and furious, and are usually completed within few minutes. The Splinterlands gameplay is simple and easy to learn viz: reviewing combat rules, making and submitting of the team and watching the battle unfold.

If you found the article interesting or helpful, please hit the upvote button, share for visibility to other hive friends to see. More importantly, drop a comment beneath. Thank you!
Let's Connect
Hive: https://leofinance.io/profile/uyobong
Twitter: https://twitter.com/Uyobong3
Discord: uyobong#5966
---
Posted Using LeoFinance Alpha
---
---