More GLX Rewards as Genesis League Goals (GLG) Pack Staking Begins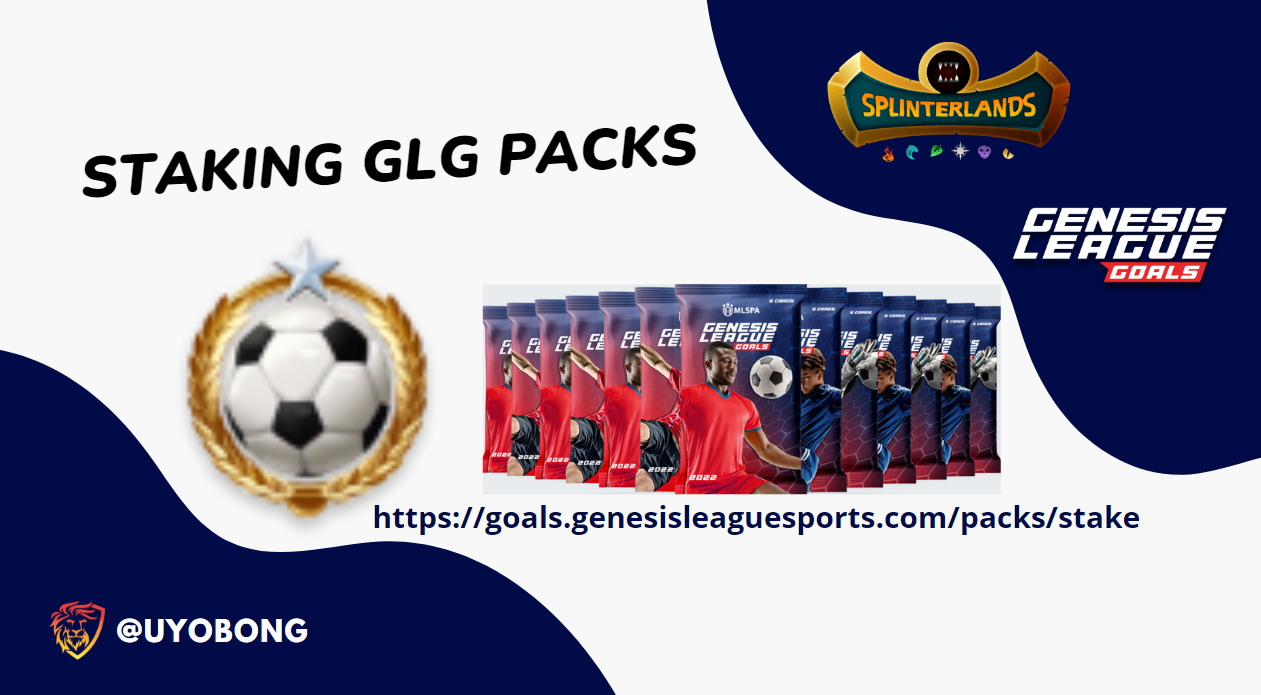 Another Airdrop coming to Genesis League Sports Investors
The Splinterlands game developers keeps maintaining a superb marketing module for its gaming products and assets. This keeps more investors and players joining the gaming ecosystem despite the long crypto bear market. In a latest development, the Splinterlands team would be rewarding the presale pack owners of its flagship sports game NFT packs starting from December 13, 2022.
Genesis League Goals (GLG) is the flagship sports game on the Genesis League Sports (GLS) platform created in partnered with Major League Soccer Players Association (MLSPA) to create a rapid tactic strategy game that will utilize NFTs, cryptocurrency, etc.
As enshrined in the Genesis League Goals whitepaper, the MLSPA P2E reward pool will consist of 100M GLX tokens that will be released over the course of 65 months. GLG Presale Pack Owners are entitled to 15,000,000 (15 million) GLX tokens as rewards when they stake their presale game packs. The amount of GLX tokens doled out to these players constitute 15.00% of total GLX supply.
During the presale, 15M GLX tokens will be rewarded to players who stake their MLSPA packs in the game. The 15M GLX tokens will be split equally between the two presale periods. 7.5M GLX tokens will be rewarded to early adopters of presale 1 and 7.5M GLX tokens will be rewarded to purchasers of presale 1 and 2. These rewards will be distributed daily based on the number of packs purchased. For example, if someone purchases 1,000 packs and 100,000 have been purchased so far, 1% of GLX rewards going to that purchaser. source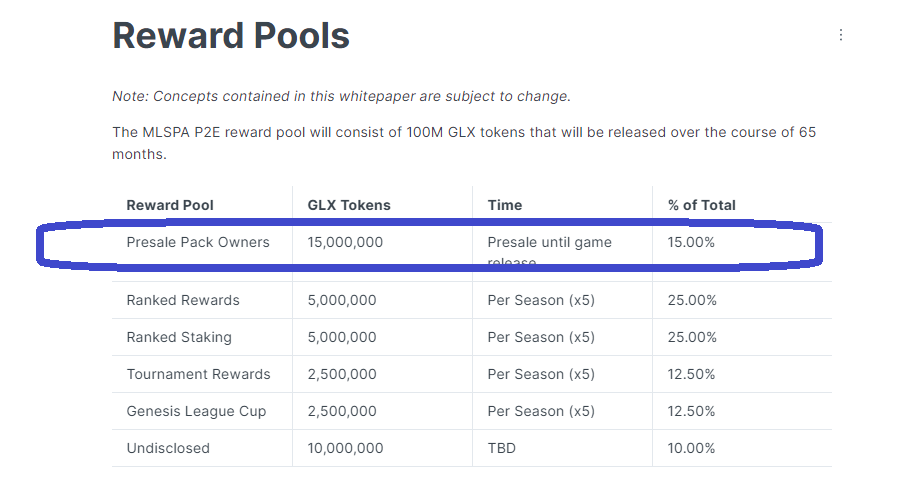 The announcement for the resumption of GLX rewards to stakers of their MLSPA packs was published on the Genesis League Sports Discord this evening.
Hey @everyone , we are looking to start the release process for pack staking at 6:00:00 PM today (in about 45 mins). That timestamp will show in your timezone. Please give the team time to get that live, but pack staking should be up and running mid day EST today! Everyone will have until Dec 13 to get their packs staked before rewards start going out (on the 13th). A guide as to how to stake your packs has been made by our amazing support team which we are dropping here.
We believe this announcement would have some effects on the GLS token markets in the next few hours. We understand that the 7 day staking window before the release of rewards would allow many players to buy and stake their MLSPA packs. However, players with hundreds and thousands of pacsk would from next 7 days earn more GLX tokens which means that the GLX tokens could become cheaper in the hive-engine market. That would provide a cheaper buying opportunity for those who missed buying GLX at the very beginning. However, whoever understand the place of GLX in the Genesis League Sports platform would keep the token for the near future.
Staked my first 2 MLSPA packs
Having been a beneficiary of Splinterlands' airdrops and reward systemsMLS, I staked my first 2 GLG packs on Day 1 of this announcemnt and would be buying and staking more GLG packs for a sizeable GLX rewards. My intial target for GLX in 2023 was 3k but has been significantly moved to 10k.
I see some cheap GLX tokens coming in the next week and more and I would seize the opportunity to buy as much ahead of the GLUSD minting with GLX burning. Besides that, GLX serving as governance token for all the sports games that would ever be created on the Genesis League Sports platform pitches a beautiful future for the token.
Below are the screenshot of my pack staking process.
If you had purchased GLG packs, the count would be displayed as mine below. If you didn't buy, click the "shop" menu and buy some GLG packs at $5 with fiat via paypal or with $HIVE.

2. Click "stake" and fill the amount of MLSPA packs you wish to stake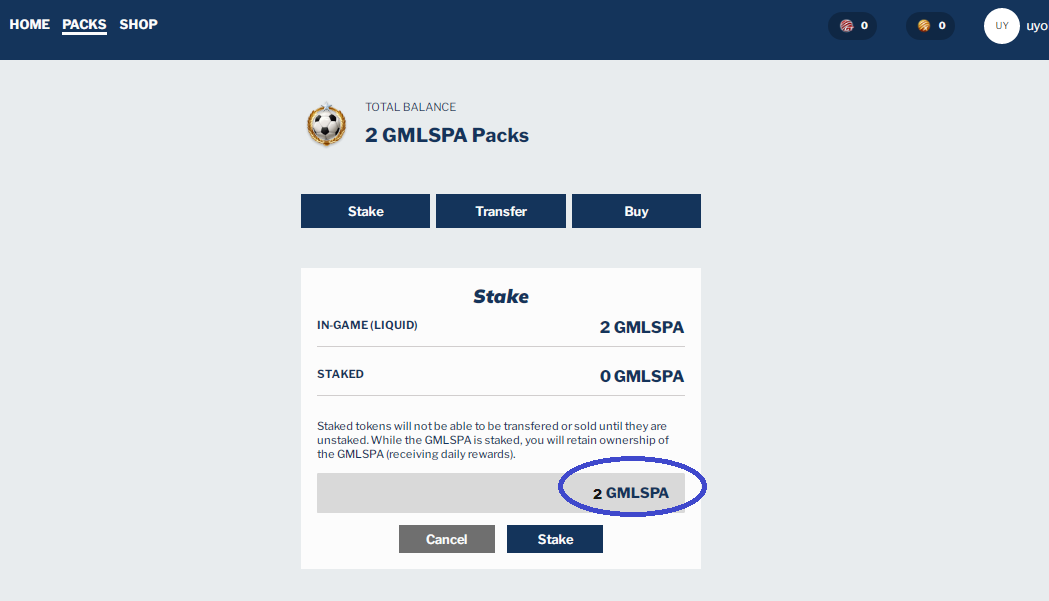 3. Click the Stake button below and authenticate your transaction with Hive keychain.


My transaction ID
4. Wait to see the conformation of a successful transaction.
Just the above Four steps and you're done staking your MLSPA packs. Simply wait for the next 7 days to begin to receive your GLX rewards in accordance to the number of packs staked.
I'm very hopeful that Genesis league Goals game would be very exciting even more than Splinterlands. It is more exciting that players are earning big already while the game is yet to go live.
---

Splinterlands game is termed the "next generation of collectible card games" in which allows players to collect, trade, and battle with provably scarce digital collectibles with real-world value. Battles on Splinterlands Unlike most trading card games, are fast and furious, and are usually completed within few minutes. The Splinterlands gameplay is simple and easy to learn viz: reviewing combat rules, making and submitting of the team and watching the battle unfold.

If you found the article interesting or helpful, please hit the upvote button, share for visibility to other hive friends to see. More importantly, drop a comment beneath. Thank you!
Let's Connect
Hive: https://leofinance.io/@uyobong
Twitter: https://twitter.com/Uyobong3
Discord: uyobong#5966
---
Posted Using LeoFinance Beta
---
---