Splinterlands' Chaos Legion End of Sale: Investment Lessons & the Prep for Rebellion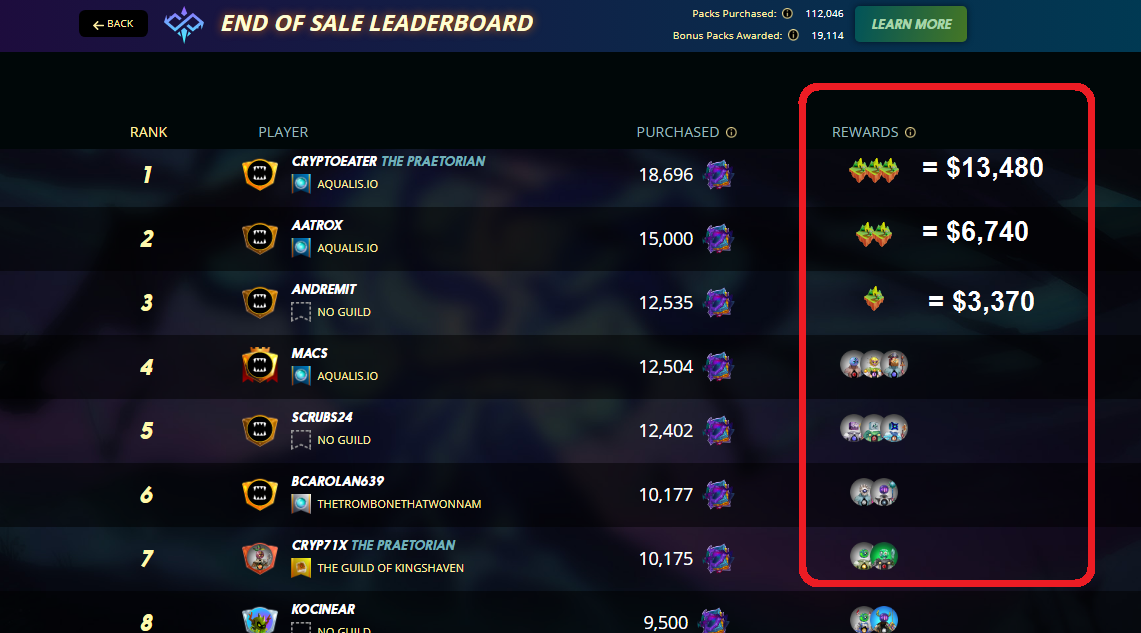 Chaos Legion Card Packs has Sold out!
Every thing that has a beginning mist have an end, even the worst situations and circumstances of live. Same goes with this very long crypto bear season that would soon come to an end. Today, 11th March 2023 marked a crucial date in the Splinterlands game calendar as the Chaos Legion (CL) card packs sold out. That means the 14 million CL packs has been successfully minted by Splinterlands and a good proportion of the NFTs has been sold, each at $4 (in-game market value).
As at yesterday, Scrubs24 was holding the top spot with 10k CL packs. There were a bit less than 100k CL packs left. Interestingly, an account (Cryptoeater) that was not in the top 10 CL rich list 24 hours ago suddenly emerged top purchase with 18,696 CL packs and received the whooping 100 Land Plots in Pretoria valued at $13.4k as I write this post. Indeed, the cryptoeater ate it all.
Thank you to all the buyers out there that scooped up packs, and thanks to legend Cryptoeater for scooping up a ton of packs.
The first runner-up prize (50 land plots worth $6,740) and the bronze medal (25 Land plots worth $3,370) went to AATROX and ANDREMIT with 15,000 and 12,535 CL packs respectively. With the above, can we say that the patient dogs ate the fattest bones? I see a depth of calculation and intentional secure of such lofty rewards from Splinterlands for the all-round top patrons of their NFT products.
Cryptoeater ate it all with 24% Instant ROI
Cryptoeater within 24 hours strategically invested about $56,907 and cashed out a huge reward worth $13,480. The CL packs were trading in the splinterlands market at around $3 since $DEC are discounted at $0.00073 on hive-engine. That investment roughly cleared around 24% profit in less than 24 hours. Smart move there!

Receiving 100 Land plots in a bear market is a worthy reward coupled with the fact that buying the CL packs at the end of the sale would bring more profits as the packs would get more costly. Already, there has been a 16% rise in the CL packs on hive-engine and other secondary markets and that price can only go higher since CL has become an old and a scarce commodity.
Chaos Legion packs are still available via the secondary market on splinterlands.com through the non-card market as well as tribaldex/hive-engine through the regular market. Grab what you can while you can. It won't be until the second half of the year that Splinterlands is able to release new card packs for sale. source
The Prep for Rebellion
With Chaos Legion phasing out, SPlinterland players are anticipating the next Card set known as Rebellion. According to the team, Rebellion should hit the market in the second half of 2023.
No new edition from Splinterlands is expected to hit the market for months, and Rebellion specifically isn't expected out until the second half of the year. Get your steamin' hot splinterlands cards now while supplies last.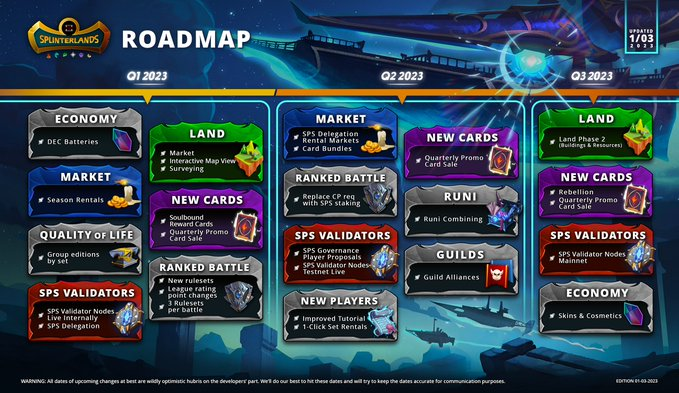 Splinterlands in the updated 2023 roadmap shared on Twitter earlier this year shows that Rebellion is the second priority for the team in Q3 of 2023. Players are anticipating another robust set of more enhanced and modern NFTs to flood the market. It's a norm that earn buyers would have some big bonus but Splinterlands during the Chaos Legion End of Sale has shown that last mint buyers culd also go down with some lofty rewards adn bonuses.
Looking forward to a more competitive market for Splinterlands' Rebellion NFTs that t=would be released later in the year. What do you think?
---

Splinterlands game is termed the "next generation of collectible card games" in which allows players to collect, trade, and battle with provably scarce digital collectibles with real-world value. Battles on Splinterlands Unlike most trading card games, are fast and furious, and are usually completed within few minutes. The Splinterlands gameplay is simple and easy to learn viz: reviewing combat rules, making and submitting of the team and watching the battle unfold.

If you found the article interesting or helpful, please hit the upvote button, share for visibility to other hive friends to see. More importantly, drop a comment beneath. Thank you!
Let's Connect
Hive: https://leofinance.io/@uyobong
Twitter: https://twitter.com/Uyobong3
Discord: uyobong#5966
---
Posted Using LeoFinance Beta
---
---