Splinterlands Merch Shop: New Frontiers in Marketing and a step towards Splinterlands Fashion NFT

The long anticipated mass adoption of cryptocurrency will come when every crypto communities and projects is committed to bring their products closer to the common man and non-techie. Yes, there is need to expanding the marketing of crypto products from the internet to tangible products. Web 2 platforms have done so well in this regard and will continue to control the markets. People crave what they frequently see. It's time that marketing of crypto product be served with a physical face in addition to the virtual.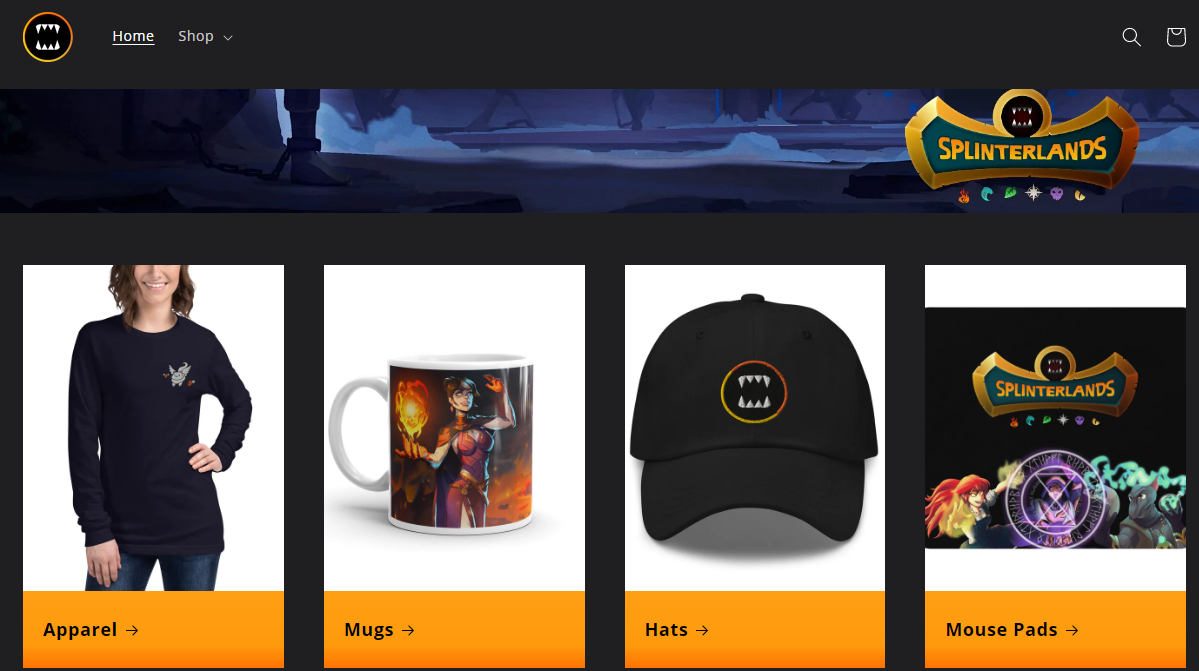 Splinterlands team announced via its Discord that the Splinterlands shop is live. The Merch shop is an official Splinterlands Store for Splinterlands merchandise needs. With this development, Splinterlands players and fans can buy and flaunt their choice apparel, mugs, hats, mouse pads, etc, with their choice Splinterlands arts/designs. I am hopeful that this is a step towards Splinterlands Fashion NFT*
NFT Merch and Fashion NFT is a Thing
Today, NFT projects are offering a range of benefits, and the most popular and common perk is physical NFT merch. NFTs have become a part of the identity of many collectors. Everyone wants tp roam the steets flaunting his favorite Bored Ape or Doodles. Moreover, NFT fashion is a growing large genre, comprising items like avatar wearables in the metaverse. Thus, NFT projects are offering all sorts of physical merchandise from t-shirts, hoodies, hats, stickers, and more.
Fashion NFT provides for marketing, expression, Trading, Income and many more benefiits to the collectors and the offering community. Do we consider how huge a job opening it will be for creative artists and designers to create lofty artifacts for the NFT merch marketplaces ahead of printing on physical products.
New Frontiers in Marketing and a step into Metaverse
This bold step by Splinterlands is in the right direction as it will help more non-techie humans to get to know about Splinterlands and it could crave their interests. I presume this is Splinterlands preparation for to fit into metaverse in the area of Fashion NFT wearables.
A very interesting aspect of the Splinterlands Merch Shop is that it allows for fiat payment for products. From Nigeria, it will serve me the rigors of trying to buy into crypto to get a choice hat or mug. With my Debit card, payment gets done in minutes and I wait for shipping.
The payment options for Splinterlands Merch shop will open up several paths for partnerships. There are about 11 payment gateways including MasterCard, Visa, PayPal, Meta pay, Shop pay, Venmo and Apple pay among others. It is obvious that the payment gateways could serve as another marketing front for the Splinterlands game.
Going forward, as Splinterlands lovers get to display their merch in public, there will be a growth in the Splinterlands game patronage. Moreover, I see an added income source to the team, as well as new work opening for artists, designers, printers and related work groups.

The year 2022 is indeed, the Splinterlands year and it keeps shaping up with each passing day. Already, everyone attending Splinterfest will receive a free Splinter fest T-shirt. The news about Splinterlands is spreading quite fast after this first Splinterfest.

Splinterlands game is termed the "next generation of collectible card games" in which allows players to collect, trade, and battle with provably scarce digital collectibles with real-world value. Battles on Splinterlands Unlike most trading card games, are fast and furious, and are usually completed within few minutes. The Splinterlands gameplay is simple and easy to learn viz: reviewing combat rules, making and submitting of the team and watching the battle unfold.

Let's Connect
Hive: https://leofinance.io/@uyobong
Twitter: https://twitter.com/Uyobong3
Discord: uyobong#5966
---
Posted Using LeoFinance Beta
---
---