The Road to 5,000 SPS Stake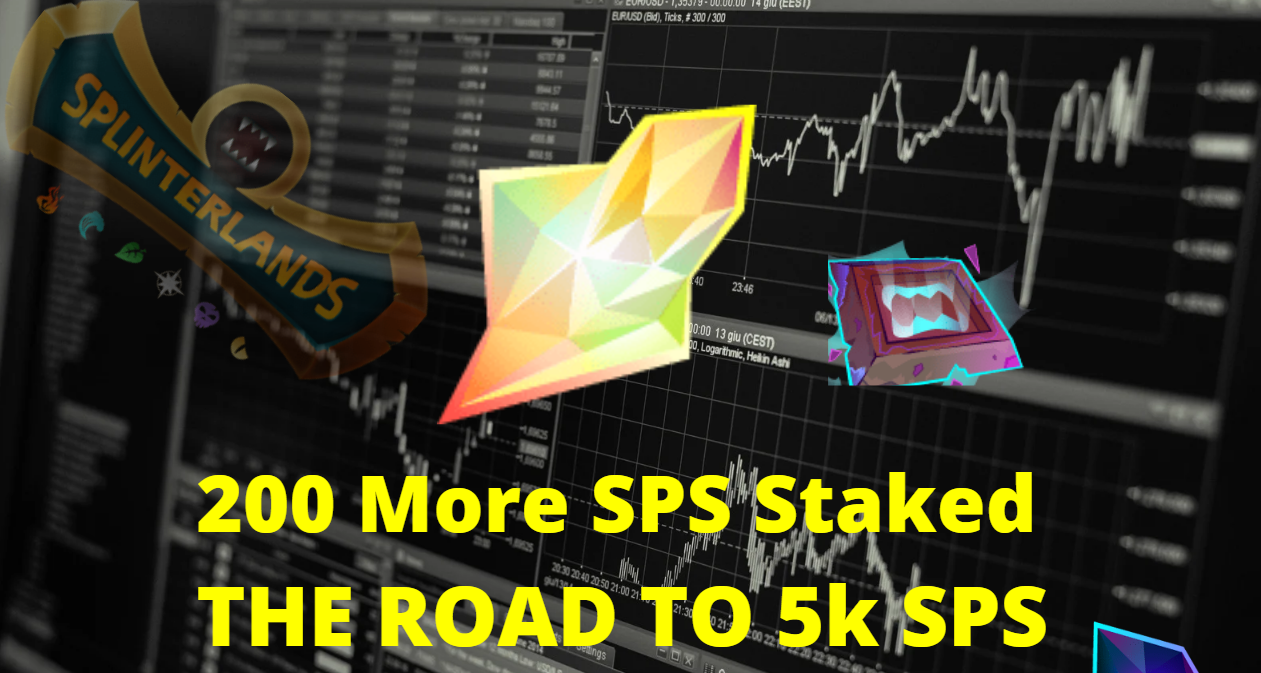 The principle of sowing and reaping applies in all faucets of life including investments. Staking tokens on Hive can be likened on planting a seed in the ground and patiently waiting for it to germinate, grow to maturity and you harvest when the season is ripe. Failure to seed in time may result in meeting an empty season of harvest. The crypto markets continues to plummet, that not withstanding, those who understand the principle of sowing and reaping continue to buy while the assets are cheap.
Splinterlands game gives us an array of assets to deal with and consider for investments. Some are best HODLed, others are best staked, etc. The investment opportunities are just ernomous. Coupled with the fact that Splinterlands is built on the Hive blockchain, players have access to a number of functions spanning GameFi, SocialFi, DeFi and all other possibilities that web3 can offer.
Of all the assets available for investment in the Splinterlands ecosystem, Splintershards (SPS) is central as the governance token. It serves purposes for the present Splinterlands battle game and other games that would be built in the Splinterlands ecosystem. The Genesis League Sports (GLS) gaming platform also incorporates SPS in its tokenomics as SPS stakers are on a toll of a year-long airdrop of GLX token.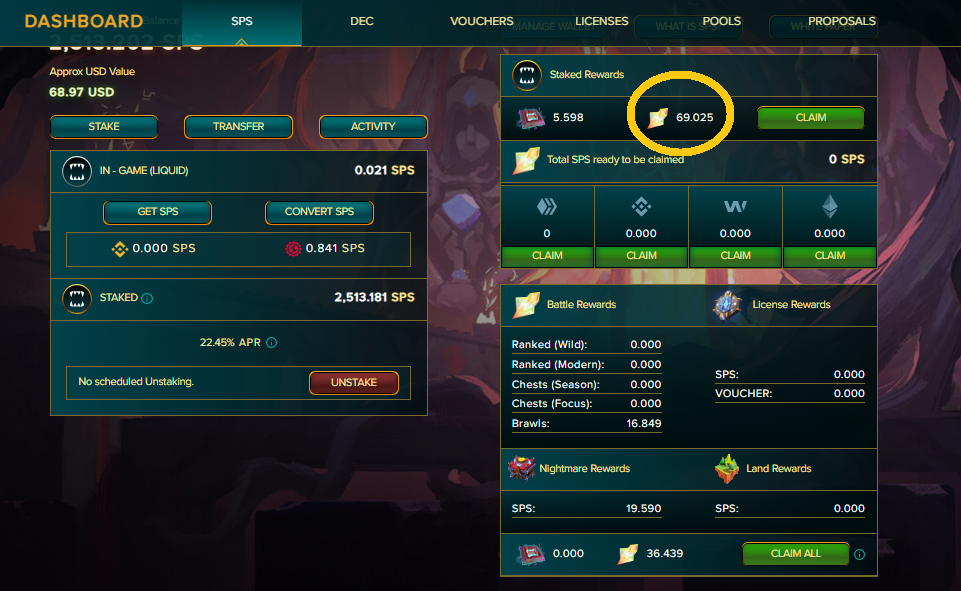 The best of SPS is achieved when the token is staked in the game. Staking SPS not only allows a player or investor to participate in Splinterlands governance, it also affords the player to earn freebies fro the Splinterlands bounties reserve. This is in addition of the staking rewards that pays out on daily basis.
Today, I claimed around 69 SPS as staking reward and an additional 36 SPS for holding The Splinterlands Tower Defense NFT card packs. One can turn the earned SPS into a cycle of compounded investment by either adding to stake to increase the staking returns or staking in a liquidity pool in Tribaldex for daily Liquidity pool rewards.
I've grown my stake of SPS organically over the years of my engagement of the community. Though, acquiring GLX token became priority, Accumulating the SPS token especially at this cheap rate is a good deal.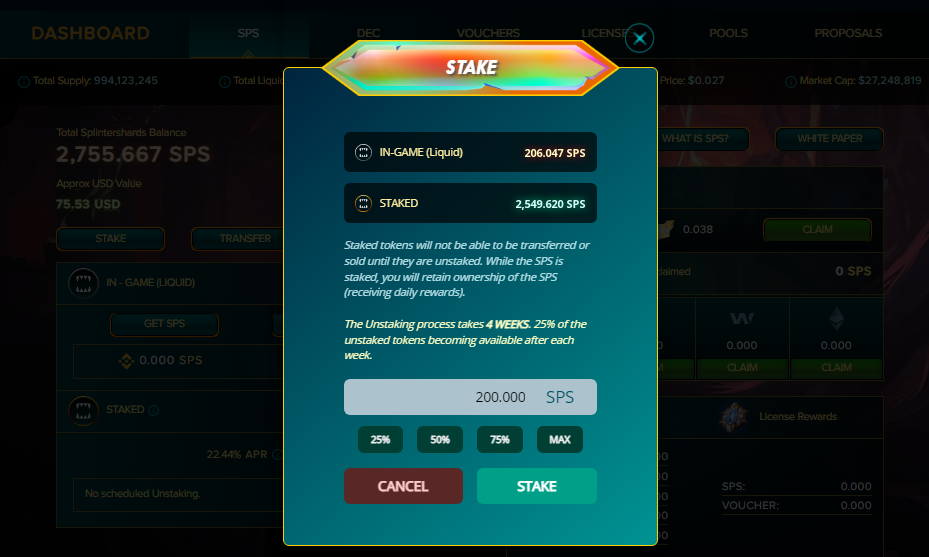 Transaction ID - 200 SPS staked!
Today, I decided to buy some 100 more SPS to add to the earned SPS. All of the total 200 liquid SPS was staked to add to my SPS stake holdings. This brings my SPS stake to around 2750. That is about 55% into reaching my 2023 goal of staking 5,000 SPS.
It has been an interesting fun so far as growing my SPS stake increases my daily SPS rewards, increases my daily GLX rewards and increases my chances of enjoying some future airdrops and freebies in the Splinterlands ecosystem.
Moreover, knowing that at 2.7 Cents, the value of SPS is just about 2% of the all time High (ATH) price of SPS would inform any good investor that it is a safe buying zone (This is not a a financial advice).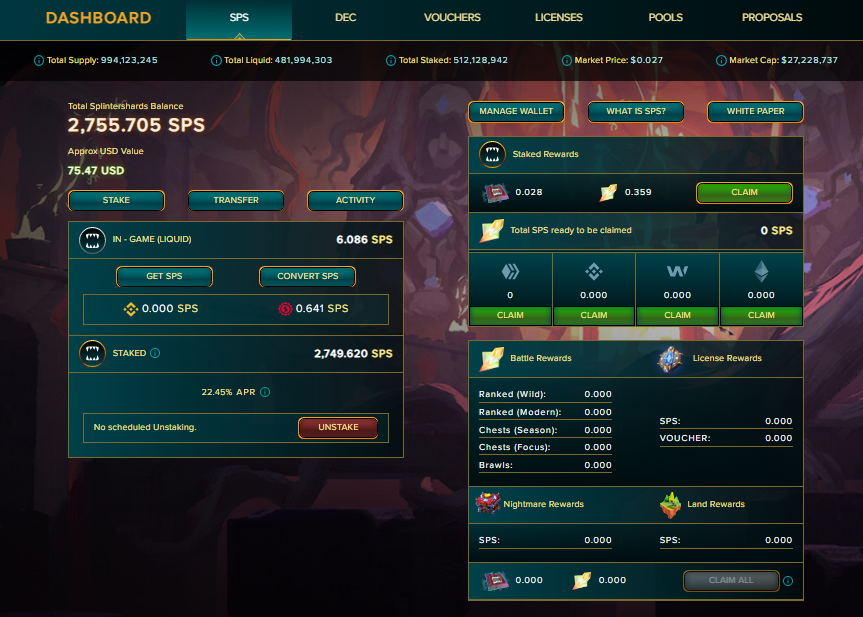 I'm pushing hard to see how to meet up with this goal for the year while I also keep abreast with other new investment opportunities in the gaming ecosystem.
2,750 SPS staked is small but its a long journey from nothing and it brings me closer to a more beautiful financial future within the Splinterlands gaming ecosystem.
---

Splinterlands game is termed the "next generation of collectible card games" in which allows players to collect, trade, and battle with provably scarce digital collectibles with real-world value. Battles on Splinterlands Unlike most trading card games, are fast and furious, and are usually completed within few minutes. The Splinterlands gameplay is simple and easy to learn viz: reviewing combat rules, making and submitting of the team and watching the battle unfold.

If you found the article interesting or helpful, please hit the upvote button, share for visibility to other hive friends to see. More importantly, drop a comment beneath. Thank you!
Let's Connect
Hive: https://leofinance.io/@uyobong
Twitter: https://twitter.com/Uyobong3
Discord: uyobong#5966
---
Posted Using LeoFinance Alpha
---
---