Even Stevens | The Battle Of The Even Mana Monster Cards

This season really look so fast to me, I just had to recheck and found out we only have 19hours left before crossing into a new season while we wait till the day they will take away collection power and implement the sps staking requirement for rank battle which I still don't know if it is a good idea or not because to me, it will only limit a lot of players back to the lower league section and make the game look more expensive to new players. Battling in the lower leagues section isn't that easy because we have too much players lurking around and I dont even know if they are bot or not because they are too good and it even take me more time with my deck collection to rank up. I have been dreaming of having a chaos pack among my chest reward for a long time until today, even though I know opening those packs do contain shitty cards mostly and it take luck to even get an epic talkless of legendary or gf cards so instead I do sell anyone I see and add them to my hbd savings for future use.
Check out the battle mage of the weeks and seeing the ruleset given which is the Even Stevens which only allow units with even mana costs in the selected battles, this rulesets is also one of the rarest rule but it is use in complementing the old one outs rule set which Only Monsters with odd Mana costs may be used in battles, checking out this rule sets, there are some element I don't always choose whenever I have the Even Steven rules like the earth element event though it is full of awesome magic cards, most of the cards are odd mana capped and also the fire element, so instead I choose between water, death or dragon element for this kind of rule and it do work out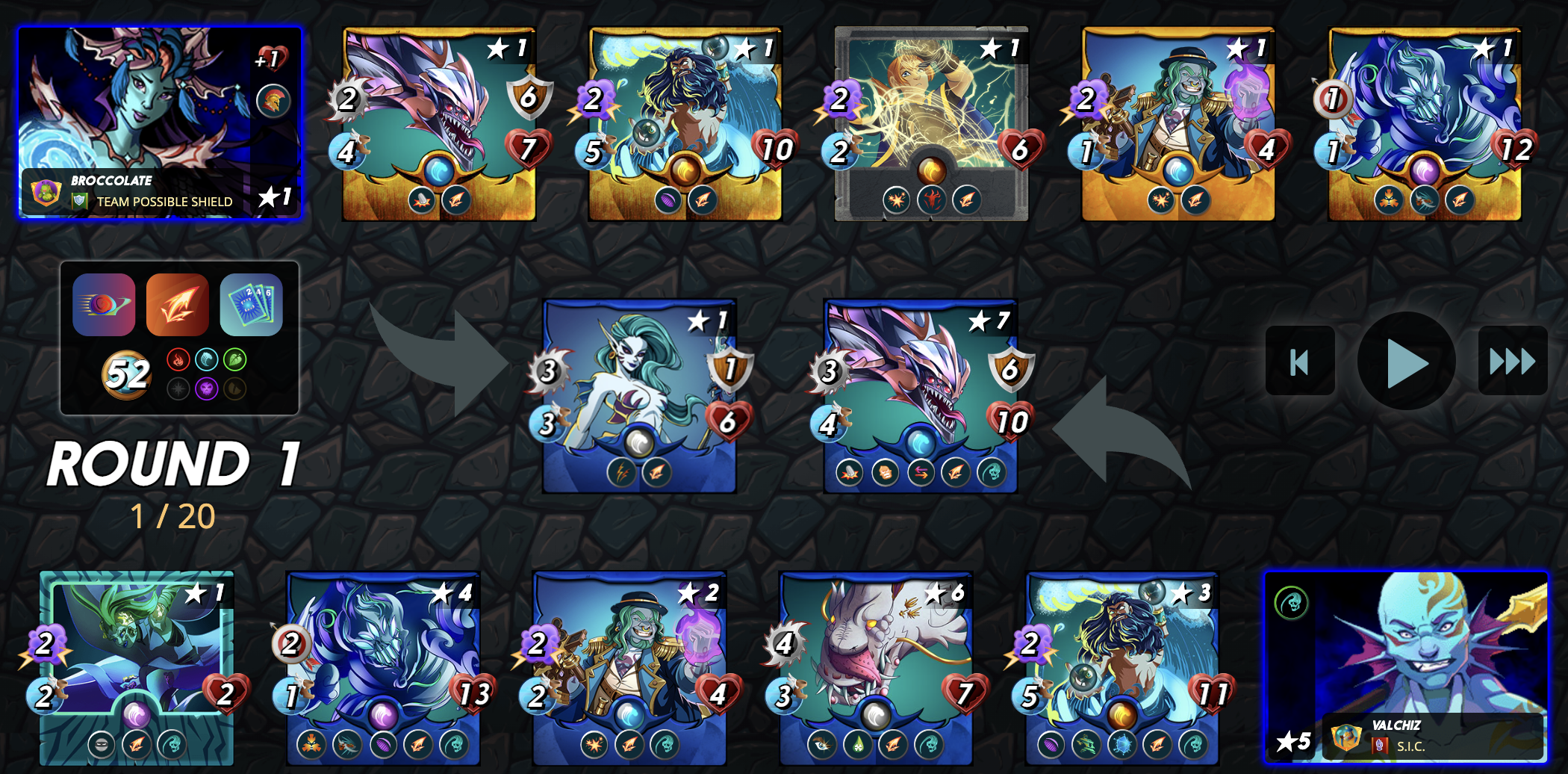 This battle rulesets that I had really have some contradictions within like the Reverse speed which allow cards with the lowest speed to attack first and also have a chance to evade attack coupled with Even Steven which allow only even mana capped cards and lastly is the Aimless that give all cards the scattershot ability but it really work on magic and range cards. Since I'm going with the water summoner, most of the cards I will be using really have average speeds which will somehow put me in a disadvantage position if my opponent decide to use low speed cards but I decided to use less melee cards so the scattershot cards can really work.
My Formation
Since I'm battling in the Gold leagues and I have no idea what my opponent will want to use, I figured out my abilities really matters a lot even if I'm in a disadvantage position, so I picked Diemonshark as my frontline because of the trample and retaliate ability since the enrage will only make it worst, then I backed it up with Djinn oshanmus which also have high speed but the ability is what I think will be helping me, then I use deepluker and also Riverboat captain which I rarely use in battle then Wave Brood with the taunt ability to hold down the first few attacks and lastly Coral wraith
The fear reduced when I saw my opponent came onboard with lvl 1 cards which also have some speeds equal to mine, even lvl 1 cards can defeat some high level cards if set up properly so the battle went smooth as first since each of use used wave brood to take in the first few attacks but the scattershot neglect it while the melee attackers still have to attack it, he really destroyed some of my useful cards but deeplurker really save the day with the extra poisonous attack that add extra damage each round and I was able to defeated him flawlessly.


---
---