Social Media Challenge: Splinterlands Weekly + Brawl Report (Jun 19 - Jun 24)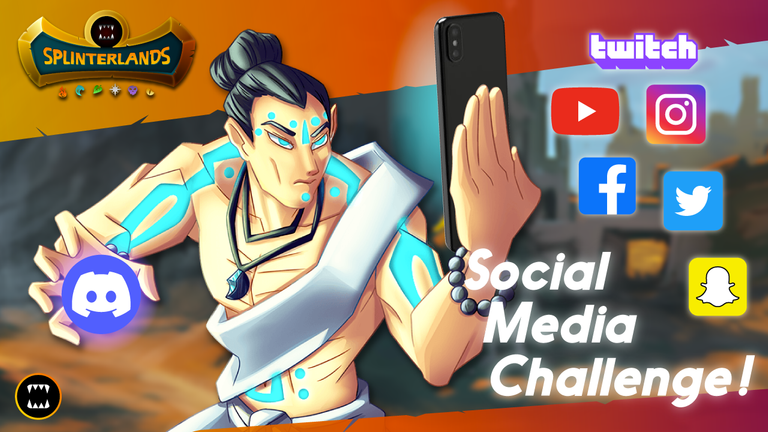 Greetings everyone, how is everybody? Everyone is still discovering how to play better on the new rewards system, how much to rent, how to maximize focus points. Once again, it's time to share how my account has grown and also on the latest brawl for PIZZA 2.
Let's start things off with how my collection power increased since the last update.
Owned Card Power (CP)
Week Start CP: 14155
Week Ending CP: 14450
CP Additions:
Rewards
Pelacor Mercenary x 1
Pelacor Deceiver x 4
Pelacor Bandit x 1
Pelacor Conjurer x 1
Vampire Bat x 1
Blood Maker x 1
Ever-Hungry Skull x 1
Exploding Rats x 1
Revealer x 1
Venari Wavesmith (GF) x 1
CP: 295
Gladius Pack
No packs this time.
CP: 0
Delta to Silver 3: 550
We are inching nearer and nearer true silver 3 CP. Hope by EOS, I will be able to get true silver 3. However, from the way things are going with the new rewards system, we should not just keep it as silver 3 and shoot higher.
Brawl Report
After clinching rank 1 last brawl, how will PIZZA 2 fare this week? Can we start a rank 1 streak?
Let's see how each brawl match went
Brawl 1
Link: https://splinterlands.com?p=battle&id=sm_qA0UkF6CnJ1kp6mfNTGz&ref=vaynard86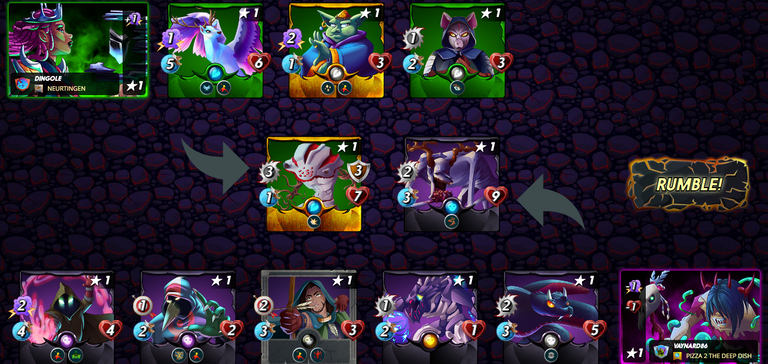 I think I have an edge especially with Thaddius suppressing the magic damage from opponent.
Outcome: Win. Opponent backline wane down and we slowly took out the tank.
Brawl 2
Link : https://splinterlands.com?p=battle&id=sm_TWzXJWcJOQkyXLpHCdun&ref=vaynard86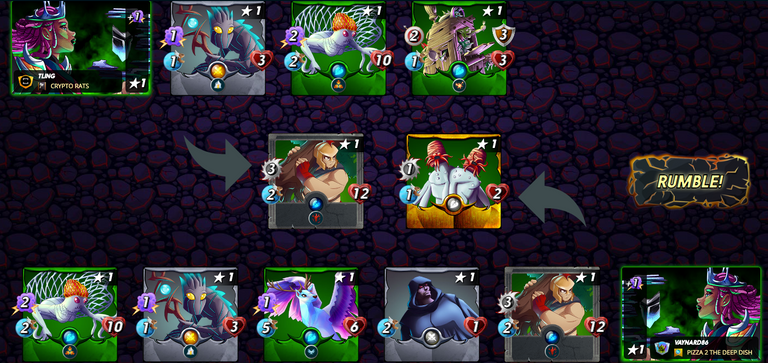 Dang, when I see this, i knew i made a very stupid mistake. I effectively gave my opponent a free growth in blood lust by placing Mycelic Morphoid at position 1.
Outcome: Lost. Bad placement cost me the match.
Brawl 3
Link: https://splinterlands.com?p=battle&id=sm_xRSF1IK3P8J1QQsumKEw&ref=vaynard86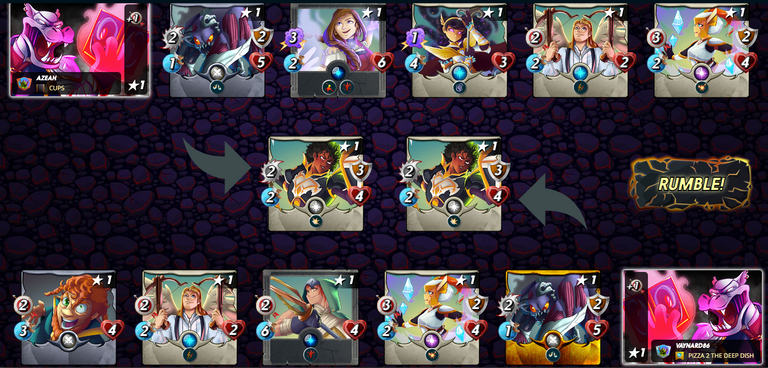 Argh, Captain Katie. I want my revenge from last week! Generally a similar matchup.
Outcome: Win! My blood lust triggered faster and a win secured.
Brawl 4
Link: https://splinterlands.com?p=battle&id=sm_IyxtxeI2Vcp8U8vAHmNa&ref=vaynard86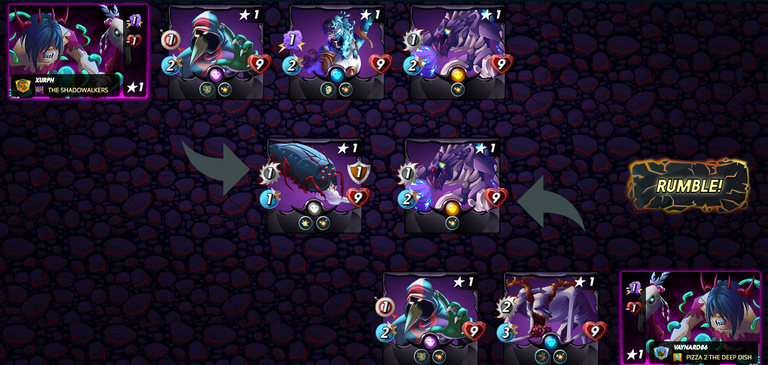 By placement, I know I will lose. Fiend will be a sitting duck for opponent Life Sapper as it will do no damage to Crypt Beetle.
Outcome: Lost. As predicted, opponent made a good placement to shut me out by using Crypt Beetle.
Brawl 5
Link: https://splinterlands.com?p=battle&id=sm_nU1cgznW2MPWyFShy1Ab&ref=vaynard86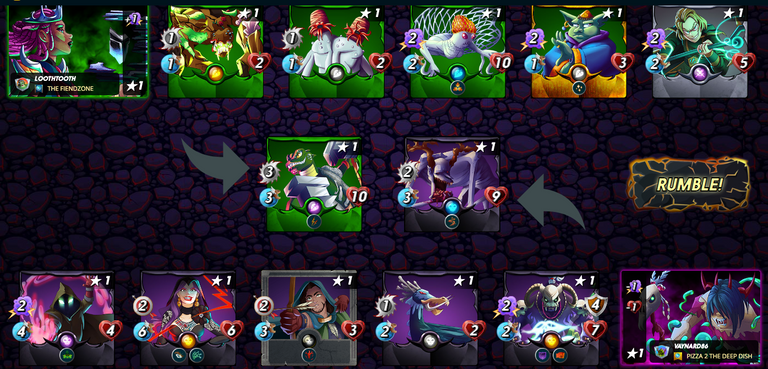 First time trying such a lineup. And it was actually my death focus day, so I got an arsenal of death splinter cards.
Outcome: Win! Lira did well this match the speed allowed some advantage in attack. If not for Windeku, thorns, Grund will be a problem to handle.
Brawl 6
Link: https://splinterlands.com?p=battle&id=sm_lo3W9aETp2fxEXYzhdwV&ref=vaynard86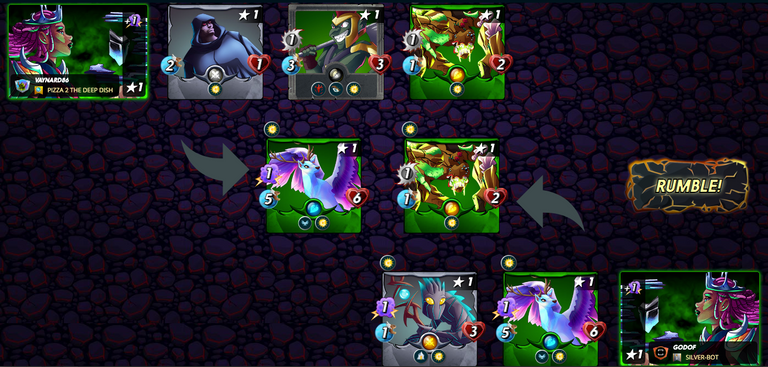 My damage output cannot match opponent. Outcome is not promising.
Outcome: Lost. Opponent had a healer and both slams for 2 magic, too much for me to handle.
Brawl 7
Link: https://splinterlands.com?p=battle&id=sm_Ys2ipWiKCueIUIA9SAoX&ref=vaynard86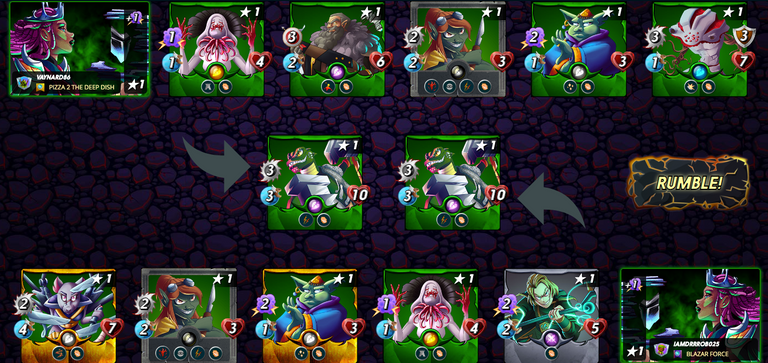 It's a match with a fellow metafren, very similar lineup. Range vs magic.
Outcome: Lost. With Queen Mycelia, my range attack was fended off but the magic came through to me and I lost. Good play fellow metafren.
Brawl 8
Link: https://splinterlands.com?p=battle&id=sm_T1y28n8KZIrnFRfvEmVf&ref=vaynard86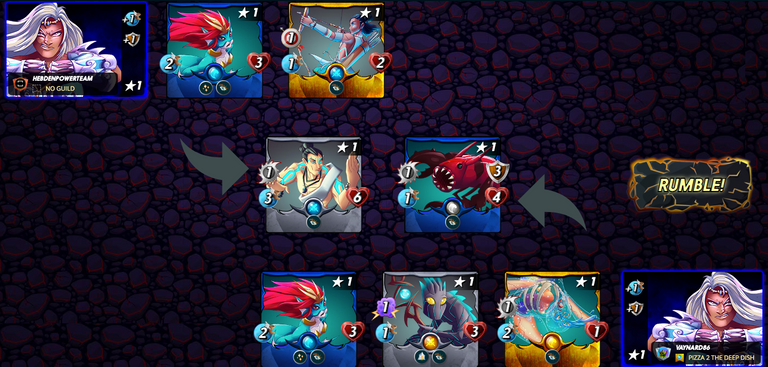 Testing my luck, Will double heal previal?
Outcome: Win. Didn't expected this, but glad to win.
My Final Tally
I win 4 and one match opponent fled allowing to achieve 5 wins. A few bad plays that I acknowledge. Will definitely get better next brawl.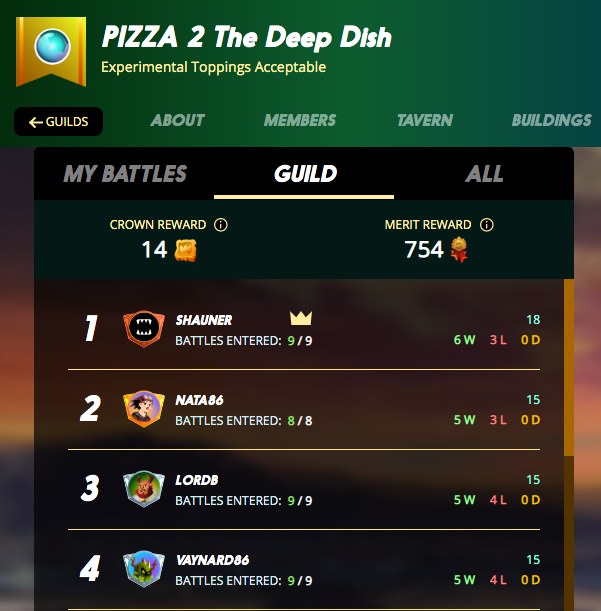 Guild Final Tally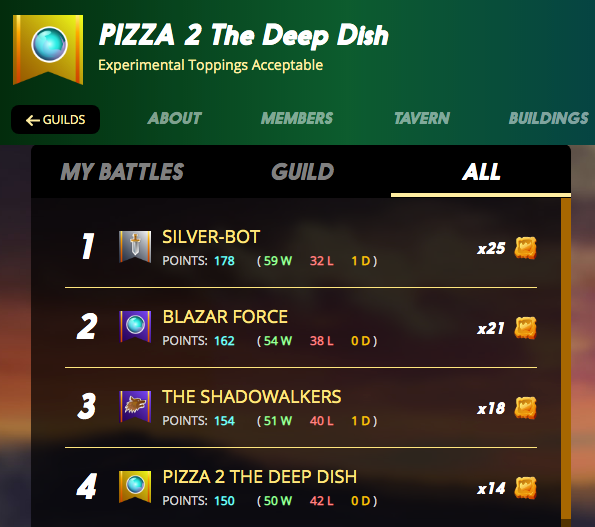 This brawl, we dropped to position 4. Let's get stronger and take back that number 1 spot!
Go PIZZA 2! Let's do better the next brawl!
Thoughts about Splinterlands Journey
This new focus match is fun and really test out my brain juice. However, this makes me happy that I am playing a game that allows me to grow and get stronger. Community spirit is always strong, many support everywhere, just knock and it'll be there.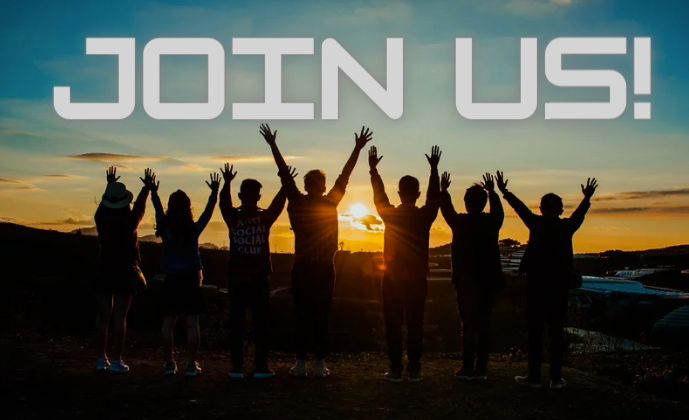 Call to Action
Splinterlands is a game that made me change my whole perspective of mobile gaming. The community and non-fixed gameplay is what attracts me and I believe will be something you wish to experience.
If you wish to join me, click on the link below and join me in this adventure.
https://splinterlands.com?ref=vaynard86
Do drop me a comment/message if you've joined Splinterlands through my referral link and I will transfer you some DEC to help you begin your Splinterlands journey.
I am currently also part of PIZZA community and also a part of the community's Splinterlands Guild. PIZZA is an active gaming and creative arts crypto community on the HIVE blockchain. Popular cryto games such as SPLINTERLANDS, RISING STAR and HASHKINGS are actively discussed here. Plenty of other things are being discussed there with many good information.
Many events are being organized from time to time. Join the PIZZA DISCORD. This is a place filled with 💰🍕🎁GIVEAWAYS & AIRDROPS💰🍕🎁 and most definitely consisting of a friendly community to be in.
Thank you for reading post about my journey thus far. I would really appreciate it if you liked and/or comment to let me know what are you thoughts.
Let's keep up this community spirit to allow more learning and sharing.
Until next time, stay safe and have fun!

---
---