Social Media Challenge: Splinterlands Weekly (Jan 20 - Jan 26) + Brawl Report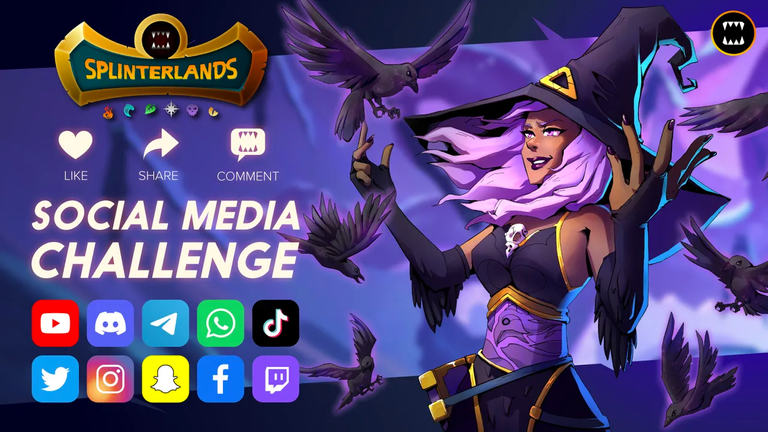 Greetings everyone, hope everyone is doing ok. This cover picture for social media challenge is really nicely done and featuring a Riftwatchers card. Kudos to the developers to have this done up. Today in this post, I will be covering on my account growth and also bring to you the latest brawl report for PIZZA 2.
Let's start things off with how my collection power increased since the last update.
Owned Card Power (CP)
Week Start CP: 24035
Week Ending CP: 24155
CP Additions:
Rewards
Vampire Bat x 3
Ever-Hungry Skull x 5
Blood Maker x 4
Venari Bonesmith x 1
Gargoya Devil x 1
Dhampir Infiltrator x 1
CP: 120
Gladius Pack
Accumulating in progress. Currently only 4 packs. Will open at 8 packs like previous.
CP: NA
Delta to Silver 2: 15845
A decent increase in CP with only a single day not getting any cards from daily focus chest. But one thing to note, some cards are no longer there especially the common cards. The Pelacors are gone, no more Gargoya Lion and Venari Heatsmith. It is like an end of an era of reward cards. Now I am seeing much more of the new series of reward cards. And with the latest announcement, there are soul bound reward cards that will be introduced. Do go check out the post link below to find out more.
New reward cards
https://peakd.com/splinterlands/@splinterlands/announcing-the-new-chaos-legion-reward-cards
Brawl Report
Time for some brawl action! Let's take a look look at the matches I played this brawl. As usual, I am anchoring Fray 3 for my guild which is the Novice Chaos Legion Fray, so cards will be at lowest form without additional levelled up stats/abilities.
Brawl 1
Link: https://splinterlands.com?p=battle&id=sm_7d5CbZcSMqphBk4XxJQK&ref=vaynard86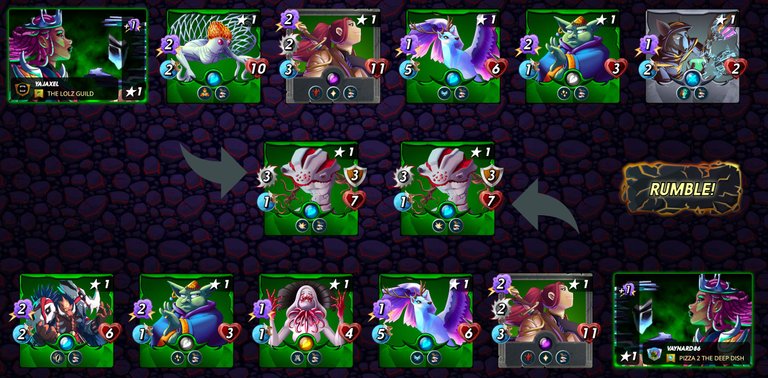 I saw a mistake in my opponent's lineup. There is a Slipspawn and it is a fury ruleset where additional damage will go to it.
Outcome: Win! It is important to watch the ruleset in order to secure wins. While having similar cards, one bad choice really drags the whole lineup down.
Brawl 2
Link : https://splinterlands.com?p=battle&id=sm_bGXDGjWmriYJh5KG1yaj&ref=vaynard86
Trust in the Quora to make miracles even when there is amplify from Windeku.
Outcome: Win! Quora displaying her overwhelming prowess to secure the win.
Brawl 3
Link : https://splinterlands.com?p=battle&id=sm_wVxGjvTxBRsL99TphiRt&ref=vaynard86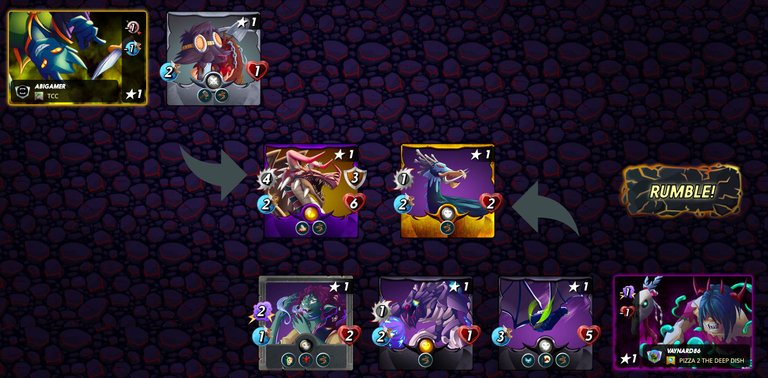 Ok, a very different kind of lineup fight. Taking note that there is Earthquake and Thorns. I fielded more air units in view of that.
Outcome: Win! Very close fight till the very end. Desert Dragon tore my lineup apart till it get dismembered by earthquake and Riftwing's thorns. Riftwing coming on top for this.
Brawl 4
Link : https://splinterlands.com?p=battle&id=sm_Joa8tuHoBueXJqjydzTi&ref=vaynard86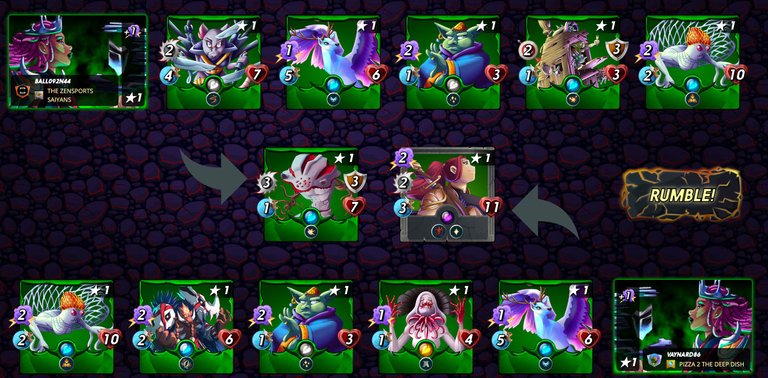 Almost a mirror match. Differences is Gladius and particularly Quora.
Outcome: Win! 4 in a row. Whenever appropriate and available, Gladius cards are tide turning, do consider using them.
Guild Final Tally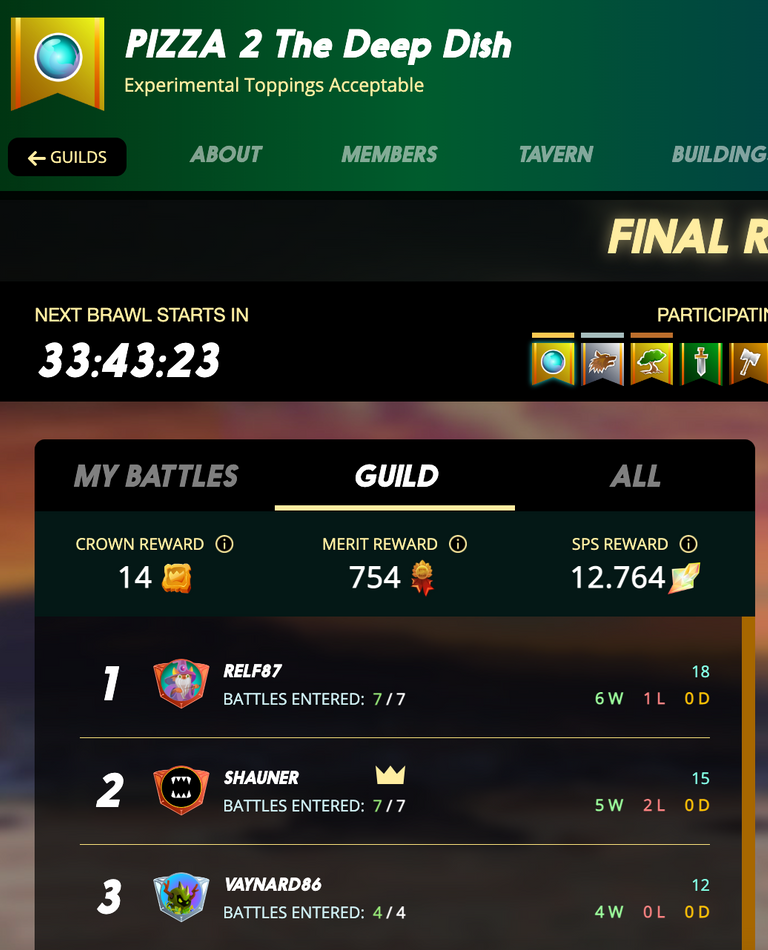 I am assigned 4 matches this brawl and managed to win all 4. I am thankful to be able to do so. Paying special attention to ruleset and also putting in appropriate Gladius cards if possible.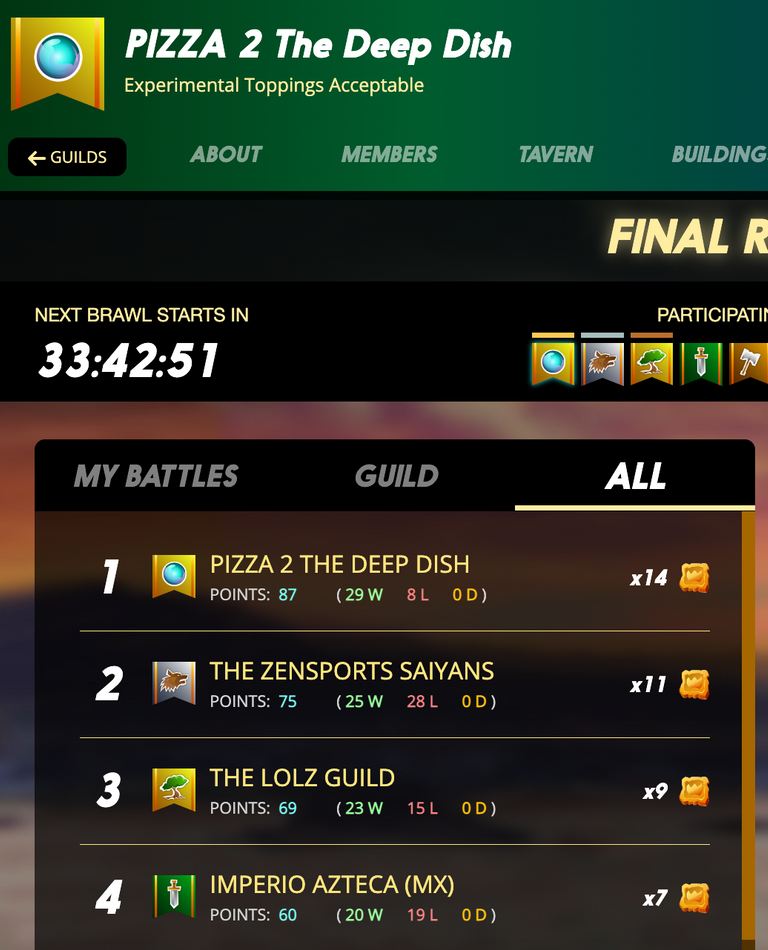 We are back to top! Way to go, fellow guild members on bringing up back to where we always want to be. Keep up the good work and go PIZZA 2!
Thoughts about Splinterlands Journey
The reward cards when I start playing Splinterlands has finally went out of print. Now it will be the new generation of reward cards together with a new set of soul bound reward cards being announced (check out the link earlier in the post for more information).
With the introduction of that big pool of reward cards, the game meta will definitely start shaking and evolving. And this is what I really enjoy about Splinterlands, always having something new for us to learn and grow.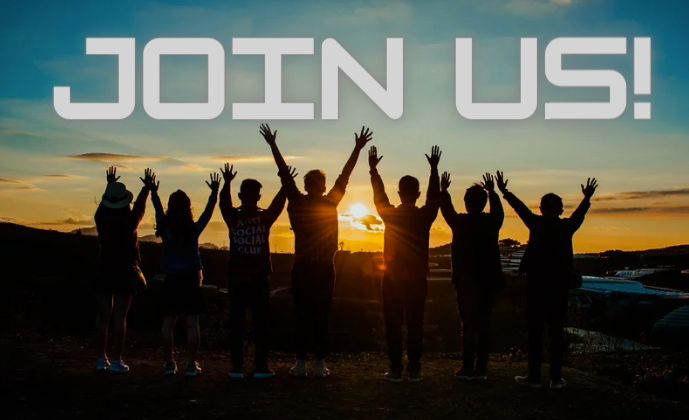 Call to Action
Splinterlands is a game that made me change my whole perspective of mobile gaming. The community and non-fixed gameplay is what attracts me and I believe will be something you wish to experience.
If you wish to join me, click on the link below and join me in this adventure.
https://splinterlands.com?ref=vaynard86
Do drop me a comment/message if you've joined Splinterlands through my referral link and I will transfer you some DEC to help you begin your Splinterlands journey.
I am currently also part of PIZZA community and also a part of the community's Splinterlands Guild. PIZZA is an active gaming and creative arts crypto community on the HIVE blockchain. Popular cryto games such as SPLINTERLANDS, RISING STAR and HASHKINGS are actively discussed here. Plenty of other things are being discussed there with many good information.
Many events are being organized from time to time. Join the PIZZA DISCORD. This is a place filled with 💰🍕🎁GIVEAWAYS & AIRDROPS💰🍕🎁 and most definitely consisting of a friendly community to be in.
Thank you for reading post about my journey thus far. I would really appreciate it if you liked and/or comment to let me know what are you thoughts.
Let's keep up this community spirit to allow more learning and sharing.
Until next time, stay safe and have fun!

---
---