Social Media Challenge: Splinterlands Weekly (Mar 10 - Mar 16) + Brawl Report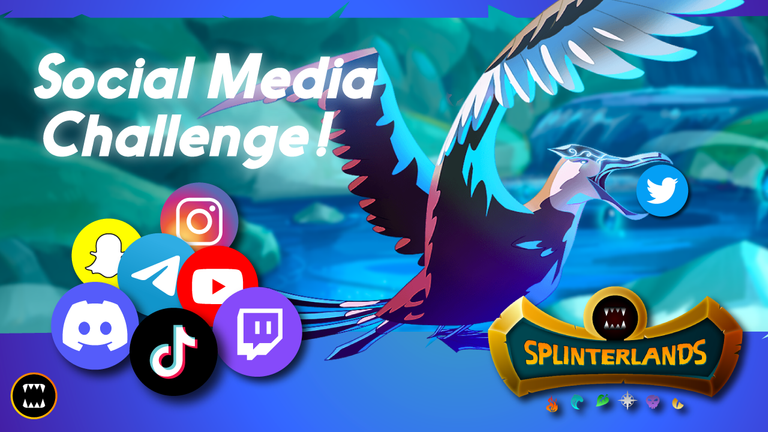 Greetings everyone, how is everybody doing this week? This week there is End of Season and also I did a pull for 8 Gladius packs. So let's proceed with the sharing on my account growth and also doing a brawl report for PIZZA 2.
Let's start things off with how my collection power increased since the last update.
Owned Card Power (CP)
Week Start CP: 39485
Week Ending CP: 42225
CP Additions:
Rewards
Imperial Knight x 2
Coastal Sentry x 6
Swamp Spitter x 3
Wily Coyotian x 6
Fungus Flinger x 11
Ferox Defender x 3
Gobson Bomber x 11
Venari Maskrat x 2
Ravenhood Warden x 1
Pembrook Nymph x 3
Pyrewatch Devil x 1
Helios Matriach x 5
Will-O-Wisp x 1
Kra'ar Xoc x 2
CP: 750
Gladius Pack

Key cards:
Quora Towershead
Edith Emberstar
Krash Wanderford (GF)
Katrelba Gobson (GF)
CP: 1990
Delta to Silver 1: 27775
Yes, I have succeeded. Silver 2 rating cleared! Now I will shift the CP target to Silver 1. So glad to have achieved this milestone. Also, this week, it was a good opening of the 8 Gladius pack, allowing me to get Quora and Edith together with 2 Gold Foil Common. With Gladius pack opening and end of season, it was a real good CP push. Hoping to continue this momentum into Silver 1 CP target.
End of Season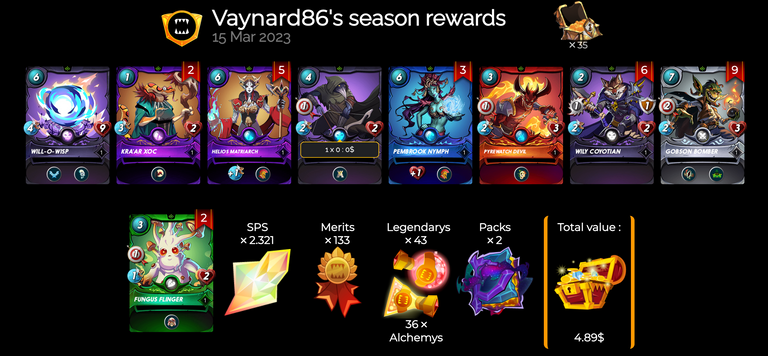 Wow, a nice collection of cards obtained through this EOS. The most notable drop will be the 2 Chaos Legion Pack. A decent amount of SPS and some pots to ensure we can have enough supply for daily chest opening.
Brawl Report
Time for some brawl action! Let's take a look look at the matches I played this brawl. As usual, I am anchoring Fray 3 for my guild which is the Novice Chaos Legion Fray, so cards will be at lowest form without additional levelled up stats/abilities.
Brawl 1
Link: https://splinterlands.com?p=battle&id=sm_JViqW8cgApSnqHe29HrL&ref=vaynard86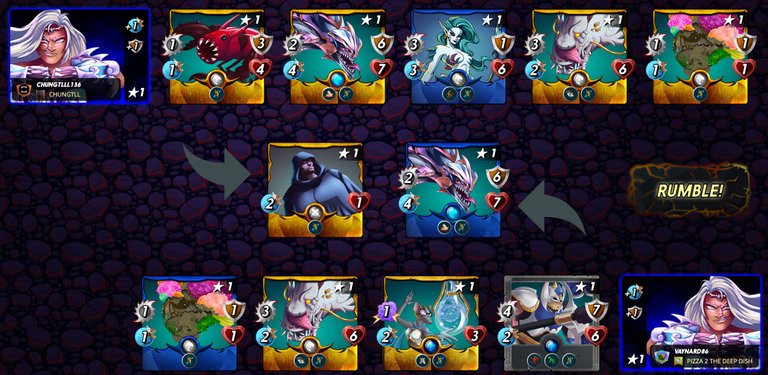 After putting up my lineup and seeing my opponent, I was shocked that I see Chaos Agent at tank position. Will I win?
Outcome: Lost! Something to learn, in melee mayhem, that Coastal Sentry is a beast. 3 damage with double strike is really strong, something for me to consider in the future.
Brawl 2
Link : https://splinterlands.com?p=battle&id=sm_fyYQvhEUtOmlEf9iqKGG&ref=vaynard86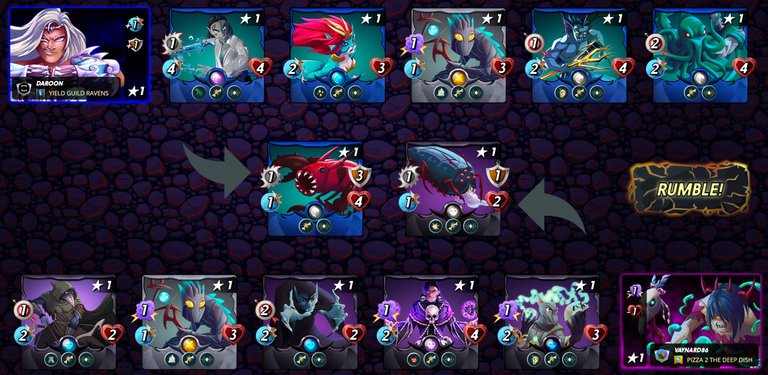 Little league, one of my favourite rule set. I didn't put in any Gladius card, so let's see if it is sufficient.
Outcome: Lost. My attacks were too low and the cripple ruleset makes it even tougher for me. Another lesson learnt from this match.
Brawl 3
Link : https://splinterlands.com?p=battle&id=sm_zo63uYvpt2XA1F762gb6&ref=vaynard86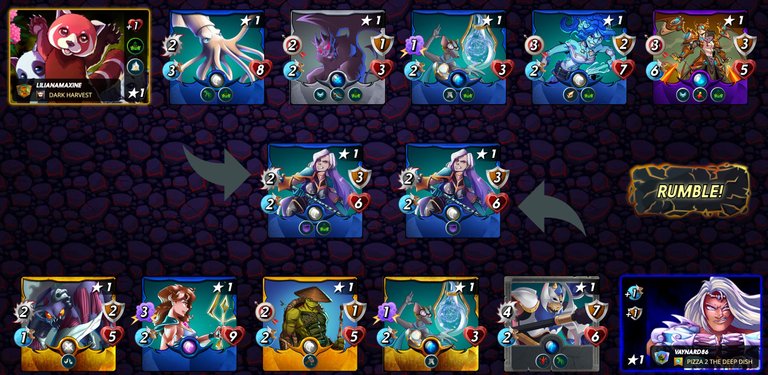 Lily Shieldpaw, first time meeting this. Let's see how it turns out.
Outcome: Win! Not too bad, Swamp Spitter's repair came in handy against the earthquake. Finally first win clocked.
Brawl 4
Link : https://splinterlands.com?p=battle&id=sm_vNMZPmcVvGWxtUPSbQ8l&ref=vaynard86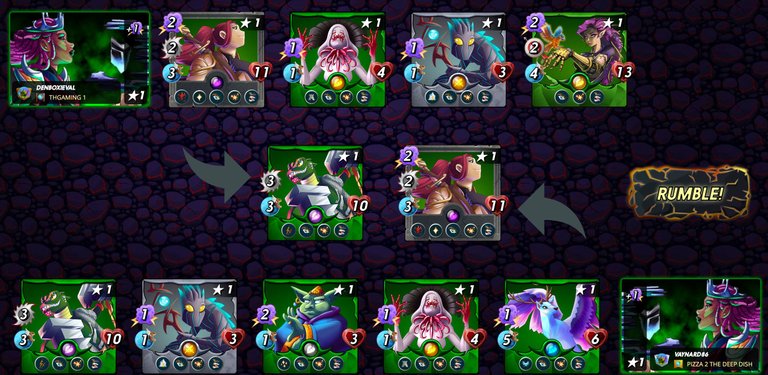 This doesn't look good. The Runemancer on my opponent's lineup looked like another Quora. So effectively I am facing 2 Quora.
Outcome: Lost. My lineup wasn't fast enough. Runemancer blast off my lineup with a breeze.
Brawl 5
Link : https://splinterlands.com?p=battle&id=sm_we8JsoLw64QSjdeXthXL&ref=vaynard86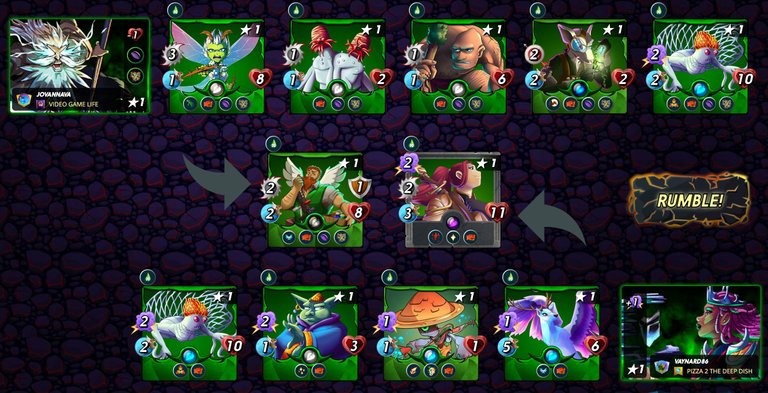 Immortalis lineup while I trust in Quora to lead my squad to victory in a noxious fumes ruleset.
Outcome: Win! Quora outlasted everyone and bring me a much needed victory.
Brawl 6
Link : https://splinterlands.com?p=battle&id=sm_lDzOjbpwZKm7kKq3Fegk&ref=vaynard86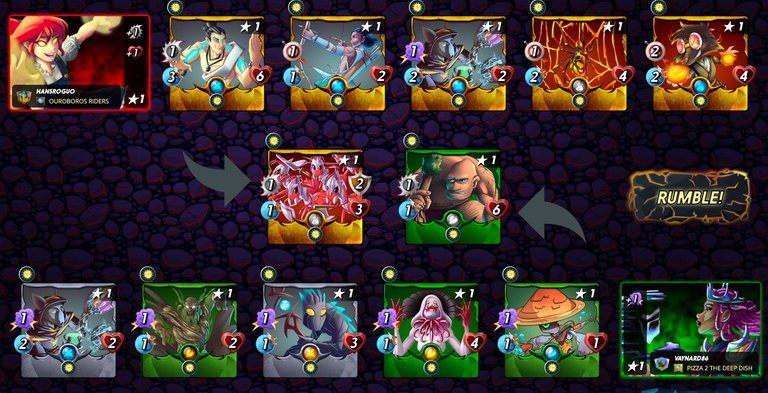 Outcome: Win! Magic lineup bulldoze the way through and secured the victory.
Guild Final Tally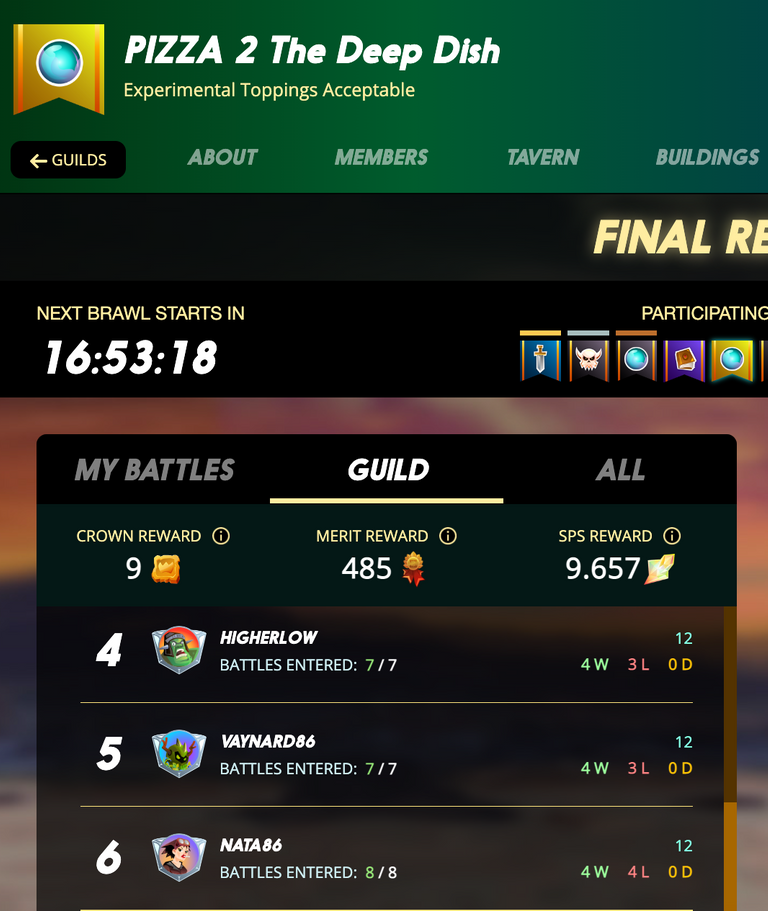 I am assigned 7 matches this brawl, I won 4 (1 flee) and lost 3. Very tough matches for this brawl, I meeting many strong cards and also some great gameplay from my opponent. Ruleset advantage is something I need to further work on so that my lineup can maximize its damage.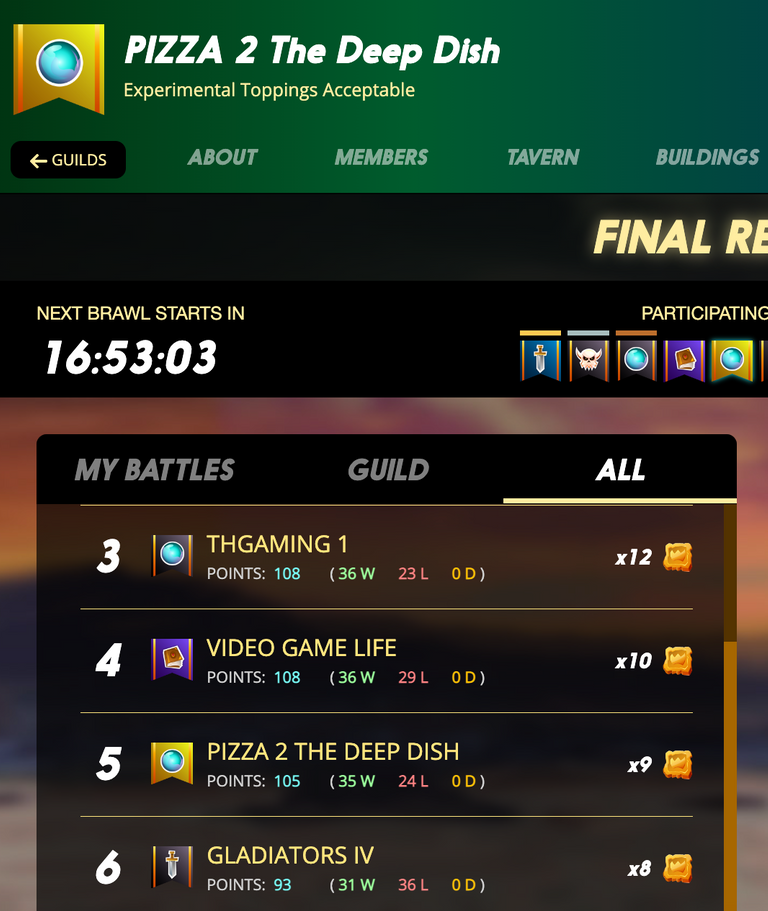 Oh no, we dropped to 5th place. We definitely need to pick up our pieces and fight on. Fellow guid members, let's not allow the defeat to pull us down but fight hard. Go PIZZA 2!
Thoughts about Splinterlands Journey
This particular brawl had so much learning for me. While some of my reliable lineup did do me well, I cannot be complacent as new soul bound cards are starting to take root and many people are learning how to play them well to win brawls. Will continue to learn and better my gameplay.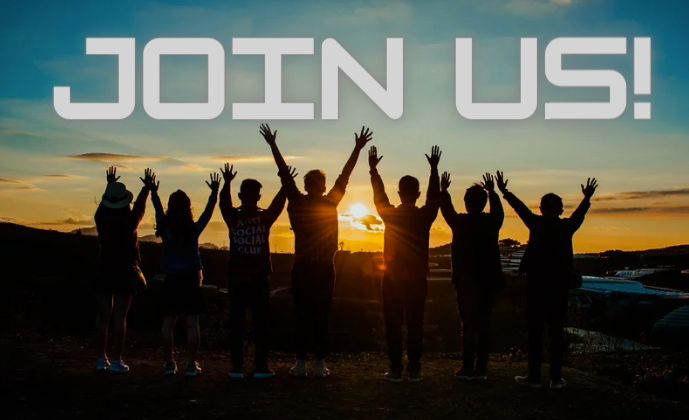 Call to Action
Splinterlands is a game that made me change my whole perspective of mobile gaming. The community and non-fixed gameplay is what attracts me and I believe will be something you wish to experience.
If you wish to join me, click on the link below and join me in this adventure.
https://splinterlands.com?ref=vaynard86
Do drop me a comment/message if you've joined Splinterlands through my referral link and I will transfer you some DEC to help you begin your Splinterlands journey.
I am currently also part of PIZZA community and also a part of the community's Splinterlands Guild. PIZZA is an active gaming and creative arts crypto community on the HIVE blockchain. Popular cryto games such as SPLINTERLANDS, RISING STAR and HASHKINGS are actively discussed here. Plenty of other things are being discussed there with many good information.
Many events are being organized from time to time. Join the PIZZA DISCORD. This is a place filled with 💰🍕🎁GIVEAWAYS & AIRDROPS💰🍕🎁 and most definitely consisting of a friendly community to be in.
Thank you for reading post about my journey thus far. I would really appreciate it if you liked and/or comment to let me know what are you thoughts.
Let's keep up this community spirit to allow more learning and sharing.
Until next time, stay safe and have fun!

---
---