Social Media Challenge: Splinterlands Weekly (Nov 11 - Nov 17) + Brawl Report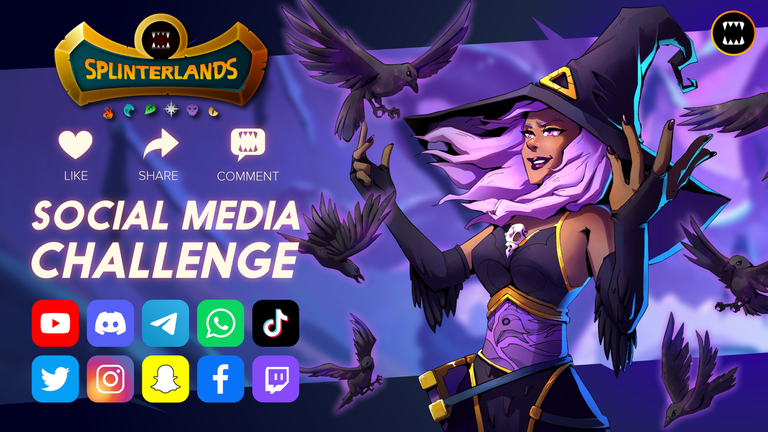 Greetings everyone, hope everyone had a good week. We have EOS after last week's post. I will be sharing on my account growth, EOS and also the latest brawl result from PIZZA 2.
Let's start things off with how my collection power increased since the last update.
Owned Card Power (CP)
Week Start CP: 20110
Week Ending CP: 20395
CP Additions:
Rewards
Venari Heatsmith x 1
Pelacor Mercenary x 2
Pelacor Conjurer x 1
Pelacor Deceiver x 4
Pelacor Bandit x 2
Ever-Hungry Skull x 1
Merdhampir x 1
Bloodmaker x 2
Gargoya Lion x 1
Vampire Bat x 1
Pelacor Conjurer (GF) x 1
Venari Wavesmith x 1
Gargoya Devil x 1
Venari Crystal Smith x 1
Exploding Rats x 1
CP: 285
Gladius Pack
I have accumulated 5 Gladius pack through the reward chest and also brawl rewards. Planning to open when I hit 8 packs to increase the chances of getting cards that I want to get.
CP: NA
Delta to Silver 2: 19605
Generally a good growth of CP together with EOS. Slowly but steadily quite a few cards this time round. Hope I will be able to get higher rarity cards for next EOS and also during daily.
EOS Summary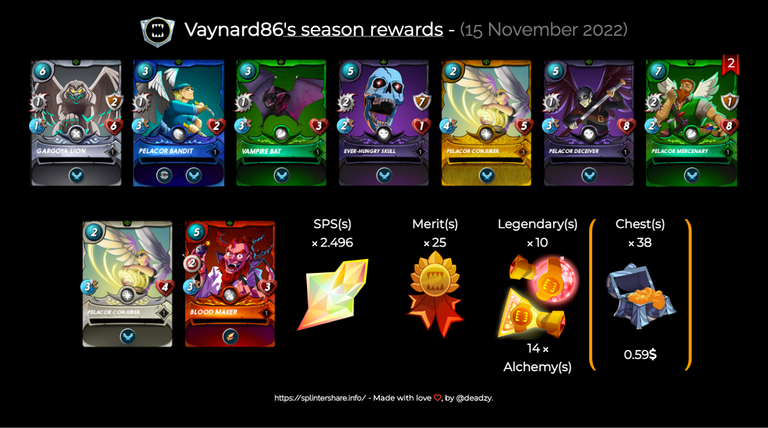 Rather decent EOS filled with cards and even a Gold Foil appearing. Decent amount of SPS gotten as well. Hoping for a better EOS next season, will the elusive Gold Foil legendary appear?
Brawl Report
Alritey, time for some brawl action! Let's take a look look at the matches I played this brawl. Something to note, I am always anchoring Fray 3 for my guild which is the Novice Chaos Legion Fray, so cards will be at lowest form without additional levelled up stats/abilities.
Brawl 1
Link: https://splinterlands.com?p=battle&id=sm_PwwbTXqs7MLQH9DlfQOh&ref=vaynard86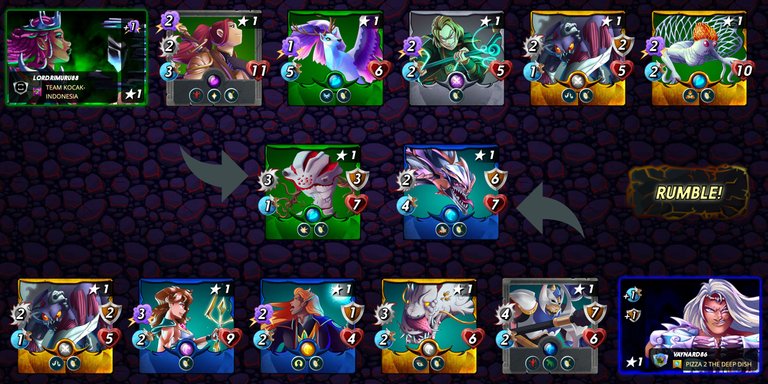 While I have defeated Quora in a couple of matches before, meeting Quora is certainly something that I don't like to see.
Outcome: Lost. Outmuscled by the massive magic bombardment.
Brawl 2
Link : https://splinterlands.com?p=battle&id=sm_6rgf9pgg9oiWUHaXAn19&ref=vaynard86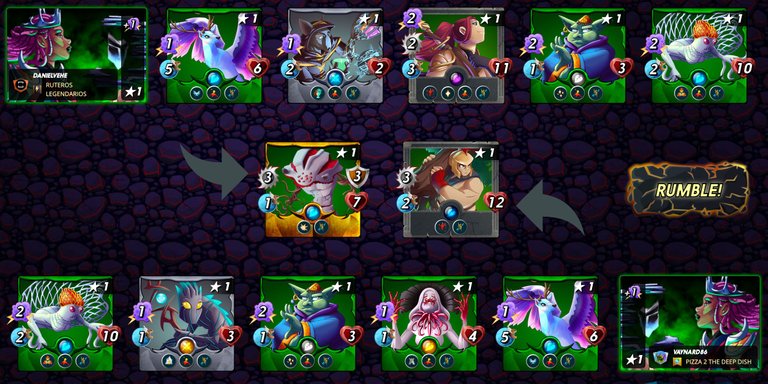 Come on, another Quora opponent. This is a little overboard. I really hope I can own a copy of it soon because this card is really too strong.
Outcome: Lost. While both sides used Magic Earth lineup, I didn't stand a chance.
Brawl 3
Link: https://splinterlands.com?p=battle&id=sm_2XNb8P94t13KS32Lp3UA&ref=vaynard86
My turn to gain advantage, Liza Fox master archer leads the charge
Outcome: Win! Finally I get a win after being hammered badly by Quora in the earlier two matches.
Guild Final Tally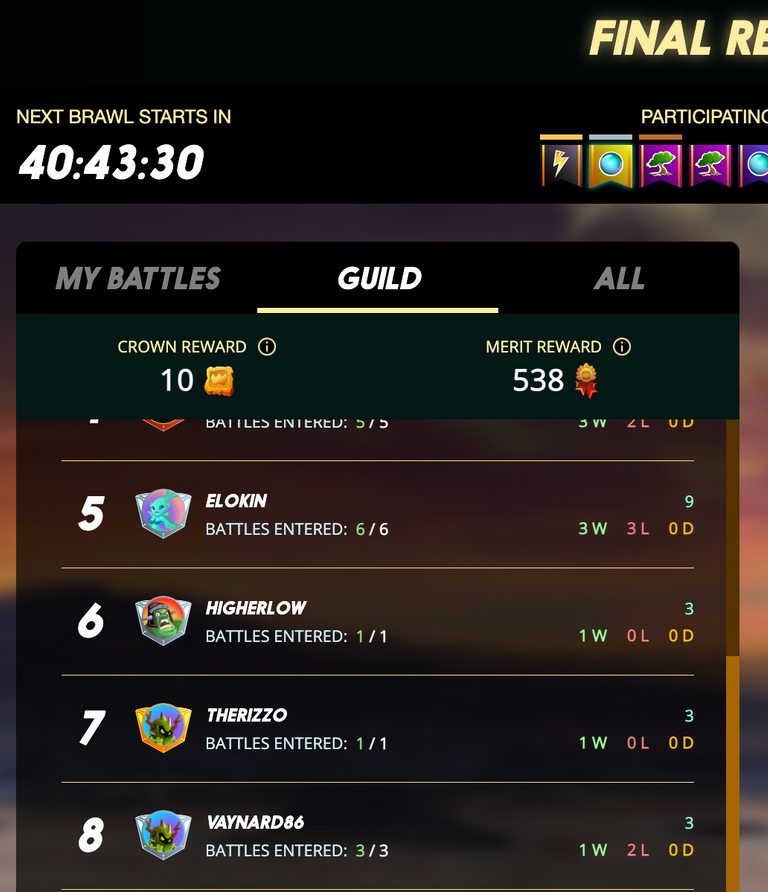 I am given 3 matches for this brawl, of which I won 1 and lost 2. Apologies for being unable to overcome the 2 matches which had Quora. I will do better next time.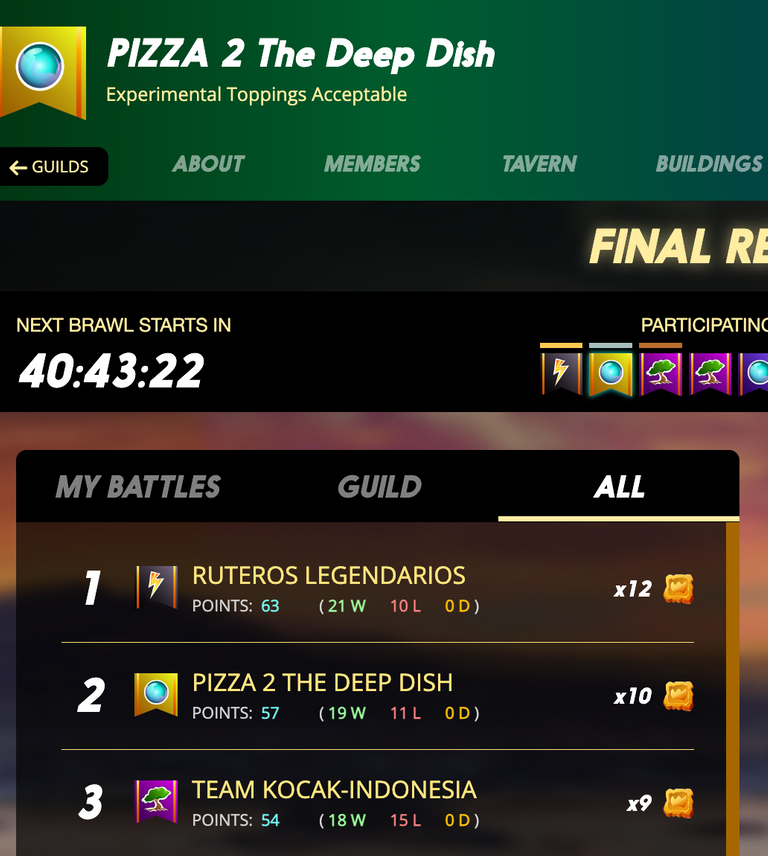 We fall from first spot back to 2nd. I will do better next brawl. And let's get back first spot together! Go PIZZA 2!
Thoughts about Splinterlands Journey
Would like to mention about the Splinterlands token of SPS. The utility of it has significantly increased and also ways of obtaining it has significantly improved along the journey.
I just spotted that there will SPS rewards for this upcoming Brawl and also with more SPS staked, we get more GLX tokens from the upcoming Genesis League Soccer game developed by the Splinterlands team, not forgetting additional vouchers and SPS.
It is an amazing journey with more utility with the token and improving ways to get more SPS. It's so amazing to be part of this amazing game.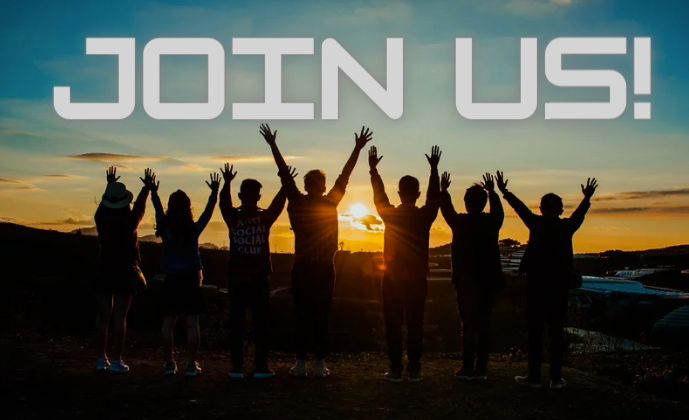 Call to Action
Splinterlands is a game that made me change my whole perspective of mobile gaming. The community and non-fixed gameplay is what attracts me and I believe will be something you wish to experience.
If you wish to join me, click on the link below and join me in this adventure.
https://splinterlands.com?ref=vaynard86
Do drop me a comment/message if you've joined Splinterlands through my referral link and I will transfer you some DEC to help you begin your Splinterlands journey.
I am currently also part of PIZZA community and also a part of the community's Splinterlands Guild. PIZZA is an active gaming and creative arts crypto community on the HIVE blockchain. Popular cryto games such as SPLINTERLANDS, RISING STAR and HASHKINGS are actively discussed here. Plenty of other things are being discussed there with many good information.
Many events are being organized from time to time. Join the PIZZA DISCORD. This is a place filled with 💰🍕🎁GIVEAWAYS & AIRDROPS💰🍕🎁 and most definitely consisting of a friendly community to be in.
Thank you for reading post about my journey thus far. I would really appreciate it if you liked and/or comment to let me know what are you thoughts.
Let's keep up this community spirit to allow more learning and sharing.
Until next time, stay safe and have fun!

---
---