Social Media Challenge: Splinterlands Weekly (Nov 18 - Nov 24) + Brawl Report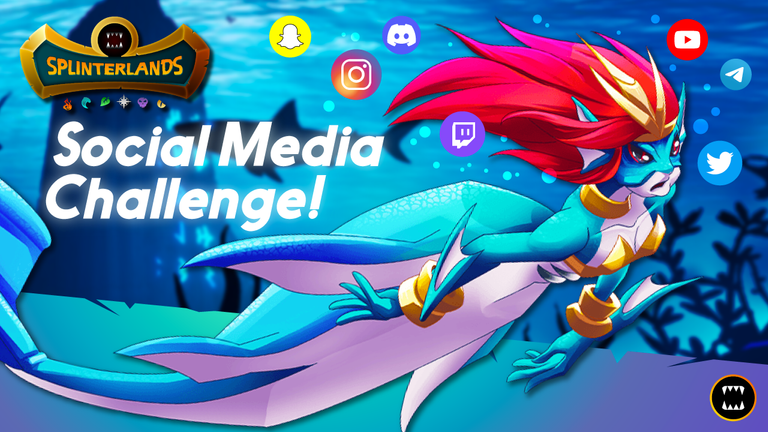 Greetings everyone, happy Thanksgiving! It's time for another update to my Splinterlands journey and also to share on the latest brawl from PIZZA 2.
Let's start things off with how my collection power increased since the last update.
Owned Card Power (CP)
Week Start CP: 20395
Week Ending CP: 20480
CP Additions:
Rewards
Pelacor Mercenary x 1
Pelacor Conjurer x 1
Merdhampir x 1
Bloodmaker x 1
Vampire Bat x 1
Naga Assassin x 2
Venari Bonesmith x 1
CP: 85
Gladius Pack
I have accumulated 5 Gladius pack through the reward chest and also brawl rewards. Planning to open when I hit 8 packs to increase the chances of getting cards that I want to get.
CP: NA
Delta to Silver 2: 19520
Low CP gain this week, mainly contributed by my lack of play time averaging of 3 chest per day. Also when I get some time to play, I met series of bots with crazy card lineups.
Will try to seek more time to play and also rent up a bigger lineup so that I can fend off the bots. Also I realize more and more Riftwatchers cards are being played in Silver, will need to study how I can also incorporate them to my current lineups.
Brawl Report
Alritey, time for some brawl action! Let's take a look look at the matches I played this brawl. As usual, I am anchoring Fray 3 for my guild which is the Novice Chaos Legion Fray, so cards will be at lowest form without additional levelled up stats/abilities. One weird thing that happened this brawl is the super low number of matches I get to play.
Brawl 1
Link: https://splinterlands.com?p=battle&id=sm_eIJipQAbf0O9RmgXgBRF&ref=vaynard86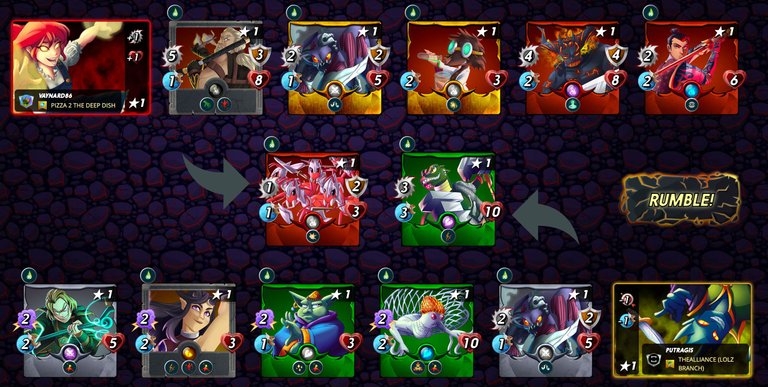 I spotted a legendary Gladius card at my opponent lineup. Larrisa Kerato, a card with dual strike and magic attack, so easy to gain blood lust and one dangerous card.
Outcome: Lost. Just as I expected, that card is scary, it perpetually gain a blood lust every round.
Brawl 2
Link : https://splinterlands.com?p=battle&id=sm_n1AmT2oi4sCczdZ6aEMD&ref=vaynard86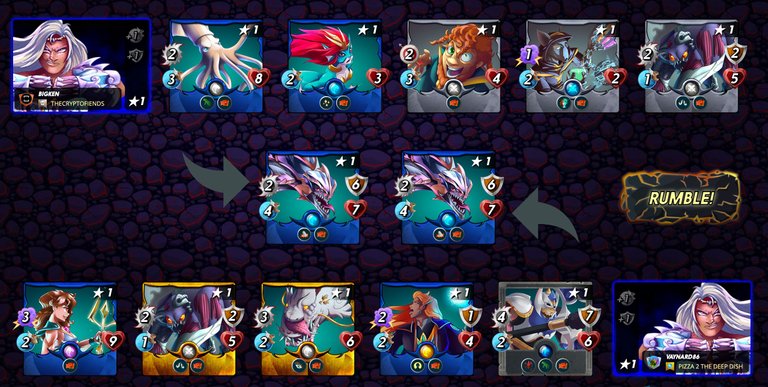 Should be an easy win, I have a Gladius in Releanor which is rather consistent in securing wins for me.
Outcome: Win! Melee and magic cards doing well and securing the win.
Guild Final Tally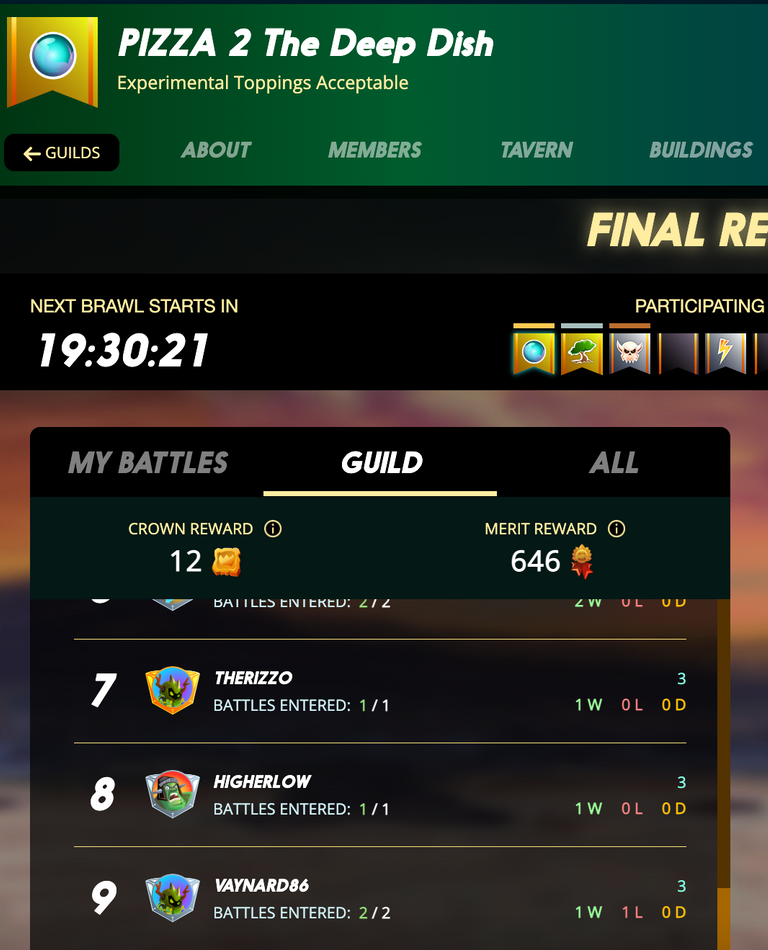 I am only seeing 2 matches this brawl, every win counts. I only managed to get 1 win out of 2.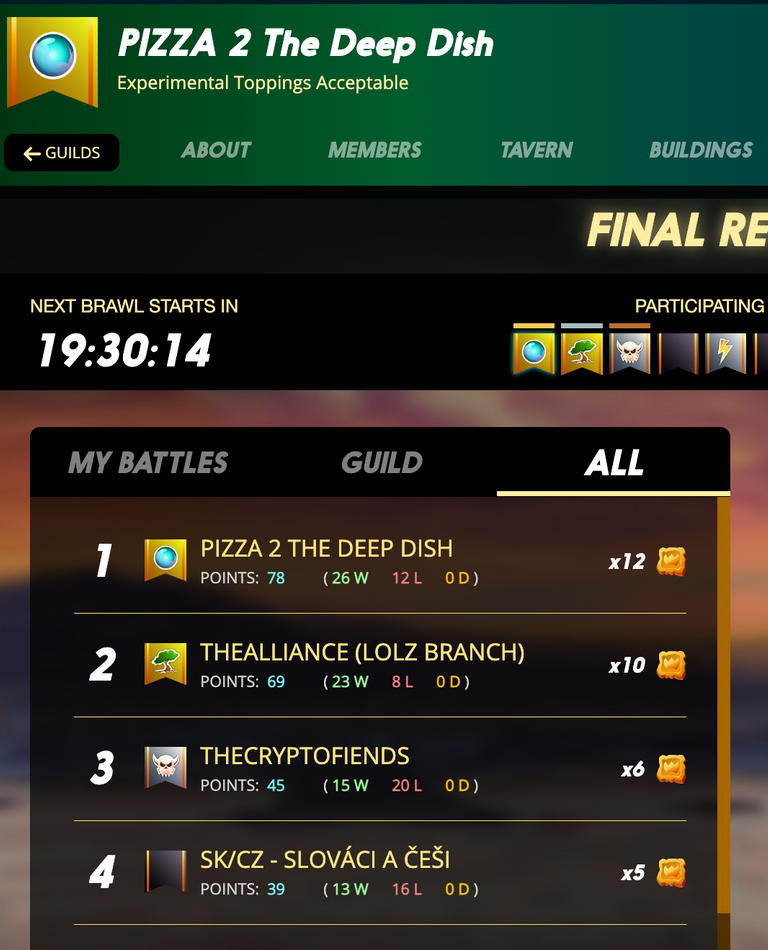 We are first! Woohoo! While low game count on my end makes it a 50-50 situation on my end, the rest of the members did well. Go PIZZA 2! Well done fellow guild members!
Thoughts about Splinterlands Journey
Changes are coming to brawls and riftwatchers will now be included into the various frays. Especially for my fray which used to be only Chaos Legion, now there will be Riftwatchers included.
Therefore, I need to step up on my understanding and combinations with Riftwatchers. This change really makes things interesting and challenge me to new heights, thereby allowing me to learn more and become a better player. Let's see how things go for the next brawl!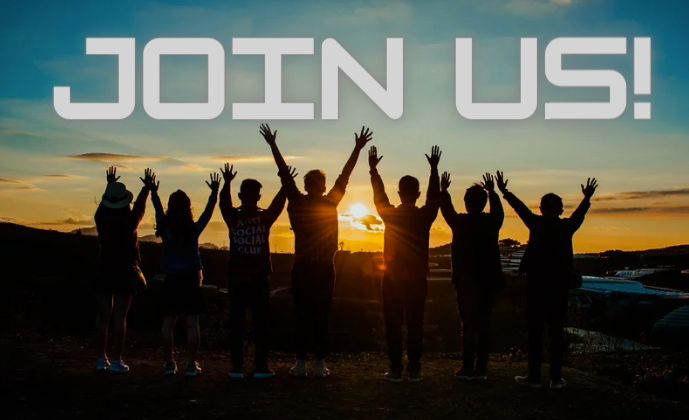 Call to Action
Splinterlands is a game that made me change my whole perspective of mobile gaming. The community and non-fixed gameplay is what attracts me and I believe will be something you wish to experience.
If you wish to join me, click on the link below and join me in this adventure.
https://splinterlands.com?ref=vaynard86
Do drop me a comment/message if you've joined Splinterlands through my referral link and I will transfer you some DEC to help you begin your Splinterlands journey.
I am currently also part of PIZZA community and also a part of the community's Splinterlands Guild. PIZZA is an active gaming and creative arts crypto community on the HIVE blockchain. Popular cryto games such as SPLINTERLANDS, RISING STAR and HASHKINGS are actively discussed here. Plenty of other things are being discussed there with many good information.
Many events are being organized from time to time. Join the PIZZA DISCORD. This is a place filled with 💰🍕🎁GIVEAWAYS & AIRDROPS💰🍕🎁 and most definitely consisting of a friendly community to be in.
Thank you for reading post about my journey thus far. I would really appreciate it if you liked and/or comment to let me know what are you thoughts.
Let's keep up this community spirit to allow more learning and sharing.
Until next time, stay safe and have fun!

---
---