Season reward | $0.082
When the season ended I was travelling, so now the post.
I opened my 5 chests for finishing Bronze 3.
And that was my reward

I can safely say that in monetary terms this was the worst end-of-season reward of all, totaling a paltry amount of just $0.082 in credits.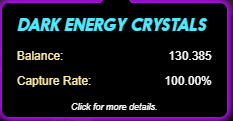 Balance: 130.406 DEC or $1.73.
Cards: $42.37 or 1,015 DEC using burn.
Total: $44.10 ($42.37 + $1.73)
Compared to last season the total value increased by $20.57. 91% of this increase due to the valuation of the deck.
---
---