BATTLE MAGE SECRETS Weekly Challenge! | RULESET: HEALED OUT [EN / PT-BR]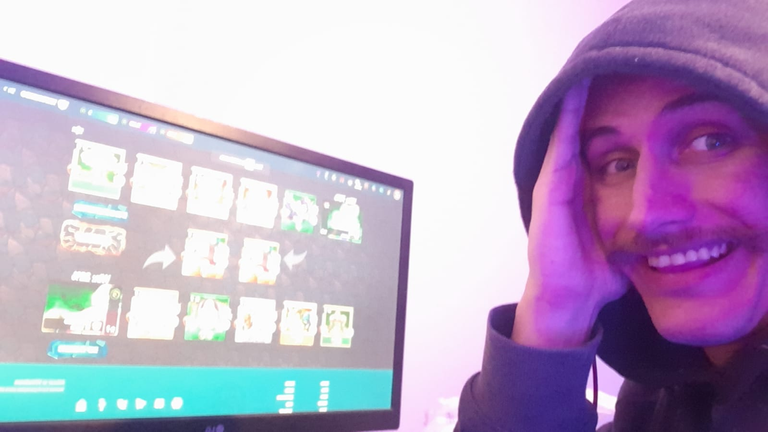 The weekly challenge has changed, and now the battles will no longer be with the card or the type of card chosen, but by the battle rule. You can check out the new rules by clicking here.
This week the rule is:
HEALED OUT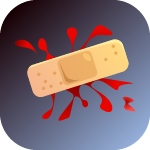 All healing abilities are removed from Monsters and Summoners.
BATTLE TIP:
- You can skip monsters and summoners with Affliction.
- Life Leech is not affected by this ruleset.
Healed Out is a battle rule that removes the Healing ability from both Tanks that heal themselves and from Supports that have the ability to heal other cards. The Summoner who has the healing skill also loses this skill.
For this reason, sometimes people who focus their entire strategy only on healing may have a headache to assemble their line of monsters, since it will no longer be possible to heal, so a different move is needed.
When I can't use the healing card, I always try to tank cards with high points of Life and Shield to compensate for this loss that will not be recovered.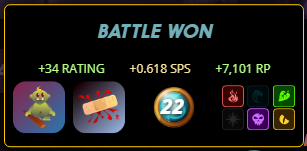 SUMMONERS

Thinking about the fact that there would be no healing and the cards would have to be 4 or less mana cost, they wouldn't have much health, so I chose Mylor to use his Thorns ability for all my cards and that way I could try to win in the counterattack.
With that in mind, I set up my strategy with the following cards:
MY STRATEGY

Focusing on exploiting the Thorns skill, I put a card with a high number of life among those that cost little mana in position 1, and 2 archers with Martyr to boost my attack cards, both in the front and in the middle.
In the last position I chose a card with the Weaken ability so that all enemy cards would start with one less life point.
And Queen Mycelia giving support with +2 armor to all allies, thus being a greater aid combined with the Thorns skill. Also keeping it between the two cards with Martyr so it can gain at least one more magic attack damage, or 2 at best.
ENEMY STRATEGY

The enemy came with maximum level cards for the League, with level 5 gold attacking, thus making him choose the same Tank as me, but with 1 more damage and speed and 2 more life.
The luck of choosing a card with Weaken helped me, as he chose a Summoner that grants +1 life, so I could nullify this bonus that he would give to all his cards.
With cards focusing on attack with Scaltershot, Opportunity and Sneak, there would be a great chance that he could eliminate me, not letting my strategy be effective. But the sneak card could maximize my Queen with the two martyrs dying for her to strengthen, getting 3 magic damage. A high value in a battle with low health cards.

WHAT COULD BE DIFFERENT?
Using the tool SplinterTools I saw that my chance of winning was 17%. So I made some changes to see if I could increase my chance.
I noticed that by changing just one card I could increase my win chance to almost 100%. With the removal of the Goblin Thief and putting the Djinn Biljka in his place, the Djinn's Camouflage ability would make it so that after the death of the Swamp Thing, the next target of the enemy Goblin Sorcerer would be the Venari Marksrat and with that the bonus of his death with the Martyr it would go to both the Queen and the Djinn, causing both to take a significant amount of magic damage for the battle. What in a battle without healing and with cards with low life points, makes a lot of difference.
Chance of victory for the team that entered the field:
Team performing better: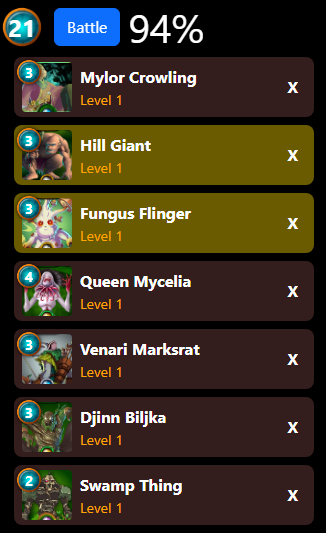 O desafio semanal mudou, e agora as batalhas não serão mais com a carta ou o tipo de carta escolhido e sim pela regra de batalha. Voce pode conferir as regras novas clicando aqui.
Esta semana a regra é:
HEALED OUT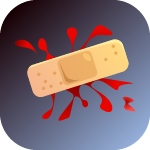 Todas as habilidades de cura são removidas de Monstros e Summoners.
DICA DE BATALHA:
- Você pode pular monstros e invocadores com Affliction.
- Life Leech não é afetado por este conjunto de regras.
Healed Out é uma regra de batalha que remove a habilidade de Cura tanto dos Tanks que se auto curam, como dos suporte que possuem a habilidade de curar as demais cartas. O Summoner que possui a habilidade de cura também perde essa habilidade.
Por esse fato, as vezes pessoas que focam toda sua estratégia apenas em cura podem ter dor de cabeça para montar sua linha de monstros, uma vez que não será mais possível curar, então é necessário uma jogada diferente.
Eu quando não posso usar a carta de cura, sempre tento colocar como Tank cartas com altos pontos de Vida e Escudo para compensar essa perda que não será recuperada.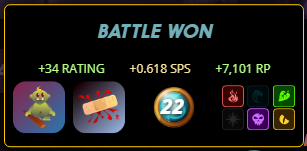 SUMMONERS

Pensando no fato de que não haveria cura e as cartas teriam que ser de 4 ou menos de custo de mana, elas não teriam muita vida, então escolhi o Mylor para usar sua habilidade de Thorns para todos as minhas cartas e assim poder tentar vencer no contra-ataque.
Pensando nisso montei minha estrategia com as seguintes cartas:
MINHA ESTRATÉGIA

Focando em explorar a habilidade Thorns, coloquei uma carta com um alto número de vida entre as que custam pouca mana na posição 1, e 2 arqueiros com Martyr para bonificar minhas cartas de ataque, tanto na frente quanto no meio.
Na última posição escolhi uma carta com a habilidade Weaken para que todas cartas inimigas começassem com um ponto a menos de vida.
E a Queen Mycelia dando um suporte com +2 de armadura para todos os aliados, sendo assim um auxílio maior combinado com a habilidade Thorns. Também mantendo ela entre as duas cartas com Martyr para que possa ganhar mais um dano mágico de ataque ao menos, ou 2 na melhor das hipóteses.
ESTRATÉGIA INIMIGA

O inimigo veio com cartas de nível máximo para a Liga, tendo douradas de nível 5 atacando, fazendo assim ele escolher o mesmo Tank que eu, porém com 1 a mais de dano e velocidade e 2 a mais de vida.
A sorte de eu escolher carta com Weaken me ajudou, pois ele escolheu um Summoner que concede +1 de vida, então pude anular esse bônus que ele daria para todas suas cartas.
Com cartas focando em ataque com Scaltershot, Opportunity e Sneak, haveria uma grande chance de ele conseguir me eliminar, não deixando minha estratégia ser efetiva. Porém a carta com sneak poderia maximizar minha Queen com os dois martyr morrendo para ela fortalecer, ficando com 3 de dano mágico. Um alto valor em uma batalha com carta com pouca vida.

O QUE PODERIA SER DIFERENTE?
Usando a ferramenta SplinterTools vi que minha chance de vitória era 17%. Então fiz algumas alterações, para ver se conseguia aumentar minha chance.
Eu notei que mudando apenas uma carta eu poderia aumentar minha chance de vitória para quase 100%. Com a retirada do Goblin Thief e colocando o Djinn Biljka no lugar dele, a habilidade Camouflage do Djinn iria fazer com que após a morte do Swamp Thing, o próximo alvo do Goblin Sorcerer inimigo seria o Venari Marksrat e com isso o bônus de sua morte com o Martyr iria tanto para a Queen quanto para o Djinn, fazendo com que ambos ficassem com uma quantidade expressiva de dano mágico para a batalha. O que em uma batalha sem cura e com cartas com poucos pontos de vida, faz muita diferença.
Chance de vitória do time que entrou em campo:
Time com um desempenho melhor: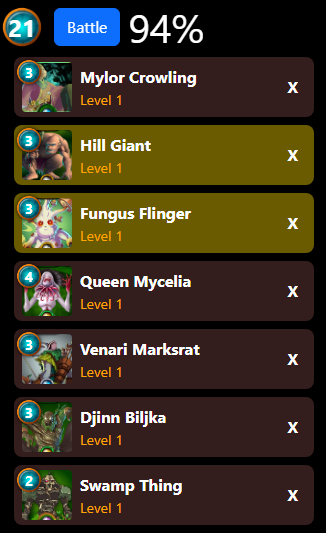 ---
---