BATTLE MAGE SECRETS Weekly Challenge! | RULESET: MELEE MAYHEM [EN / PT-BR]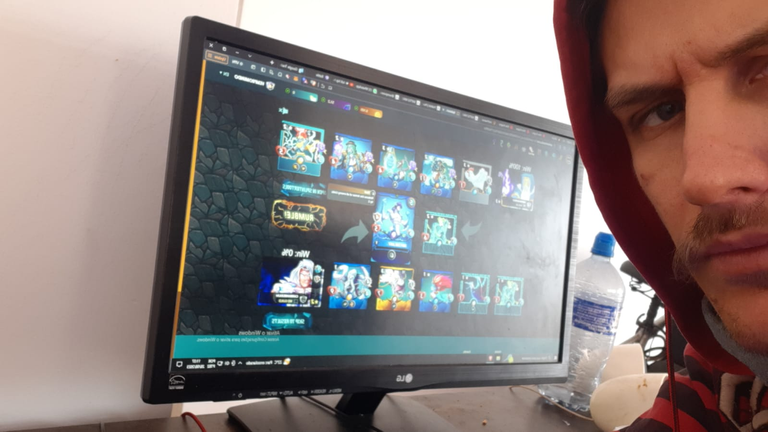 TThe weekly challenge has changed, and now the battles will no longer be with the card or the type of card chosen, but by the battle rule. You can check out the new rules by clicking here.
This week the rule is:
MELEE MAYHEM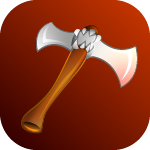 Melee Attack Monsters can attack from any position.
BATTLE TIP:
- If you have melee monsters in the back with Sneak or Opportunity, those abilities take precedence.
- Select a summoner that increases melee attack or a summoner that reduces enemies' melee attack + a tank with Shield.
- Thorns, Inspire, Blast, Retaliate help in this ruleset.
Melee Mayhem is a battle rule that you can create different strategies, since monsters with Sneak or Opportunity can be used to attack cards other than the one in the first position, which will probably be the opponent's strongest card, where he expect to receive all the damage, and for that reason it will make a resistant card, with the others not so much. That way by diversifying the targets, you can have an easier victory.
It's not a battle rule that I hate, but it's not my favorite, since my strategy is focused on magic damage, and this rule doesn't help my strategy at all, it just strengthens the opponent most of the time.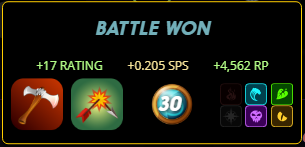 SUMMONERS

Not being able to use the Life deck, which is the one that best fits the Melee Mayhem rule, I went to the second option, which is my strongest deck in general terms, which is the Water deck, and I focused my strategies on magic damage, hoping that the enemy focused defense on shields, that way I could ignore and attack directly on life, and it was the summoner choice he made, which receives +1 speed and +1 shield, also focusing on evading physical attacks that I could cause.
With that in mind, I set up my strategy with the following cards:
MY STRATEGY

Wanting to focus my strategy on magic damage and hoping that the enemy would take advantage of the battle rule to attack with physical damage, I put a card with a reasonable number of life and a high speed in the first position to try to evade attacks, along with Venari Wavesmith which grants +2 armor to all cards, thus making my mini-tank capable of at least two rounds.
ENEMY STRATEGY

The enemy didn't come with maximum physical strength, on the contrary, he also chose a strategy of a card with more life and speed and another one with Opportunity to eliminate my cards during the rounds, also trying to leave a mini-tank in the last position to avoid sneak attacks.
It was a good strategy if he had met an opponent with physical attacks, so he could easily win, but he didn't count on the possibility of an opponent with full line magic damage, which was enough to destroy him.

WHAT COULD BE DIFFERENT?
Using the tool SplinterTools I saw that my chance of winning was 100%. So I made some changes to see if I could lower my chance.
Removing the magic damage cards and changing the cards to physical damage, I managed to lower the victory percentage, as it would go according to the strategy the enemy wanted to face. With the Coastal Sentry I managed to reduce it to 78%, but if in its place I put the Goblin Mech for the same mana cost, my chance would decrease even more, to 21%.
Chance of victory for the team that entered the field: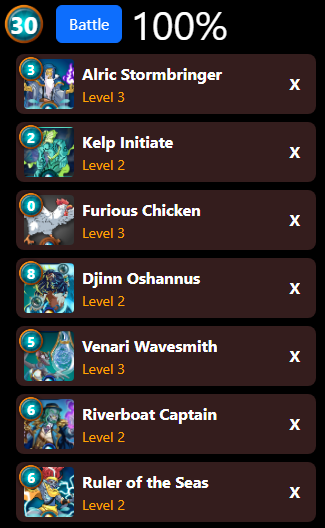 Worse performing team: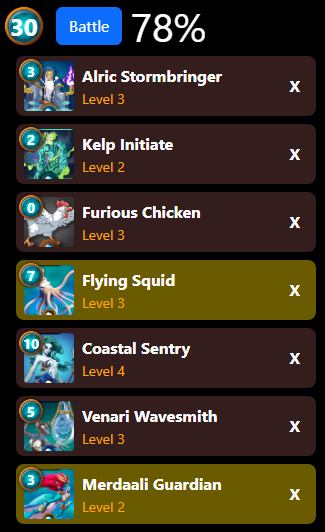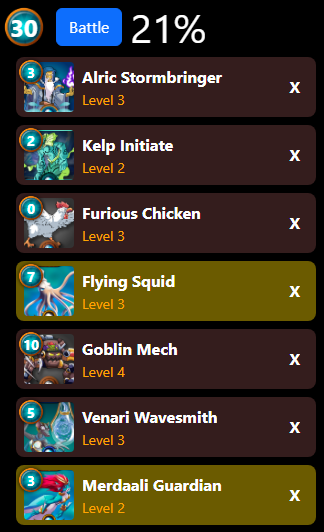 O desafio semanal mudou, e agora as batalhas não serão mais com a carta ou o tipo de carta escolhido e sim pela regra de batalha. Voce pode conferir as regras novas clicando aqui.
Esta semana a regra é:
MELEE MAYHEM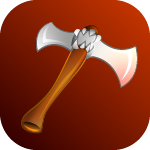 Ataque corpo a corpo Monstros podem atacar de qualquer posição.
DICA DE BATALHA:
- Se você tiver monstros corpo a corpo na retaguarda com Sneak ou Opportunity, essas habilidades têm precedência.
- Selecione um invocador que aumente o ataque corpo a corpo ou um invocador que reduza o ataque corpo a corpo dos inimigos + um tanque com Escudo.
- Thorns, Inspire, Blast, Retaliate ajudam neste conjunto de regras.
Melee Mayhem é uma regra de batalha que você pode criar diversas estratégias, uma vez que pode ser usado monstros com Sneak ou Opportunity, para atacar outras cartas que não a da primeira posição, o que provavelmente será a carta mais forte do adversário, onde ele esperar receber todo o dano, e por isso fará uma carta resistente, com as demais nem tanto. Dessa forma diversificando os alvos, você possa ter uma vitória mais fácil.
Não é uma regra de batalha que eu odeie, mas não é minha favorita, uma vez que minha estratégia é focada em dano mágico, e essa regra não ajuda em nada a minha estratégia, apenas fortalece o adversário na maioria das vezes.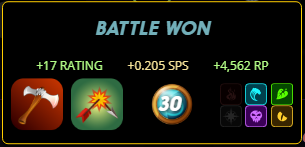 SUMMONERS

Não podendo usar o baralho de Vida que é o que eu melhor encaixo a regra Melee Mayhem, fui pra segunda opção que é o meu baralho mais forte em termos gerais, que é o de Água, e foquei minhas estratégias em dano mágico, esperando que o inimigo focasse a defesa em escudos, dessa maneira eu poderia ignorar e atacar direto na vida, e foi a escolhe de summoner que ele fez, que recebe +1 de velocidade e +1 de escudo, focando também em evadir de ataques físicos que eu pudesse causar.
Pensando nisso montei minha estrategia com as seguintes cartas:
MINHA ESTRATÉGIA

Querendo focar minha estratégia em dano mágico e esperando que o inimigo aproveitasse da regra de batalha para atacar com dano físico, coloquei na primeira posição uma carta com um número razoável de vida e uma alta velocidade para tentar fugir dos ataques, junto com o Venari Wavesmith que concede +2 de armadura para todas as cartas, assim fazendo com que meu mini-tank pudesse alguém ao menos duas rodadas.
ESTRATÉGIA INIMIGA

O inimigo não veio com força física máxima, pelo contrário, escolheu também uma estratégia de uma carta com mais vida e velocidade e outra com Opportunity para ir eliminando as minhas cartas ao decorrer dos rounds, buscando também deixar um mini-tank na última posição para evitar ataques Sneak.
Foi uma boa estratégia se ele tivesse encontrado um adversário com ataques físicos, assim ele poderia ganhar facilmente, mas ele não contava com a possibilidade de um adversário com a linha completa de dano mágico, o que bastou para destrui-lo.

O QUE PODERIA SER DIFERENTE?
Usando a ferramenta SplinterTools vi que minha chance de vitória era 100%. Então fiz algumas alterações, para ver se conseguia diminuir minha chance.
Retirando as cartas de dano mágico e mudando as cartas para dano físico, consegui abaixar a porcentagem de vitória, pois iria de acordo com a estratégia que o inimigo queria enfrentar. Com a Coastal Sentry consegui diminuir para 78%, porém se no lugar dela eu colocasse pelo mesmo custo de mana o Goblin Mech, a minha chance diminuiria ainda mais, para 21%.
Chance de vitória do time que entrou em campo: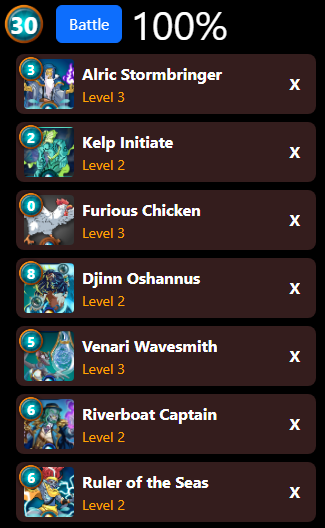 Time com um desempenho pior: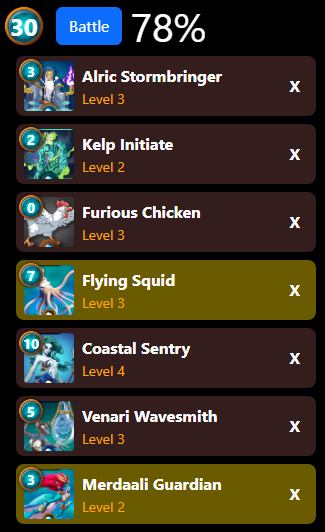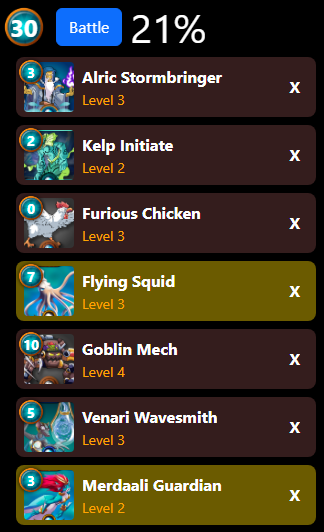 ---
---