SHARE YOUR BATTLE Weekly Challenge! DHAMPIR STALKER [EN / PT-BR]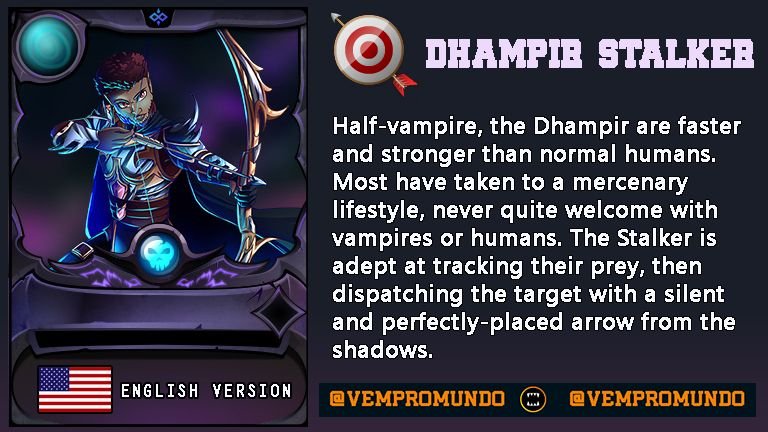 The card of the week is the Dhampir Stalker. An excellent card for players who like to focus their attacks on ranged heroes (unlike me who prefer magic damage). With a high attack power already at level one (3 damage) and the True Strike ability that doesn't let you miss any attack no matter how fast the opponent is or whether it's Flying type or not, the Dhampir can deal high damage. on your enemies if well positioned. Starting at level 5 with the Deathblow skill, it deals 8 damage to the position 1 enemy if it is the last opponent on the field. Which in some situations can be a destructive attack, since at the end of battles it is rare for an enemy to have such a large amount of health, and if they do, well... they will receive an arrow with a lot of damage in their direction, reaching up to to a maximum of 10 damage at the last level.
I have 3 units of this card at level 1, so I didn't need to rent to battle, but for those who are interested these are the purchase and rent values.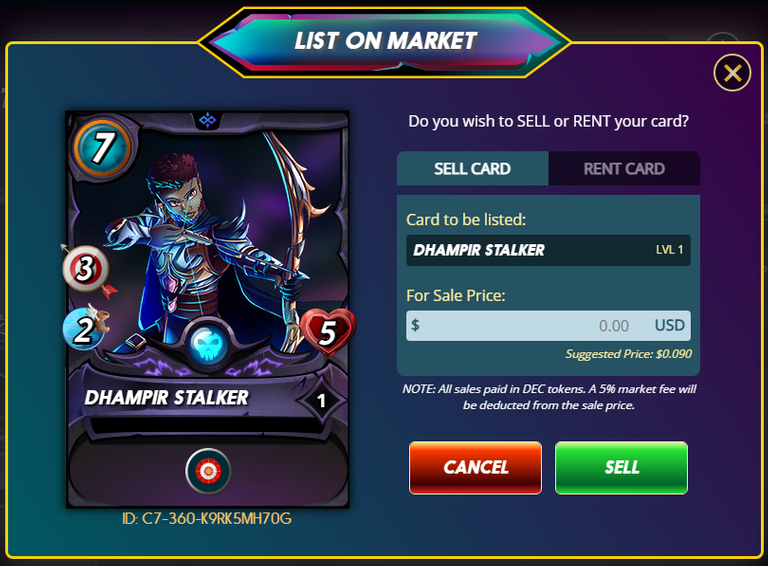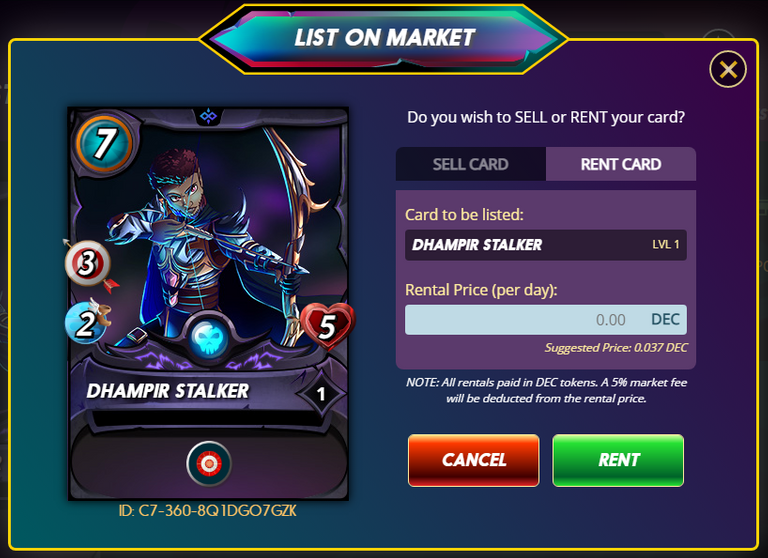 Now let's go to battle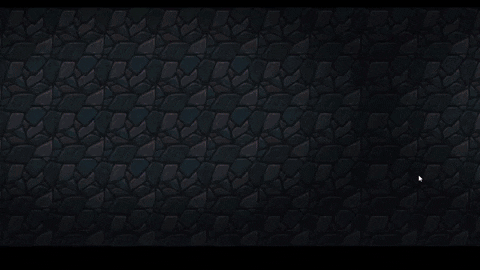 PRÉ-MATCH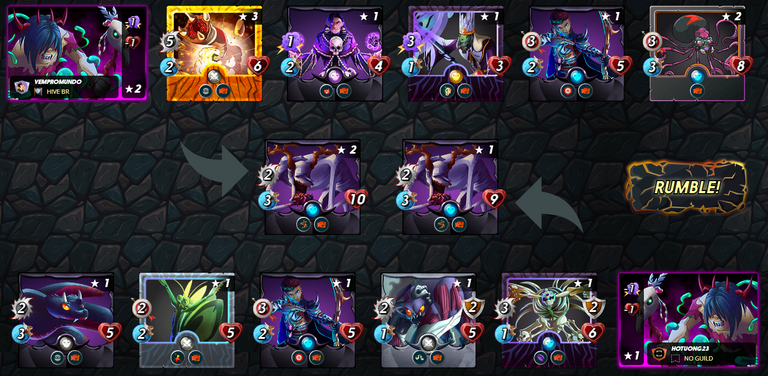 Before the battle started with the cards dealt on the field, I saw the enemy Disintegrator on the field, and this card always gives me difficulty when I play against it, it was time to hope that its debuff didn't make that much difference to my team. I put the Revealer in position 3 because of its Stun ability so it could try to activate Knock Out and knock the enemy out of position 1 faster.

ROUND 1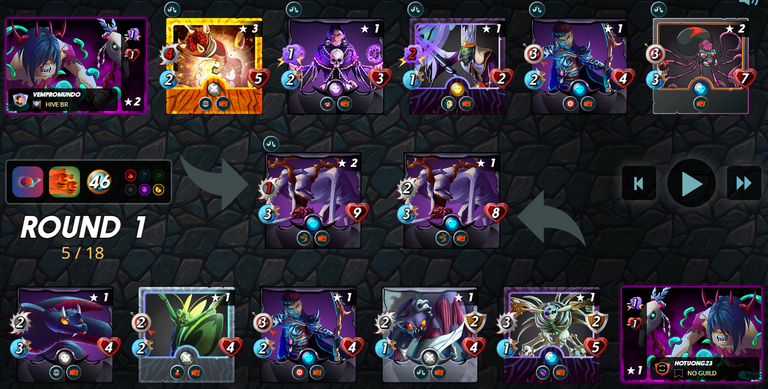 Even with the debuff my SandWorm still had 4 attack, enough to kill the last two opposing cards if I didn't miss any attacks, which would give me a big advantage. The Thorns skill helped me to eliminate the enemy from position 1 while the SandWorm was stacking enemies.
ROUND 2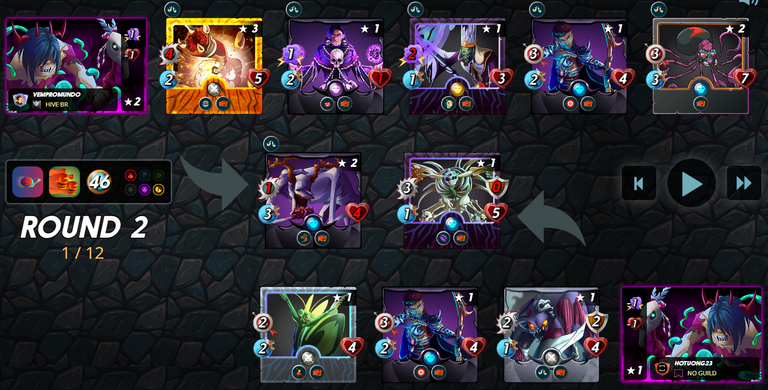 With the SandWorm eliminating another enemy, and the Dhampir Stalker removing one more enemy from position 1, the battle started to feel won, with only 2 enemies against 5 allies.
ROUND 3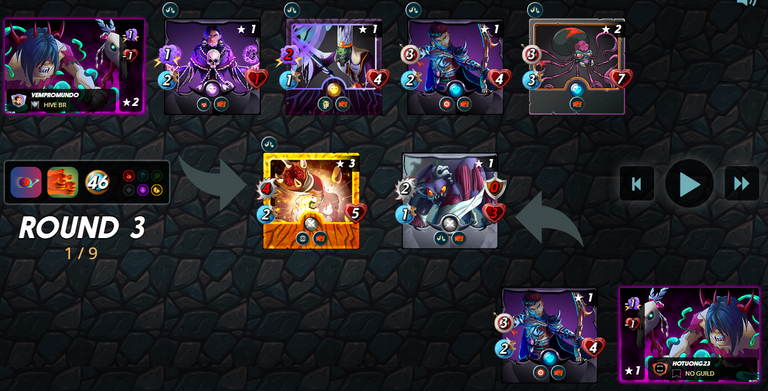 One more attack round of my cards was enough in exact numbers to deal the damage necessary to eliminate the enemy and guarantee victory.
BATTLE RESULTS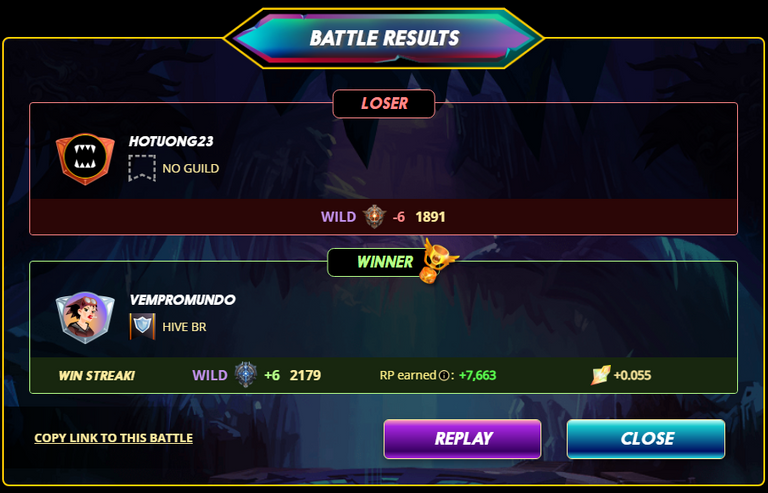 WHAT COULD BE DIFFERENT?
Using the SplinterTools tool I saw that my chance of winning was 100%, so I decided to pull the card of the week to see how much my chance would change.
Chance of victory of the team that entered the field: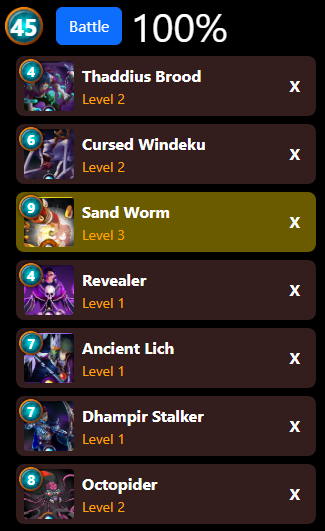 Team that could have performed worse, with a 97% chance of winning: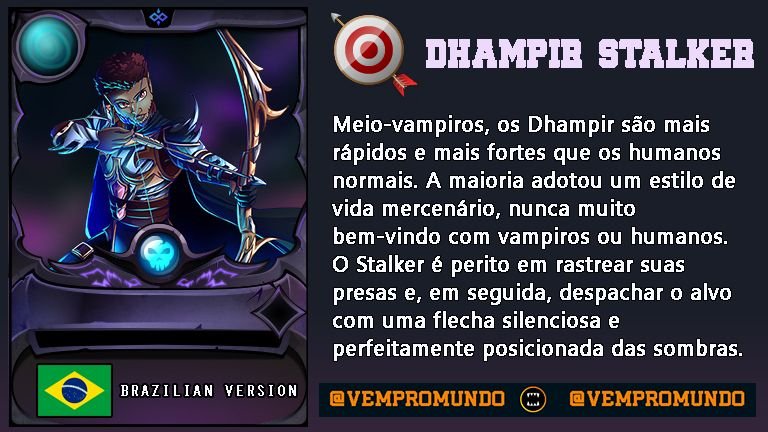 A carta da semana é o Dhampir Stalker. Uma carta excelente para jogadores que gostam de focar seus ataques em hérois de longo alcance (diferente de mim que prefiro dano mágico). Com um alto poder de ataque já em seu nivel um (3 de dano) e a habilidade True Strike que não lhe deixa errar nenhum ataque não importa a velocidade do adversário ou se é do tipo Flying ou não, o Dhampir consegue causar um alto dano em seus inimigos se bem posicionado. A partir do nível 5 com a habilidade Deathblow, causa 8 de dano no inimigo da posição 1 se for o último adversário em campo. O que em algumas situações pode ser um ataque destruidor, visto que no final das batalhas é raro um inimigo estar com uma quantidade tão grande de vida, e se estiver, bem... receberá uma flecha com muito dano em sua direção, chegando até ao máximo de 10 de dano no último nível.
Tenho 3 unidades dessa carta ao nível 1, assim não precisei alugar para batalhar, porém para quem tem interesse esses são os valores de compra e aluguel.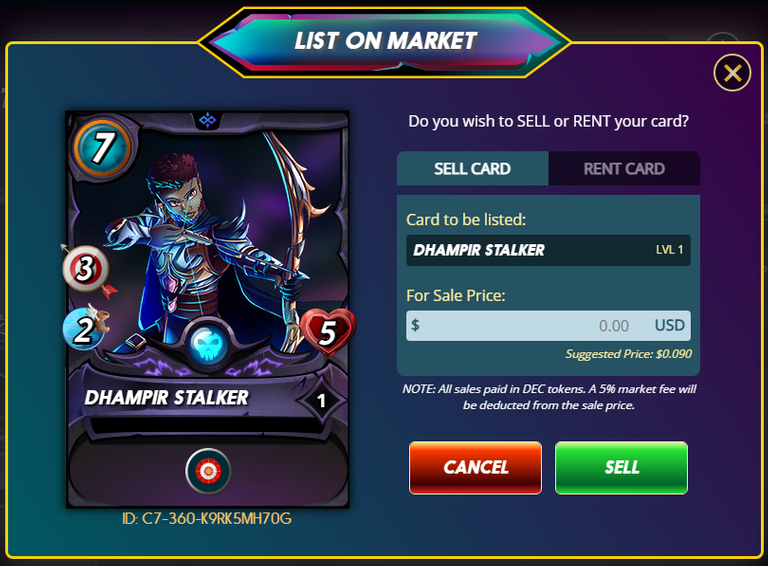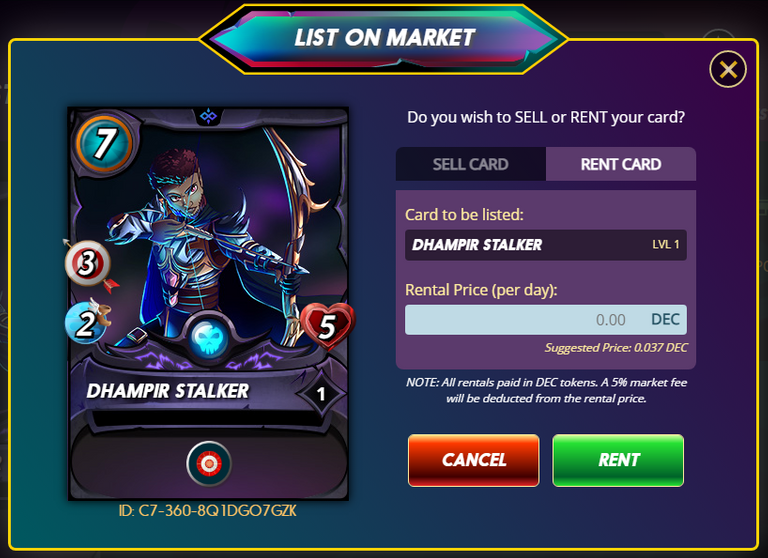 Agora vamos para a batalha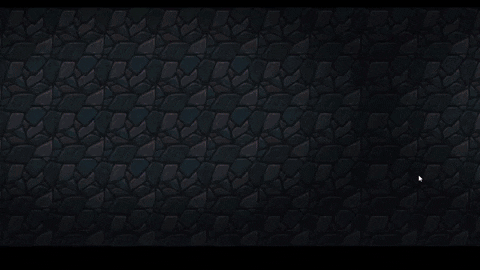 PRÉ-MATCH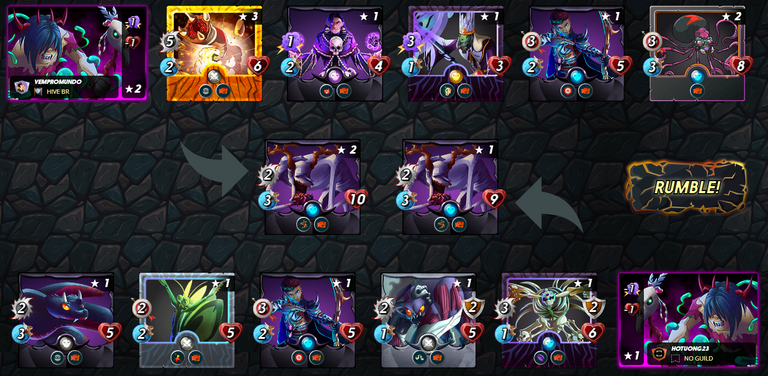 Antes da batalha começar com as cartas distribuidas no campo, vi o Disintegrator inimigo em campo, e essa carta sempre me traz dificuldade quando jogo contra ela, era hora de torcer para que seu debuff não fizesse tanta diferença no meu time. Coloquei o Revealer na posição 3 por causa de sua habilidade Stun para que pudesse tentar ativar o Knock Out e derrubar o inimigo da posição 1 mais rapidamente.
ROUND 1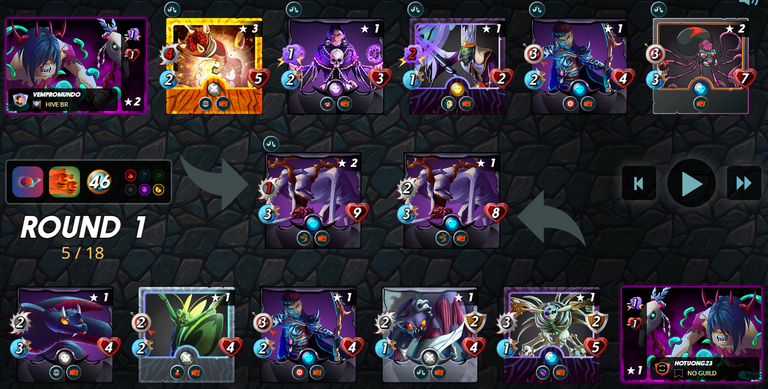 Mesmo com o debuff meu SandWorm continuou com 4 de ataque, o suficiente para matar as duas últimas cartas adversárias se eu não errasse nenhum ataque, o que me daria uma grande vantagem. A habilidade Thorns me ajudou a eliminar o inimigo da posição 1 enquanto o SandWorm ia empilhando inimigos.
ROUND 2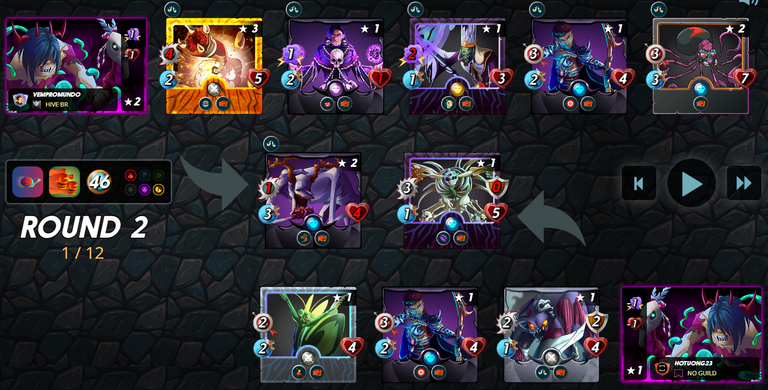 Com o SandWorm eliminando mais um inimigo, e o Dhampir Stalker retirando de campo mais um inimigo da posição 1, a batalha começou a me parecer ganha, com apenas 2 inimigos contra 5 aliados.
ROUND 3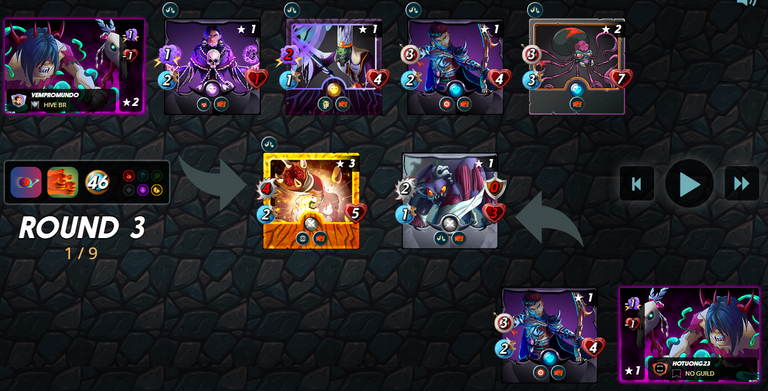 Mais uma rodada de ataque das minhas cartas foi suficiente em número exato para causar o dano necessário para eliminar o inimigo e garantir a vitória.
BATTLE RESULTS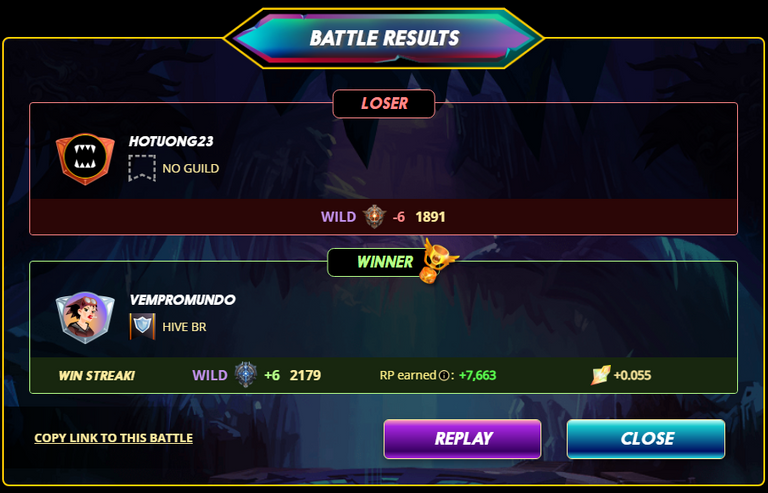 O QUE PODERIA SER DIFERENTE?
Usando a ferramenta SplinterTools vi que minha chance de vitória era 100%, assim eu decidi retirar a carta da semana para ver o quão minha chance mudaria.
Chance de vitória do time que entrou em campo: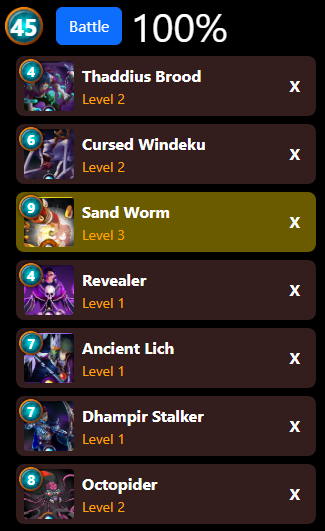 Time que poderia ter um desempenho pior, com 97% de chance de vitória:

---
---