SHARE YOUR BATTLE Weekly Challenge! LEGIONNAIRE ALVAR [EN / PT-BR]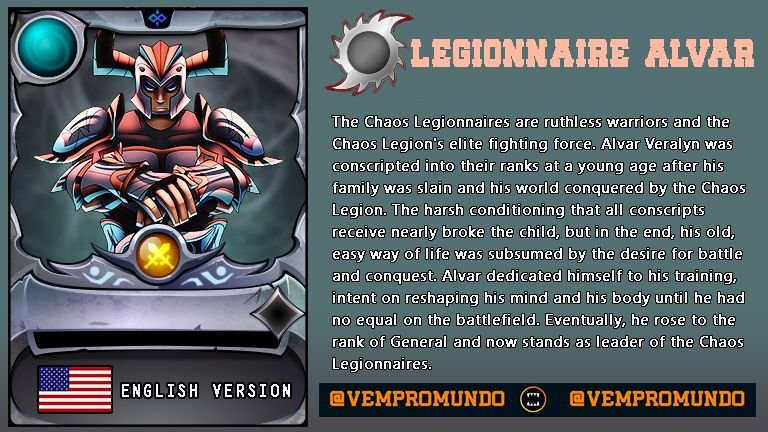 The card of the week is Legionnaire Alvar. A neutral legendary card costing 9 mana, with a great defense power to stay in position 1. Its Void Armor allows it to resist magic damage, along with its high amount of health. His second skill Giant Killer, allows him to deal up to 6 damage against enemies that are in position 1 as well and have a higher mana cost than him. Demoralize causes enemies to lose 1 physical attack which can help both him and his allies who have to face enemies with Sneak. And finally his fourth skill DeathBlow allows him to double his damage again if the enemy is the last one on the field.
I don't know if one on one with an enemy with more than 10 mana would activate the second and fourth skill cumulatively or not, causing him to do 6, 9 or 12 damage.
I don't have any units from that card, so I rented one for the weekly battle. Prices for rent and purchase are below for those who want to purchase: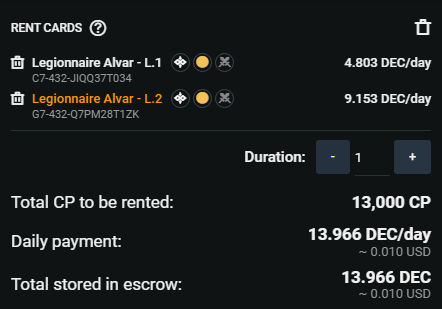 Now let's go to battle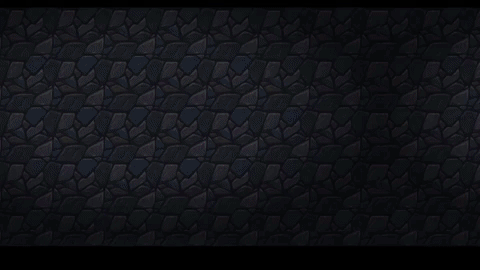 PRÉ-MATCH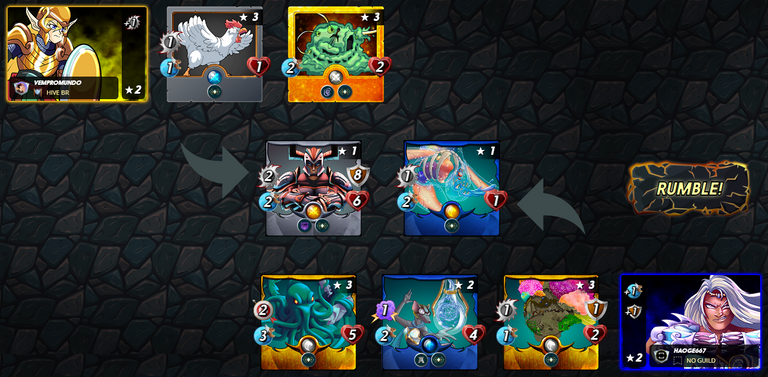 My first time using the card of the week was in a battle with little available mana, as he has Void Armor, I believe he can win this battle, eliminating enemies round by round.
ROUND 1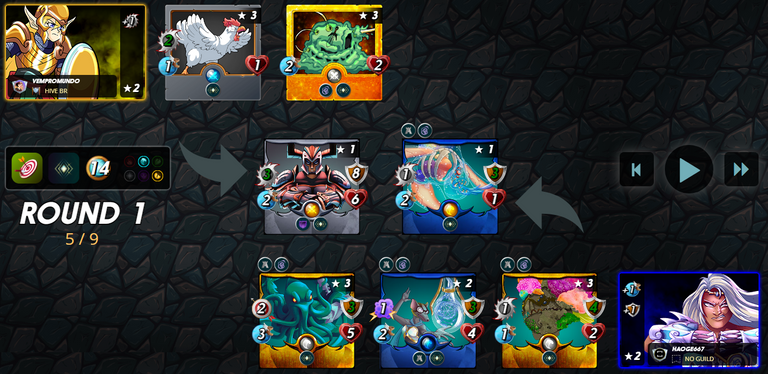 After receiving 4 damage from the opponent, I realized that it would be difficult to beat the enemy, as it would take at least 9 rounds to take them all down (armor and then health). But with 14 life I would only survive 4 rounds.
ROUND 2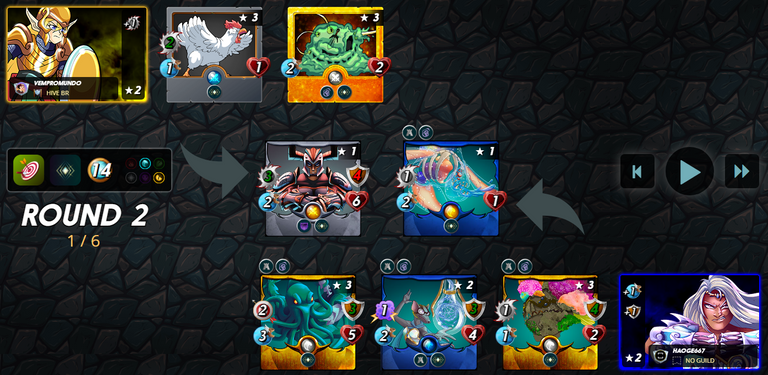 An enemy was knocked down, but I only had 5 life left, the defeat was written.
ROUND 3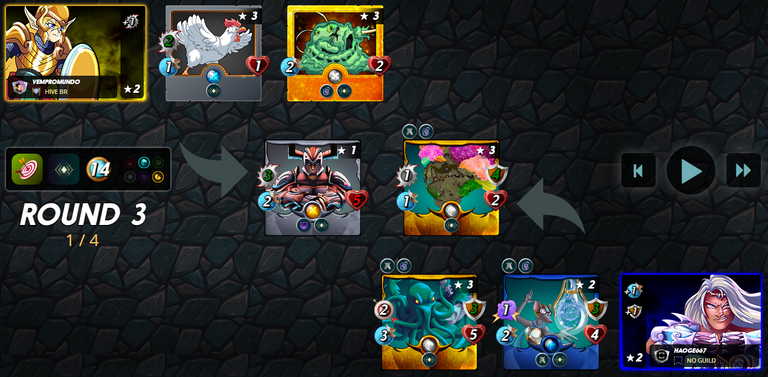 Hardy Stonefish already has 1 armor, along with the bonus from the summoner and the Venari Wavesmith, he got 4 armor, not even my Legionnaire Alvar's attack was able to even destroy the enemy armor.
ROUND 4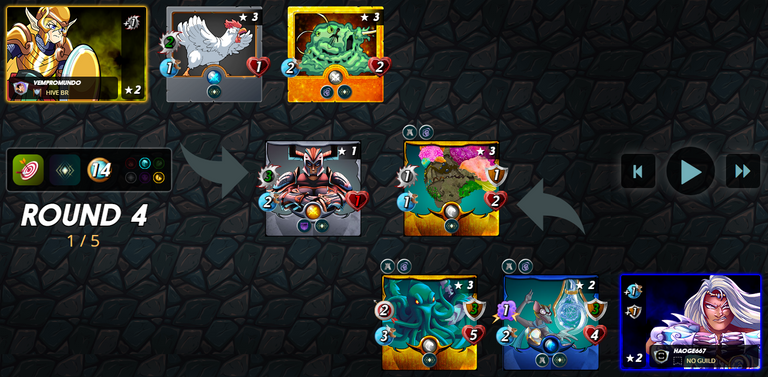 One by one the bodies were being piled up, and the enemy took away any chance I had of victory. Only Creeping Ooze left without any damage to try to unsuccessfully defend the battle.
ROUND 5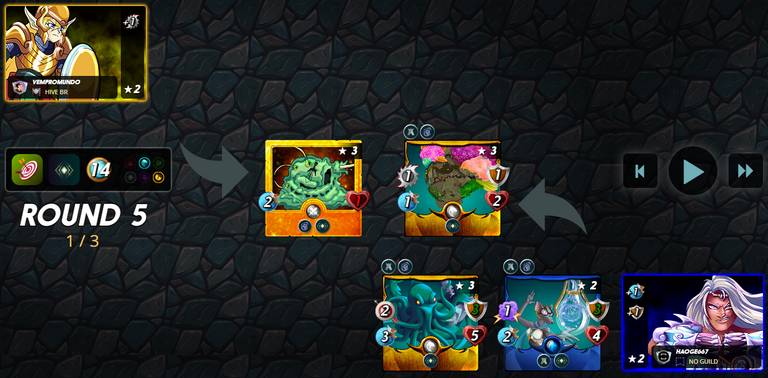 And in the fifth round, the grave of my last card arrived, finally decreeing my defeat.
BATTLE RESULTS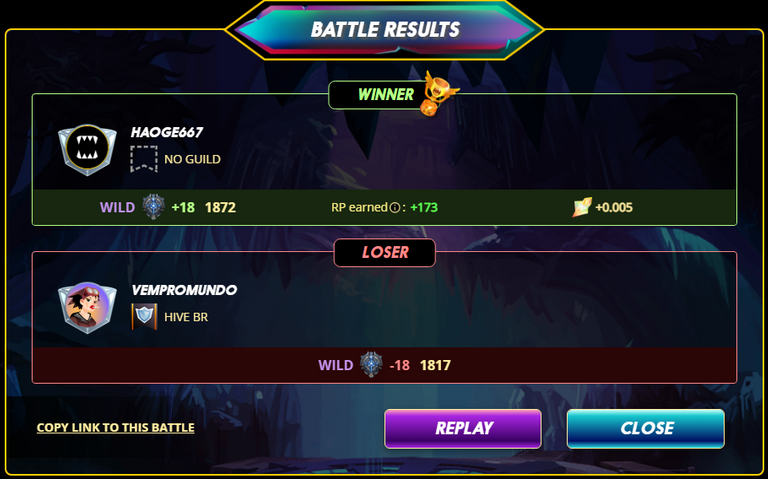 WHAT COULD BE DIFFERENT?
Using the tool SplinterTools I saw that my chance of winning was 0%. So I decided to make a change, putting what I have best with the little mana available, but removing the weekly challenge card, my chance of winning increased to 100%. Even with just the Djinn Oshannus without any other auxiliary cards, my victory was still 100%.
Chance of victory of the team that entered the field: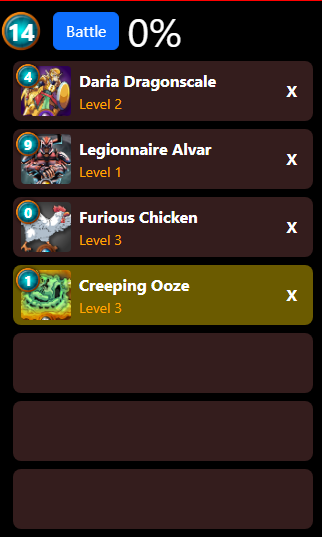 Team with a better performance: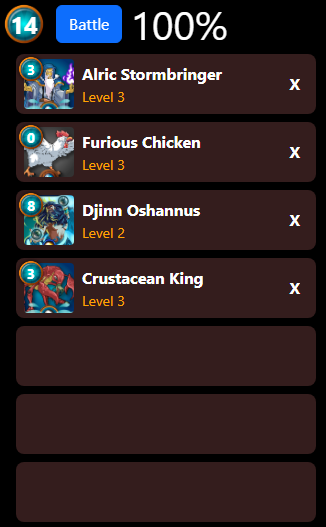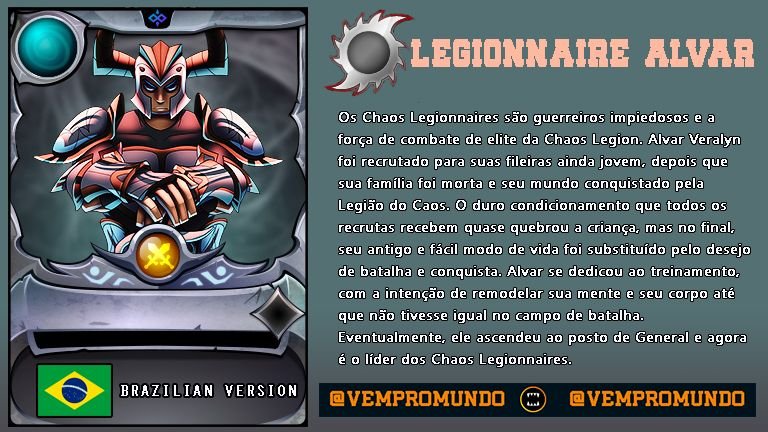 A carta da semana é o Legionnaire Alvar. Uma carta lendária neutral de custo 9 de mana, com um grande poder de defesa para ficar na posição 1. Seu Void Armor lhe permite resistir a dano mágico, juntamente com sua alta quantidade de vida. Sua segunda habilidade Giant Killer, permite que consiga causar até 6 de dano contra inimigos que estiverem na posição 1 também e tenham um custo de mana maior que o dele. O Demoralize faz com que os inimigos percam 1 de ataque físico o que pode ajudar tanto ele como seus aliados que tenham que enfrentar inimigos com Sneak. E por fim sua quarta habilidade DeathBlow permite novamente dobrar seu dano se o inimigo for o último em campo.
Não sei se no um contra um com um inimigo com mais de 10 de mana ativaria a segunda e quarta habilidade cumulativamente ou não, fazendo ele causar 6, 9 ou 12 de dano.
Não tenho nenhuma unidade dessa carta, então aluguei uma para a batalha semanal. Os preços para aluguel e compra estão abaixos para quem quiser adquirir: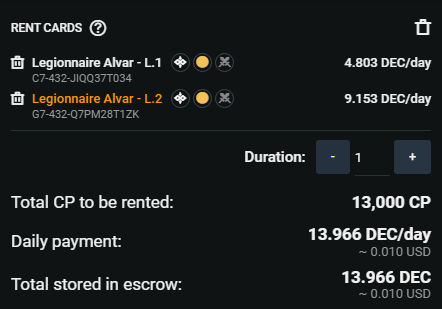 Agora vamos para a batalha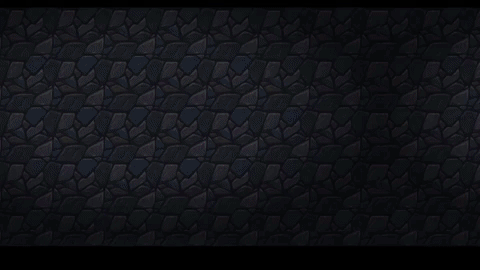 PRÉ-MATCH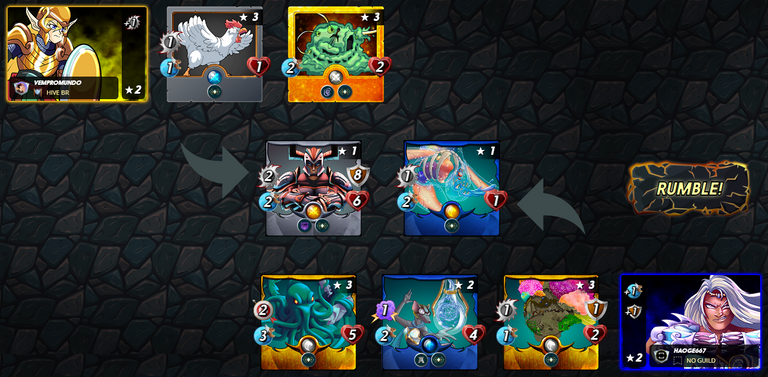 Em minha primeira vez usando a carta da semana foi em uma batalha com pouca mana disponível, como ele possui Void Armor, acredito que possa ganhar essa batalha, eliminando round a round os inimigos.
ROUND 1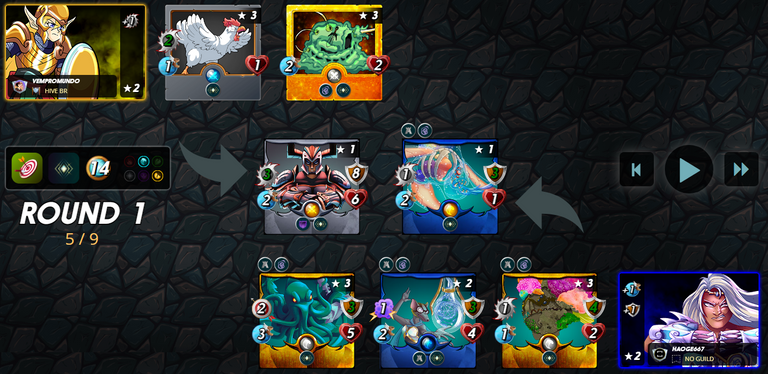 Após receber 4 de dano do adversário, eu percebi que teria dificuldades para vencer o inimigo, pois precisaria de no mínimo 9 rounds para derrubar todos eles (armadura e depois vida). Porém com 14 de vida eu sobreviveria a apenas 4 rounds.
ROUND 2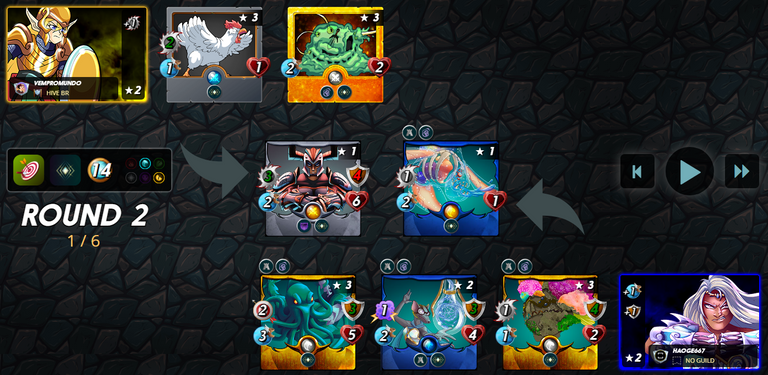 Um inimigo foi derrubado, porém me restou apenas 5 de vida, a derrota estava escrita.
ROUND 3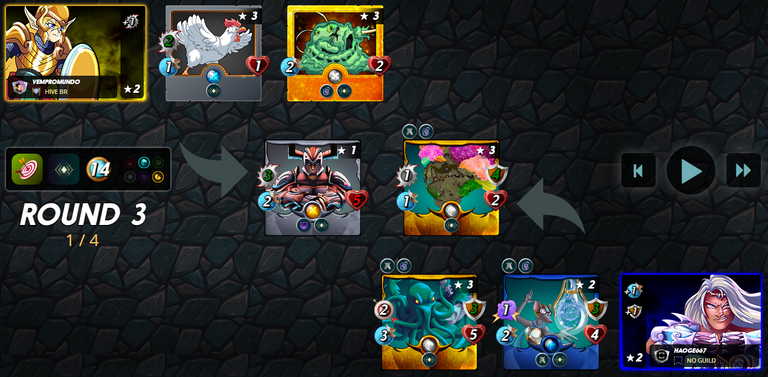 Hardy Stonefish já possui 1 de armadura, junto com o bônus do invocador e do Venari Wavesmith, ele ficou com 4 de armadura, nem mesmo o ataque do meu Legionnaire Alvar foi capaz de sequer destruir a armadura inimiga.
ROUND 4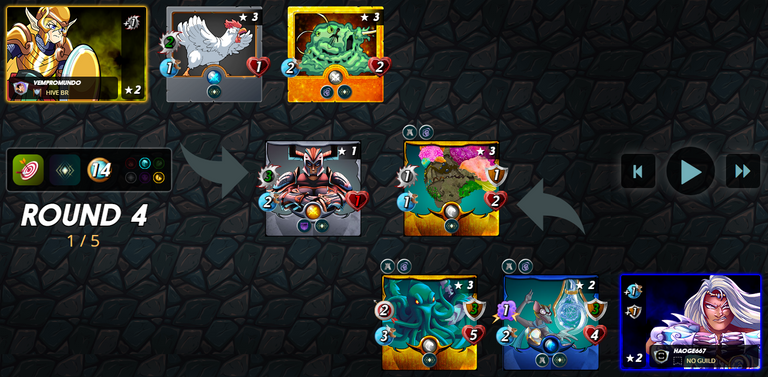 Um a um os corpos foram sendo empilhados, e o inimigo tirou qualquer chance que eu teria de vitória. Sobrando apenas o Creeping Ooze sem nenhum dano para tentar defender sem sucesso a batalha.
ROUND 5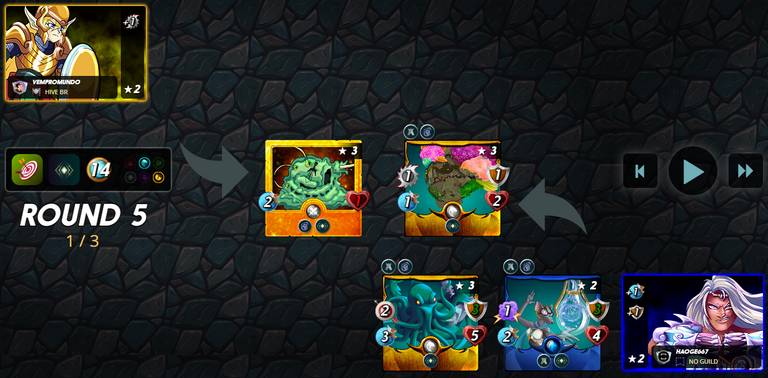 E no quinto round chegou a sepultura de minha última carta, decretando enfim a minha derrota.
BATTLE RESULTS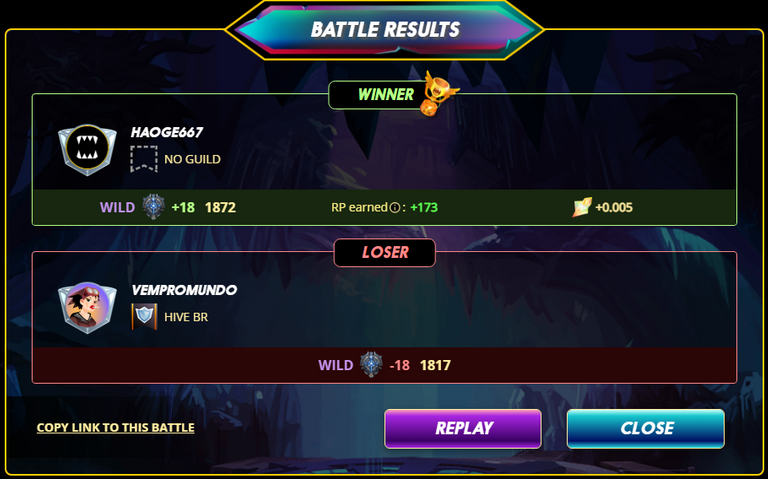 O QUE PODERIA SER DIFERENTE?
Usando a ferramenta SplinterTools vi que minha chance de vitória era 0%. Então decidi fazer uma alteração, colocando o que eu tenho de mais forte com a pouca mana disponível, porém retirando a carta do desafio semanal, minha chance de vitória aumentou para 100%. Até mesmo só com o Djinn Oshannus sem nenhuma outra carta auxiliar, minha vitória continuava 100%.
Chance de vitória do time que entrou em campo: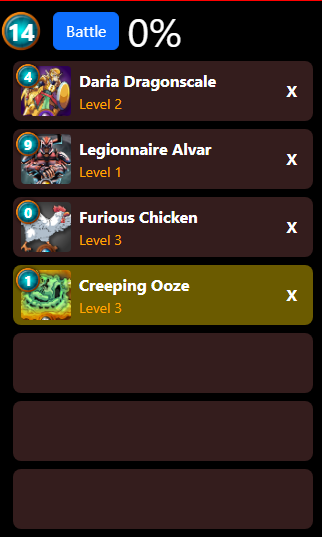 Time com uma performance melhor: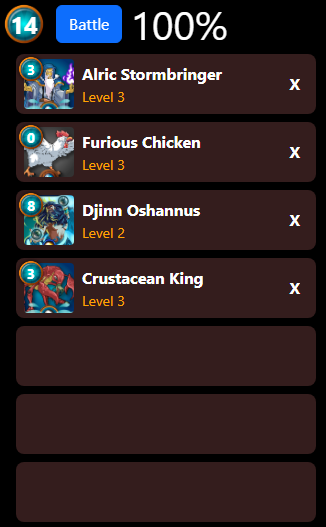 ---
---