SHARE YOUR BATTLE Weekly Challenge! NERISSA TRIDAWN [EN / PT-BR]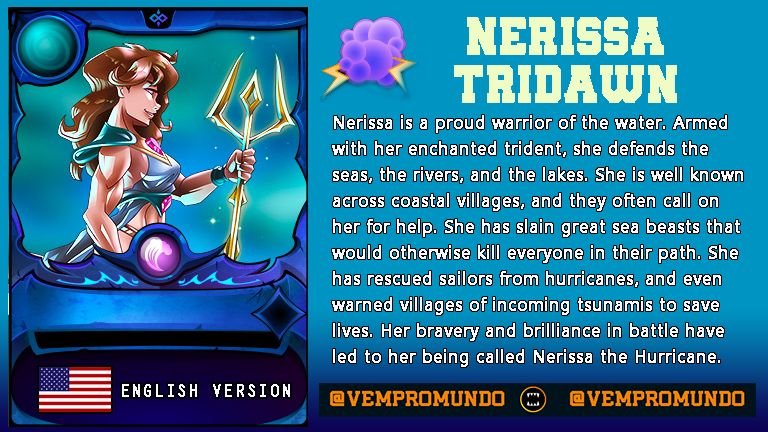 The card of the week is Nerissa Tridawn. An epic card from the Water deck costing 9 mana, with great offensive power, and a high health value. Even though he doesn't have any of her skills, high magic damage power, 3 at level 1 and 5 at level 6 allows him to cause great damage to his enemies. Either in position 3 or in the last position, she manages to perform very well.
Her collection Summoner (Chaos Legion) which grants +1 speed and +1 armor doesn't cause much effect, as she doesn't believe that 3 to 4 agility will avoid many attacks. But if combined with the Summoner from the first collection (Alpha and Beta) which grants +1 magic damage, it can be a great differential in the game starting with 4 damage at level 1. These parameters are only achieved by Legendary cards.
I don't have any units of this card, so I decided to buy one for my collection. Prices for rent and purchase are below for those who want to purchase: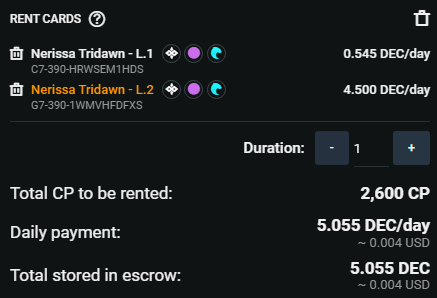 Now let's go to battle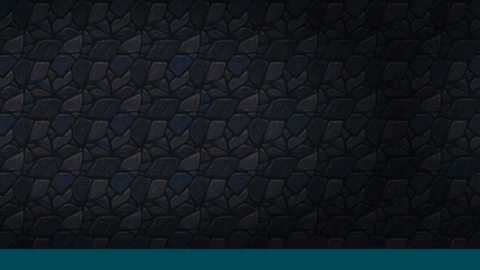 PRÉ-MATCH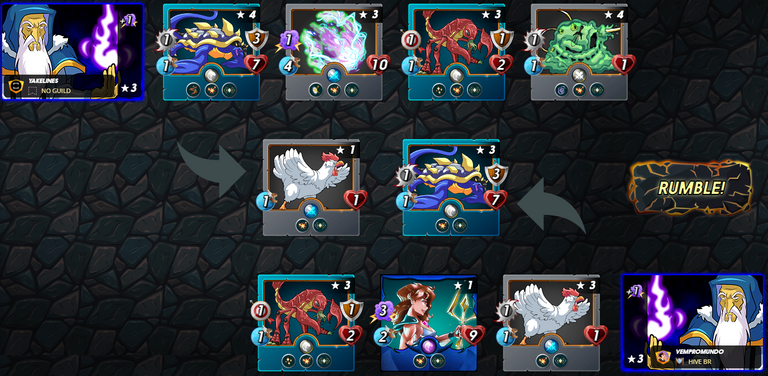 When the cards were presented, I felt that I would have a certain difficulty, because the opponent put Prismatic Energy on the field, a great opponent against magic damage, which is what my strategy consisted of.
ROUND 1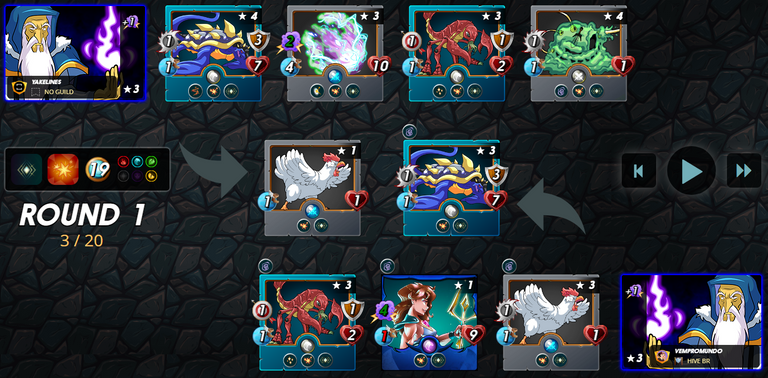 With both of their chickens dead, the race against time began for me to bring Nerissa to position 1 as soon as possible, so that she could be healed and I would have a chance in the match.
ROUND 2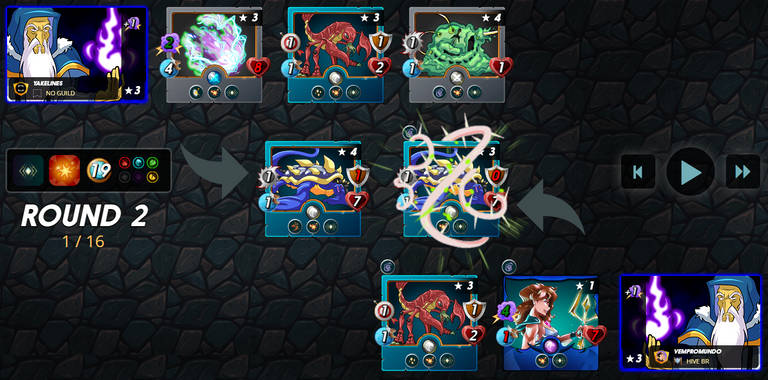 The Thorns of the enemy Spineback Turtle, in addition to creating a funny animation for the photo, also caused inequality in the battle, leaving the enemy with 1 more armor than mine, which was providential for this Round, with the Crustacean attack King enemy.
ROUND 3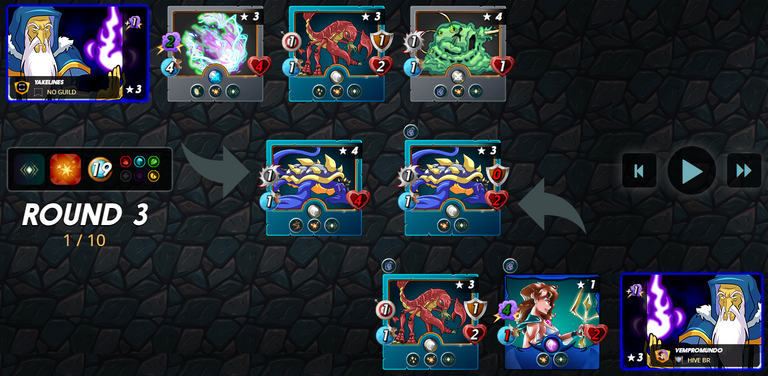 The Reflect caused the death of my Nerissa which made my victory absolutely impossible.
ROUND 4
In the end, all that was left was to see my Crustacean die.
BATTLE RESULTS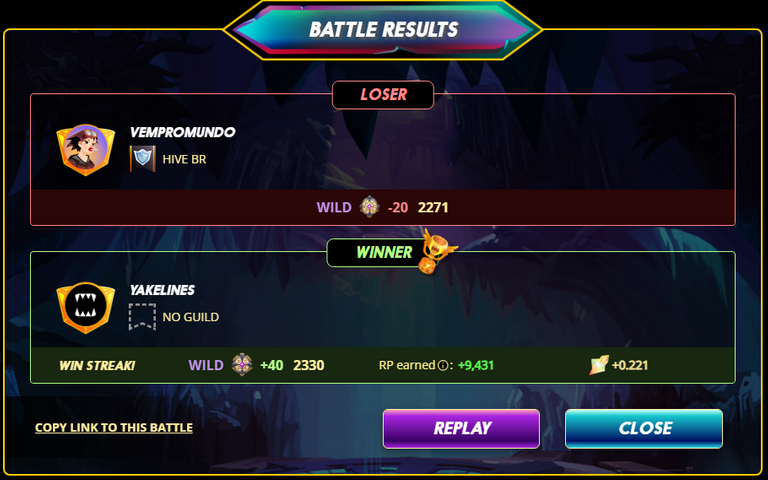 WHAT COULD BE DIFFERENT?
Using the tool SplinterTools I saw that my chance of winning was 0%. So I decided to make a change, putting the Djinn Oshannus, but removing the weekly challenge card, my chance of winning increased to 100%. In this we can see the difference that a legendary card makes to the detriment of an epic card.
Chance of victory of the team that entered the field: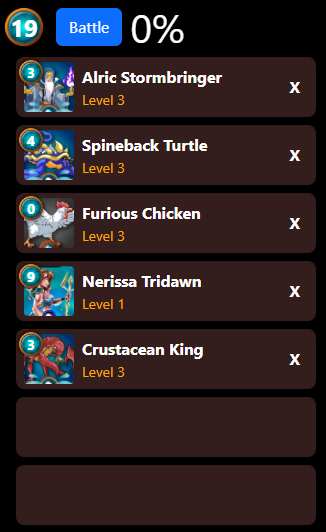 Team with a better performance: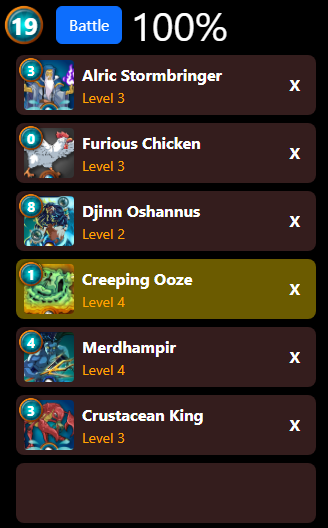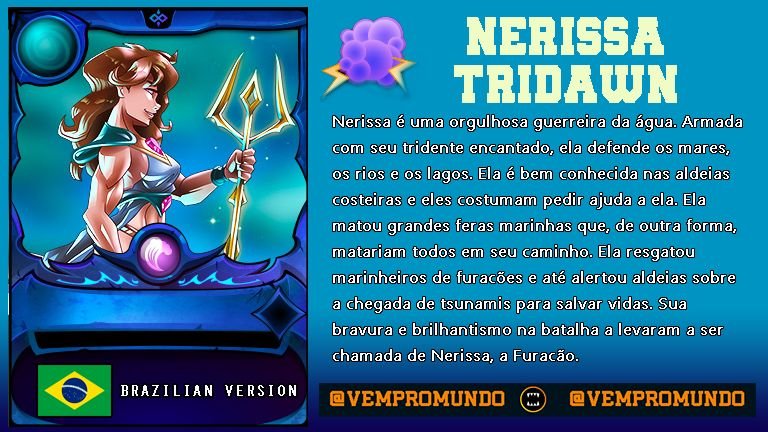 A carta da semana é a Nerissa Tridawn. Uma carta épica do baralho de Água de custo 9 de mana, com um grande poder ofensivo, e um alto valor de vida. Mesmo não possuindo nenhuma habilidade seu alto poder de dano mágico, 3, no nível 1 e, 5, no nível 6 lhe permite causar um grande estrago em seus inimigos. Tanto na posição 3 ou na última posição, consegue ter um ótimo desempenho.
O Invocador de sua coleção (Legião do Caos) que garante +1 de velocidade e +1 de armadura não causa tanto efeito, pois não acredito que de 3 para 4 de agilidade irá evitar muitos ataques. Mas se combinada com o Invocador da primeira coleção (Alfa e Beta) que concede +1 de dano mágico, pode ser um grande diferencial na partida já começando com 4 de dano no nível 1. Parâmetros esses só atingidos por cartas Lendárias.
Não tenho nenhuma unidade dessa carta, então decidi comprar uma para a minha coleção. Os preços para aluguel e compra estão abaixos para quem quiser adquirir: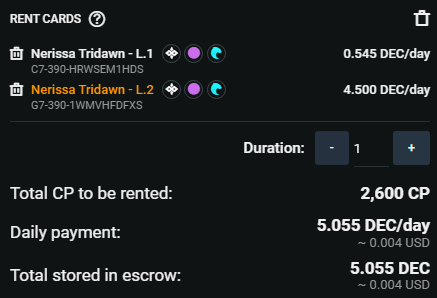 Agora vamos para a batalha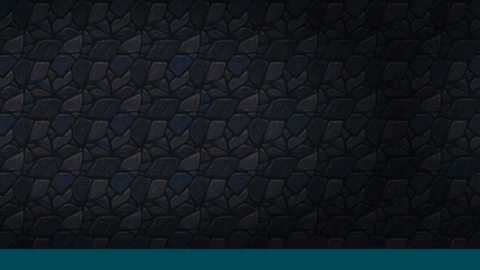 PRÉ-MATCH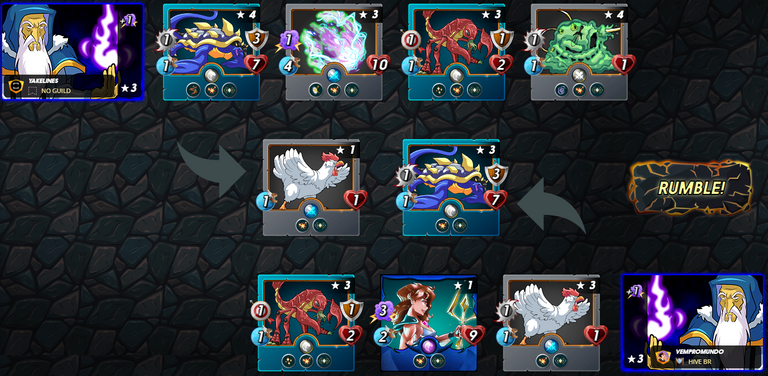 Quando as cartas foram apresentadas, senti que teria uma certa dificuldade, pois o adversário colocou o Prismatic Energy em campo, um ótimo adversário contra dano mágico, que é o que consistia minha estratégia.
ROUND 1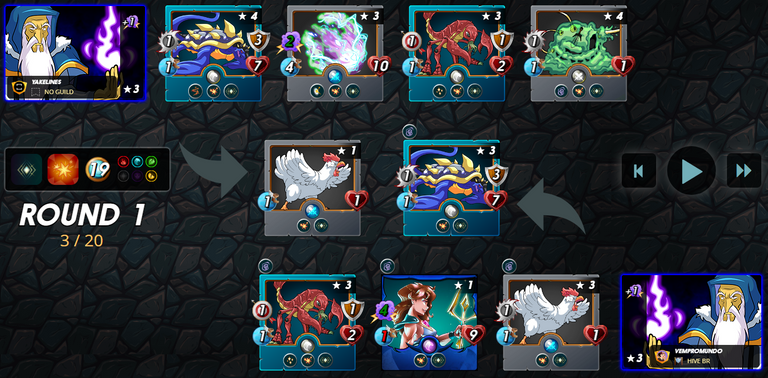 Com a galinha de ambos morta, começou a corrida contra o tempo para eu conseguir trazer o quanto antes a Nerissa para a posição 1, para que fosse curada e eu tivesse alguma chance na partida.
ROUND 2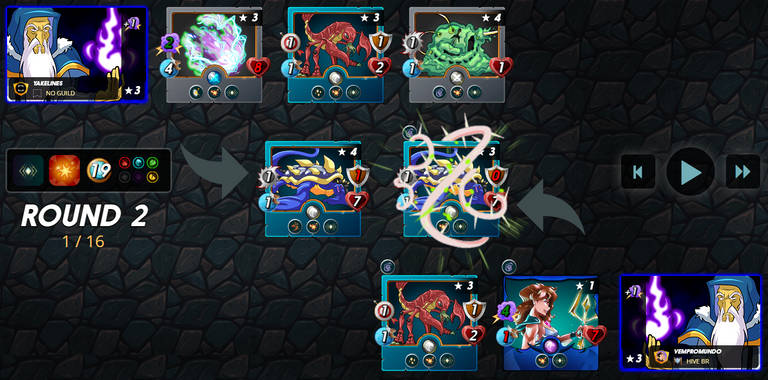 O Thorns do Spineback Turtle inimigo, além de criar uma animação engraçada para a foto, também causou uma desigualdade na batalha, deixando o inimigo com 1 de armadura a mais que o meu, o que foi providencial para esse Round, com o ataque do Crustacean King inimigo.
ROUND 3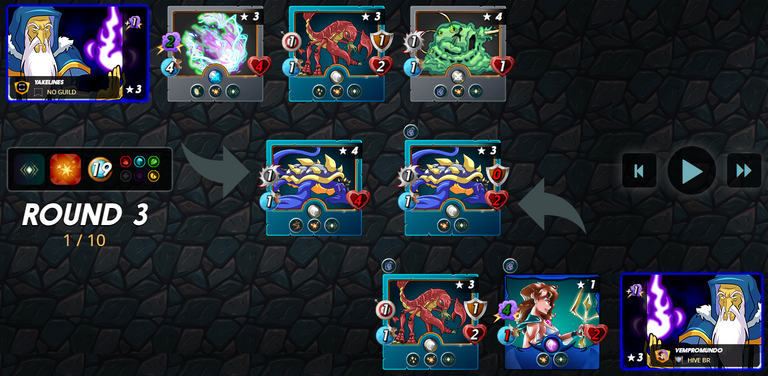 O Reflect causou a morte de minha Nerissa o que impossibilitou absolutamente minha vitória.
ROUND 4
No fim só restou ver meu Crustacean morrer.
BATTLE RESULTS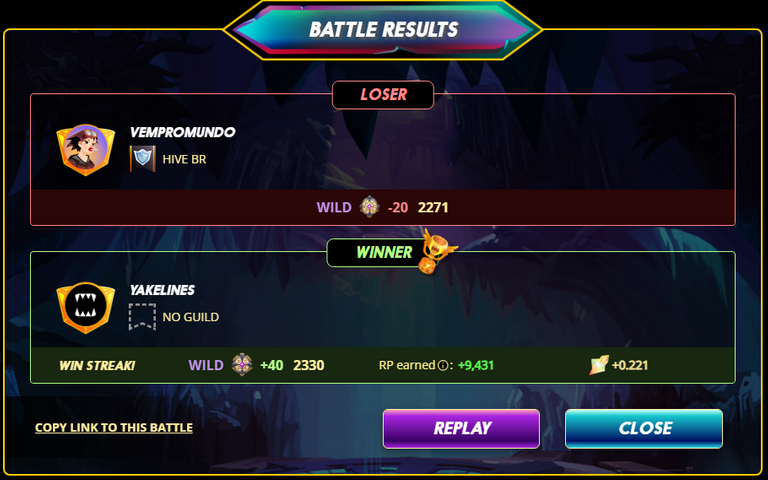 O QUE PODERIA SER DIFERENTE?
Usando a ferramenta SplinterTools vi que minha chance de vitória era 0%. Então decidi fazer uma alteração, colocando o Djinn Oshannus, porém retirando a carta do desafio semanal, minha chance de vitória aumentou para 100%. Nisso podemos ver a diferença que uma carta lendária, faz em detrimento de uma carta épica.
Chance de vitória do time que entrou em campo: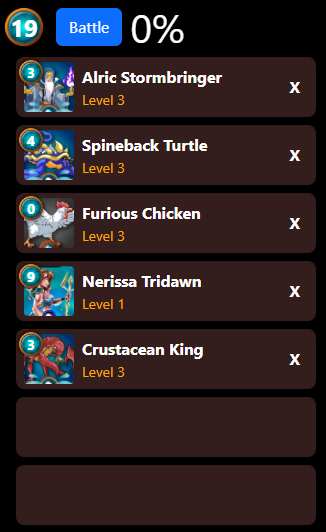 Time com uma performance melhor: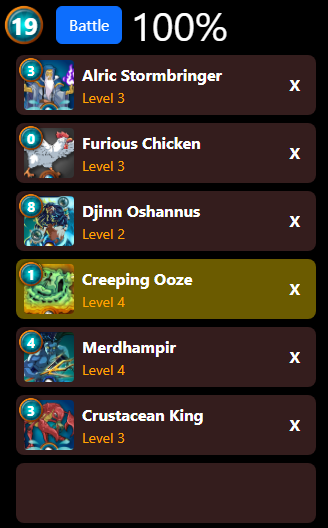 ---
---