SHARE YOUR BATTLE Weekly Challenge! TWILIGHT BASILISK [EN / PT-BR]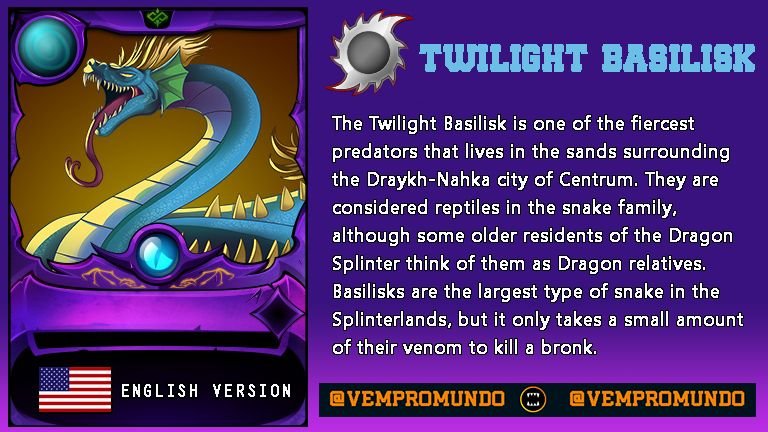 The card of the week is the Twilight Basilisk. A card at the beginning of position 2 for having Reache with Stun from level 5, which can help your adjacent allies. At its last level it has 3 Physical Damage, which together with Summoner Daria that grants an additional 1 in physical damage, makes it a very strong card with a small mana cost.
There are better cards, with the same cost of mana and opportunity, but for those who still have a small income and cannot acquire better cards, the Twilight Basilisk does the trick.
I have 6 units of this card. 1 on level 3, 1 on level 2 and 4 on level 1. The prices for rent and purchase are below for those who want to purchase: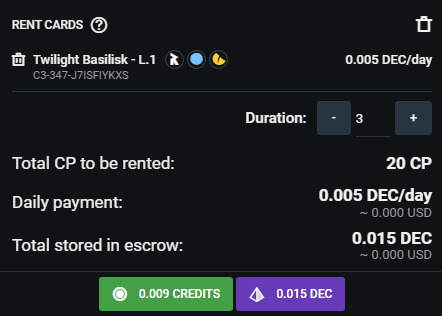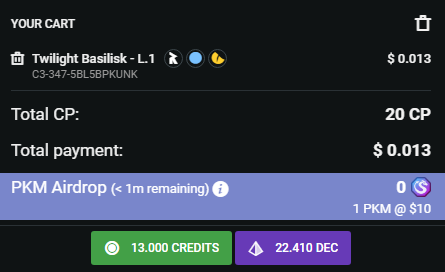 Now let's go to battle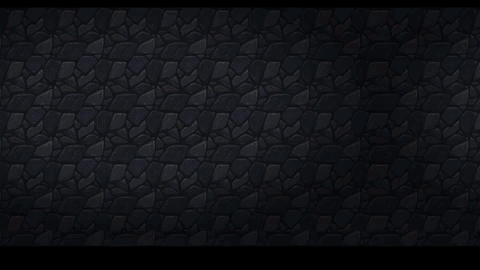 PRÉ-MATCH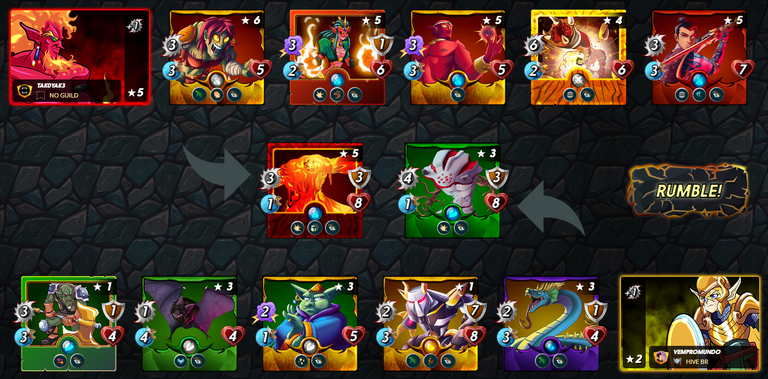 My opponent knew how to put together a good battle line, mixing gold and regular cards, along with physical damage and magic damage together. It will be an uphill battle.
ROUND 1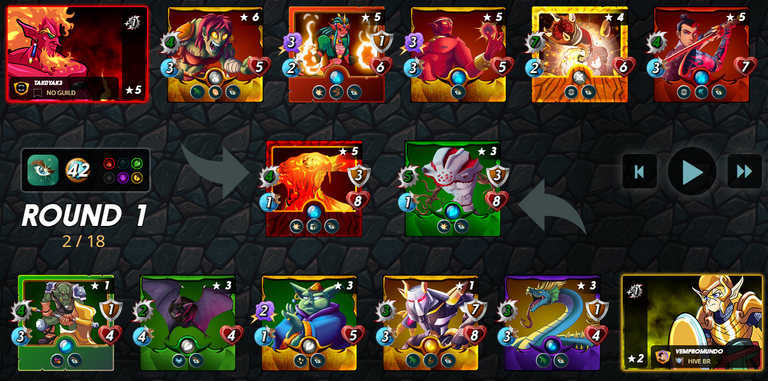 The opponent came mercilessly in the attack, with the skill of Opportunity for all activated, 4 of my cards were destroyed while I only managed to remove one from the opponent's field.
ROUND 2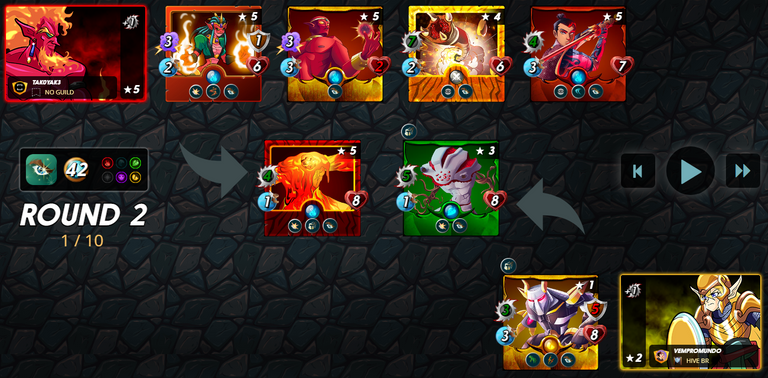 Even with me eliminating another enemy card, the opponent was not even aware of my presence on the field and defeated my position 1 card.
ROUND 3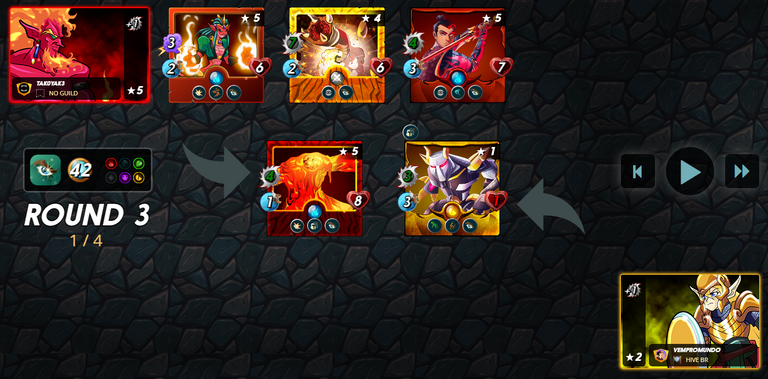 Even if a miracle happened and the Carnage Titan went the entire third round without getting hit, it still wouldn't be enough for me to get a win.
BATTLE RESULTS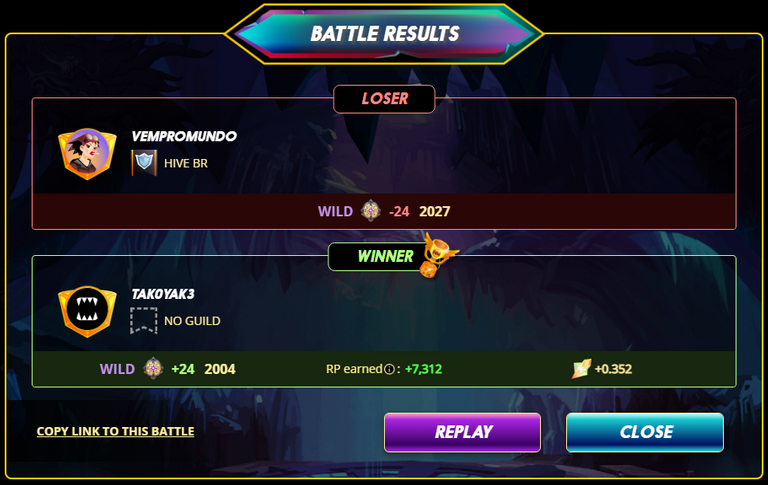 WHAT COULD BE DIFFERENT?
Using the tool SplinterTools I saw that my chance of winning was 0%. So I decided to change the chosen dragon of the week and change it from Earth to Fire, thus increasing my chances of winning to 43%.
Chance of victory of the team that entered the field: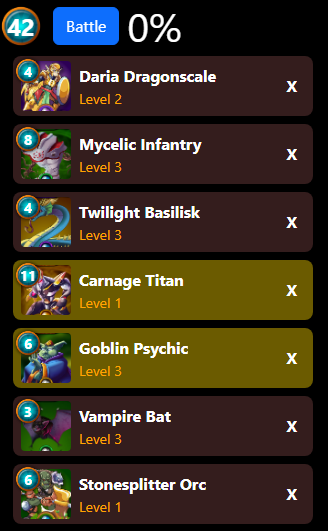 Team with a better performance: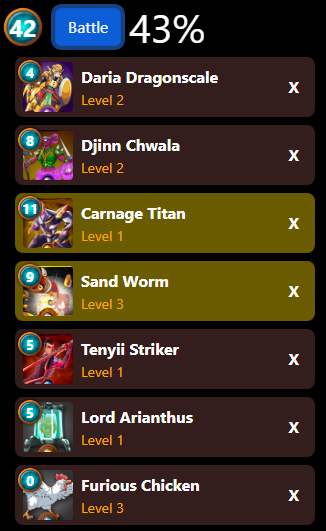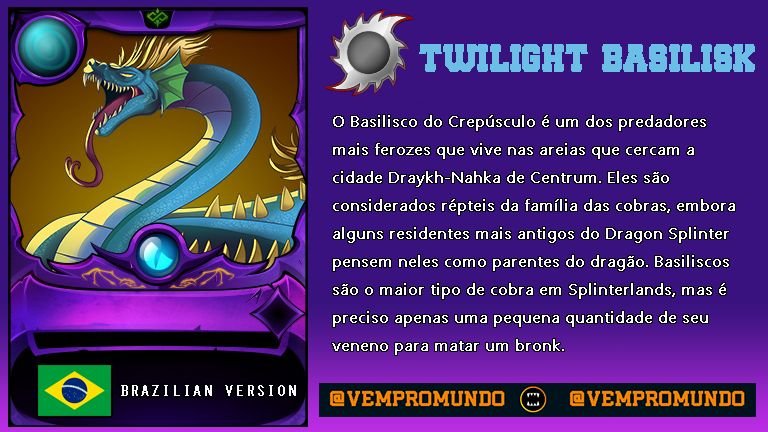 A carta da semana é o Twilight Basilisk. Uma carta a princípio de posição 2 por possuir Reache com Stun a partir do nível 5, o que pode ajudar os seus aliados adjacentes. No seu último nível possui 3 de Dano Físico, o que junto com o Invocador Daria que concede adicional de 1 no dano físico, torna-se uma carta bem forte com um pequeno custo de mana.
Há cartas melhores, com o mesmo custo de mana e oportunidade, porém para os que possuem uma renda ainda pequena e não podem adquirir cartas melhores, o Twilight Basilisk da conta do recado.
Tenho 6 unidades dessa carta. 1 no nível 3, 1 no nível 2 e 4 no nível 1. Os preços para aluguel e compra estão abaixos para quem quiser adquirir: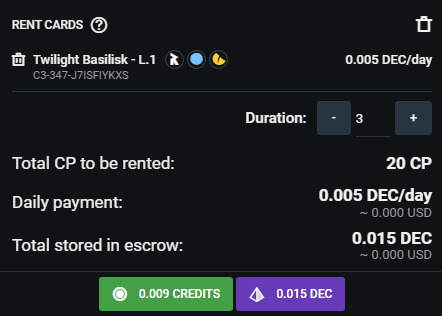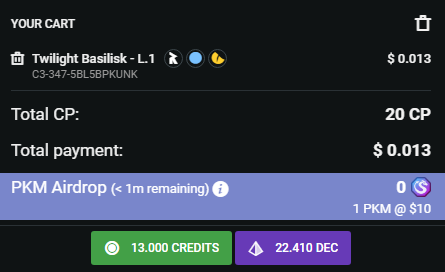 Agora vamos para a batalha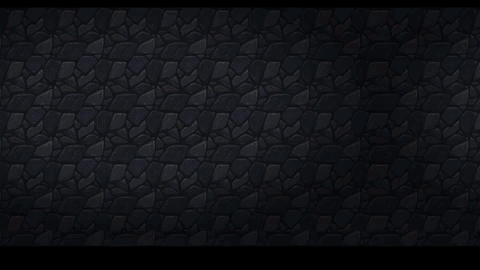 PRÉ-MATCH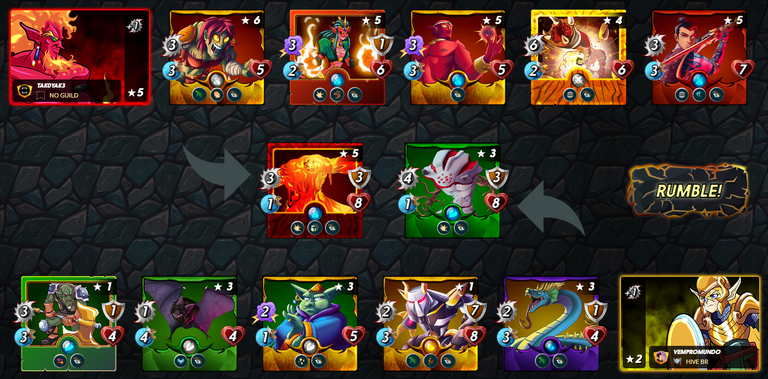 Meu adversário soube montar uma boa linha de batalha, mesclando cartas douradas e regulares, juntamente com dano físico e dano mágico juntos. Será uma batalha difícil.
ROUND 1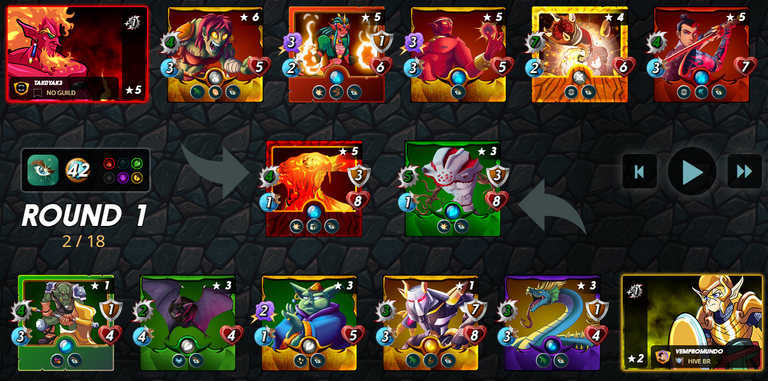 O adversário veio impiedoso no ataque, com a habilidade de Oportunidade para todos ativada, 4 cartas minhas foram destruídas enquanto eu apenas consegui remover uma do campo adversário.
ROUND 2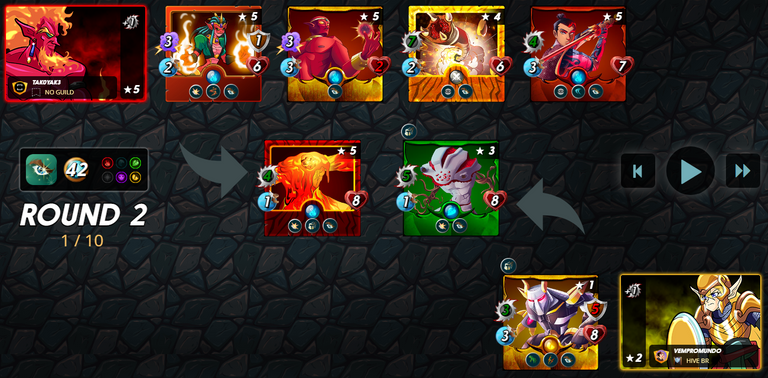 Mesmo comigo eliminando mais uma carta inimiga, o adversário nem tomou conhecimento da minha presença no campo e derrotou a minha carta de posição 1.
ROUND 3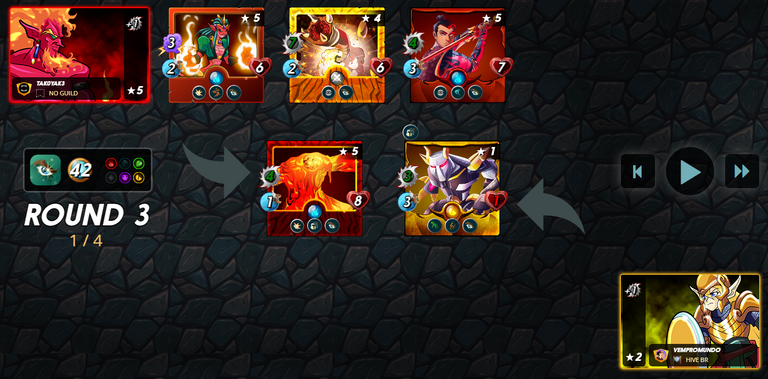 Mesmo que um milagre acontecesse e o Carnage Titan passasse o terceiro round inteiro sem ser acertado, ainda não bastaria para que eu pudesse conseguir uma vitória.
BATTLE RESULTS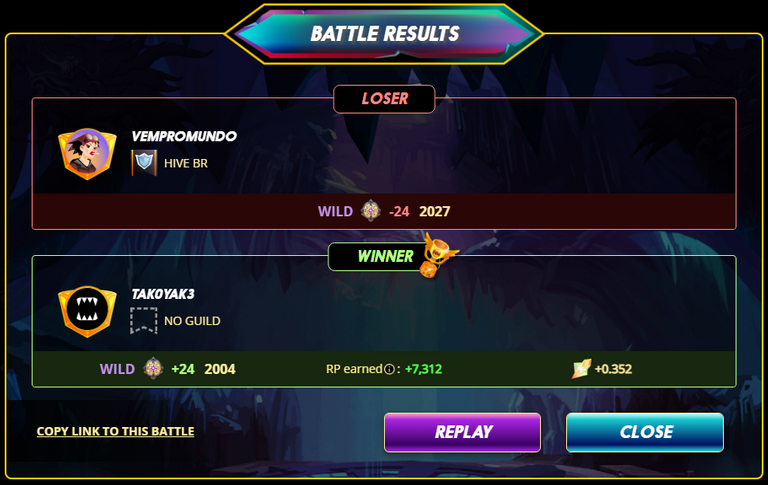 O QUE PODERIA SER DIFERENTE?
Usando a ferramenta SplinterTools vi que minha chance de vitória era 0%. Então decidi trocar o dragão escolhido da semana e mudar de Terra para Fogo, assim aumentando minhas chances de vitória para 43%.
Chance de vitória do time que entrou em campo: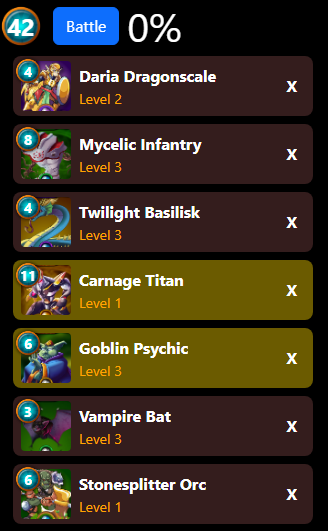 Time com uma performance melhor: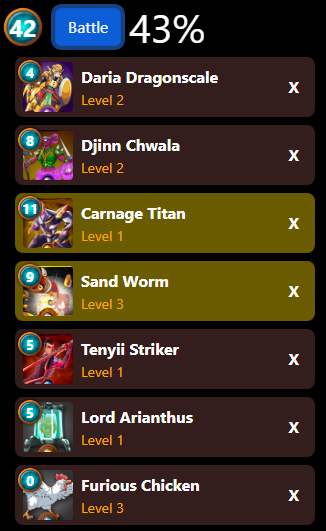 ---
---