[Splinterlands] Lyanna and Nymph best friends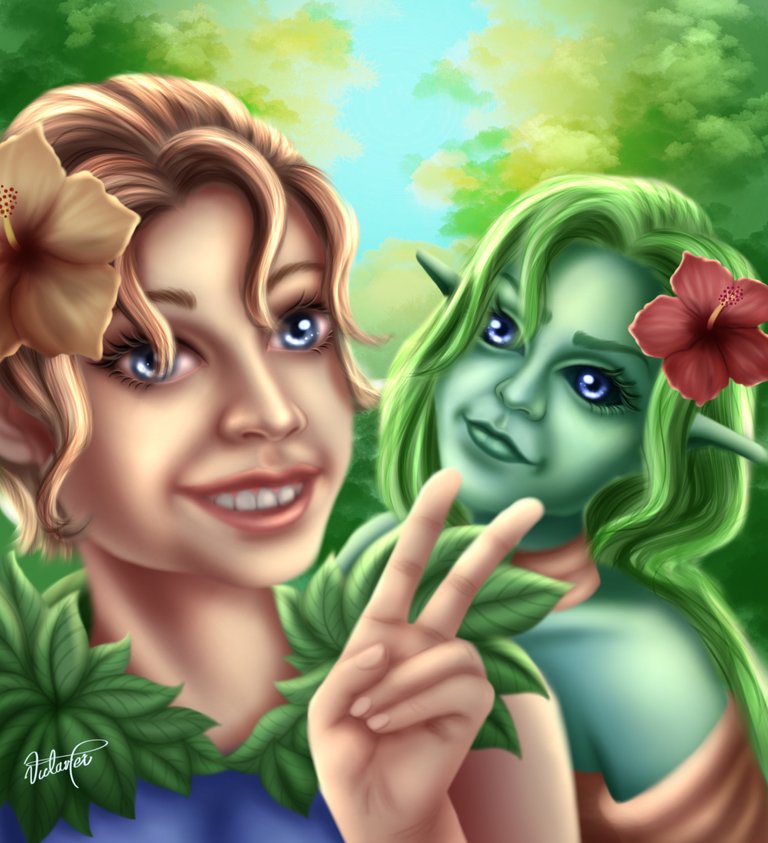 ---
Hello to all the dear Hive.blog community, I'm back again with another drawing post, it's my fourth entry to the art contest sponsored by @Splinterlands. This time I decided to make two characters, which I consider to be the most representative, beloved and iconic in the whole game, I mean Lyanna Natura and Wood Nymph, both being of the same earth element, protectors of the forest and the creatures that inhabit it.
In this drawing I wanted to represent them as best friends, capturing the most representative features of them and posing in the forest for a photo. It was a lot of fun to do, since I managed to get a good harmony between the girls, as if they were real friends. Without more to say, here I show you the step by step of the development of the illustration, I hope you like it.
Hola a toda la querida comunidad de Hive.blog, nuevamente estoy de vuelta con otro post de dibujo, es mi cuarta entrada al concurso de arte que patrocina @Splinterlands. Esta vez decidí a realizar dos personajes, los cuales considero que se tratan los más representativos, queridos e icónicos en todo el juego, me refiero a Lyanna Natura y Wood Nymph, ambas siendo del mismo elemento tierra, protectoras del bosque y las criaturas que habitan en él.
En este dibujo quise representarlas como mejores amigas, captando los rasgos más representativos de ellas y posando en el bosque para una foto. Fue muy divertido de realizar, ya que logre obtener una buena armonía entre las chicas, como si de verdaderas amigas se tratase. Sin más que decir, a continuación les muestro el paso a paso del desarrollo de la ilustración, espero sea de su agrado.
Drawing development / Desarrollo ✏️
---
Taking as reference the photos that were presented, I made a semi-realistic adaptation of Lyanna and Nymph, keeping certain animated and fantasy details that characterizes the original characters, for the development and ease of it, I divided them into several sections, such as head, hair, body and other accessories, each painted separately to be able to apply more comfortably the different effects and textures.
Tomando como referencia las fotos que se presentó, realice una adaptación semirealista de Lyanna y Nymph, manteniendo ciertos detalles animados y fantasiosos que caracteriza a los personajes originales, para el desarrollo y facilidad del mismo, los dividí en varias secciones, como fueron cabeza, cabello, cuerpo y demás accesorios, cada una pintadas por separado para poder aplicarle con mayor comodidad los diferentes efectos y texturas.
First I designed the pose that the girls were going to use, then I proceeded to add the details that characterize each character, making them look as similar as possible, but without losing the touch of realism I was looking for. Then I started to apply the corresponding color, using shades with little saturation, to have a larger amplitude when playing with the other tones.
El inicio del dibujo empecé a realizar el boceto, primero diseñe la pose que las chicas iban a usar, luego procedí a agregar los detalles que caracterizan a cada personaje, logrando que se parecieran lo más posible, pero sin perder el toque de realismo que buscaba. Luego empecé a aplicar el color correspondiente, usando tonalidades con poca saturación, para tener una amplitud más grande a la hora de jugar con los demás tonos.
Little by little I was giving volume to the faces and bodies playing with the same tonalities, raising a little the saturation and rolling slightly in the chromatic wheel the color towards the warmer ones. Also in this step I was shaping the eyes, lips and hair. At first it was a little difficult to find or combine the colors for Nymph, since I had never worked with green characters before.
Poco a poco fui dándole volumen a los rostros y cuerpos jugando con las mismas tonalidades, subiendo un poco la saturación y rodando leventemente en la rueda cromática el color hacia los más cálidos. También en este paso fui dándole forma a los ojos, labios y cabello. Al principio me costó un poco encontrar o combinar los colores para Nymph, ya que nunca había trabajado con personajes verdes.
Here I was detailing a little more the different parts of the drawing, I concentrated on making the hair and part of the clothes and flowers, with the intention of leaving for the last the factions of the face, since it is one of the most important steps of the drawing and of which I dedicate more time.
Acá fui detallando un poco más las diferentes partes del dibujo, me concentre en realizar el cabello y parte de la vestimenta y las flores, con la intención de dejar para lo último las facciones del rostro, ya que es uno de los pasos más importantes del dibujo y del cual le dedico más tiempo.
Once we have obtained our base drawing with the different tonalities, textures, shadows and light areas, I proceed to give the last details, refine the features of the face, place some effects of lights and glows, using different layers in blend mode to add and overexposure to illuminate certain parts. Finally we draw a background with a forest theme.
Una vez obtenido nuestro dibujo base con las diferentes tonalidades, texturas, sombras y zonas claras, procedo a dar los últimos detalles, refino las facciones del rostro, coloco algunos efectos de luces y brillos, usando diferentes capas en modo mezcla añadir y sobre exposición para iluminar ciertas partes. Finalmente dibujamos un fondo con temática en el bosque.
Used tools / Herramientas usadas📌
---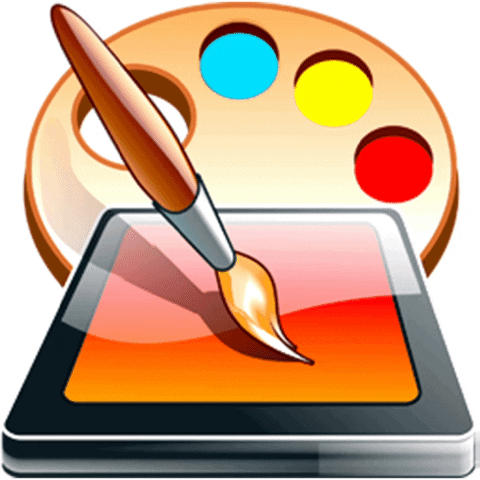 Programs: Imovie
Procreate
SketchBook
Tablet: Ipad Pro
Apple Pencil

Brushes: Airbrush
Pencil
Felt-tip pen
Skin brush

Time: 6 hours


Past drawings / Dibujos pasados 🔙
---
Thank you for your attention. We'll see you again in the next post, don't miss it.
Gracias por la atención prestada. Nos veremos de nuevo en el proximo post, no se lo pierdan.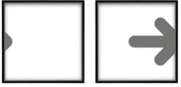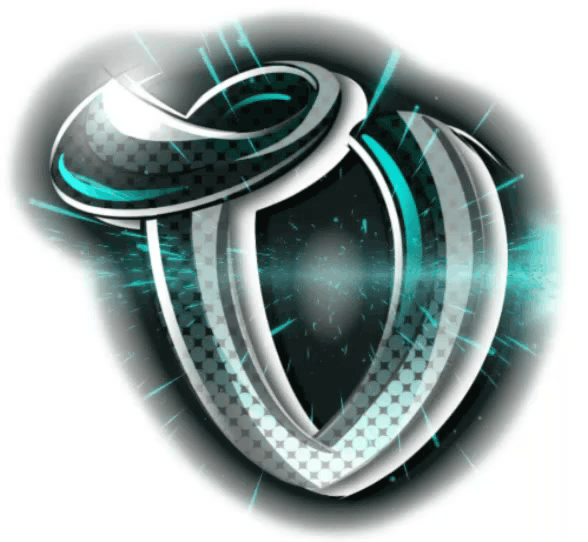 Copyright © @victartex - All Rights Reserved. Design and editing by own authorship.
El punto de partida de todo logro es el deseo.
Napoleon Hill

---
---