Splinterlands: How to trade / transfer unopened Booster Packs from Splinterlands to TribalDEX / WAX and vice versa

So kannst du ein ungeöffnetes Booster-Pack von Splinterlands auf TribalDEX transferieren / traden:
Der Chaos Legion-Vorverkauf hat gestern begonnen, aber wie die meisten schon gemerkt haben, kann man die Booster Packs noch nicht öffnen.
Was aber geht, ist, die ungeöffneten Packs auf TribalDEX / Hive-Engine bzw. auf WAX zu traden.
Dazu müssen die Packs tokenisiert und auf die jeweilige Blockchain exportiert werden.
Danach kann man die ungeöffneten Packs als Token auf TribalDEX oder auf WAX wie eine Kryptowährung traden. Praktisch.
So konvertiert man die Token zwischen Splinterlands und TribalDEX / WAX:
Gehe auf der Splinterlands-Website auf "Open"
Klicke unten bei den Packs auf das Symbol "Convert"
Danach öffnet sich der Konvertierungs-Dialog, mit dem man die Tokens hin- und herkonvertiern kann.
Voilà! Was sagt ihr dazu? Habt ihr das schon mal gemacht?
How to convert Splinterlands Booster Packs to TribalDEX / WAX and vice versa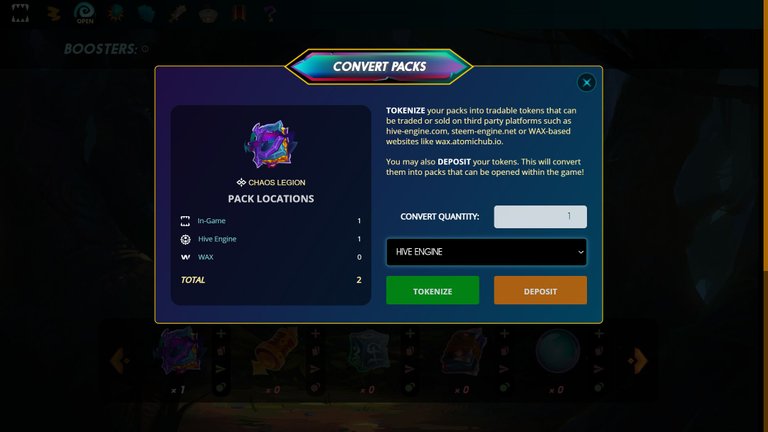 English
The Chaos Legion pre-sale started yesterday, but as most have already noticed, you can't open the booster packs yet.
What is possible, however, is to trade the unopened packs on TirbalDEX / Hive Engine or on WAX.
For this, the packs have to be tokenized and exported to the respective blockchain.
Then you can trade the unopened packs as tokens on TribalDEX or on WAX like a cryptocurrency. Very convenient.
Here's how to convert Booster Pack tokens between Splinterlands and TribalDEX / WAX:
Go to "Open" on the Splinterlands website.
Click on the "Convert" icon at the packs.
After that the convert dialog opens, which allows you to convert the tokens back and forth.
Voilà! Have you used the convert function already?
Live your Secrets and Hive Prosper 🍯
xx Viki @vikisecrets
---
---