Vienna Hive Meetup just before the SPK and Ragnarok airdrop snapshot 🤩

Heute Vormittag ist der Snapshot für den SPK und Ragnarok Airdrop durchgeführt worden. SPK wird über eine Website claimbar sein und Ragnarok ist ein angekündigtes NFT-basiertes Game, eine Mischung aus Schach, Poker und Splinterlands.
Gestern fand wieder unser monatliches Hive-Meetup statt und wir konnten diesmal sogar in eine coole Cocktail-Bar gehen, allerdings mit Sperrstunde um 22h, konnten dann noch eine Spur länger im Lokal bleiben, aber es durfte niemand mehr hinein.
Während ich einen Mojito 🍹 geschlürft habe, gab es wieder jede Menge Gesprächsstoff wie zum Beispiel die anstehenden Airdrops, Splinterlands, Finanzthemen, mögliche Zinserhöhungen und deren Auswirkungen, und welche (sinnbefreiten) Corona-Maßnahmen gerade wieder beschlossen wurden (FFP2-Maskenpflicht im Freien in Österreich 🙈).
Neu dabei war diesmal Larissa, Unternehmerin und Finanz-Consultant, die wir hoffentlich bald auf Hive begrüßen dürfen.
Wegen dem Splinterlands-Rush gibt es anscheinend Schwierigkeiten neue Accounts zu erstellen.
Die Zeit ist wieder wie im Flug vergangen.
Freue mich schon auf das nächste Meetup, schaut am Besten auf @manncpt's Blog bezüglich Ankündigungen:
https://peakd.com/hivemeetupvienna/@manncpt/report-of-the-1st-hive-meetup-vienna-in-2022-bericht-vom-ersten-wiener-hive-stammtisch-in-2022-ende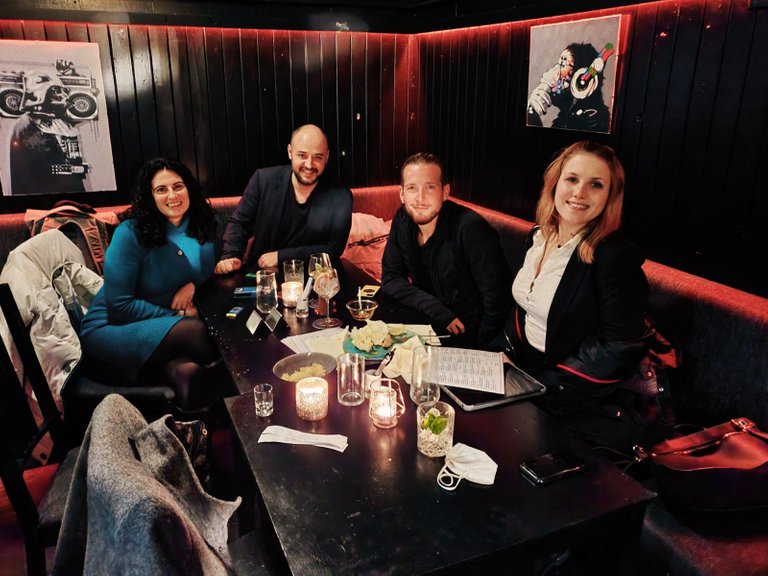 Vienna Hive Meetup at Underdog Bar with @nadinee, @manncpt, @mikeithappen, Larissa, @schmidi & @heryanna (joined the meetup online), and @vikisecrets (I did the pic)
English
This morning the snapshot for the SPK and Ragnarok airdrop has been made. SPK will be claimable via a website and Ragnarok is an announced and upcoming NFT-based game on the Hive blockchain, a mix of chess, poker and Splinterlands.
Yesterday we had our monthly Hive Meetup again and this time we were able to visit a cool cocktail bar in Vienna, albeit with a general closing hour of 10 pm because of the current corona measures in Austria, but we were able to stay a little bit longer but no one was allowed to come in after 10 pm.
While I sipped my mojito 🍹 there was again plenty of conversation going on such as the upcoming Airdrops, Splinterlands, financial topics, possible interest rate increases and their effects on the economy and crypto, and what (meaningless) Corona measures were just introduced again (FFP2 mask mandate outdoors in Austria 🙈).
New this time was Larissa, entrepreneur and financial consultant, whom we hope to welcome on Hive soon.
Because of the Splinterlands rush there seems to be difficulties to create new accounts.
Time has flown by quickly.
Looking forward to the next meetup, best check @manncpt's blog for announcements:
https://peakd.com/hivemeetupvienna/@manncpt/report-of-the-1st-hive-meetup-vienna-in-2022-report-of-the-first-vienna-hive-meetup-in-2022-end
Sources
[1] SPK Network Airdrop https://spk.network/
[2] Ragnarok Airdrop @ragnarok.game
Live your Secrets and Hive Prosper 🍯
xx Viki @vikisecrets
---
---