Investing in High APR Diesel Pools After Hard Fork 26 | Earning DEC + Trading Fees
Worst thing about Uniswap for me is all the fees associated. The best thing about HIVE DeFi is the lack of fees (for most things). Although I have been involved in HIVE DeFi for a long time and kept up with the innovations since launch, Diesel Pools was not something I had gotten myself into. I constantly found myself getting distracted by other things including CUB and POLYCUB.
One of the reasons I didn't jump into Diesel Pools the moment they launched was the lack of high APR rewards. When there is one of the biggest DAPPs of the world is involved, those APR numbers can be made into something quite lucrative.

I was originally interested in VOUCHER:SWAP.HIVE pool as the VOUCHERs were sitting around doing nothing. The APR was high and there was nothing else I could do with VOUCHERS such as staking them. Then I came across DEC which is aiming to be a product backed stablecoin. At the very least I expect DEC to have a low volatility with prices stuck between 60 cents to $1 per 1000 DEC.

In other words, joining DEC:SWAP.HIVE pool would be similar to taking profits while HIVE goes up in value. I have most of my HIVE powered up. Having some extra HIVE being traded like this can be utilized to get the most out of market movements.
This is the current best way I know to move HIVE in and out of HIVE-Engine ecosystem. You could be saving thousands of dollars depending on the size of your transactions.

Liquidity Added Through Tribaldex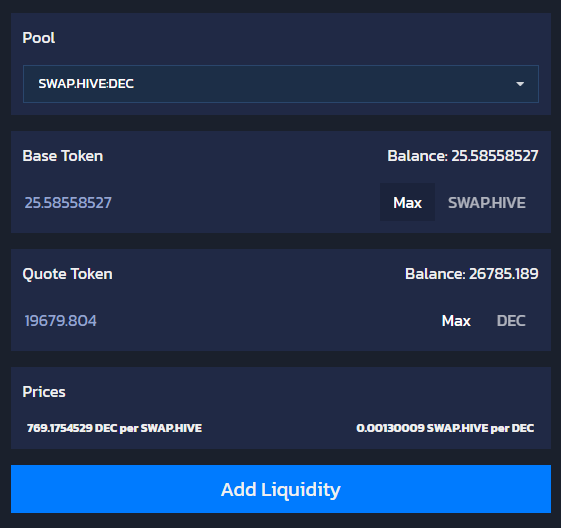 The process is very intuitive. DeFi does not have to be grandma friendly. Those who are interested to dive this deep into cryptocurrency are bound to be at least moderately tech savvy.
Where Does The APR Come From
These numbers are 3 months old. My source is this article from @splinterlands that explain LP Reward distribution in detail.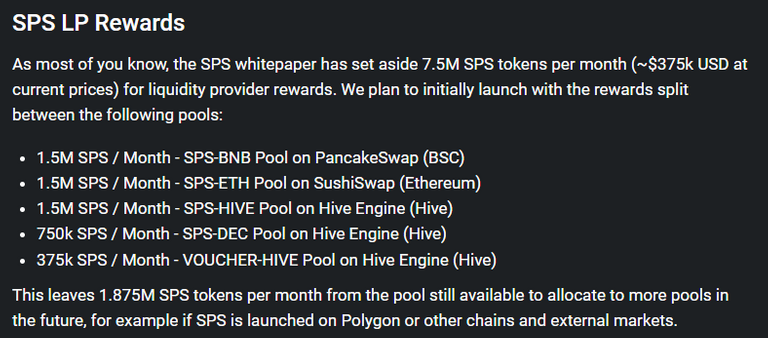 Keep in mind that trading fees are going to be earned on top of these. Over its lifetime, DEC:SWAP.HIVE pool has earned $44,246 in fees. Last week's earnings were only $1,166.
A Conversation Before The Investment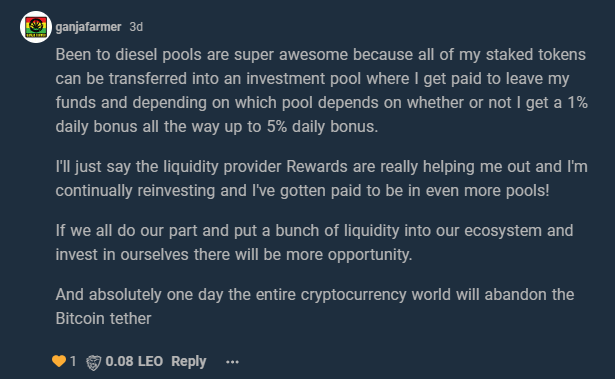 I told @ganjafarmer that "I'm feeling more inclined to dabble with Diesel Pools as a liquidity provider." Now I have acted upon that. That you for the extra push with your feedback.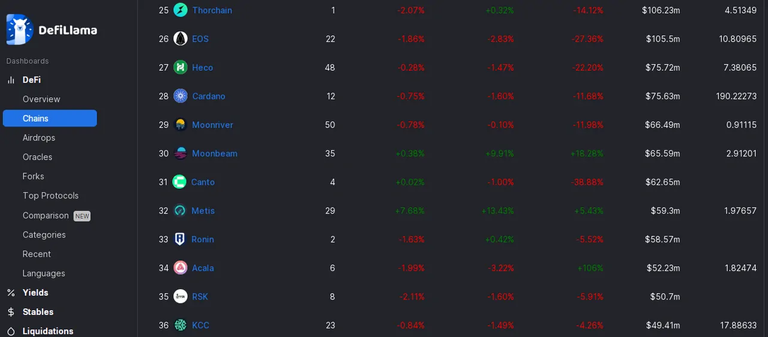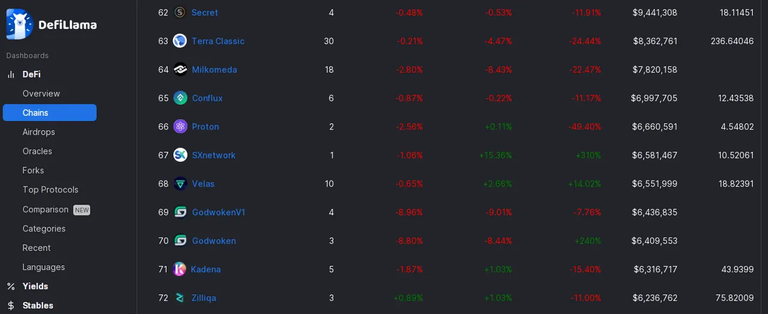 When looking at above statistics, it is evident that HIVE-Engine is already a mid sized player in DeFi TVL. Tribaldex is already doing better in TVL than CUB and POLYCUB combined. This is a phenomenal accomplishment to say the least. Future will be bright. Be ready for it!
Happy Trading! Happy Investing!
Posted Using LeoFinance Beta
---
---