My Thoughts on Bringing HIVE Ecosystem Together Through LEO DeFi | STARBITS, Splinterlands and Governance
There is no need to reinvent the wheel when you have already seen something that can work well. This is what I see for @risingstargame when I see the past performance of the partnership between @leofinance and @splinterlands teams. The best part is that most of the work is already done and STARBITS can easily be integrated with the existing Polygon and Binance Smart Chain ecosystems.
It Started With Diesel Pools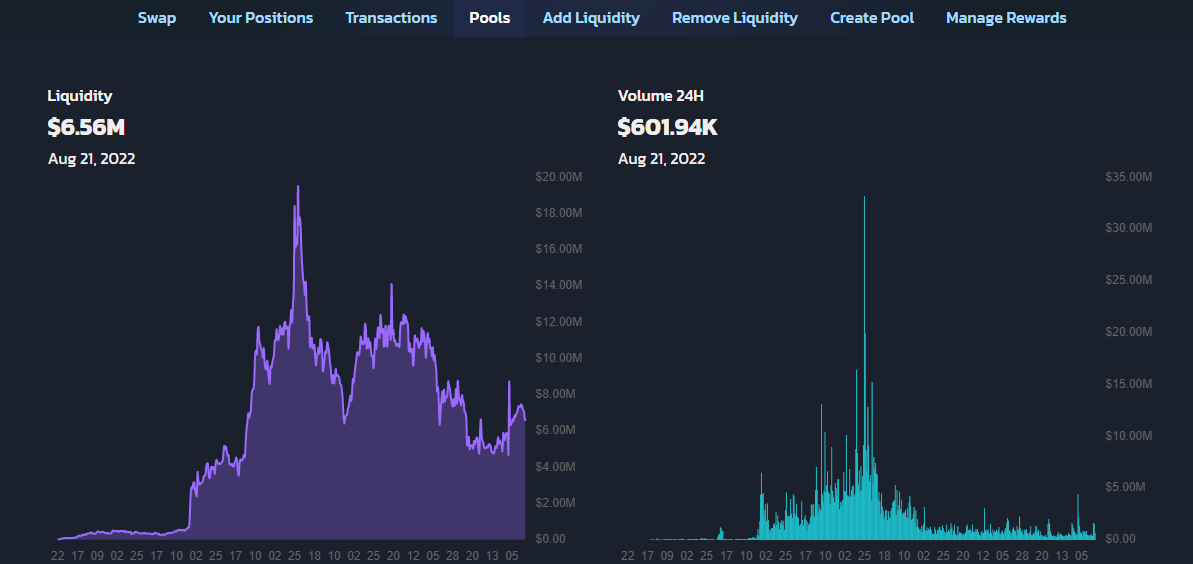 I wanted to see DeFi done on the feeless HIVE blockchain and it was @aggroed and HIVE-Engine developers who finally made this a reality. There is only so many projects happening on HIVE. This keeps many developments and amazing features of HIVE hidden from most of the cryptosphere. We can either go hard on marketing and try to onboard new investors or we can focus on slowly doing what I call "Soft Onboarding".
Wrapped assets is how we accomplish this. For an example, SPS is available on Six Blockchains: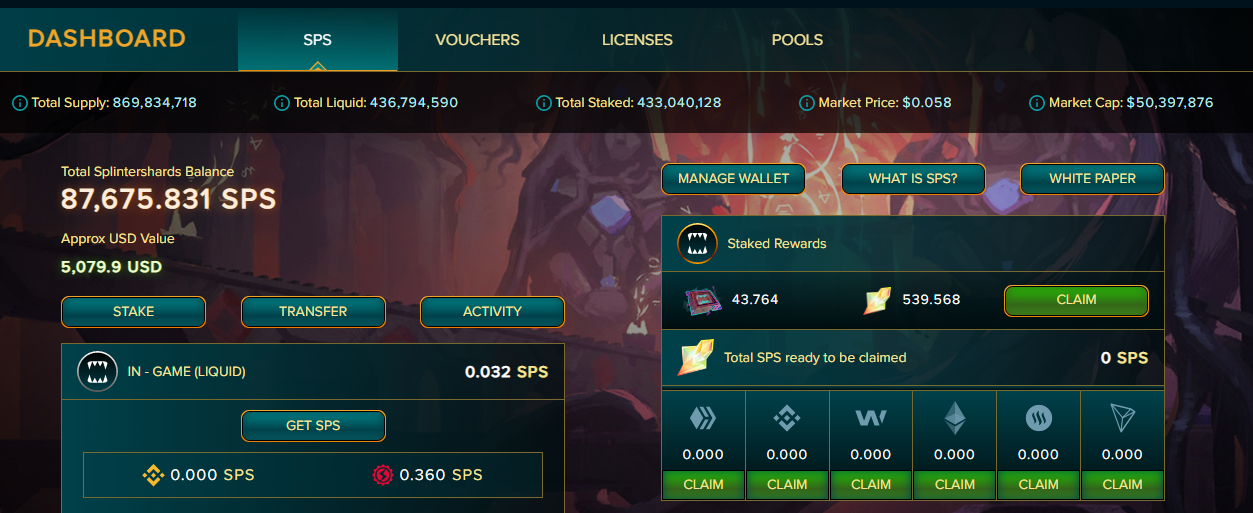 The advantage is that someone looking to buy some NFTs on WAX can stumble upon some Cards and eventually turn into a @splinterlands player since he/she already own some Cards.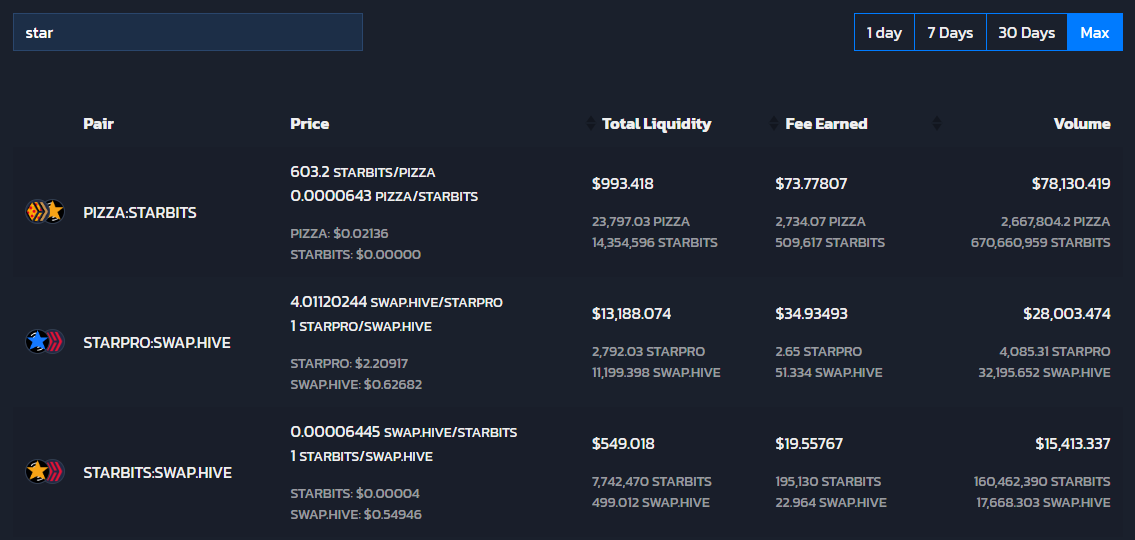 These are not the most impressive of volumes. We have to keep in mind that there are many users (including me) who prefer to get the best prices through order books and zero fees using HIVE-Engine Exchange through various front ends we have such as:
It is an often observed fact that prices of assets can go up after new exchange listings. It will be difficult for a DAPP without massive marketing budget and user base to get major exchange listings. DeFi on the other hand is a much better place to take a look at.
CubFinance and POLYCUB to Save The Day
Read the first monthly report. The Multi-Token Bridge has brought in massive improvements to the revenue. If there were more assets getting wrapped and unwrapped paying 0.5% fees, these revenue numbers will be going up even further. No project that is being built on HIVE need to worry about starting from scratch. DeFi solutions from @leofinance can be a gateway to two of the biggest EVM blockchains (and there will be more coming in the future).
Liquidity on CubFinance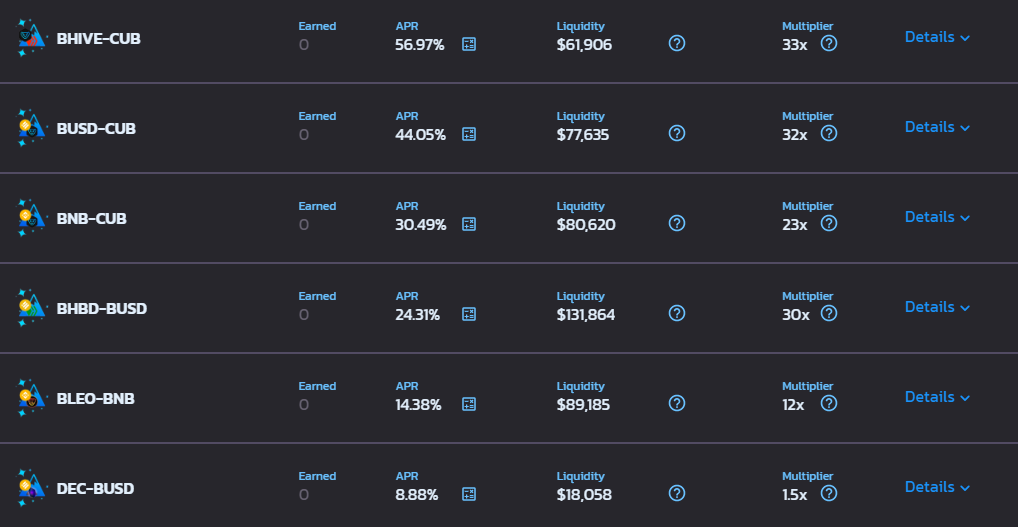 Liquidity on POLYCUB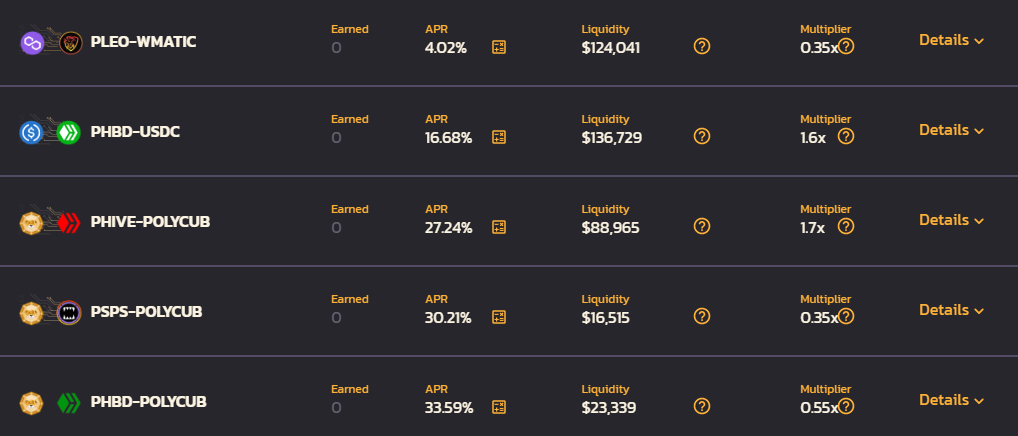 The best part is that there is no need to have pressure on any development team to make or not make the call. The community can do it via governance voting. This is another use case for xPOLYCUB, vexPOLYCUB and eventually for the equivalent on CubFinance.
More Governance Demand = Higher Prices
This should be a very obvious things. Those who have been sitting on the fence regarding CUB or POLYCUB will now have a reason to finally jump into the investment. Many potential investors who never even knew about STARBITS and @risingstargame game will gain exposure to the game while they are going through their portfolio management.
The Links You Should Check Out
Happy Gaming! Happy Investing!
Posted Using LeoFinance Beta
---
---