Do you believe in Phantasms? [GIVEAWAY]
Portuguese translation available at the end of the post!
Tradução para o português disponível no fim do post!
New at Splinterlands? Create an account here!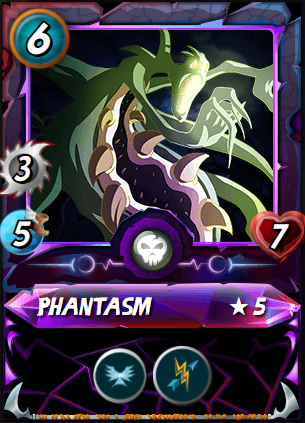 One of the biggest difficulties for new players in Splinterlands is finding cheap options that allow them to move up the league and start accumulating POWER. With that in mind, I decided to start a series of posts focused on presenting accessible cards that contribute enormously to gameplay. Phantasm is the second chosen card, see the post about the previous card, Harvester, here!
GIVEAWAY ENDED, WINNER: @fortheloveofsl
Also, I'll reward one lucky person who comments on this post with a copy of this wonderful card (level 1)! All you have to do is tell me in the comments which card you think is more cost-effective than Phantasm (and don't forget to put in your Splinterlands username). And if you want to find out about more useful and cheap cards, feel free to follow me here on PeakD.
When we look at Phantasm at level 1, what stands out the most is its dodge potential. In addition to its high speed, the card intrinsically possesses the ability to fly, which in my opinion is quite underrated. Here is a match that was played in a tournament with bronze limitations.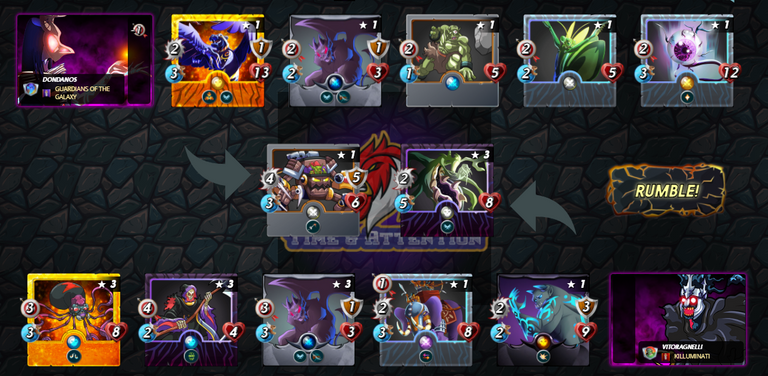 https://splinterlands.com?p=battle&id=sm_EAboLWXtVe4dXjtU7EOP&ref=vitoragnelli
My opponent @dondanos chose a legendary card, Dark Ha'on, which also has the ability to fly, in addition to the Taunt and high hit points, which caused most of my monsters to attack it in second place. But even with the 5 additional hit points and a shield, the very strong Dark Ha'on died before my humble Phantasm, thanks to the great speed of my dear card that dodged several enemy attacks.
If this tournament allowed higher level cards, Phantasm would have an even greater destructive potential in this combat. At level 5 the card gains the ability Return Fire, which returns part of the damage taken from ranged attacks. As monsters with magic attacks were not allowed in this match, it would be practically guaranteed that the Phantasm would weaken a large part of the enemy team.
Still looking at the match played, we can look at some of my choices that might be considered at least questionable. Putting Phantasm, a 6 mana cost card, into a 99 mana limit battle might not seem like the best option, but in my defense I don't have as many high cost cards as I wish (and obviously I have faith on my little Phantasm).
Along the same lines, some might question my choice of Summoner. Of course the ability to decrease the ranged attack used by the opponent could make a difference on several occasions, but I didn't have another level 2 Summoner option for this game, and I consider that in most cases it's worth playing cards of higher levels. With my epic Summoner at level 2, I was able to play four monsters at level 3: Octopider decreased enemy melee damage, Grim Reaper and Gargoya Devil had their attacks improved and Phantasm gained speed and health that were central to the match.
As one of the cards that was given as a reward in the last collection, Phantasm is still traded for cents on the game market, which makes it a good option if you are looking for a low mana tank for the Death deck .
---
Uma das maiores dificuldades para jogadores iniciantes no Splinterlands é em encontrar opções baratas que os permitam subir de liga e começar a acumular POWER. Pensando nisso, decidi começar uma série de posts focados em apresentar cartas acessíveis que contribuem enormemente para a jogatina. Phantasm é a segunda carta escolhida, veja o post sobre a carta anterior, Harvester, aqui!
SORTEIO ENCERRADO, VENCEDOR: @fortheloveofsl
Além disso, vou premiar um sortudo que comentar neste post com uma cópia dessa maravilhosa carta (nível 1)! Tudo que você tem que fazer é me dizer nos comentários qual carta você acha que tem um melhor custo-benefício do que o Phantasm (e não esqueça de colocar seu nome de usuário do Splinterlands). E se quiser ficar sabendo de mais cartas úteis e baratas, fique à vontade para me seguir aqui no PeakD.
Quando olhamos para o Phantasm no nível 1, o que mais chama a atenção é seu potencial de dodge. Além de sua alta velocidade, a carta intrinsicamente possuí a habilidade de voar, que na minha opinião é bastante subestimada. Eu trago a seguir uma partida que foi disputada em um torneio com limitações do bronze.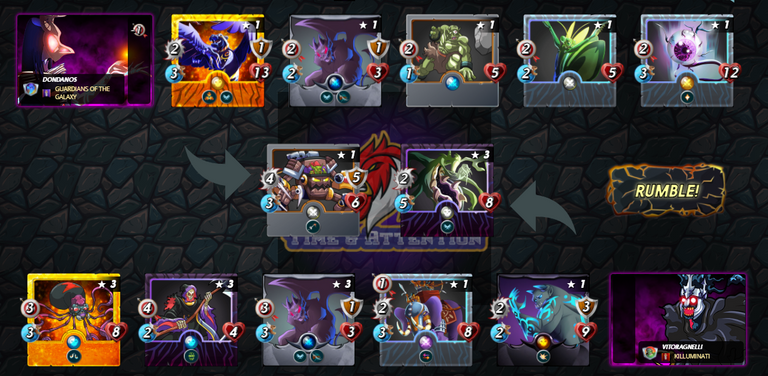 https://splinterlands.com?p=battle&id=sm_EAboLWXtVe4dXjtU7EOP&ref=vitoragnelli
Meu oponente, @dondanos escolheu uma carta lendária, Dark Ha'on, que também tem a habilidade de voar, além do Taunt e da alta vida, que fez com que a maioria dos meus monstros a atacassem na segunda posição. Mas mesmo com 5 pontos de vida adicionais e um escudo, o fortíssimo Dark Ha'on morreu antes do meu humilde Phantasm, graças à grande velocidade da minha querida carta que desviou de diversos ataques inimigos.
Caso esse torneio permitisse cartas de maior nível, o Phantasm teria um potencial destrutivo ainda maior nesse combate. No nível 5 a carta ganha a habilidade Return Fire, que devolve parte do dano recebido de ataques à distância. Como nessa partida não estavam permitidos monstros com ataques mágicos, seria praticamente garantido que o Phantasm enfraqueceria grande parte do time inimigo.
Ainda olhando para a partida disputada, podemos observar alguns de meus caminhos que podem ser considerados no mínimo questionáveis. A própria escolha de colocar o Phantasm, uma carta de custo 6 de mana, em uma batalha com limite de 99 de mana pode não parececer a melhor das opções, mas em minha defesa eu não tenho tantas cartas com custo alto (e obviamente tenho fé no meu pequeno Phantasm).
Na mesma linha, alguns podem questionar minha escolha de Summoner. Com certeza a habilidade de diminuir o ataque à distância, utilizado pelo oponente, poderia fazer diferença em diversas ocasiões, mas eu não possuía outra opção de Summoner de nível 2 para essa partida, e eu considero que na maioria dos casos vale a pena jogar cartas de níveis mais altos. Com meu Summoner épico no nível 2, eu pude jogar quatro monstros no nível 3: Octopider diminuiu o dano físico inimigo, Grim Reaper e Gargoya Devil tiveram seus ataques aprimorados e o Phantasm ganhou velocidade e vida que foram centrais na partida.
Por ser uma das cartas que eram dadas como recompensa na última coleção, Phantasm ainda é comercializado por centavos de dólar no mercado do jogo, o que o torna uma boa opção caso você esteja procurando um tank de baixo custo de mana para o deck de Morte.
---
---