My humble dragon deck
Portuguese translation available at the end of the post!
Tradução para o português disponível no fim do post!
New at Splinterlands? Create an account here!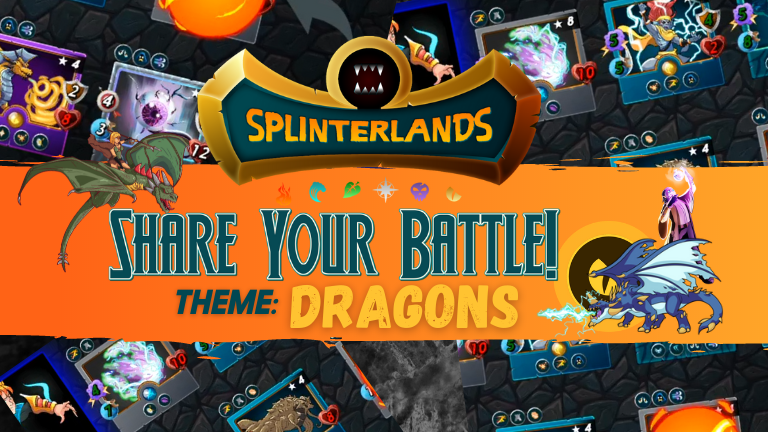 Introduction
Since I started playing Splinterlands, I've been interested in dragons. Not just because they are completely different from all the other elements or because they need to be played together with them, but mainly because they are DRAGONS. For me, that's enough.
Inspired by this week's challenge, I decided to talk a little about my dragon deck, which is actually quite simple. I divide this post into three parts: first I'll talk about summoners, then about monsters and finally I'll share two battles already disputed with Chaos Legoion cards.
Summoners
The only summoners I currently have on my account are dragons, which speaks volumes about my passion for this element. Both Brighton Bloom and Kretch Tallevor are at level 2, which is too low a level for my tastes, but that's what we have for today.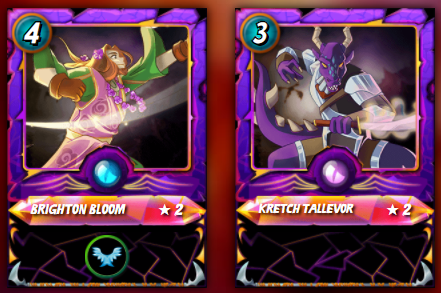 I'm a fan of all summoners who have lower mana cost and no skills, mainly because they are epic and allow the summoning of higher level monsters. So I find my Kretch extremely useful, and probably in most games where I use dragons it's my choice.
Brighton Bloom, in turn, is extremely powerful when battles have a specific rule: earthquake. This is pretty obvious, as it allows your monsters to skip taking two damage every turn. Some people may think it's not worth buying (or even renting) a card because of a specific rule, but I strongly disagree. Having cards that have significant advantages in specific rule sets is vital in Splinterlands, even more so considering that it's possible to create useful dodge teams even when there's no earthquake.
Monsters
The first dragon monster I have is one of the best cards in the game, if not the best. Djinn Chwala, also known as Chiwawa, is a main tank with high health and shield and considerable damage at level 2, but what makes her really powerful is her ability: thorns. I won't dwell on this letter here, because I plan to make a specific post about it in my post series on cheap and powerful cards.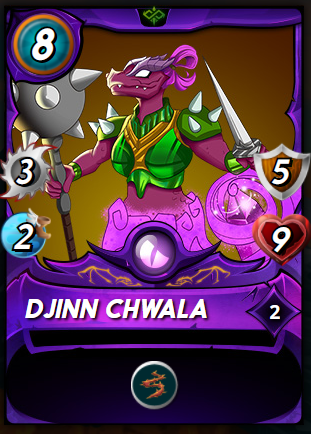 In addition to Chwala, I have five other dragons in my deck. It may seem like a low number, especially considering that I don't rent many dragons besides these, but they do allow you to create important differentials in certain battles. In the future I definitely intend to increase the number of dragons, especially now after the release of Chaos Legion.
Serpentine Mystic has an ability that I love: affliction, which is not very common and manages to destroy healing strategies, which are and probably always will be quite strong.

Naga Assassin is an interesting card since the lower levels, in which I play, but it gets extremely powerful when it gains backfire and swiftness, I hope that in the future my deck will be level enough for me to enjoy these bonuses.
I already had a copy of Manticore when Twilight Basilisk released it. Both cards have similar usefulness and, although I think Basilisk is stronger, I decided to keep both monsters in my deck, as in some cases I prefer to play Manticore.
Finally, Fire Spitter is a fast and destructive card. On certain occasions it is necessary to place a ranged monster with low cost and high damage, and it is good that it is available.
First Battle
In both games that I show here, I don't use many dragon cards, because the power of this element is precisely its variability, since it can be combined with any card in the game. In this first game I chose to use my main deck alongside the dragons and, as my summoner is only level two, I added two legendary cards with high magic damage: Cthulhu and Ancient Lich, in addition to two high damage melee cards (Sand Worm and a Chiwawa) and the Grim Reaper with precious ranged damage. Also, I added Shadowy Presence to prevent possible sneak cards from destroying my backline.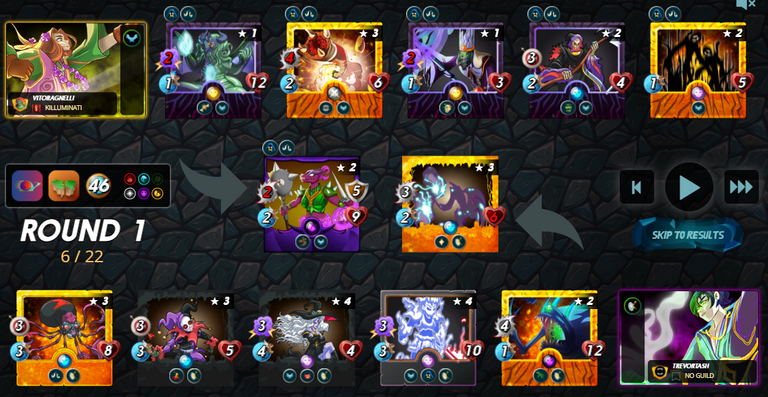 Watch the battle here!
My opponent played a deck focused on decreasing my damage and reflecting magic, a strategy that could have worked very well in other situations, but the earthquake rule mentioned earlier in this article had a big impact on the game.
The two main tanks summoned by @trevortash were annihilated before my Chwala, thanks to that monster's wonderful thorns. Also, even with the magic damage being reflected, Cthulhu managed to stay alive long enough for my Sand Worm not to die and to make the final attack on the enemy Dark Enchantress.
Second Battle
This game has a big difference from the previous one, as the life deck is one of my worst, with no cards higher than 1 level. Even so, I chose to combine this element with my Chwala. I emphasize that all the monsters I used, with the exception of the chicken, are from the new collection, which says a lot about the power of the Chaos Legion.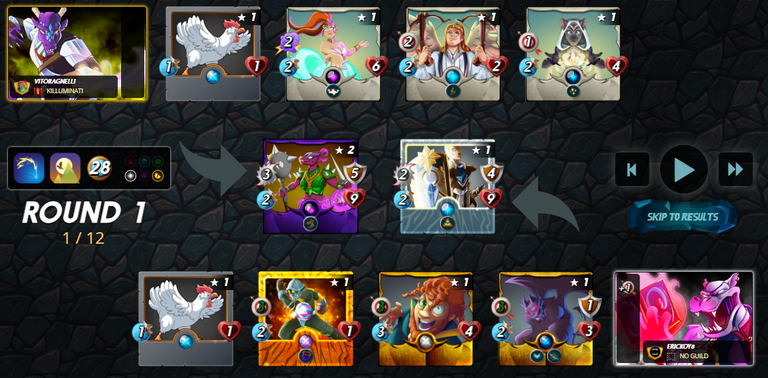 Watch the battle here!
While Chwala took several damage inflicted by the monsters summoned by @erickoy8, Pelacor Arbalest proved to be the protagonist of the match, quickly destroying the enemy tank. If my opponent had played this card, it is possible that I would not have won. Djinn Renova was also vital to the victory, as she served as a second tank that the enemy team lacked. Venari Crystalsmith, on the other hand, turned out to be not so helpful in this case, but in other circumstances he would have contributed enormously to her cure.
---
Introdução
Desde que comecei a jogar Splinterlands, me interessei pelos dragões. Não apenas pelo fato deles serem completamente diferentes de todos os outros elementos ou por precisarem ser jogados em conjunto com eles, mas principalmente por serem DRAGÕES. Para mim, isso já é suficiente.
Inspirado pelo desafio dessa semana, resolvi falar um pouco sobre meu deck de dragão, que na verdade é bem simples. Eu divido este post em três partes: primeiro vou falar sobre os summoners, depois sobre os monstros e por último vou compartilhar duas batalhas disputadas já com as cartas do Chaos Legoion.
Summoners
Os únicos summoners que eu tenho na minha conta atualmente são dragões, o que já fala muito sobre minha paixão por esse elemento. Tanto a Brighton Bloom quanto o Kretch Tallevor estão no nível 2, que é um nível baixo demais para o meu gosto, mas é o que temos para hoje.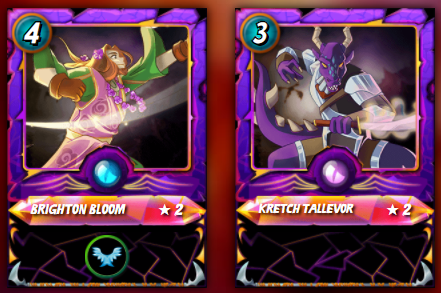 Eu sou fã de todos os summoners que têm custo de mana mais baixo e não têm habilidade, principalmente por eles serem épicos e permitirem a invocação de monstros de níveis mais altos. Por isso, acho o meu Kretch extremamente útil, e provavelmente na maior parte das partidas nas quais eu uso dragões ele é minha escolha.
Brighton Bloom, por sua vez, é extremamente poderosa quando as batalhas possuem uma regra específica: terremoto. Isso é bastante óbvio, já que ela permite que seus monstros deixem de tomar dois de dano todos os turnos. Algumas pessoas podem pensar que não vale a pena comprar (nem mesmo alugar) uma carta por causa de uma regra específica, mas eu discordo veementemente. Ter cartas que trazem vantagens significativas em conjuntos de regras específicos é vital em Splinterlands, ainda mais levando em consideração que é possível criar times de dodge úteis até mesmo quando não tem terremoto.
Monstros
O primeiro monstro dragão que eu tenho é uma das melhores cartas do jogo, se não a melhor. Djinn Chwala, também conhecida como Chiwawa, é um tank principal com alta vida e escudo e um dano considerável no nível 2, mas o que a torna realmente poderosa é sua habilidade: thorns. Não vou me prolongar sobre essa carta aqui, porque pretendo fazer um post específico sobre ela na minha série de posts sobre cartas baratas e poderosas.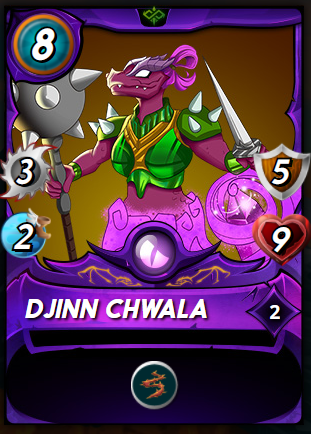 Além da Chwala, tenho outros cinco dragões no meu deck. Pode parecer um número baixo, ainda mais considerando que eu não alugo muitos dragões além desses, mas eles permitem criar diferenciais importantes em determinadas batalhas. No futuro eu com certeza pretendo aumentar a quantidade de dragões, especialmente agora depois do lançamento do Chaos Legion.
Serpentine Mystic tem uma habilidade que eu adoro: affliction, que não é muito comum e consegue destruir estratégias de cura, que são e provavelmente sempre vão ser bastante fortes.

Naga Assassin é uma carta interessante desde os níveis mais baixos, nos quais eu jogo, mas ela fica extremamente poderosa quando ganha backfire e swiftness, espero que no futuro meu deck esteja com nível suficiente para eu aproveitar esses bônus.
Eu já tinha uma cópia da Manticore quando a Twilight Basilisk lançou. Ambas as cartas têm utilidade parecida e, apesar de eu achar a Basilisk mais forte, decidi manter ambos os monstros em meu deck, já que em alguns casos prefiro jogar a Manticore.
Finalmente, Fire Spitter é uma cartá rápida e destruidora. Em determinadas ocasiões é necessário colocar um monstro ranged com baixo custo e alto dano, e é bom que ela esteja disponível.
Primeira Batalha
Nos dois jogos que apresento aqui, não utilizo muitas cartas de dragão, pois o poder desse elemento é justamente sua variabilidade, já que pode ser combinado com qualquer carta do jogo. Neste primeiro jogo escolhi usar meu deck principal ao lado dos dragões e, como minha invocadora é apenas de nível dois, adicionei duas cartas lendárias com alto dano mágico: Cthulhu e Ancient Lich, além de duas cartas corpo a corpo de alto dano (Sand Worm e um Chiwawa) e o Grim Reaper com um precioso dano à distância. Além disso, adicionei Shadowy Presence para evitar que possíveis cartas furtivas destruíssem minha linha de trás.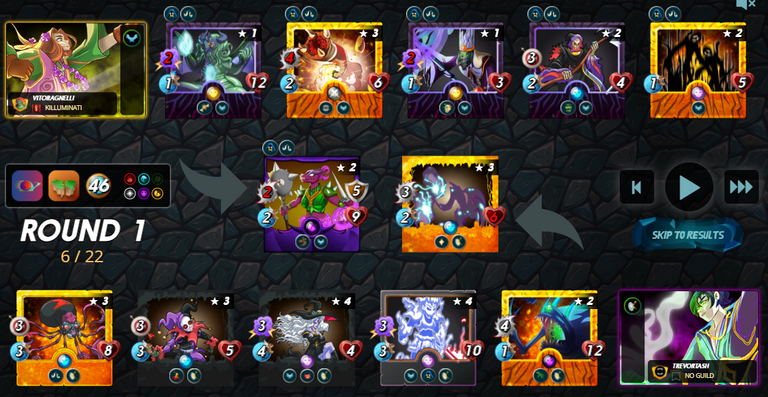 Assista à batalha aqui!
Meu oponente jogou um deck focado em diminuir meu dano e refletir magia, uma estratégia que poderia ter dado muito certo em outras situações, mas a regra de terremoto já mencionada neste artigo teve grande impacto na partida.
Os dois tanks principais invocados por @trevortash foram aniquilados antes de minha Chwala, graças ao maravilhoso thorns desse monstro. Além disso, mesmo com o dano mágico sendo refletido, Cthulhu conseguiu se manter vivo por tempo suficiente para que minha Sand Worm não morresse e conseguisse dar o ataque final na Dark Enchantress inimiga.
Segunda Batalha
Essa partida tem uma grande diferença em relação à anterior, já que o deck de vida é um dos meus piores, com nenhuma carta de nível maior do que 1. Mesmo assim, optei por combinar esse elemento com minha Chwala. Destaco que todos os monstros que utilizei, com exceção da galinha, são da coleção nova, o que diz bastante sobre o poder da Chaos Legion.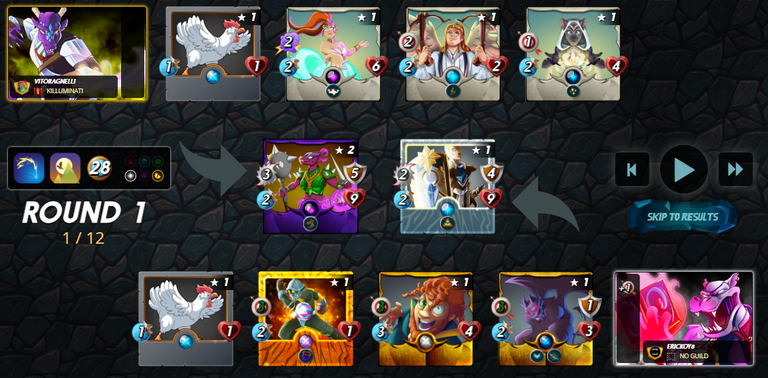 Assista à batalha aqui!
Enquanto a Chwala aguentava vários danos inflingidos pelos monstros invocados por @erickoy8, Pelacor Arbalest se mostrou o protagonista da partida, destruindo o tank inimigo rapidamente. Caso meu oponente tivesse jogado essa carta, é possível que eu não tivesse vencido. Djinn Renova também foi vital para a vitória, já que ela atuou como um segundo tank que faltou no time inimigo. Venari Crystalsmith, por sua vez, acabou não sendo tão útil nesse caso, mas em outras circunstâncias ele teria contribuído enormemente com sua cura.
---
---