No skills? No problem.
Portuguese translation available at the end of the post!
Tradução para o português disponível no fim do post!
New at Splinterlands? Create an account here!
---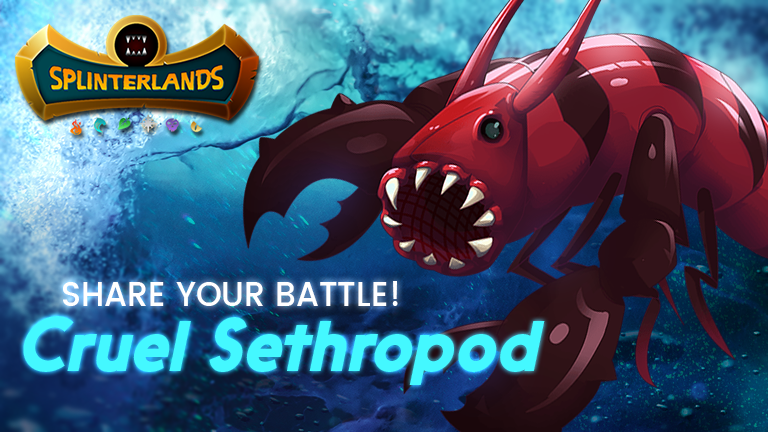 ---
Introduction
This week's challenge card is one that I use quite often, as the Cruel Sethropod works very well as a low-cost tank that lasts long enough for the other monsters to be able to finish off the enemy team.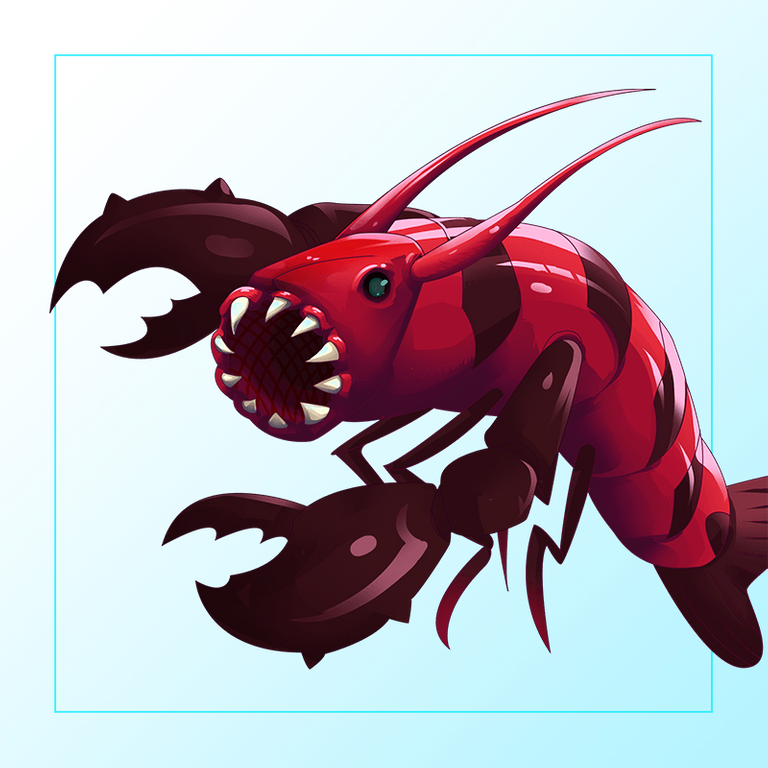 Like all Splinterlands cards, Cruel Sethropod has its weaknesses, probably the most striking is its lack of abilities. That's why the two games I've selected for this post have the "Back to Basics" ruleset, which eliminates any monsters' abilities.
Also, because it is a card that only costs 3 mana to summon, it becomes viable in low or medium mana games. This also justifies the choice of the two combats mentioned below, with a limit of 12 and 30 mana, respectively.
Low mana: harder or easier?
In most cases, I find low mana games more difficult than high mana games. This is because the variety of monsters that can be summoned is quite limited in these situations. The biggest challenge is finding a tank that can withstand enemy attacks, but doesn't cost all available mana.
Utilizing multiple monsters that cost little mana is a popular way to act in these situations. With only 12 mana and no abilities, my opponent @athunderstruck and I chose similar strategies: three or four meat shields in front and a ranged attacker in the back. The difference is that my first meat shield is the Cruel Sethropod which, with the help of summoner Kelya, is faster than enemy meat shields, in addition to being able to hold longer and hit harder.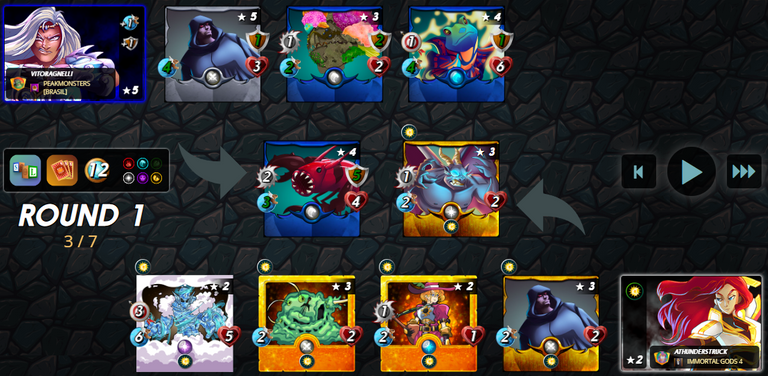 Watch the battle here!
In the first two rounds, my team was able to eliminate the first two enemy monsters, with Angelic Mandarin breaking through the divine shields and Cruel Sethropod taking the final blow. Only in the third round the Air Elemental manages to finish my first tank, putting me in a difficult situation, since the opponent's ranged attack is 3, while I only have 1.
But while my opponent had a Creeping Ooze with no attack and unable to break my shield, I had Hardy Stonefish, able to bring the Air Elemental to the first position before he managed to make the last attack that would win the game. So I barely won. The game discussed below was less contested, but it still shows the power of Cruel Sethropod.
Shield vs Magic
In matches with greater mana availability, the Cruel Sethropod is more likely to be eliminated in the first round, as the enemy team has a greater attack capacity. But his role in the team is precisely to put up with those first blows and spare the rest of the team.
But in this case, my opponent, @prach, selected some ranged monsters for battle, which were stopped by the Cruel Sethropod's massive shield. This allowed my team of magic attackers to take out the massive Diemonshark (which costs 8 mana) before my small tank. With all melee monsters eliminated, in the second round my team was already guaranteed the battle, as my magic attacks were more substantial and couldn't be dodged.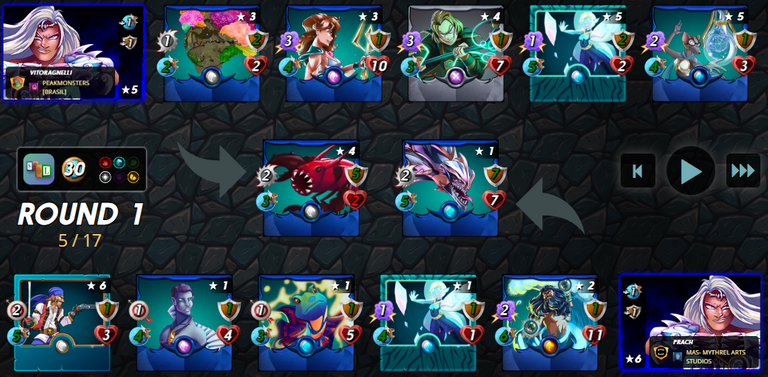 Watch the battle here!
Another thing that we can observe in this battle is the difference in level of the monsters. Especially in higher leagues like Gold 1 where this match was played, using higher level monsters makes all the difference. I'm sure it would have been a lot harder to win if the enemy team didn't have so many level 1 monsters.
---
Introdução
A carta do desafio desta semana é uma que eu utilizo com certa frequência, pois o Cruel Sethropod atua muito bem como um tank de custo baixo que aguenta o suficiente para que os outros monstros consigam acabar com o time inimigo.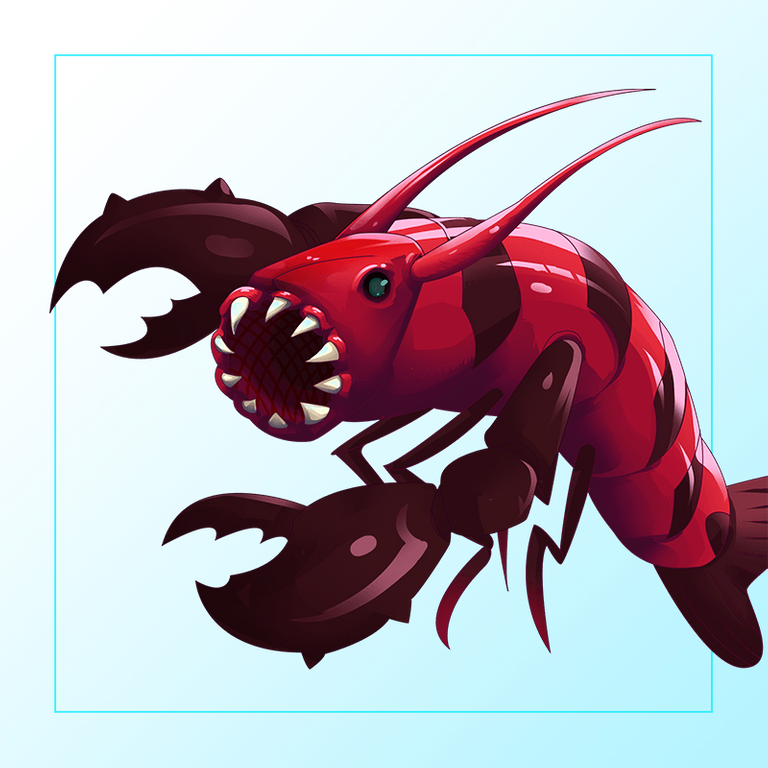 Como todas as cartas de Splinterlands, Cruel Sethropod tem suas fraquezas, provavelmente a mais marcante é sua falta de habilidades. Por isso, as duas partidas que selecionei para este post contam com a regra "Back to Basics", que elimina qualquer habilidade dos monstros.
Além disso, por ser uma carta que custa apenas 3 de mana para ser invocada, ele se torna viável em partidas com limite de mana baixo ou médio. Isso também justifica a escolha dos dois combates comentados a seguir, com limite de 12 e 30 de mana, respectivamente.
Baixa mana: mais difícil ou mais fácil?
Na maioria dos casos, eu acho partidas com limite baixo de mana mais difíceis que aquelas com limite alto. Isso se dá pois a variedade de monstros que podem ser invocados é bastante limitada nessas situações. O maior desafio é encontrar um tank que aguente os ataques inimigos, mas que não custe toda a mana disponível.
Utilizar diversos monstros que custam pouca mana é uma forma popular de agir nessas situações. Com apenas 12 de mana e sem habilidades, eu e meu oponente, @athunderstruck, escolhemos estratégias semelhantes: três ou quatro escudos de carne na frente e um atacante à distância atrás. A diferença é que meu primeiro escudo de carne é o Cruel Sethropod que, com a ajuda da summoner Kelya, é mais rápido do que os escudos de carne inimigos, além de conseguir aguentar mais e bater mais forte.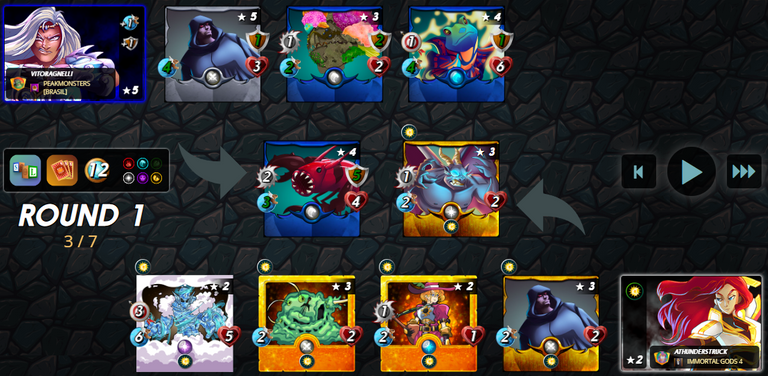 Assista à batalha aqui!
Nas duas primeiras rodadas, meu time conseguiu eliminar os dois primeiros monstros inimigos, com o Angelic Mandarin quebrando os escudos divinos e o Cruel Sethropod dando a última porrada. Apenas no terceiro round o Air Elemental consegue finalizar meu primeiro tank, me colocando em uma situação difícil, já que o ataque à distância do oponente é 3, enquanto eu tenho apenas 1.
Mas enquanto meu oponente contava com um Creeping Ooze sem ataque e incapaz de quebrar meu escudo, eu tinha o Hardy Stonefish, capaz de trazer o Air Elemental para a primeira posição antes dele conseguir realizar o último ataque que venceria a partida. Assim, por muito pouco eu venci. A partida comentada a seguir foi menos disputada, mas ainda assim mostra o poder de Cruel Sethropod.
Escudo vs Magia
Em partidas com maior disponibilidade de mana, o Cruel Sethropod fica mais propenso a ser eliminado ainda no primeiro round, já que o time inimigo possui uma capacidade de ataque maior. Mas sua função no time é justamente de aguentar essas primeiras porradas e poupar o resto do time.
Mas nesse caso, meu oponente, @prach, selecionou alguns monstros de ataque à distância para a batalha, que foram barrados pelo enorme escudo do Cruel Sethropod. Isso permitiu que meu time de atacantes mágicos eliminassem o enorme Diemonshark (que custa 8 de mana) antes do meu pequeno tank. Com todos os monstros de ataque melee eliminados, no segundo round meu time já tinha a batalha garantida, já que meus ataques mágicos eram mais substanciais e não poderiam ser desviados.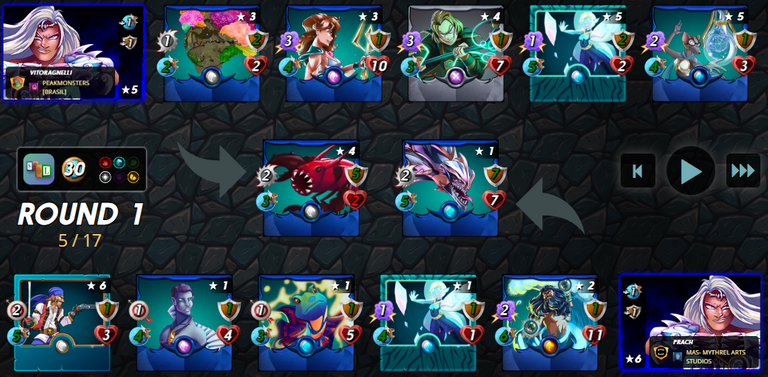 Assista à batalha aqui!
Outra coisa que podemos observar nessa batalha é a diferença de nível dos monstros. Especialmente em ligas mais altas, como o Ouro 1, onde essa partida foi disputada, utilizar monstros de níveis mais altos faz toda a diferença. Tenho certeza que teria sido muito mais difícil vencer caso o time inimigo não tivesse tantos monstros de nível 1.
---
---