Punch me in the stinger [GIVEAWAY]
Portuguese translation available at the end of the post!
Tradução para o português disponível no fim do post!
New at Splinterlands? Create an account here!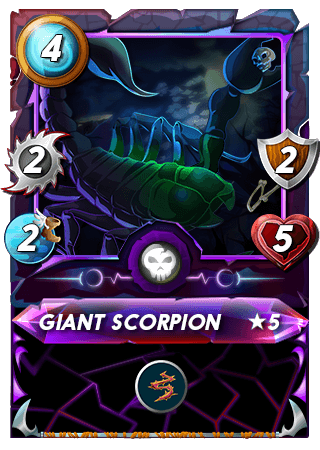 Introduction
One of the biggest difficulties for new players in Splinterlands is finding cheap options that allow them to move up the league and start accumulating POWER. With that in mind, I decided to start a series of posts focused on presenting accessible cards that contribute enormously to gameplay. Giant Scorpion is the fourth chosen card, which also appeared in my last post about Animated Corpse.
Also, I'll reward one lucky person with a copy of this wonderful card (level 1)! All you have to do is tell me in the comments which card you think is more cost-effective (buying price/stats) than Giant Scorpion, and don't forget to put in your Splinterlands username. Also, if you want to find out about more useful and cheap cards, feel free to follow me here.
Come close darling
One of the factors that I take into account when I think about buying a card is the diversity of situations in which it would be useful. In this regard, the monster I present today is at least interesting.
The low mana cost, which allows us to play Giant Scorpion in most matches, including the Little League rule, is the first positive point for the card in question. That alone would be enough to consider this monster as an option. But it is at level five that the Giant Scorpion becomes extremely powerful, as it gains one of the strongest abilities in the game: thorns.
I don't think it's necessary for me to dwell on how strong thorns are, as one of the most disputed summoners is precisely the one that gives such a bonus. The point here is that it is possible to get this valuable benefit by spending very little mana and, considering that it is a level 5 card, a low value in dollars.
Scorpion in action
I could bring up several low mana or Little League rule battles here, but I think it's easy to see the value of the Giant Scorpion in these situations. So I selected a battle with a high mana cap (42) with the Melee Mayhem rule, which normally favors monsters with very high destructive power.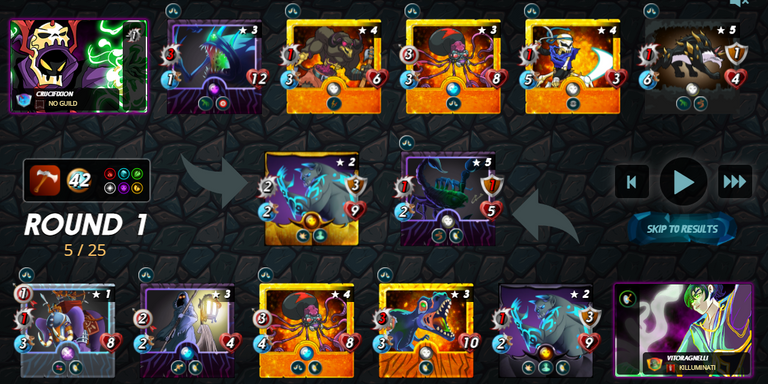 Although the Giant Scorpion did not end the life of any monster summoned by @crucifixion, it fulfilled its role of reflecting part of the melee damage dealt by the enemy team, as well as holding a considerable amount of damage that would otherwise be inflicted on Harklaw. This allowed the enemy Harklaw to die shortly thereafter, killing the opponent's chances of getting past my tanks.
---
Introdução
Uma das maiores dificuldades para jogadores iniciantes no Splinterlands é em encontrar opções baratas que os permitam subir de liga e começar a acumular POWER. Pensando nisso, decidi começar uma série de posts focados em apresentar cartas acessíveis que contribuem enormemente para a jogatina. Giant Scorpion é a quarta carta escolhida, que também apareceu no meu último post sobre o Animated Corpse.
Além disso, vou premiar um sortudo com uma cópia dessa maravilhosa carta (nível 1)! Tudo que você tem que fazer é me dizer nos comentários qual carta você acha que tem um melhor custo-benefício (preço de compra/stats) do que o Giant Scorpion, e não esqueça de colocar seu nome de usuário do Splinterlands. E se quiser ficar sabendo de mais cartas úteis e baratas, fique à vontade para me seguir aqui.
Chegue perto, queridinho
Um dos fatores que eu levo em consideração quando penso em comprar alguma carta é a diversidade de situações nas quais ela seria útil. Nesse quesito, o monstro que apresento hoje é no mínimo interessante.
O custo de mana baixo, que permite que joguemos o Giant Scorpion na maioria das partidas, inclusive com a regra de Little League, é o primeiro ponto positivo para a carta em questão. Por si só isso já seria suficiente para considerar esse monstro como uma opção. Mas é no nível cinco que o Giant Scorpion fica extremamente poderoso, pois ele ganha uma das abilidades mais fortes do jogo: thorns.
Eu não acho que seja necessário eu me prolongar na discussão de como thorns é forte, já que um dos summoners mais disputados é justamente o que dá tal bônus. A questão aqui é que é possível conseguir esse benefício valioso gastando poquíssima quantidade de mana e, considerando que se trata de uma carta nível 5, um valor baixo em dólares.
Escorpião em ação
Eu poderia trazer aqui diversas batalhas com baixo limite de mana ou com a regra Little League, mas acredito que seja fácil perceber o valor do Giant Scorpion nessas situações. Por isso, selecionei uma batalha com um alto limite de mana (42) e com a regra Melee Mayhem, que normalmente favorece monstros com altíssimo poder de destruição.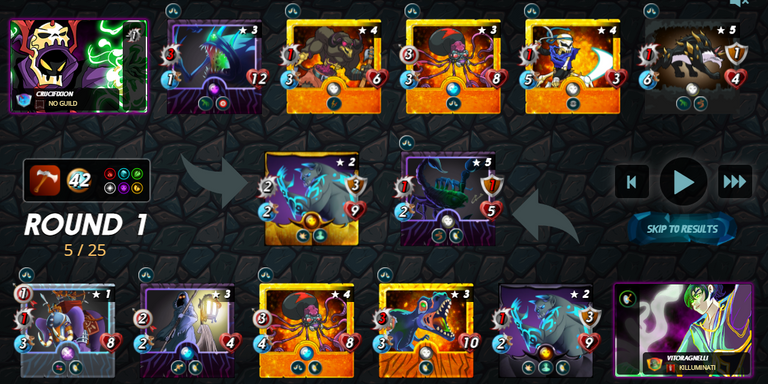 Apesar do Giant Scorpion não ter acabado com a vida de nenhum monstro invocado pelo @crucifixion, ele cumpriu seu papel de refletir parte do dano melee causado pelo time inimigo, além de segurar uma quantidade considerável de dano que seria inflingida ao Harklaw. Isso permitiu que o Harklaw inimigo morresse logo em seguida, acabando com as chances do oponente passar pelos meus tanks.
---
---