Tournaments, SPS and future of eSports in Splinterlands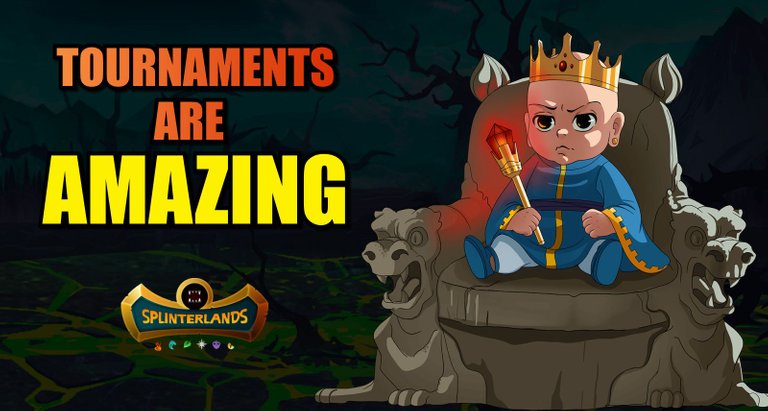 How to earn more money? Play tournaments! Yes, it is that simple. And on other hand, it isn't really simple as it requires some initial investment.
---
Recently Splinterlands reworked tournaments and at this moment I do have a lot of faith in this new system. For the first part, there are many more tournaments available to play in. I am a decent Silver league player and I finish my season in the Gold league. I can find at least 5 tournaments per week to participate in. Most of them are in the Silver league while I manage to get into some Gold tournaments as well. From time to time maybe even some Diamond ones if staked SPS needed is low enough.
I play "Anytime" tournaments the most because it is the most convenient for me. I love the freedom of having 24 hours to enter my battles. Sometimes I enter my battles only an hour before the deadline. That way I already know what other players are using in the battles so I can adjust my strategy accordingly.
Scouting your opponents gives you an edge against them. Sometimes this isn't helpful as they have a lot of CP so you don't have a solid prediction of what they could play. But sometimes their collection is not that big and it can give you very useful insight into your opponent's strengths and weaknesses. So, take your time. Scout your opponents it will help you a lot.
This is quite useful if you play tournaments that are created for players in higher leagues than your own. Every win in that kind of tournament could be a difference between covering your entry fee and winning a major reward.
---
Which tournaments do I like the most?
There are a few tournaments that I play the most. Those are "Silvershield knights", "All The Pointy Things" and "Blunderbuss". I mostly play tournaments made for the Silver league but I would participate in higher leagues as well. The higher league tournaments give you better rewards even if you don't go all to the end. Sometimes it is enough to get 5 wins to get 5 times the fee you paid to enter the tournament.
---
Why do I like these new tournaments?
Due to SPS required there are not hundreds of players in each tournament. The best thing you can do is to apply for the tournament in your power range. This means if you have maxed cards for the Silver league, you should play Silver league tournaments. And this is where it really matters if you have all cards maxed out for your current league. One health, attack, or speed can be the difference between winning or losing, between 50 SPS rewards and 25 SPS rewards. It means that tournaments became very competitive and rewards are good enough so we all want to play.
---
How much can you earn?
My rough calculation is that I am earning around 100 SPS per season. You could say that is not that much, only around 10 USD for 2 weeks of playing. But it is not a small amount of money either. We all know that it is just a matter of time before SPS goes up in value and that is why I want to collect as many SPS as I can and tournaments are a great way to do that. That 100 SPS now is worth around 10 USD. A lot of people are predicting that SPS could easily go 1 USD. At that point, my earnings per season are climbing all the way to 100 USD. Quite amazing right? We should have in mind that all the assets in Splinterlands should go up, and when I say a lot I am not thinking about 100%, I am thinking about 10x up. So every SPS and every reward card will be very valuable in the future. Keep that in mind!

Splinterlands and eSports?
I can definitely see Splinterlands in eSports but maybe not in the near future. There are a lot of places to grow and these new tournaments are definitely a step in the right direction. Maybe the current Splinterlands format is a bit unpredictable or too random if you like for eSports but that is something that is not impossible to fix.
eSports should bring even more players and even more rewards to Splinterlands making this game even more competitive and awesome!

Conclusion
I think that the new tournament's format is amazing and it is a big improvement. Of course, I have the feeling that the Bronze players are left behind as the focus is on the Silver league. At least the Silver league is where rewards are really decent. It seems that the Silver league should be the first goal for every new player if he wants to get some rewards, through tournaments or through daily quests.

It is the perfect time to buy some cards and rebuild your deck. Packs are not selling as fast as expected so prices are stable. I expect them to go down even more once we sell more packs. But there is always a possibility of new players joining and buying tons of cards, so be careful. If you are not playing #splinterlands yet, now it is the perfect opportunity to join while you can get all those amazing cards at special prices. Come and join Splinterlands Discord and find out more.
Official Splinterlands Discord: https://discord.gg/A6yNcVqbU6
If you are new here
If you are new here, #splinterlands is the amazing #NFT trading card game with the #play2earn model. That means you can have a lot of fun AND you can earn money (DEC - Dark Energy Crystals) at the same time. If you don't have an account yet consider registering with my link. If you sign up with my referral link, please DM me and I will send you 100 DEC that will help you start with the game(of course if I see you on my referral list).
https://splinterlands.com?ref=vjekich
Have fun and see you on the battlefield.

---
---