BATTLE MAGE SECRETS Weekly Challenge! || Odd Ones Out Ruleset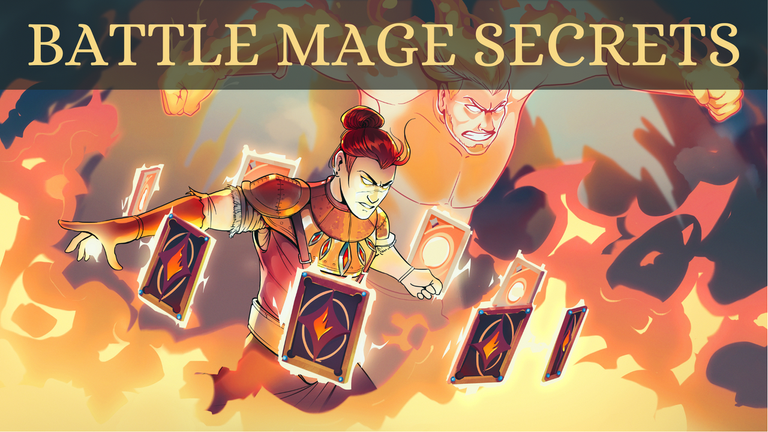 Hi everyone, Welcome to my
BATTLE MAGE SECRETS
post.
BATTLE MAGE SECRETS
itself is a replacement for
SHARE YOUR BATTLE CHALLENGE
, where if
SHARE YOUR BATTLE CHALLENGE
takes 1 monster as its weekly theme while
BATTLE MAGE SECRETS
takes 1 Ruleset as its theme. And the theme for this week is...

ODD ONES OUT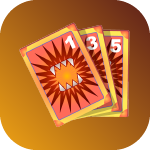 "Only Monsters with odd Mana costs may be used in battles"
In this Ruleset we are only allowed to use monsters with odd Mana. It should be noted that this restriction to only use odd Mana only applies to monsters, Summoners with even Mana can still be used in this Ruleset.
Did you know? It turns out that there are some abilities that are only found on monsters with odd Mana. What are these abilities?....
MARTYR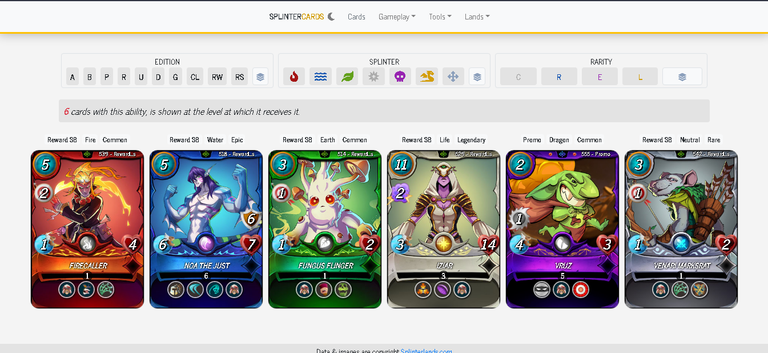 This ability, which only appeared in early 2023, is mostly owned by monsters with odd Mana (except Vruz). In the Bronze League alone, there are already 3 monsters that you can use if you want to utilize the effects of the MARTYR ability.
SNEAK
SNEAK ability is also (probably) included in the list of abilities that are only available on monsters with odd Mana. But unlike MARTYR ability which is a new ability (the number of Monsters is still small and only available mostly in odd Mana), SNEAK ability is an ability that has existed since the first edition (ALPHA edition) so there are several Monsters with even Mana that have this Ability.

In the CHAOS LEGION edition, there are 4 monsters with this ability and only 1 (Iza the Fanged) has even Mana.

As for Reward Cards, there are 5 monsters that have SNEAK abilities. 4 of them can be used in a MODERN format. Of these 4 monsters, only The Infiltrator is a monster with even Mana.
By knowing which abilities are only possessed by monsters with odd Mana, we can also know which monsters will (probably) be chosen by the opponent in battle later.

RULESET & FORMATION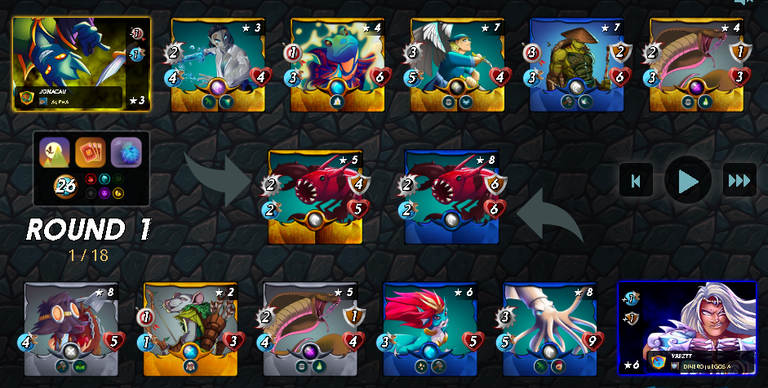 As expected, the opponent brought SNEAK monsters. And not just 1, but 2 monsters with SNEAK ability. Meanwhile, I only brought 1 monster with SNEAK ability and 1 monster with MARTYR ability.
`If we look at my Formation and my opponent's above, we can know that REPAIR ability is also an ability that can only be found on monsters with odd Mana.``
In addition to ODD ONES OUT, the ruleset for this battle is...
LOST LEGENDARIES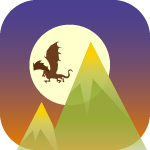 LOST LEGENDARIES is a ruleset that does not allow us to use monsters with legend rarity, so we can only use monsters with Normal, Rare, and Epic Rarity.
Although there are no Legendary monsters, other monsters are equally useful. One example is Uraeus which is an Epic monster. In the Bronze and Silver League, we can only utilize the SNEAK ability he has, but in the GOLD league, Uraeus gets the POISON ability which is able to give POIWON to the opponent's monster in the final position without being healed by the CLEANSE Ability.
LOST MAGIC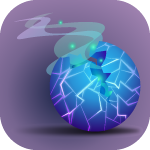 In the LOST MAGIC ruleset, we cannot use Magic monsters (as well as Dual-Attack type monsters where one of the Attack types is Magic Attack, such as Runemancer Florre). And we can only use Melee, Ranged, and No Attack monsters.
In the absence of Magic monsters, the way to survive in this Ruleset is to use monsters with the SHIELD ability as TANK. use monsters with a lot of ARMOR (and/or use support from monsters with the PROTECT ability), and bring monsters with the REPAIR ability to repair some of the lost ARMOR.
Some of the de-buffs that can be used in this ruleset are DEMORALIZE, RETURN FIRE, RUST, and SHATTER. POISON, THORN, and RETURN FIRE can also be used to slowly defeat the opponent's monsters.

My Line-Up
| Cards | Ability | Reason |
| --- | --- | --- |
| | Give additional 1 SPEED and ARMOR to All Allies | I use Kelya Frendul because she is the best option when a monster's Magic cannot be used (due to the LOST MAGIC ruleset). With the addition of 1 ARMOR, it can be used to protect against 1 attack launched by the opponent's Melee or Ranged monster (for monsters that did not have ARMOR before). |
| | NONE | Cruel Sethropod is the best choice when in the LOST MAGIC ruleset and the amount of Mana available is very limited. Even with low Mana, it has quite a lot of ARMOR and HEALTH. This makes him the best TANK for monsters with low Mana (But still needs support from monsters with REPAIR and TANK HEAL abilities) |
| | REACH + BLIND | Flying Squid is a Melee monster with REACH ability that will also get BLIND ability at level 6. It has a fairly high STATS (although it requires a lot of Mana) and BLIND ability which gives a decrease in the accuracy of the opponent's monster attacks so that there is a possibility of TANK avoiding the opponent's monster attacks (which in this battle there are only Melee and Ranged monsters). |
| | TANK HEAL + REPAIR | I said before that Cruel Sethropod can be the best TANK option as long as there are support monsters. And Merdaali Guardian is the answer. It has TANK HEAL and REPAIR abilities that can help Cruel Sethropod defend against opposing monsters' Melee and Ranged attacks. |
| | SNEAK + POISON | I use Uraeus because he has a POISON ability that, if successful, can reduce the HEALTH points of the opponent's monsters in the last position without being healed by the CLEANSE Ability. |
| | MARTYR | I was hesitating between using Pelacor Bandit who could have avoided the SNEAK monster's attack because he has FLYING ability or using Venari Marksrat who has MARTYR ability. However, I decided to use Venari Marksrat because later Uraeus will get additional STATS from the fall of Venari Marksrat and there is support from Flying Squid with BLIND ability which can increase the failure of the opponent's SNEAK monster attack. |
| | REPAIR + CAMOUFLAGE | Despite being in the last position, Scavo Hireling can avoid the SNEAK attacks of the opponent's monsters because he has the CAMOUFLAGE ability. And Scavo Hireling can focus on helping to repair Cruel Sethropod's ARMOR if it feels that the help from Merdaali Guardian is still lacking. |

BATTLE START !!!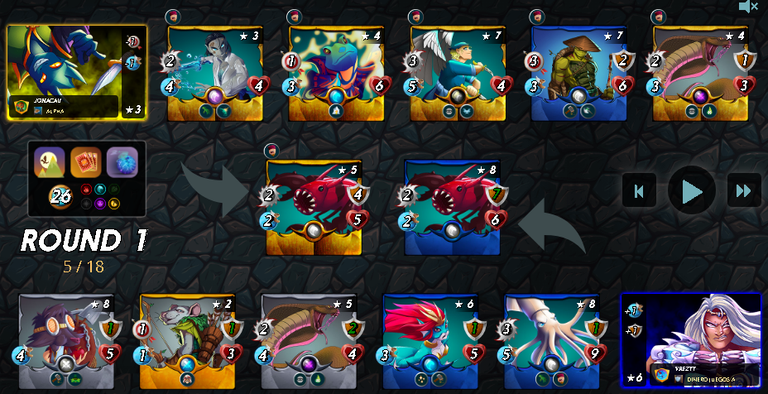 The Buff and De-Buff obtained are mostly from their respective Summoners. Only BLIND from Flying Squid is an additional de-buff that comes from monsters.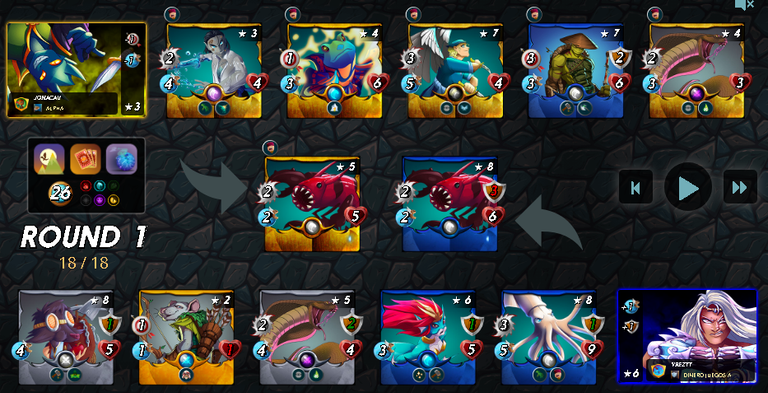 All attacks from each monster successfully hit their respective targets. I had the upper hand because my monster level was higher and was supported by several monsters with REPAIR abilities and an additional 1 ARMOR from Kelya Frendul.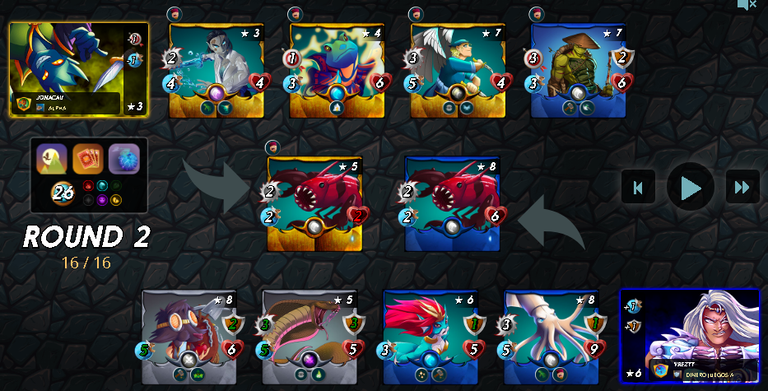 My opponent lost Uraeus while my side lost Venari Marksrat (but because of that, *Scavo Hireling and Uraeus got extra STATS)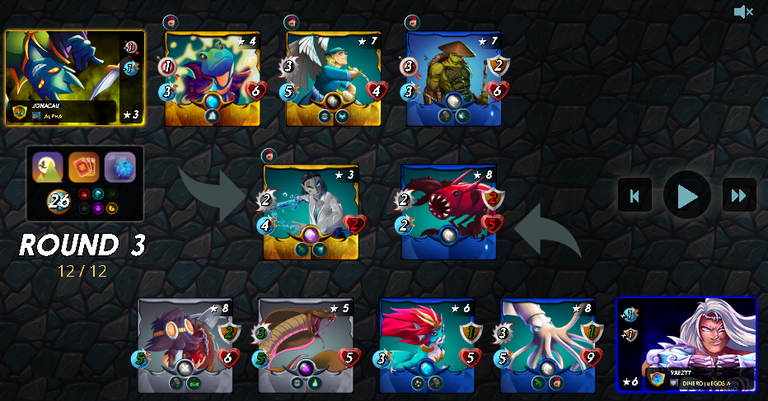 In this round, the opponent lost Cruel Sethropod, and the attack from Angelic Mandarin failed to hit the Cruel Sethropod on my side even though he had a slight speed advantage.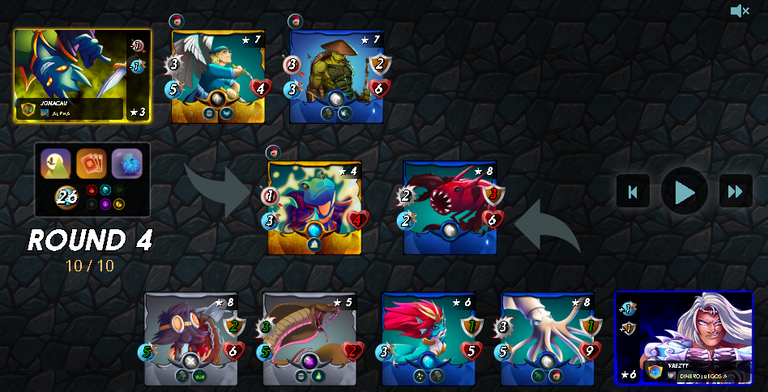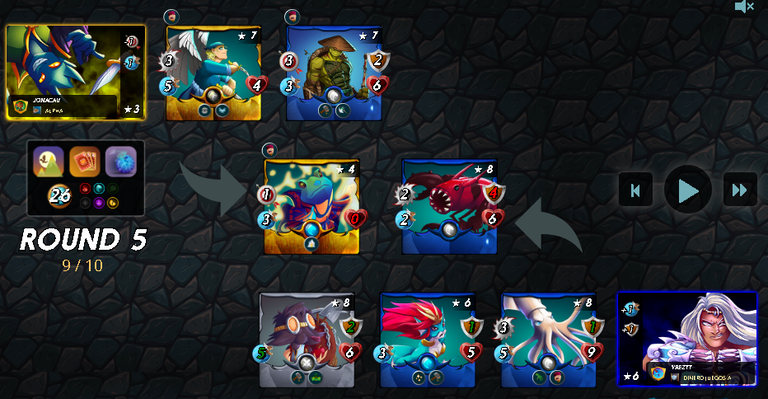 Uraeus was defeated by Pelacor Bandit whose attacks always managed to hit him and my 2 monster REPAIRs focused more on repairing the ARMOR of Cruel Sethropod.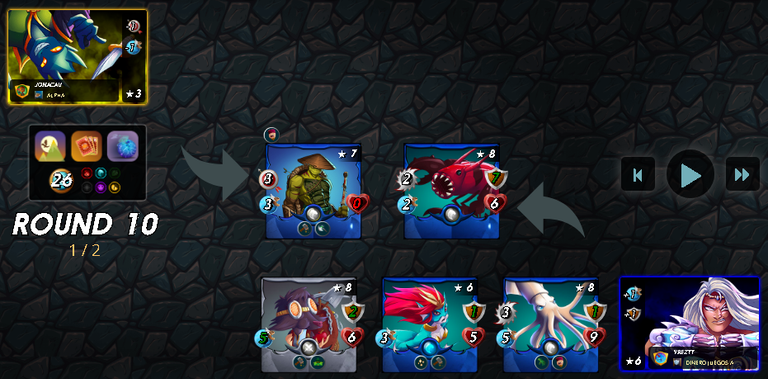 To see the entire battle, you can watch it at >> FULL BATTLE LINK
And this is the challenge link >> CHALLENGE LINK

Review of this battle
This time I was still able to win because of the level difference of some monsters. Although the opponent had a Summoner with a Max Level for the Gold League, some of his monsters were still at the Max Level for the Silver League. If only the Levels of all our monsters were the same, there was a possibility that the opponent could win the match.
Bringing Flying Squid which has BLIND ability did not have a big effect in this match. There was only 1 missed attack out of all the attacks made in this battle. Maybe I'll bring Swamp Spitter in this battle instead. And with that, I brought 3 monsters with REPAIR ability to the battle arena.

That was the post BATTLE MAGE SECRETS for this time. Thank you for visiting and taking the time to read. See you in the next post....

Thanks to:
---
---