My Hive Intro | Me: The Before and After

Hello everyone, welcome to my intro post. In my first post a few days ago, I was visited by @anggreklestari from @OCD team. She suggested writing an intro post so that readers could get to know me more. I wrote this intro post in Microsoft Word for a few days before publishing it here, so I apologize if this post seems long.
NOTE:
Because I'm not good at writing in English (I'm quite good at reading, but not by writing, listening, and speaking) I use Google Translate for every post I'll publish later.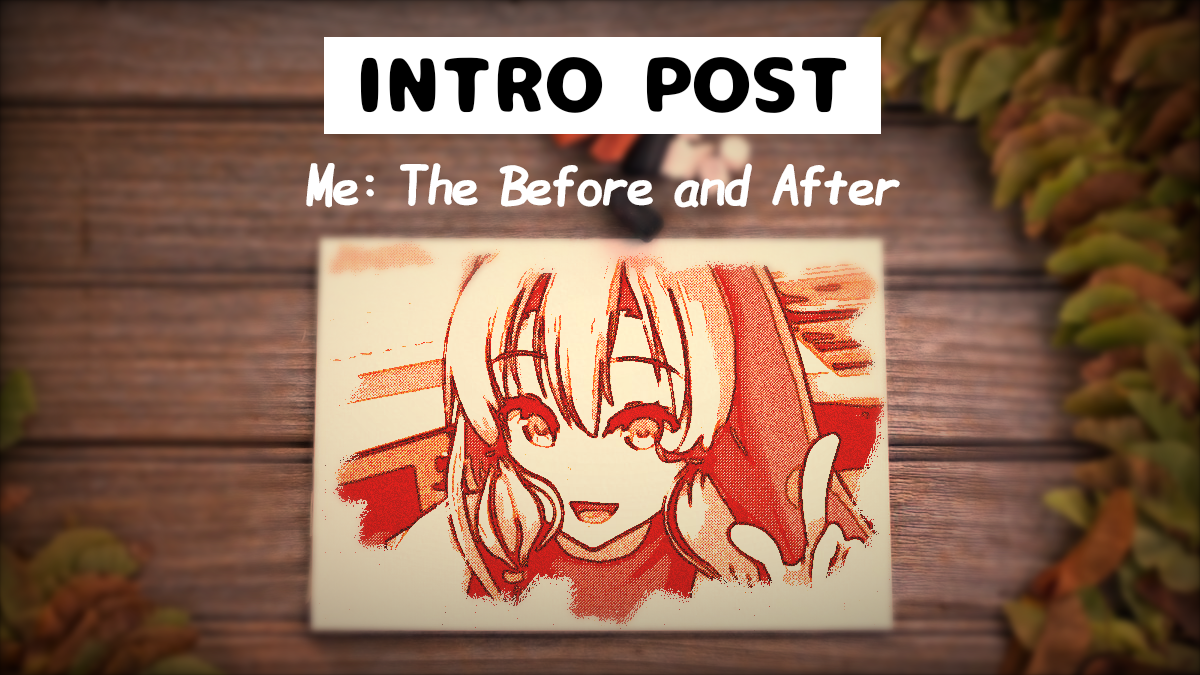 background : @moonyoga | draw : Twitter @My_Name_Ikhsan(that's Me)

WHO AM I?
I am a man who was born in .... 23 years ago (1998) and is a PISCES. As for the name, I prefer not to mention it. However, if described, my name consists of 3 words and 18 letters (7+5+6). The first letters of the first, middle and last names are A.T.I (but I prefer to shorten it to ArT/ArTs instead of ATI).
I graduated from Vocational High School when I was 17 years old, but until now I haven't found a permanent job (and became unemployed). The reason is because I have difficulty adapting to a new environment and my communication skills are low. I was able to overcome that problem when I was in school because it was helped a little by my academic (and that made them approach me first).
HOBBY
When it comes to hobbies, you could say almost everything is related to anime. Starting from reading Manga, watching Anime, collecting waifu fanart anime, and drawing Fanart.
This hobby started shortly before I graduated from school. They (my hobbies) accompany me when I'm looking for a job, when I get into trouble at work, when I get down after leaving my job, and when I decide to give up applying for a job (about 3 years ago).
After deciding to give up, I started to hone my hobby in making fanart. May 2020, I tried my luck to offer fanart drawing services (free or paid). In May-June, I get several customers who are willing to pay for my services. But in the following months, there were only customers who wanted my services for free.
2 of my "SFW" artwork
In October, I tried to create a Patreon account in hopes that there might be some people out there who are clandestinely supporting me (just want to see my efforts regardless of the outcome). But until January 2021, I only got 1 supporter and that made me decide to stop drawing. But that's not the only reason I stopped drawing, the other reason is......
CRYPTOCURRENCIES
Yes, The reason is because I ran into cryptocurrencies. I found it when I was looking for an app that could make money. In the app, we can earn some Satoshi just by playing games and watching ads. The first few days I was still able to enjoy it. After a week or so, I started to think that this was a waste of time, battery and internet connections. Then I looked for other ways to get Crypto. Starting from Cloud Mining, Faucets, Airdrops, Telegram bots, etc. But all these methods do not produce anything (except Faucet).
Not getting the desired result, I decided to invest all my earnings from making fan art into cryptocurrencies. I don't invest in BTC, ETH, BNB, etc. I instead invested it in meme coins (at that time, safemoon was booming). I have no trading skills, and I don't understand what FOMO, FUD, Volatility, etc. are. I just assume that the coins will continue to rise in price (if they go down, maybe only a few days). But all that changed just because of a Tweet (you know who it was from). The money that was worth about $200 turned into less than $5.
I quit Trading (leaving my money there) and looked for other ways to make money in the CryptoSpace(DeFi and Game-Fi). For DeFi, I invest a small amount of my (savings) money (about $30) so that the worst doesn't happen again. As for Game-Fi, at that time my attention was only focused on Axie Infinity. I tried to find a scholarship program (because the Entry fee to play was too high) and couldn't find any.
What happened to the money I invested in DeFi? Not developing at all. Even my money was reduced by about $2 which made me decide to do StopLoss. I invested the remaining money into other Game-Fi (not Splinterlands), but in mid-November the Devs left the project (rugpulled).

MY INTRODUCTION TO HIVE credit: @thepeakstudio (along with dividers)
I found out about #Hive (Hive.blog to be precise) when I was looking for a website similar to PublishOx. But I wasn't interested in Hive.blog because at that time I thought PublishOx was easier to use than Hive.blog. As a reader at PublishOx, I got the knowledge that I should have learned when I know Cryptocurrency at first. There I also got to know #Splinterlands, especially some posts about the SPS airdrop which will start at the end of July.
I finally decided to buy a Spellbook ($10) and play the game. At the beginning of playing #Splinterlands, I wasn't too passionate about playing the game because I didn't like games that had PvP features. But after getting Venari Wavesmith, I feel like I can play this game even better (at that time I didn't know that Venari Wavesmith was OP).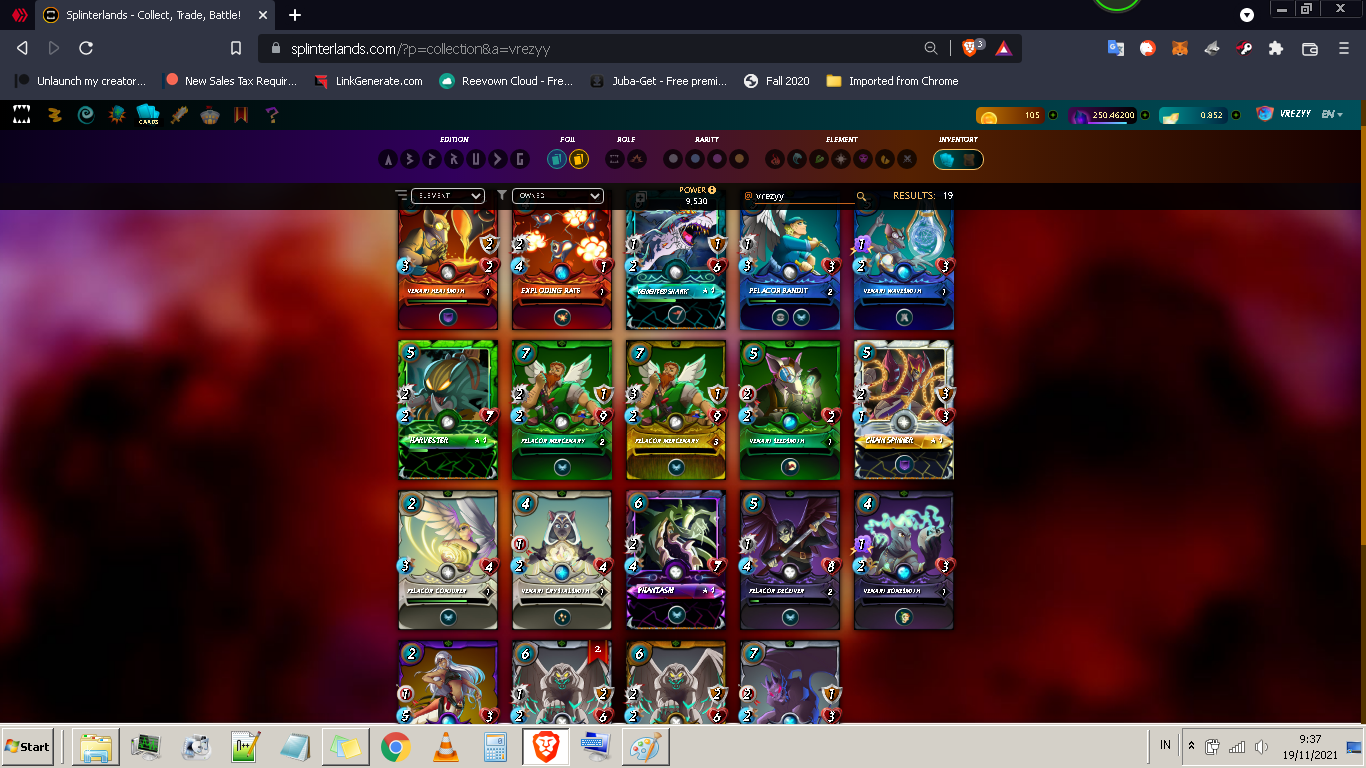 my card collections
Towards the end of September, I ventured to check the money I had neglected ($5) on one of the exchanges. It turned out that one of the coins I invested changed its name and its value increased several times (XEC), so I decided to trade half of it into HIVE and sell the rest later when it was close to/over its current ATH. Some of the HIVE I got, i Power-Ups it and the rest I converted into DEC.
In mid-October, one of the noise.cash users (who is also a player in #Splinterlands) shared a blog about #risingstar. After reading it, I became interested and immediately tried to play it. RisingStar reminds me of one of the games from another blockchain (AlienWorlds). Their similarity is that no Entry Fee is required to play the game and get free NFT card at the start of the game. But if I had to choose which one is better, I would choose RisingStarGame. The reasons are;
it does not burden PC/Smartphone performance (playing AlienWorlds is the same as mining, if the specifications are not high enough it will make PC/Smartphone performance heavy);
The currency used for transactions (buying pack cards, buying and selling cards) is not only one (STARBITS);
There is a mission that can get you 10k STARBITS in one mission (but you have to be at lvl 50 and hold 1 million STARBITS to get this mission);
can be played on mobile. Only by using the link contained in PLAY ON MOBILE, you can play it on a mobile phone that has an internet connection without requiring a wallet (wallet is only needed when making transactions)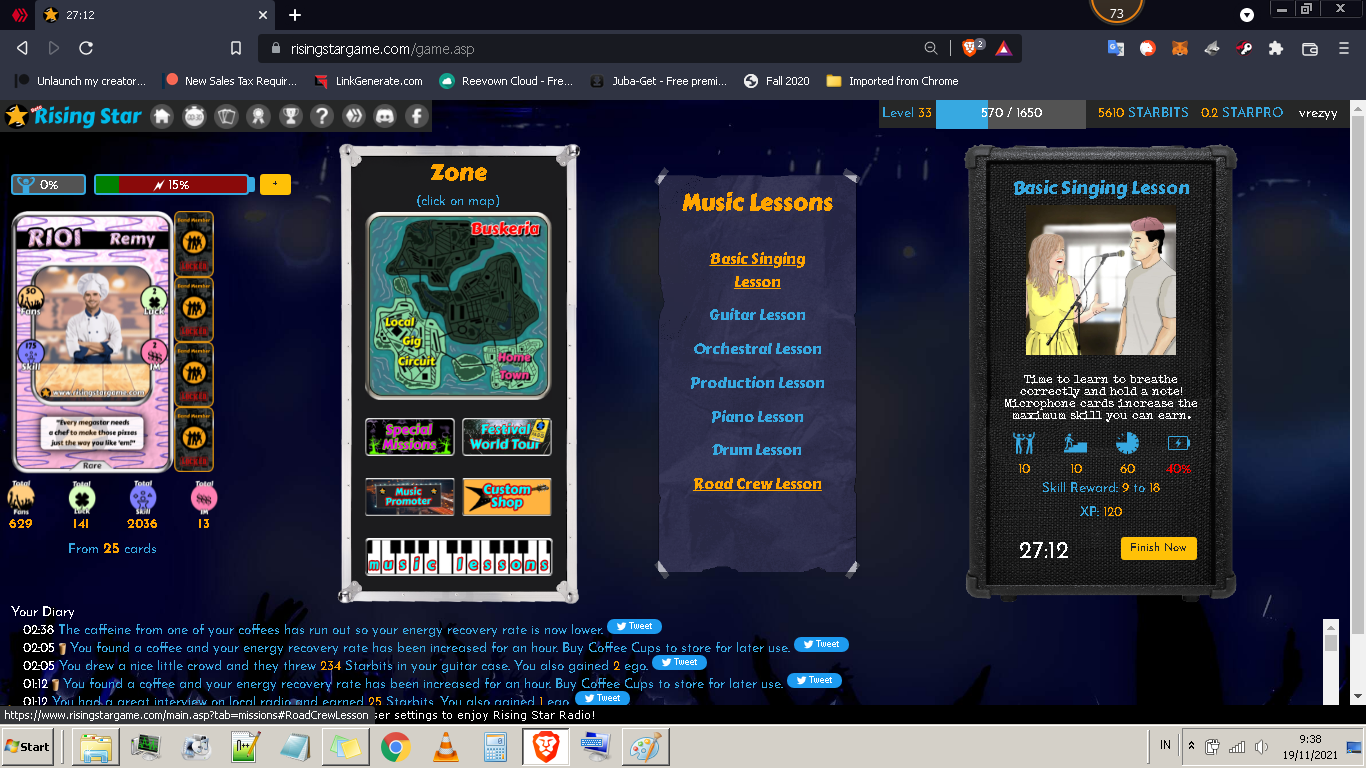 my Rising Star Progress
And this November, I'm taking part in the Splinterlands weekly Art Challenge for the first time. The initial reason was because one of the Discord members I joined (
@Silverhorn
) was chosen as one of the winners and received a prize in the form of a Booster Pack. But after seeing the participants who took part in the challenge, I realized that both amateurs and professionals had the same chance of winning. Even though they weren't selected as winners, they still received *appreciation* from the
@Splinterlands
and it made me excited to draw again after about 10 months of never making fan art.

Is there anything else you want to tell us??
I have nothing more to say at this point. But after this post was published, maybe i just remembered important things that I should have said or there are things that shouldn't need to be said (yes, I have a little problem with my memory which sometimes remembers or forgets things at the wrong time)
FINALLY, thank you all for taking the time to visit and read my long intro post. At first I just wanted to make a simple intro post, but somehow it turned out to be more than 1000 words (perhaps because I felt comfortable telling it to you so I ended up writing this much). And see you in my post regarding the next Splinterlands Fan Art (yes, from now on I will try to take part in the Fan Art challenge every week. And maybe I will join other challenges).

Oops, I just remembered. I also want to say my special thanks to
@lovesniper and @anggreklestari for reminding me to make an intro post ;
@hive-118554 for the Stock Images Main Index ;
@tedus. I thought about not making this intro post, but thanks to his advice I finally decided to make it ;
@silverhorn. indirectly, you motivate me to draw again ;
and to anyone who has done a lot for me and this post.
---
---