SHARE YOUR BATTLE ! WEEKLY CHALLENGE || Legionnaire Alvar (Lv2) || Against Llama-Kron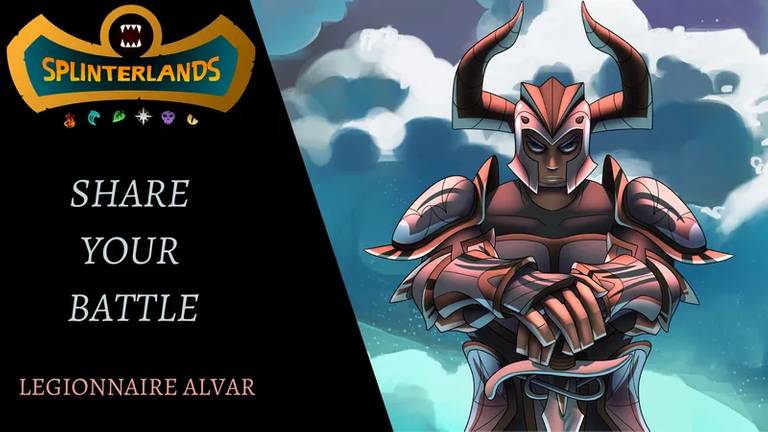 Hi everyone, Welcome to my post regarding the
"SHARE YOUR BATTLE" Challenge
. This time I will use
Legionnaire Alvar
in accordance with this week's challenge. And for the enemy, I face a pretty annoying combination,
Sacred Llama and Kron the Undying
. This battle took place in
MODERN LEAGUE (Silver I)
and I relied solely on cards from
CHAOS LEGION EDITION
as I mentioned in last week's challenge (without any additional rental cards). And before going to the main discussion.........

The ruleset for this time is WEAK MAGIC and HOLY PROTECTION with 22 mana. WEAK MAGIC is a situation where Magic attacks hit Armor before reducing Health. Meanwhile, HOLY PROTECTION is a situation where All Monsters have the Divine Shield abilities.

My Line-Up
Cards
Ability
Reason
- Reduce 1 Health Point to All Enemies

- Give VOID and SHATTER abilities to All Allies
I chose Immortalis because one of the Rulesets (WEAK MAGIC) allows the opponent to choose a monster that has a lot of ARMOR. With Shatter, any amount of ARMOR can be destroyed with 1 attack.
Void Armor (Lv1)
+ Giant Killer (Lv2)
I chose Legionnaire Alvar to face Llama-Kron because he has a lot of VOID ARMOR so no matter how many attacks he takes, his Health points are not threatened at all (If the ARMOR is repaired). And at level 2, Legionare Alvar gets GIANT KILLER a very useful ability when fighting Kron the Undying which is a monster with high Mana.
Repair (Lv1)

Scavo Hireling is tasked with supporting Legionnaire Alvar by improving his ARMOR so he can fight longer against the Llama-Kron combination.
Scattershot (Lv1)
The task is to help reduce the number of opposing monsters and help Legionnaire Alvar to be able to defeat Llama-Kron more quickly.
None
The task is the same as Acid Shooter, helping reduce the number of opposing monsters and helping Legionnaire Alvar.
None
Only as a backup plan if the opponent turns out to be carrying a SNEAK or OPPORTUNITY monster.

BATTLE START !!!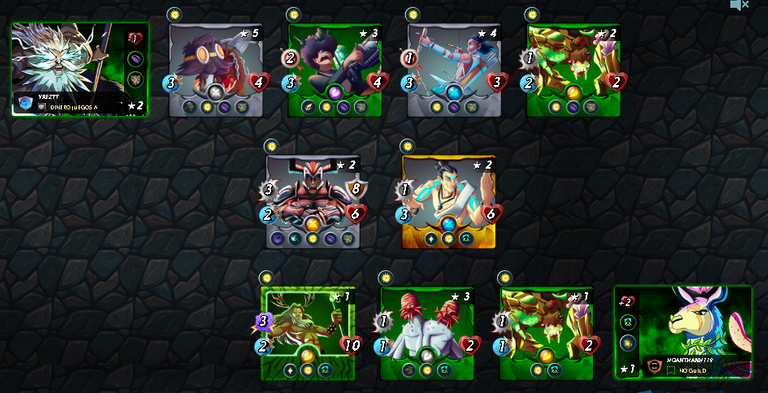 The opponent is still relying on the combination of Sacred Llama and Kron the Undying in this battle. But it seems that the opponent has also made a backup plan in case Kron the Undying is defeated first, which is to use Xenith Monk (Lv2) which has the same HEAL as Kron the Undying.
After all abilities are applied.....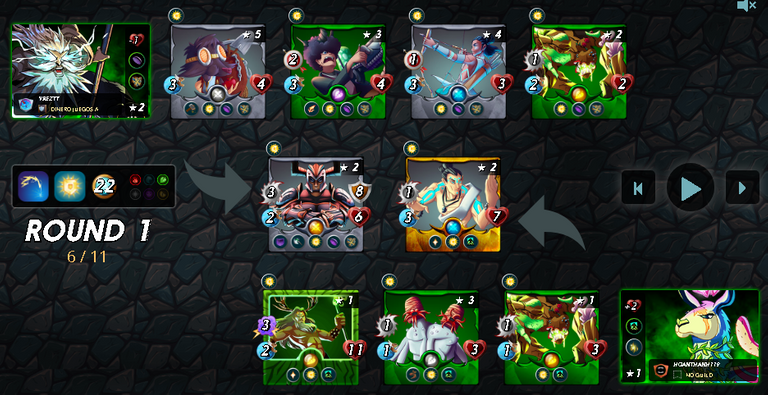 Sacred Llama's abilities grant an additional 2 Health points and the LAST STAND ability to all opposing monsters as well as clearing debuffs received by the monster in the first position by using CLEANSE. no additional abilities are granted by opposing monsters.
Immortalis's abilities grant additional VOID and SHATTER abilities to all my monsters and grant 1 Health point reduction to all opposing monsters. No additional abilities are granted by my monsters.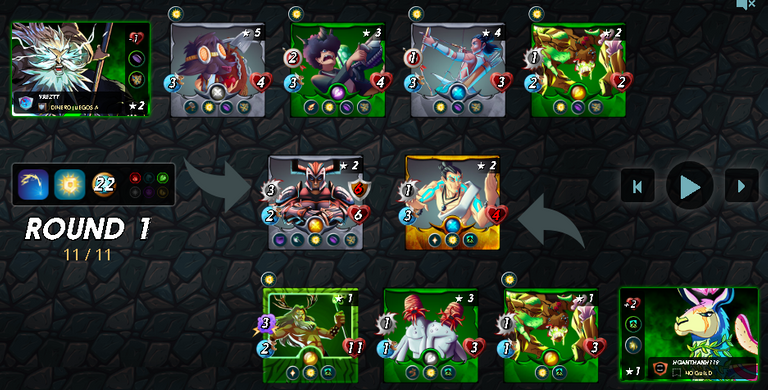 In the first round, Acid Shooter attacked Mycelic Morphoid and Xenith Archer attacked Xenith Monk. Then on the opponent's side, Xenith Monk attacked Legionnaire Alvar (though they only removed each monster's DIVINE SHIELD).
Kron the Undying tried to attack Legionnaire Alvar with Magic but only hit Legionnaire Alvar's ARMOR because he had VOID ARMOR and the WEAK MAGIC Ruleset.
The last attack of the first round came from Legionnaire Alvar who managed to reduce the Health points of Xenith Monk.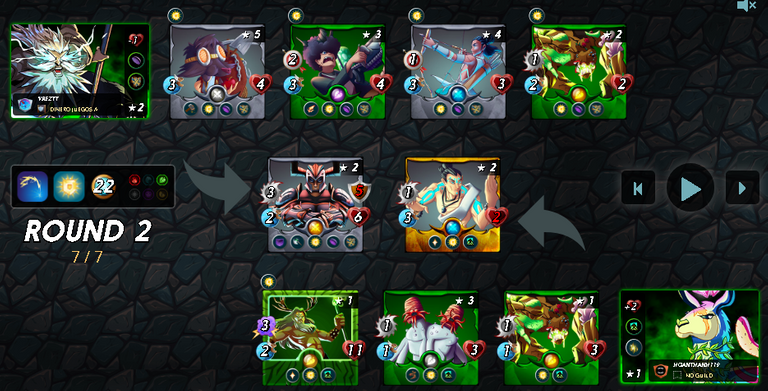 In this second round, Acid Shooter attacked the DIVINE SHIELD of Fungus Fiend while Xenith Archer managed to reduce the Health points of Xenith Monk.
Xenith Monk attacked Legionnaire Alvar and healed some of his own Health points. Before getting attacked by Kron the Undying, Legionnaire Alvar's ARMOR was partially repaired by Scavo Hireling.
The last attack of the second round came from Legionnaire Alvar who managed to reduce the Health points of Xenith Monk.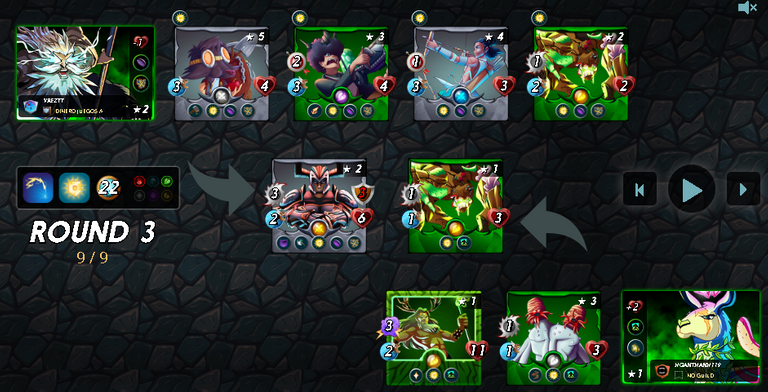 In the third round, Xenith Monk was defeated. Although he had previously healed himself and attacked Legionnaire Alvar, the attacks from Xenith Monk and Legionnaire Alvar* were equal to the number of Health points from Xenith Monk at that time.
Kron the Undying and Fungus Fiend attempted to permanently remove the ARMOR from Legionnaire Alvar but their attempt failed because Scavo Hireling could still repair it.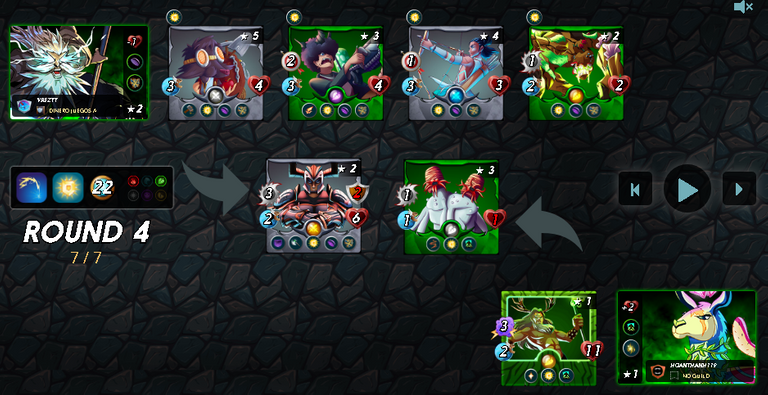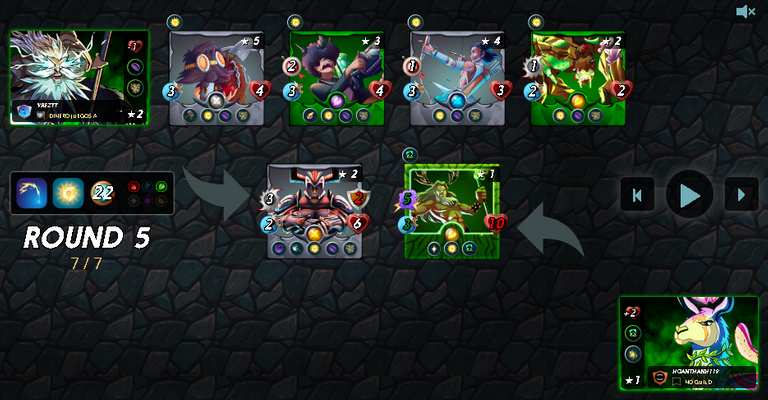 By the fifth round, all of the opponent's monsters (except Kron the Undying) were defeated. This activated the LAST STAND ability that Kron the Undying got from Sacred Llama.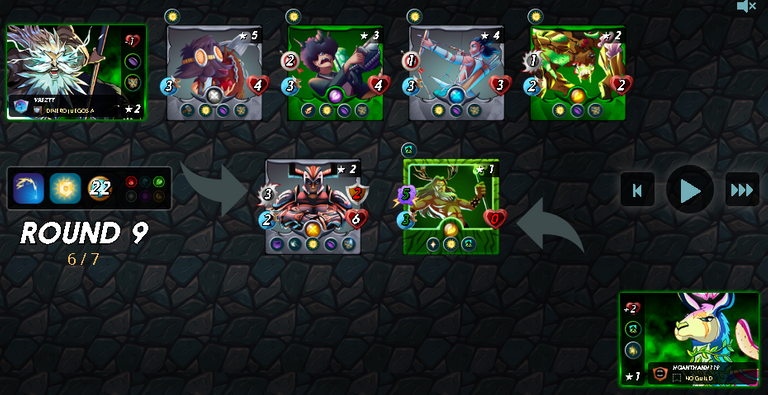 It only took 4 rounds to defeat Kron the Undying whose stat had been boosted with the LAST STAND ability. The cause of his defeat was that the total number of attacks from all my monsters was greater than the number of Health points that Kron the Undying could heal.
To see the entire battle, you can watch it at >> FULL BATTLE LINK
And this is the challenge link >> CHALLENGE LINK

STRATEGY (Did your strategy work? What will you try differently next time?)
My strategy was going quite well and my opponent was still using the Llama-Kron combination repeatedly and that made it easy for me to read my opponent's movements. If the opponent had used a different strategy, perhaps the strategy I devised this time could have failed.
If given the opportunity to face this combination and with the same situation, maybe I will try to use Tarsa instead of Immortalis. Because apart from having more Mana left than using Immortalis, if using Tarsa, the attack power of Legionnaire Alvar can be greater than the current one. There is even a possibility that Legionnaire Alvar can get attack help from other Melee monsters, such as Serpentine Spy.
Do you like Legionnaire Alvar (lv2)?
I originally tried using Legionnaire Alvar when it was first introduced. But my first impression was not good enough. But since Immortalis appeared, I've been using him more often.
Legionnaire is very suitable in combination with Immortalis if required to fight Magic monsters (and monsters with a very large amount of Mana if using Level 2). However, to make it last longer in the battle arena, it requires REPAIR monsters (such as Scavo Hireling) and SILENCE monsters (such as Elven Mystic level 4) if the opponent uses a formation full of Magic monsters.

That was the post SHARE YOUR BATTLE CHALLENGE for this time. Thank you for visiting and taking the time to read. See you in the next post....

Thanks to:
---
---