SHARE YOUR BATTLE ! WEEKLY CHALLENGE || using "BLAST" monster in this ruleset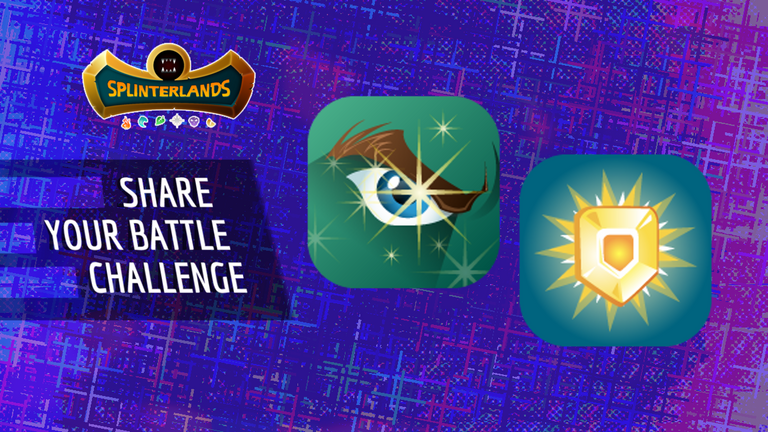 Hi everyone, Welcome to my post regarding the
"SHARE YOUR BATTLE" Challenge
. For this week's challenge, I'll be sharing my battles using Monsters that have the
BLAST
ability in Ruleset which I will explain below....

Ruleset for this time is EQUAL OPPORTUNITY and HOLY PROTECTION with 50 mana. EQUAL OPPORTUNITY is a situation where Summoners do not give any stat buffs or debuffs or grant/use any abilities. HOLY PROTECTION is a situation where All Monsters have the Divine Shield ability.

My Line-Up
Cards
Ability
Reason
Reduce 1 Attack Point to All Enemies Magic Monster

Reduce 1 Health Point to All Enemies
I chose to use Thaddius Brood because in the last 5 battles of the opponent, he always used Obsidian (give 1 Additional Attack point to All Allies Magic Monster)
Shield + Immunity (Lv2)
The reason I put Harklaw in first place is because it's most likely that the opposing Monster in first place is a Melee monster.
Flying + Silence (Lv3)
At level 3, Phantom Soldier has the SILENCE Ability and I want to use it because I want to reduce the opponent's Magic Monster power as little as possible. He also has Flying which allows him the opportunity to dodge attacks from Melee or Ranged Monsters.
Blast (Lv3)
I chose to use Screaming Banshee solely because it has the BLAST Ability.
Blast (Lv5)
The reason I chose Nightmare is the same as when I chose Screaming Banshee. Another reason is because he has a fairly high SPEED and Health Point.
Snipe + Silence (Lv4)
The reason I chose Death Elemental was the same as when I chose Phantom Soldier.
Demoralize (Lv4)
To reduce the attack power of the Opponent's Melee Monsters.

BATTLE START !!!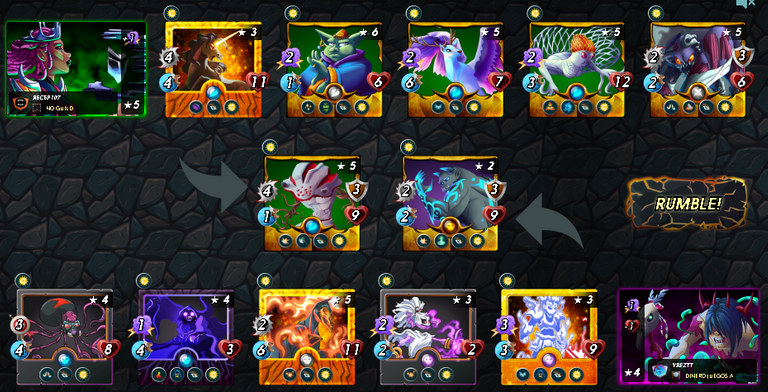 The opponent still uses Obsidian as his summoner. He used a Level 5 Summoner whereas I only used a Level 4 Summoner (Maximum Level for the Silver League). Even though the monsters that the opponent uses are only monsters from Normal and Rare Cards but there is an increase in some of their Status...
After all abilities are applied.....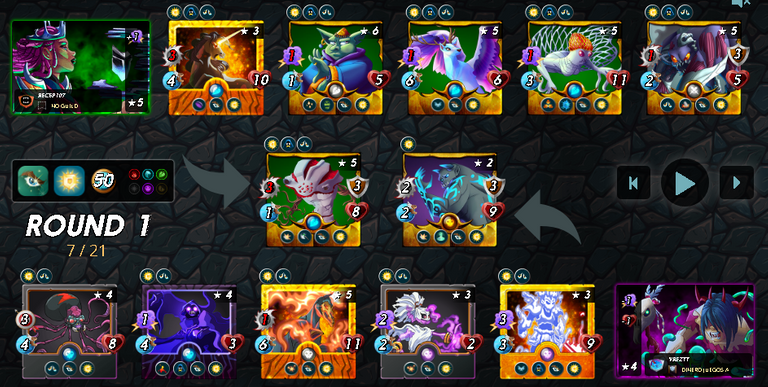 Obsidian's Ability gives an additional 1 Attack point to all his Magic Monsters. Additional abilities of the opposing monsters are given by Disintegrator which gives a reduction of 1 Attack point to all of my Melee Monsters
Thaddius Brood's Ability gives a reduction of 1 Attack point to all enemy Magic Monsters and 1 Health point reduction to all enemy Monsters. The additional Ability of my monster is given by Octopider which gives a reduction of 1 Attack point to all Melee Monsters belonging to the opponent. then there is SILENCE from Phantom Soldier and Death Elemental which gives a total reduction of 2 Attack points to all Magic monsters belonging to the opponent.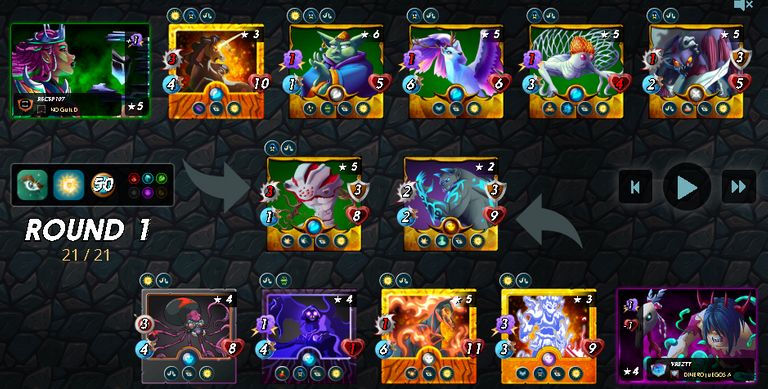 In the first round, I already had to lose Screaming Banshee which had not been able to attack with only 2 attacks. The first attack comes from Regal Peryton which eliminates Screaming Bashee's DIVINE SHIELD and the second attack comes from Unicorn Mustang.
Then my remaining monsters (other than 1st place) were forced to attack Mycelic Slipspawn instead of Goblin Psychic due to the TAUNT ability of Mycelic Slipspawn.
The first round ends with an attack launched by each of the monsters in first place.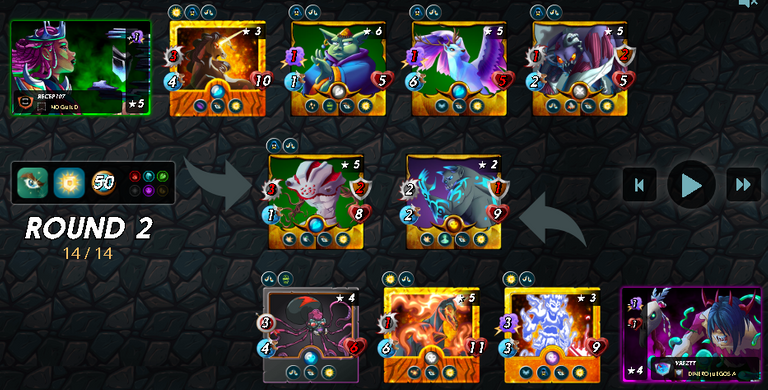 In the second round, Death Elemental was defeated by Regal Peryton. The target of the enemy monster's attack is now switched to Octopider. Unicorn Mustang destroys Octopider's DIVINE SHIELD, then the attack is continued by Disintegrator and Goblin Psychic which reduces 2 Health points of Octopider.
Mycelic Slipspawn was defeated by Nightmare and Octopider. And now the target of my monster attack switches to Goblin Psychic who lost DIVINE SHIELD due to an attack by Phantom Soldier.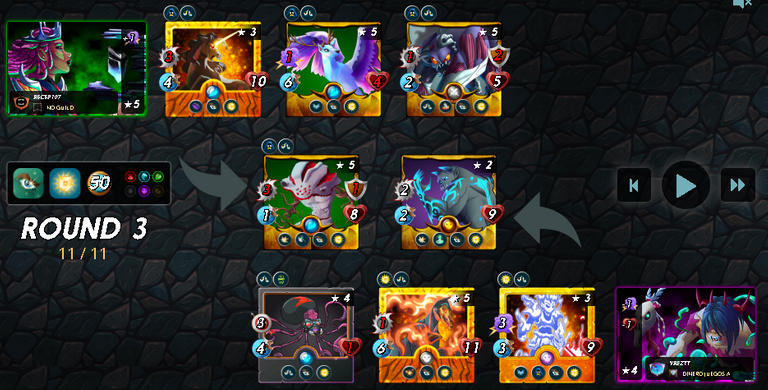 Goblin Psychic lost in round 3 due to attacks from Nightmare, Octopider, and Phantom Soldier. On the other hand, Octopider's Health point remains 1 due to attacks by Regal Peryton, Unicorn Mustang, and Disintegrator.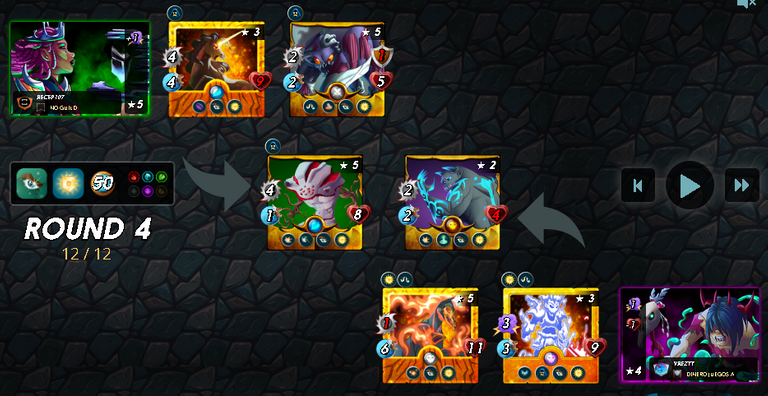 Octopider finally had to lose to Regal Peryton and the DEMORALIZE effect disappeared so that the attack point of the opponent's Melee Monster returned to its origin. Shortly after, it was Regal Peryton's turn to be defeated by Nightmare and Phantom Soldier.
Now Harklaw is the target of the opponent and he has to lose 5 Health points due to attacks from Unicrn Mustang, Disintegrator, and Mycelic Infantry.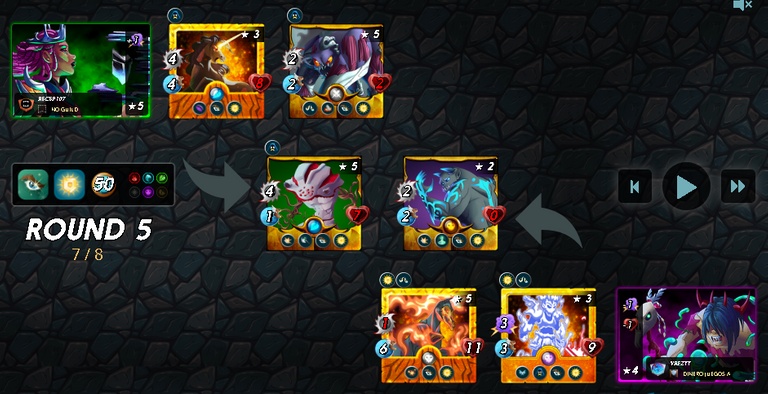 Harklaw lost in the 5th round.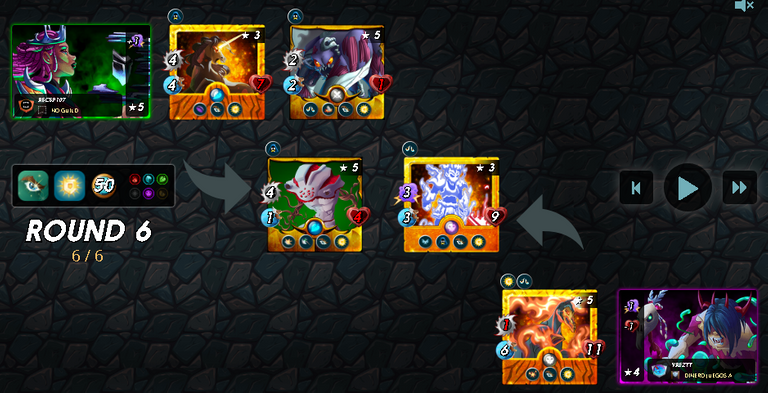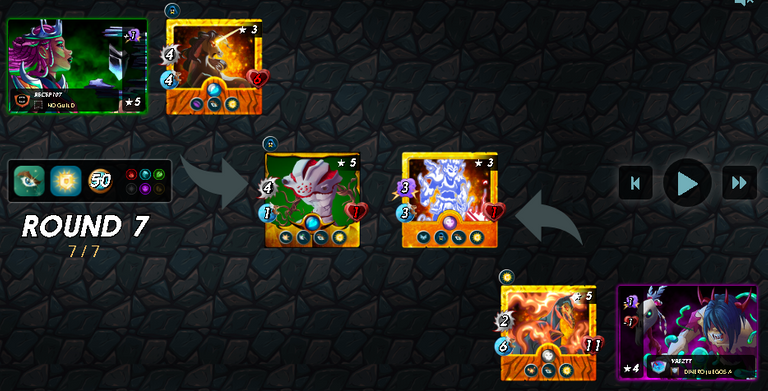 Phantom Soldier is really lucky to have FLYING so that he still survives the opponent's monster attack in round 6, although in the end he had to be defeated at the beginning of round 8 by Unicorn Mustang.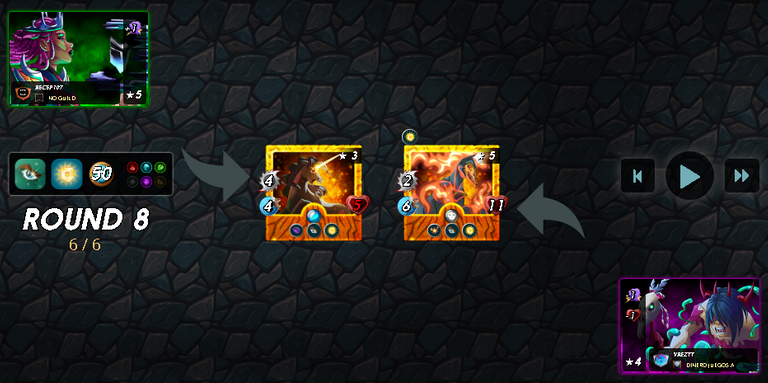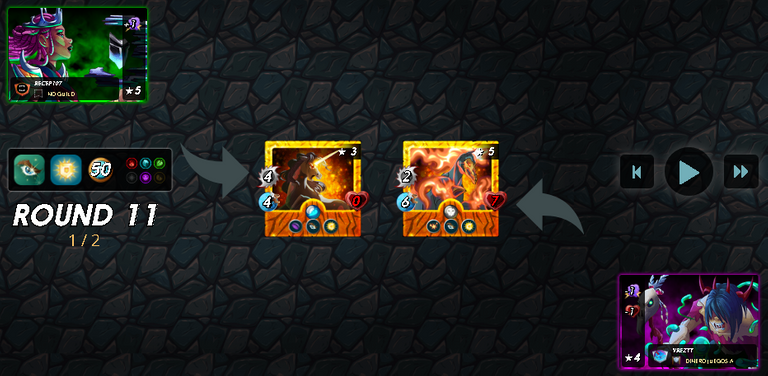 Even though he lost in the number of Attack points, Nightmare managed to beat Unicorn Mustang because he has a higher SPEED and he still has DIVINE SHIELD and Health points that are still intact.
To see the full battle, you can watch it at >> FULL BATTLE LINK
And this is the challenge link >> CHALLENGE LINK

STRATEGY (Did your strategy work? What will you try differently next time?)
Even though I managed to win dramatically, the strategy this time seemed a bit chaotic. I lost Sceaming Banshee early in the battle and he hasn't attacked at all. uses 2 SILENCE (3 if the Summoner is included in the count) even though the opponent's attack is greater when using Melee Monster.
For future strategy, maybe I will replace Thaddius Brood with The Cryptmancer which has the ability to reduce 1 Attack Point to all opponent's Melee Monsters as well as reduce 1 SPEED and Health Point to all opposing monsters. That way the opponent's Melee Monster gets a reduction of 2 Attack points.
maybe I'll also replace Monsters that have less Mana (Screaming Banshee and Death Elemental) with monsters that have higher Health, Speed, and Attack points. Considering the total of my formation for this battle didn't reach the maximum amount of the total Mana provided.
Do you like "BLAST" monster (Nightmare and Screaming Banshee)?
I actually like them both (especially Screaming Banshee). But unfortunately in this battle, they could not perform optimally. Sceaming Banshee who must lose first before getting his turn to attack and Nightmare whose Attack point is reduced due to DEMORALIZE from Disintegrator so that the attack is less than optimal starting the round beginning to end....
However, since the opponent is also using a monster with a higher level than mine (the influence of the Summoner level), so I can understand my weakness a bit. (although this time I'm still lucky to get a win)

That was the battle that I shared in "SHARE YOUR BATTLE CHALLENGE" this time. do you guys have any ideas about what monster is suitable to replace Screaming Banshee / Death Elemental in this battle?
And..... thank you so much for visiting and taking the time to read. See you in the next post....

Thanks to:
---
---