Contessa L'ament is an amazing death deck summoner for your battles.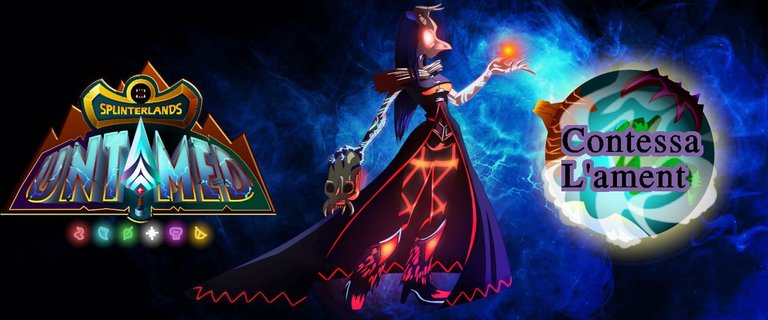 A little used summoner that in the right battle can make a big difference, she is Contessa L'ament and that's what I'm going to talk about in this post and it's also the card I choose for this week's challenge.

Contessa L'ament is a death deck summoner that has the function of taking 1 ranged attack from enemy cards and therefore she is not used much, although ranged cards are very frequent in battles they have the weakness of not attacking in the first position so when they are used they are usually 1 or 2 in battles and that's why this summoner ends up not having much use and is ignored in battles.
But if it is in a battle where there is a Close Range rule where ranged cards can attack in first position then it can be useful because players can put as many ranged cards on the field without fear, even without this rule ranged cards are still powerful and a An example for this is Summoner Yodin which makes them extremely strong, so having Contessa L'ament in battle will be a great addition to your team and decrease the damage of these cards.
Another thing to mention if you are new to splinterlands is that the cards have levels and each league has a limit of levels per card which are:
Bronze - Level 3 Common Card, Level 2 Rare Card, Level 2 Epic Card, Level 1 Legendary Card.

Silver - Level 5 Common Card, Level 4 Rare Card, Level 3 Epic Card, Level 2 Legendary Card.

Gold - Level 8 Common Card, Level 6 Rare Card, Level 5 Epic Card, Level 3 Legendary Card.

Diamond - Common card level 10, Rare card level 8, Epic card level 6, Legendary card level 4.

Champion - Level 10 Common Card, Level 8 Rare Card, Level 6 Epic Card, Level 4 Legendary Card.
I won't go into too much detail because this post would get too long, but summoners also have levels and they dictate up to what level you can use the cards based on their level and you can see that in the image I showed above.

Now I will show Contessa L'ament in battle so you can better see her potential.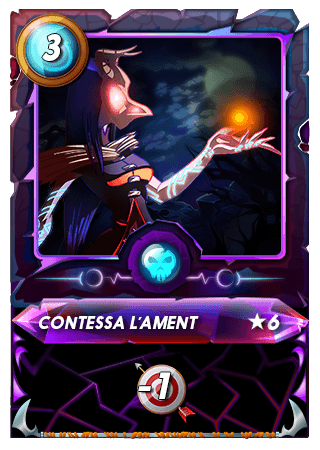 Contessa L'ament is the battle summoner and as I mentioned before her usefulness will be to decrease the ranged attack of enemy cards.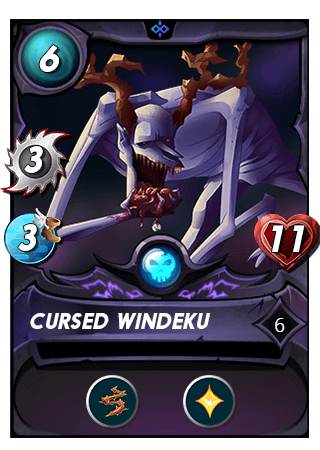 Cursed Windeku is an excellent defensive card so it will be in the first position and has the Thorns abilities that deals damage to a melee card when it is attacked by it and the Heal that makes it heal on its turn based on its maximum health. .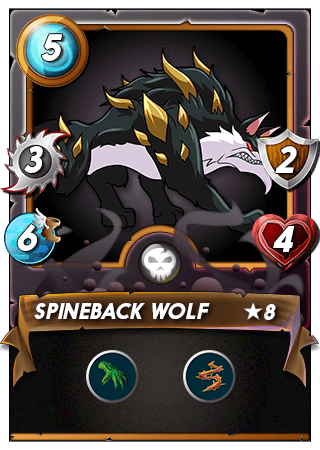 Spine Back Wolf is a card that has the ability Reach that allows you to attack in second position and also has the ability Thorns, so I put it in second position.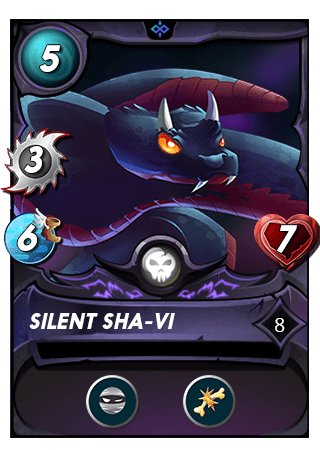 The Silent Sha-Vi is an excellent card to deal damage and has the Sneak ability that makes it attack the enemy card in the last position.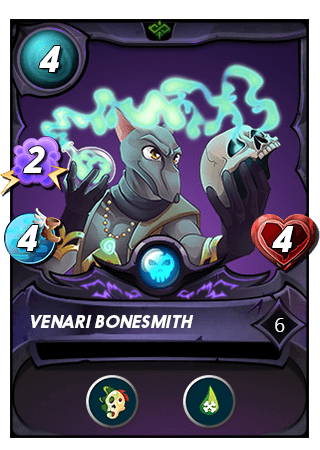 Venari Bonesmith is a card that has the Life Leech ability that makes him gain life when he attacks a card so it's very useful and also the Poison ability that makes him have a chance to do 2 damage to a card at the end of the round when he attacks Is it over there.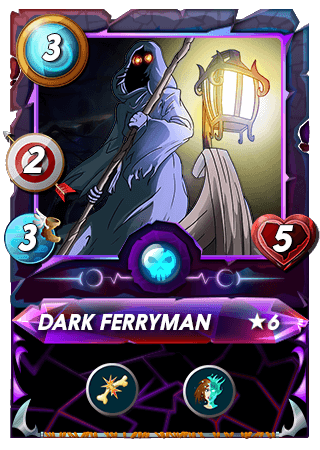 Dark Ferryman is a ranged card that has the Cripple ability that causes the card it attacked to lose 1 of its maximum health.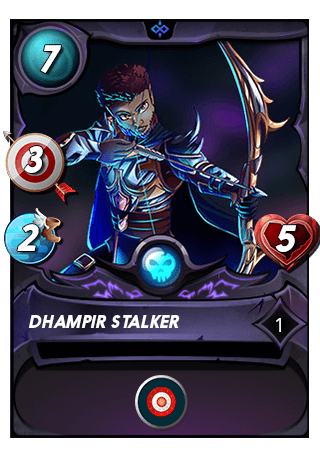 The Dhampir Stalker is a ranged card that has the True Strike ability so it won't miss its target and this is a good ability since its damage is guaranteed.

In battle my opponent chose the summoner Kelya Frendul which grants speed and shield, and as most of my cards are melee and ranged so this shield is going to be a big problem, but he also has 2 ranged cards on his field and that makes mine Contessa L'ament very useful for this battle as these cards will have their attacks reduced.
Although my opponent has a good defense and also very fast cards, I have cards with good abilities and also with a lot of attacks so I believe I can break through his defense and win this battle.
In this battle there is the Healed Out rule that makes all cards/summoners lose their ability to heal and also the Noxious Fumes rule where all cards have the poison effect and suffer 2 damage at the end of the round, so having cards with a lot of health is very useful and my opponent having a shield gives you even more advantage because it's a battle against time.
Even so, I still believe in my cards and the battle lasted 3 rounds and it was close but I managed to win the battle, but if it wasn't for Contessa L'ament reducing the attacks of the ranged cards and my cards with the Thorns ability maybe the result was different, it was an interesting battle and also a little tense because it was hard to say which side would win but I'm happy to have won and that's my battle for this week's challenge.
---
---