Splinterlands: Runemancer of light with a high possibility to decrease giant damage, meet RUNEMANCER ATUAT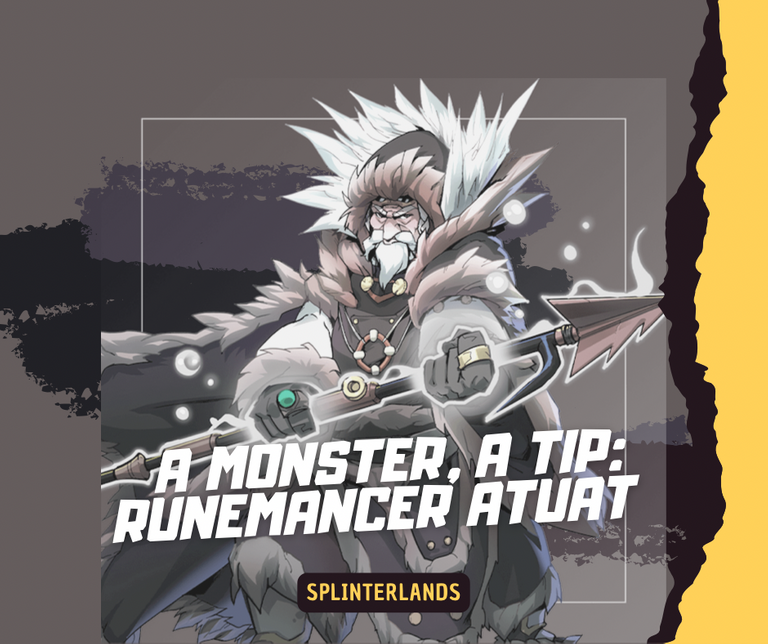 Have a great Tuesday everyone, how have you been spending your time in Splinterlands? I hope that with great rewards in your pocket of course, today I selected a newly added monster to the Splinterlands community, the monster of the day is: Runemancer Atuat
Runemancer Atuat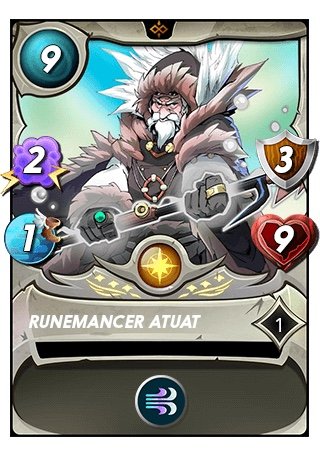 Legendary monster of the light element recently added to the Splinterlands collection, while at its initial level you cannot have a good use of its attributes, after level 2 it manages to become an important part of your team, our focus here is on its use against monsters with the Last Stand skill and rules that make our opponent stronger as it receives attacks in the case of the Enrage skill that can be obtained through the skills of other monsters or the Spleading Fury rule, we are speaking of the Forcefield skill which will convert any damage taken above +5 into just 1 life point regardless of whether the attacker deals melee physical, ranged or magical damage the result will be the same, it contains a good base health of (9 ) points, in addition to already being assigned (3) points of armor to compensate for his lack of speed of only (1) point regardless of his level he will not be improved in these final two attributes, his attack power Magical skill is (2) points until level four where he gets +1, his last skill can make him dangerous for any 1 vs 1 battle as he will receive a considerable increase in attributes thanks to Last Stand although to reach that level you should already have in mind the expense that you will have with summoners of level four or above and have more than 6 cards like this to raise your level.
It is part of the Runemancers: Runemancer Atuat, Runemancer Florre and Runemancer Kye, but it is the weakest compared to the rest.

Not recommended in low level battles, as it will have no effect on monsters with less than (5) points if attacking, virtually any Bronze battle and low mana Silver and Gold matches.

Recommended not to focus on his last skill since you would have to put together a strategy so that he was the last one to survive, and believe me you won't get it at higher levels except for 1 vs 1 battles as an example against the combination Kron + Llama.
A curious fact is that its regular version is in third as the most sold trend among the three Runemancers ranging from +7% to 9%, while Runemancer Florre manages to stay above +10% and Runemancer Kye at +15%, now already its gold-plated version has an advantage over them reaching +60% per week while its rivals are negative for the week at -12% and -28% respectively, the explanation may be the lower cost for the Forcefield* skill in addition to the bonus of using that version in battle.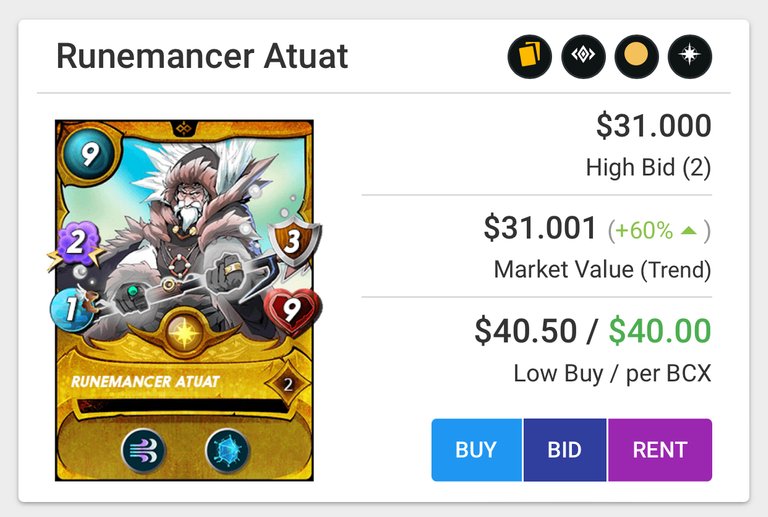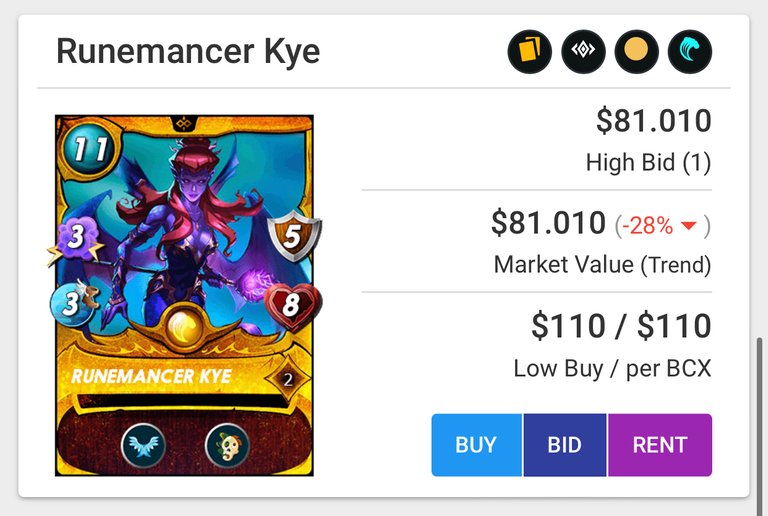 ---
Recommendation for its use
As already explained, our focus is on using it against monsters that have a great attack power that could easily defeat any monster with large health in one or two turns, so we have an option:
Use against Grum Flameblade after it is "giant" with the sequence of defeats of its weakest monsters.

Very useful in guild brawls as they all contain the Bloodlust skill, this means that no matter what monster and how much elimination it has accumulated, you can handle it.

Monsters that have the Recharge ability like Ifrit Rising, Uriel the Purifier, Insidious Warlock and Gobson Bomber.
Market purchase and rent price
| Foil | Buy Market Value | Rent Level (2) |
| --- | --- | --- |
| Regular Foil | $3.70 | 12.000 DEC / day |
| Gold Foil | $31.00 | 12.000 DEC / day |
The reported value is related to the day of posting, there is no guarantee that after some time the price will go down or up.

---
---