Splinterlands Achievement System 2.0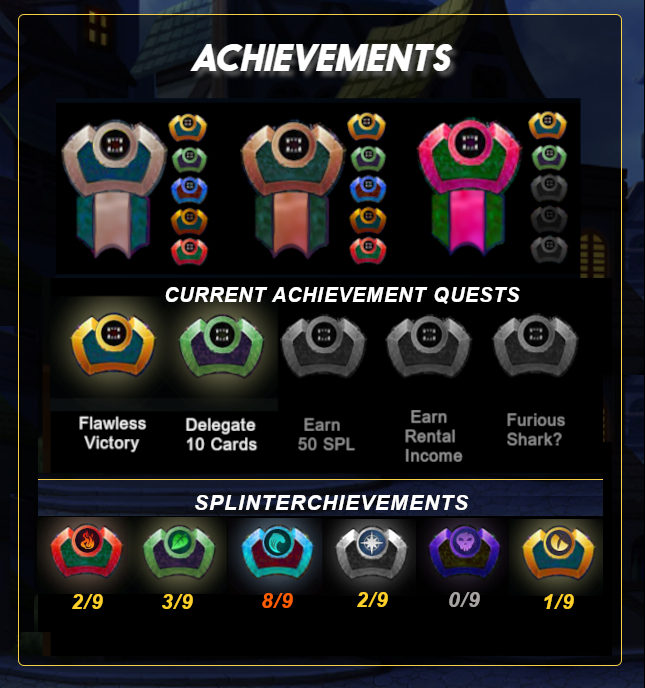 If you want to see the first Splinterlands Achievement System you can click the link. This is a follow up post adding some feedback and ideas from the community. In addition, it will reflect my Adventure Quest idea, which you may want to check out as well. Secondly, if you missed my Splinterlands Draft Format proposal, please check it out. And lastly, **Support!** If you like my proposals: (draft format, animated foil variants, achievements proposals etc) please upvote my content, repost, leave comments, send me in game donations to @williamhessian (which I will use to help make more content) and most of all send this link to other players who might be interested in the format. If we show that people like this idea it is more likely to be adopted by the devs in the near future, and you can vote for this project using the Feedback at Splinterlands: Achievement System.
Concept
Use Achievement Quests to Hand hold new players, encourage participation in under utilized tools, gatekeep bots, offer a robust rewards which should be extremely valuable to the entire project....This is the **Splinterlands Achievement System** as proposed by me @WilliamHessian with helpful ideas and thoughts from the Discord (individuals will be recognized below). This is an ongoing working proposal.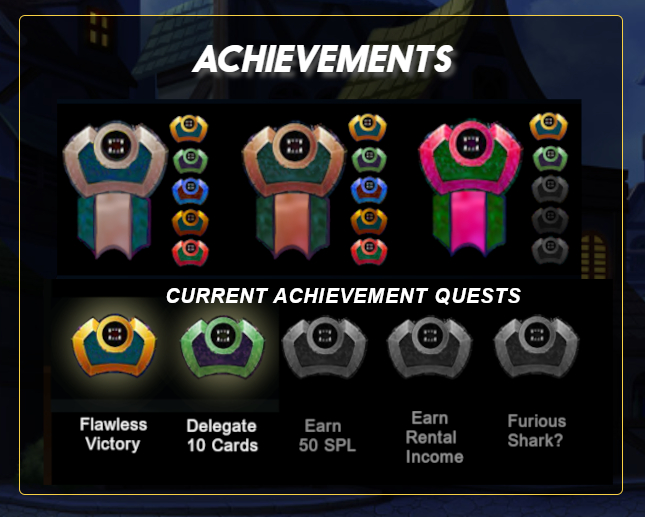 !
Splinterchievements
The biggest edition to the updated proposal, is ongoing Splinter based achievements. The Achievement screen, that you can see by clicking on your profile link in-game, brings up a "Coming Soon" section. I have gone ahead and populated the above and below graphic that reflects my Achievement graphics and system. This would be a quick guide to Achievement Rank and progress. The cover image at the top shows this screen with the added Splinterchievements. The idea with these is to have Splinter based challenges and quests that would fit with the lore, cards, summoners and characters from each splinter and they can be tracked here. The Splinterchievements would be accomplished as a player builds a deck and waccomplishes certain tasks specific to that splinter and would be meant to progress unevenly and customized to the decks each player chooses to build. Perhaps completing a complete Splinter would result in a special reward card.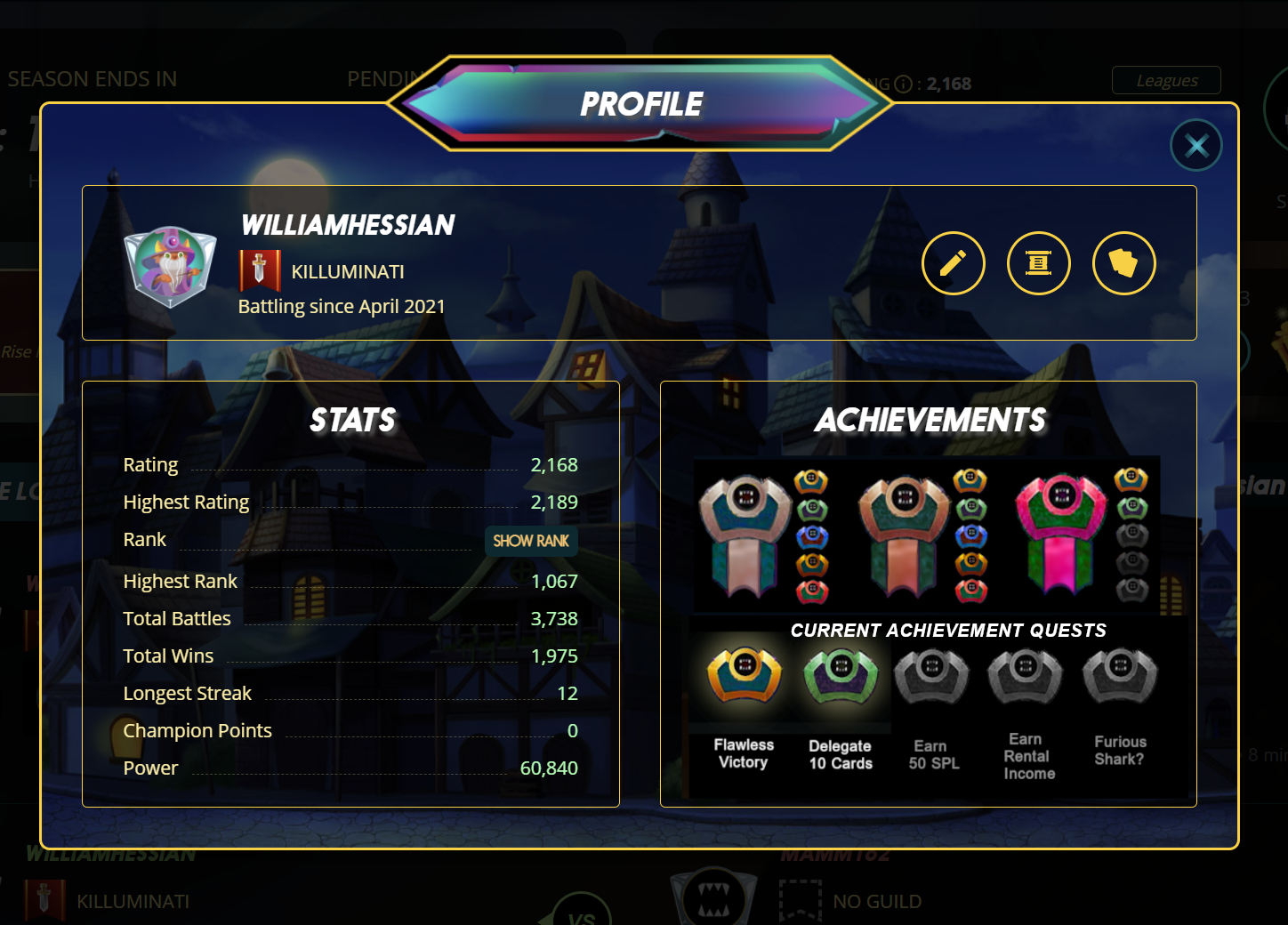 Updated and repeated Content from 1.0
Below is more detailed graphics of the system as it would look to you. This is the second in a series of deeper dives into this proposal, and comments below, discussions on discord and other content here on Splintertalk/Hive/Ecency will provide ideas and content for future posts as we improve and refine the concepts. With your support and encouragement, there is a bigger and bigger chance something like this gets adopted.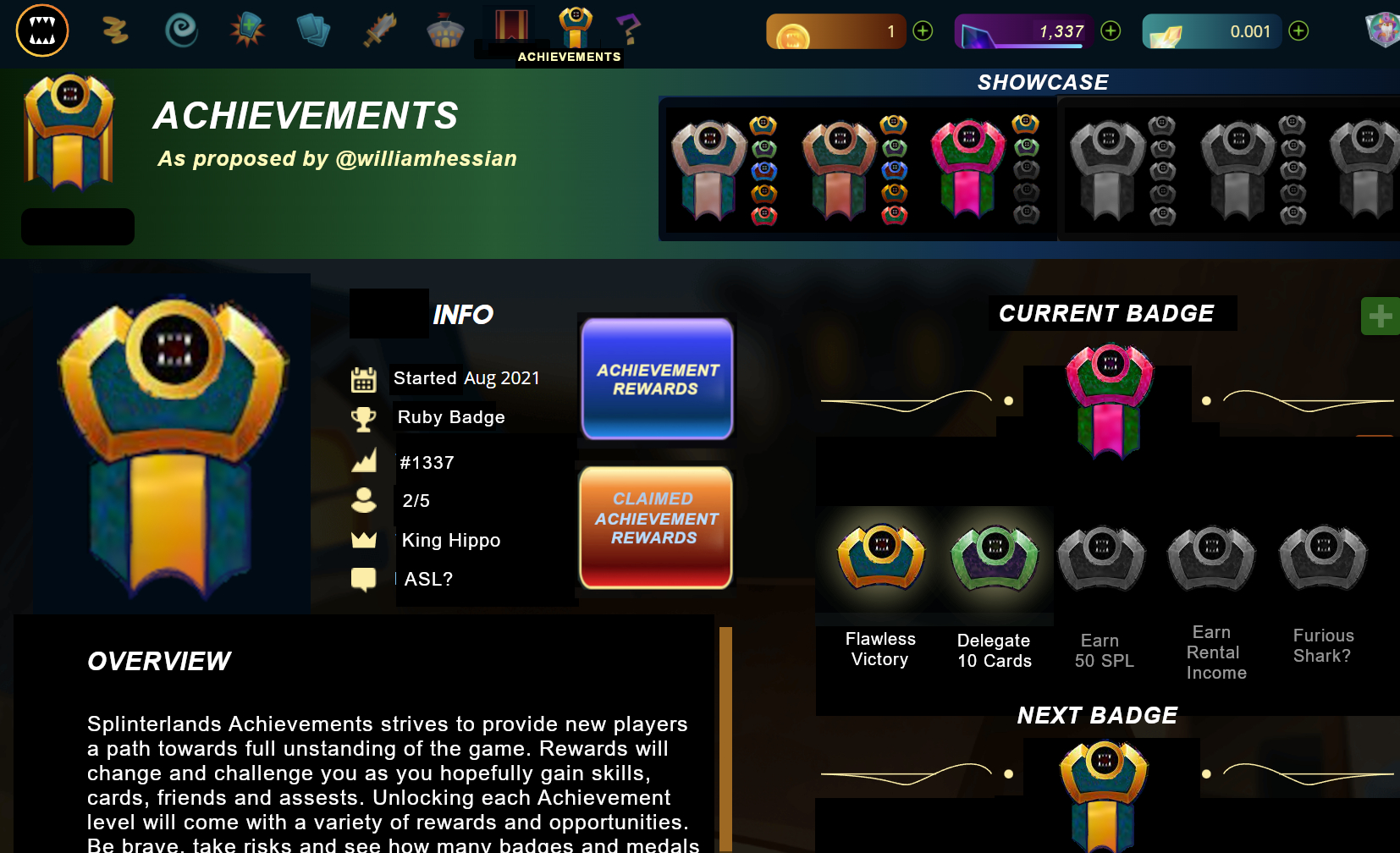 The banner in the image shows off the badge graphic and progress bar. Each badge is earn by completing 5 Achievement Quests that will award you a medal and they fill in with color as you complete them. In the example above you can see the yellow and gold medals are complete, while the three gray medals are unfinished. Each color of medal represents a different type of quest, and each completed badge would result in a different reward. I will go over those details below.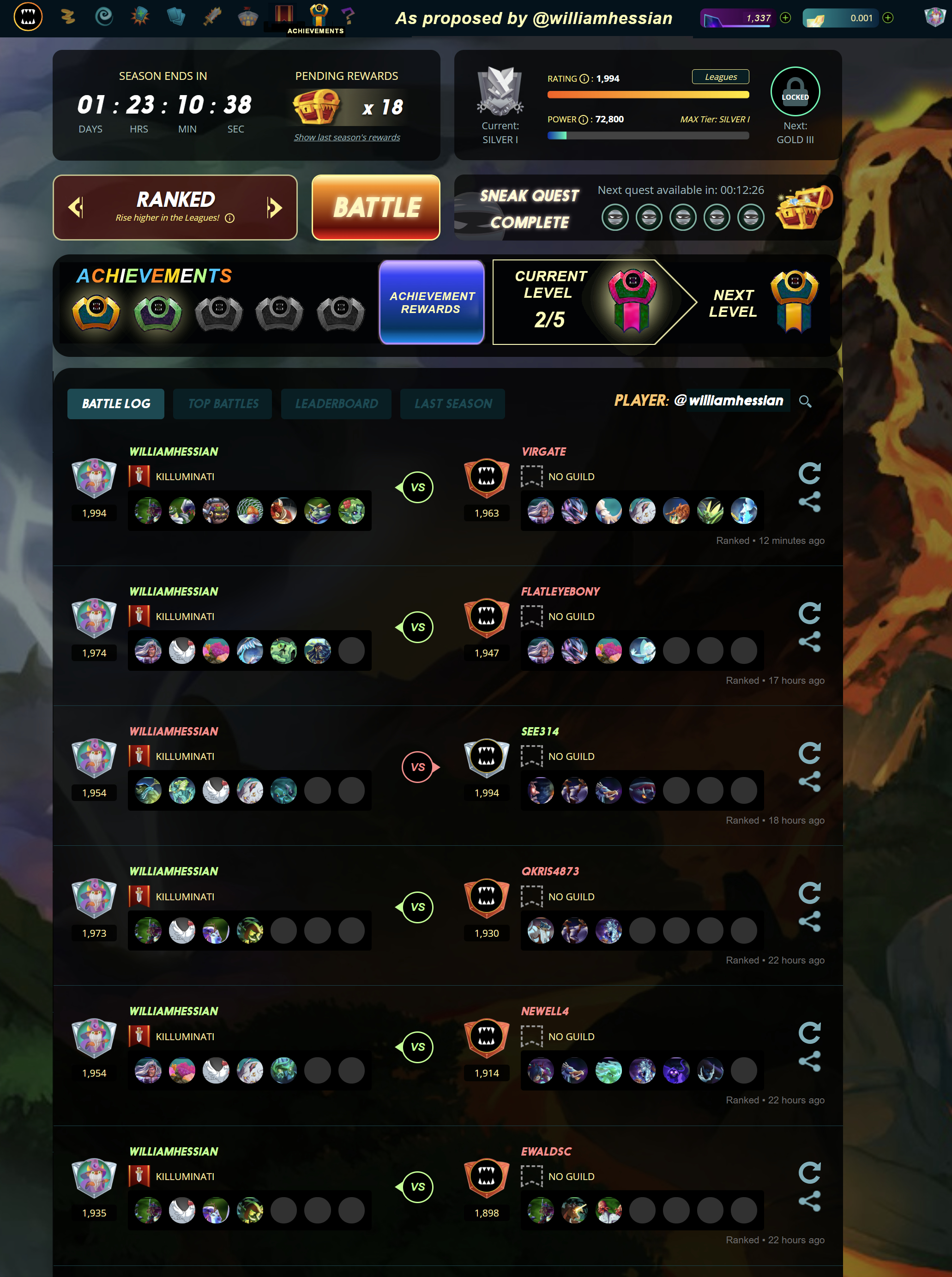 Directly above is what your "Battle" page would look like. Right above your battle log you would see this banner:

The Achievement banner would show your current medals for the current badge level, and then show you your current badge level which is the Pink Ruby badge, and also show you your next Badge Level. Hovering over the Achievement Medals would either remind you of things you did to accomplish the medal and also remind you what you need to accomplish to make progress. Hovering over the Badges themselves would remind you the rewards you will get when completing the badge. The **Achievement Rewards button** would also clearly define all the badges, rewards, and the order in which you need to finish each quest.
This Achievement banner would be a wealth of quick information for players trying to finish medals and badges, especially possibly overlapping those Achievement quests with the daily challenges or during ranked play. There would not be a time table for these quests, so players can complete them whenever it best fits their schedule.
​
Upon clicking any of the medals, badges or the Achievement text, you would be sent to the Achievement page as shown here:
​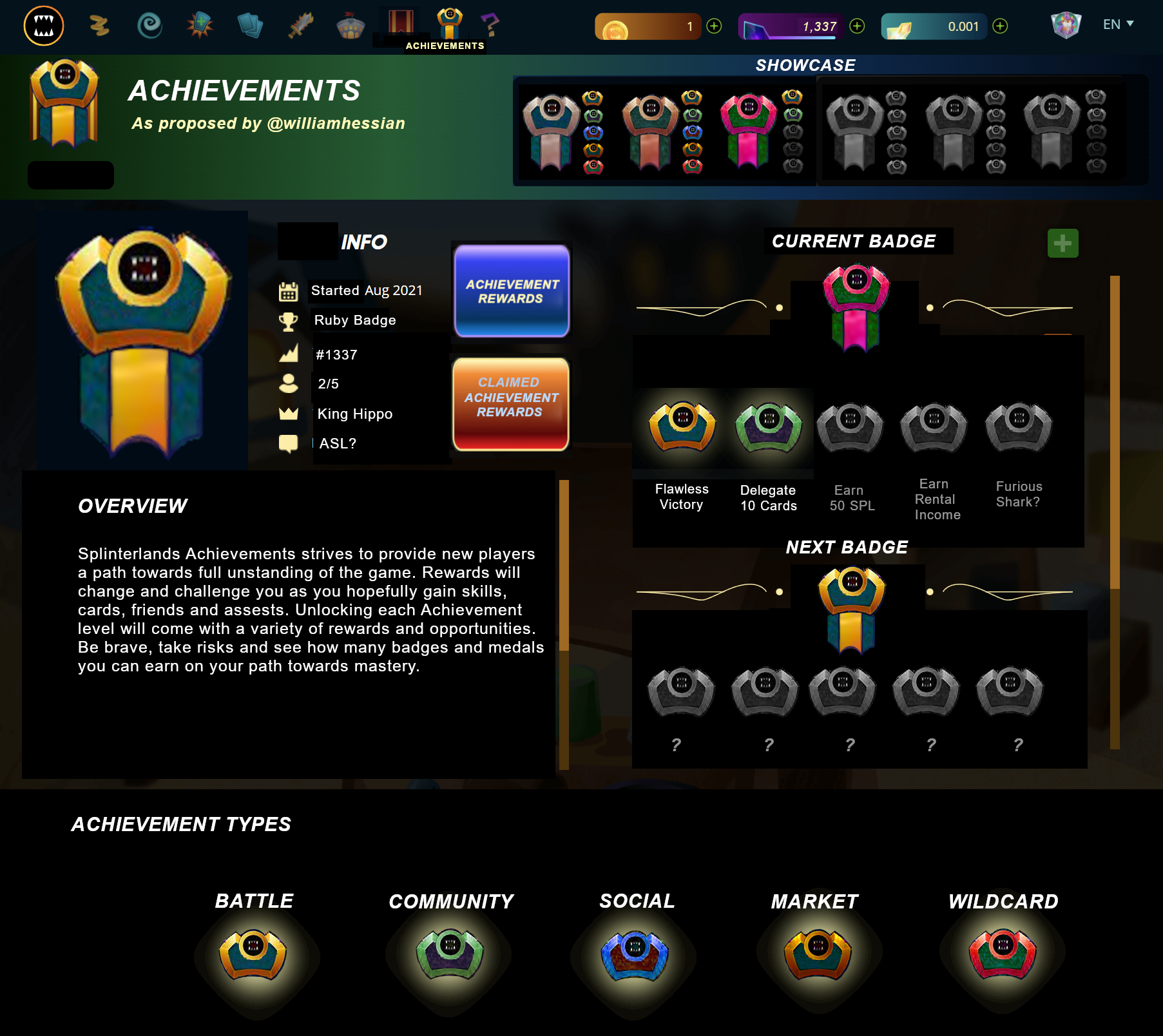 ​
Here you can see everything you need to know about Splinterlands Achievements. This would include the Overview, Changes/Updates, New Quests, Current Level, Rewards, Showcase, etc. The Showcase at the top is showing your Badge progress. At the bottom you can see the five different Achievement Types: **Battle, Community, Social, Market, Wildcard.**
​
Overview:
​
**Splinterlands Achievements strives to provide new players
a path towards full unstanding of the game. Rewards will
change and challenge you as you hopefully gain skills,
cards, friends and assests. Unlocking each Achievement
level will come with a variety of rewards and opportunities.
Be brave, take risks and see how many badges and medals
you can earn on your path towards mastery.**
​
I have had a lot of fun doing a little preliminary brainstorming with players on discord, guildmates, and reading and watching Splinterlands content, but I am really hoping this post will be a catalyst for a wealth of quality Achievement ideas. Here are the 3 rules about spawning ideas:
​
It must help/inspre new players to learn all facets of Splinterlands

It must not be easily exploitable by bots (Especially not all 5 medal tasks in any particular Badge)

The rewards themselves should also reflect rules #1 and #2
​
With these rules in mind, I am going to start a running list with the author of the idea attached and it goes without saying this is a work in progress and we are only barely scratching the surface. If you populate ideas in the comments, I will include your ideas in the next Achievement update post. I am going to start each list with the random ones I used in the sample above.
​
**Battle:**
-Flawless Victory: win a ranked battle without losing any monsters
-Win games using XYZ abilities (so players learn abilities)(Submitted by @cheesehead144)
-Level a Summoner and a monster to Level 2 and battle with them (Teach players how to combine BCX and learn why it is important) (Submitted by @AxlerTwinblade)
-Winning streak +X (could be different streaks) (Submitted by @AxlerTwinblade)
-Get to Bronze 2 (achievements for ranking up)
-A set of guild quests that offer guild chests with merits, blood stones, power stones, potentially soul bound rewards cards, and/or gladius/current edition soul bound pack edition pack.
(Submitted by @Eric Miller)
​
**Community:**
-Delegate 10 cards to 10 different players (Submitted by @AxlerTwinblade)
-Join a Guild
-Join the Discord
​
​
**Social:**
-Earn 50 SPL by writing Splinterlands content on Splintertalk/HiveBlog/Ecency
-Use hastag #splinterlands in a Twitter post with your in-game name
-Join a Splinterlands Facebook group and make a post saying "#SplinterlandsAchievement @yourIGname"
-Use PEakmonsters
-Buy a Splinterlands card on AtomicHub/NFTHive and transfer it to your Splinterlands account
​
**Market:**
-Rent a card out, and rent a card to use (Submitted by @AxlerTwinblade)
-List a card for sale
-Stake SPS
-delegate 1000 power. delegate 2000 power, delegate 5000 power. and at 50000 power
Splinterlands give you a extra daily chest reward each day you have that power delegated (not stackable) (Submitted by @AxlerTwinblade)
​
**Wildcard:**
-Furious Shark? The player would need to interpret this themselves and try to win a game with the Demented Shark and Furious Chicken together
-Lore based quests that players must read lore to figure out which combination of cards need to be used together to accomplish the achievement.
-Challenging players to win with underplayed cards or underplayed strategies
​
​
**Rewards:**
-Splinterlands delegates a Gold Level deck for you to use for 24 hours (Submitted by @Valorie)
-Packs of cards
-Extra rewards chests
-Specific Promo Card (only available for completing all achievements during a certain time)
​
​
Down the road each of the types could have very specific extra level badges for players who want to go above and beyond the regular achievements. Like for example a **Community Super Badge** for a player who hosts 25 free tournaments. We could dream up some really cool quests to complete Super Badges for each category.
​
I hope to be including your ideas in Achievement System 3.0
---
---