Splintertools : Learning with Splintercards
Intro
Hello Everyone today i will be introducing one of the most useful tools / website you can use to maximize your experience in playing #Splinterlands. And its about Splinterlands.com website that you can reach through HERE..
---
What is Splintercards
Basically Splintercards is a free to use tools that was created by @tehox to help Splinterlands player to get a view on Trends on the game and also learning about card prices , abilities , and many more. So I will be discussing about it main features

Main Interface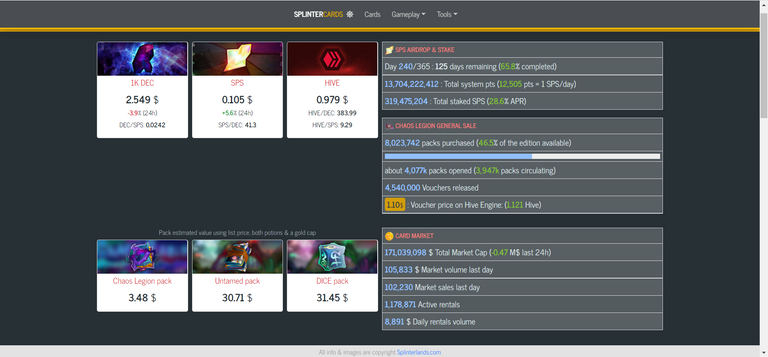 This section can help you to see prices on the Splinterlands related assets such as DEC Prices/ SPS Price and also Hive Token
You can also calculate the Airdrop drop rate with your staked DEC so you can calculate at which rate your investment are growing. This really helps major investor to get better valuation on their asset.
You can also see the Chaos Legion Pack sales and Active distribution.
Card volume transaction and also pack Prices can also be seen in this interface

This section really will give you a view about prices on SPL asset on HE

Card Section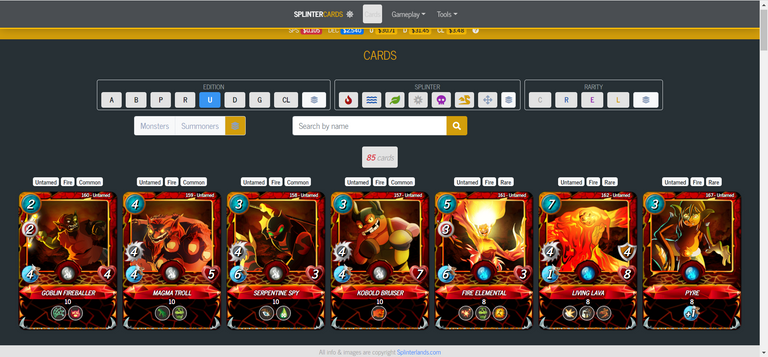 Through this features you can search for cards in each Edition , Rarities and also Element. Helping you to get a better look on each card
Filter features are really helpful in this situation.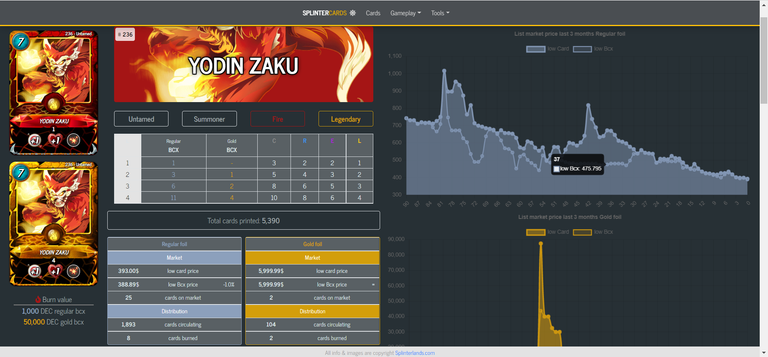 This section will tell you about Card abilities at each level
Card circulation and also Price movement can also be tracked by using this feature.
---
Gameplay Section
Ablities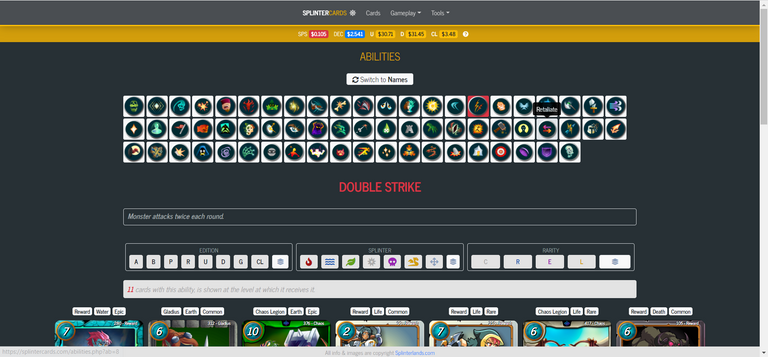 You can learn about abilities available to each unique monster and this feature can sort out toward which card has which ablities.
---
Ruleset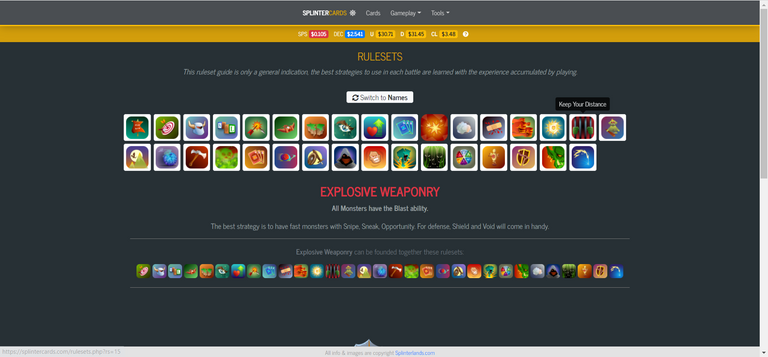 This section will help you to learn about Rulesets available in Splinterlands and you can think on how to counter towards each situation
---
League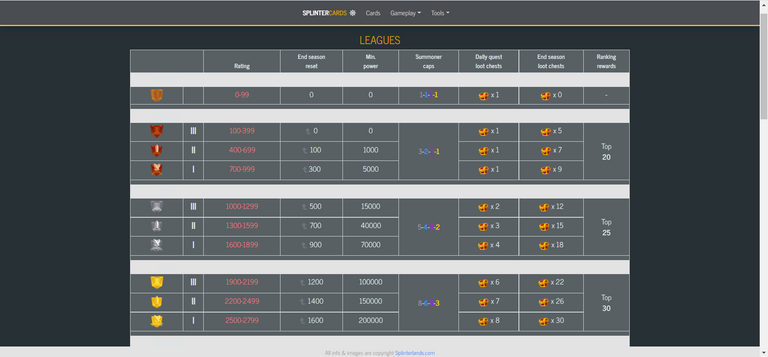 This feature will guide players on what you will earn on each league so players can adjust their investment
---
Land Expansion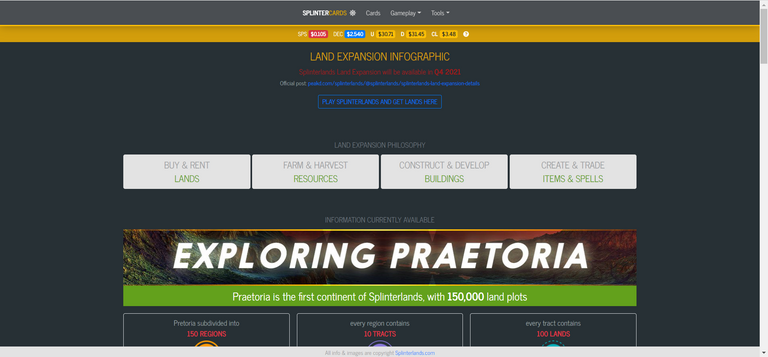 This section is for the upcoming SPL update on Land features. So this feature are still on development for future updates.
---
Card Edition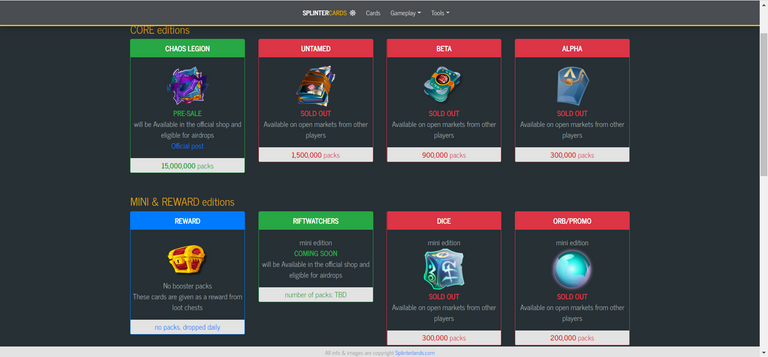 To view which card edition are released by Splinterlands
---
SPL Roadmap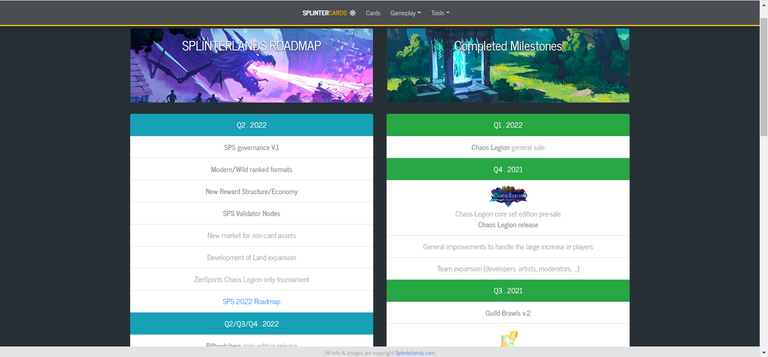 This section brings ahead towards what the upcoming updates are and what area currently implemented in Splinterlands.

---
Tools Dashboard
Pack Value Calculator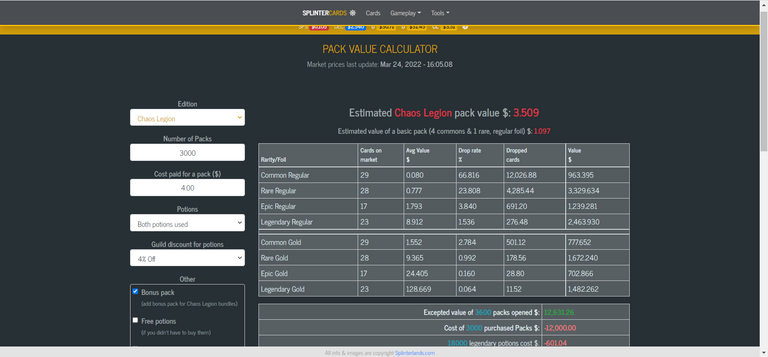 This feature can be used for big investor to see on their card value estimation.
You can sort out various variable available according to your personal needs
---
Loot Chest Value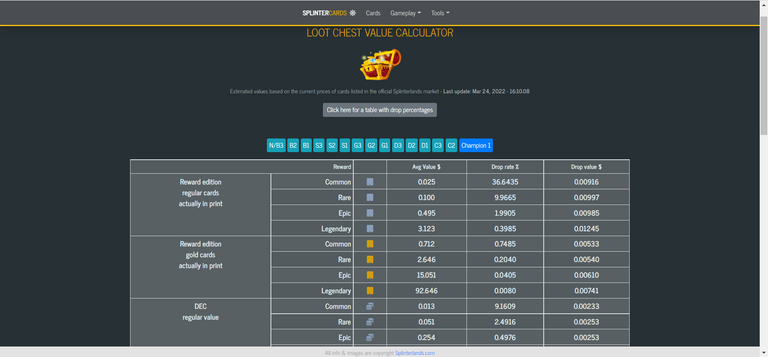 This feature will help you to estimate your daily Chest reward in each league available
---
Edition Set Value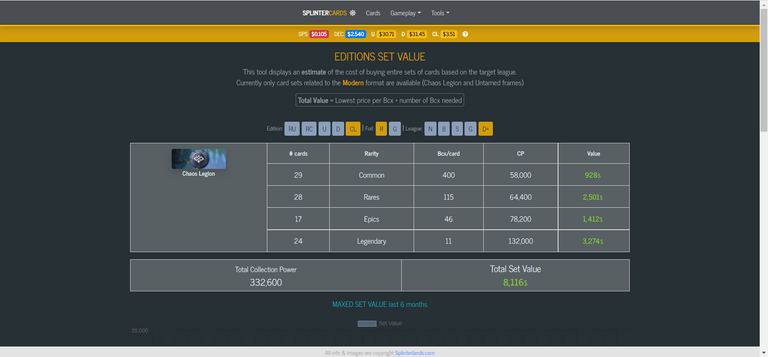 This serves as the cost estimator on buying card on each edition on targeted league
---
Missing BCX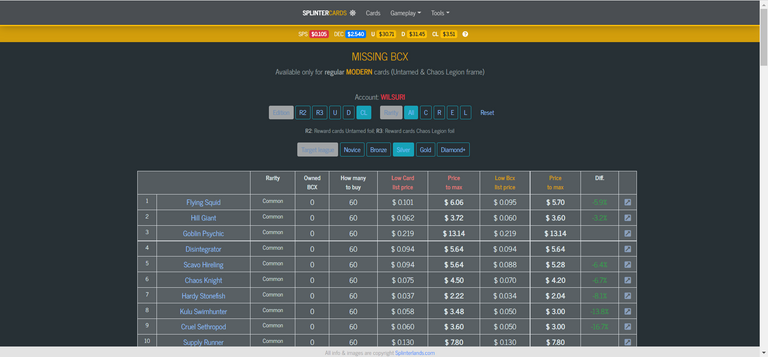 Help you to estimate the cost on maximizing each card according to your Target League
---
Airdrop Calcutor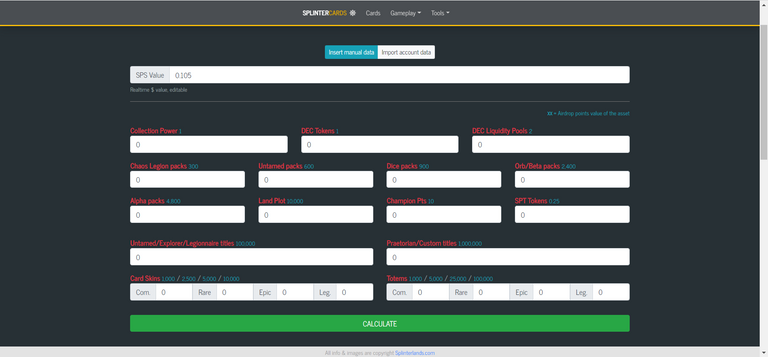 This feature can be used to calculate SPS airdrop with all variables available to contributing Airdrop Calculation
---
SPS Staking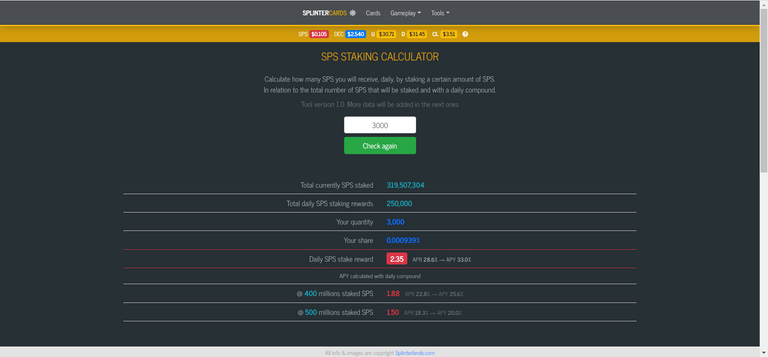 To get estimate what reward on SPS Staked this can really help your investment estimation period
---
Voucher Calculator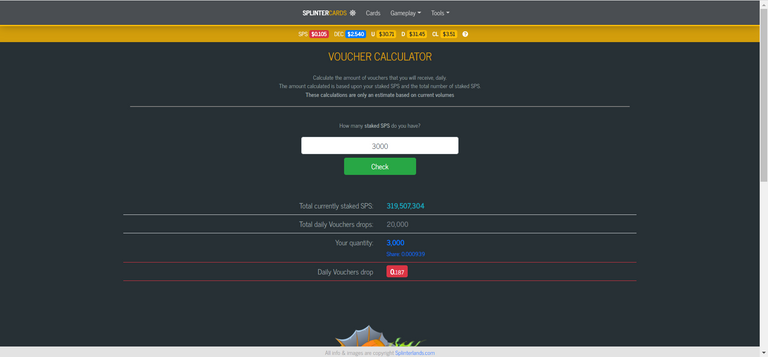 You can estimate on voucher you can get by entering SPS you have staked to the website. Voucher can be sold or kept to buy on promotion
---
LOW CARD X BCX PRICE GAP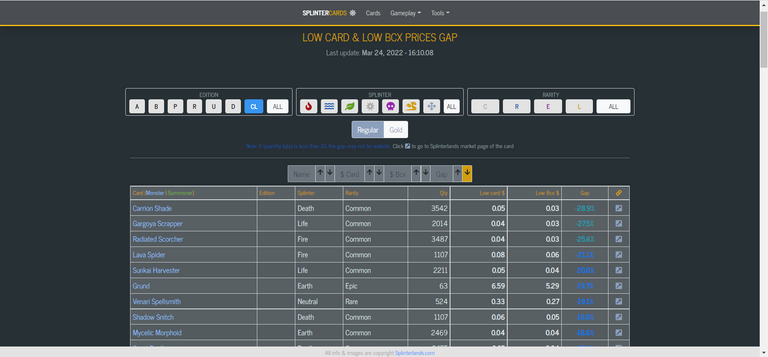 This feature can be used to get a view on anomaly on each card prices. Gving you best price to bid
---
List Price Analysis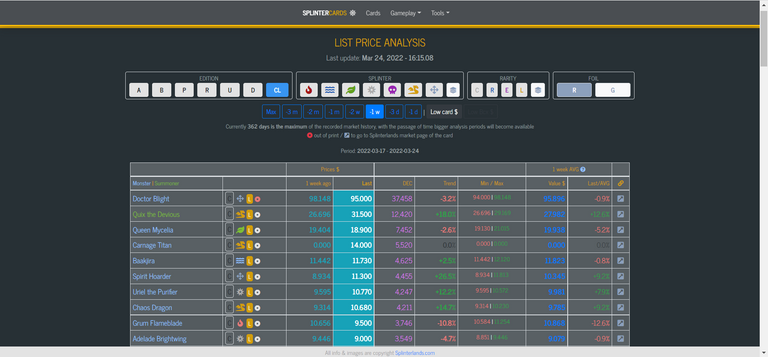 To view on Card Price trend.
---
Printing and Distribution Data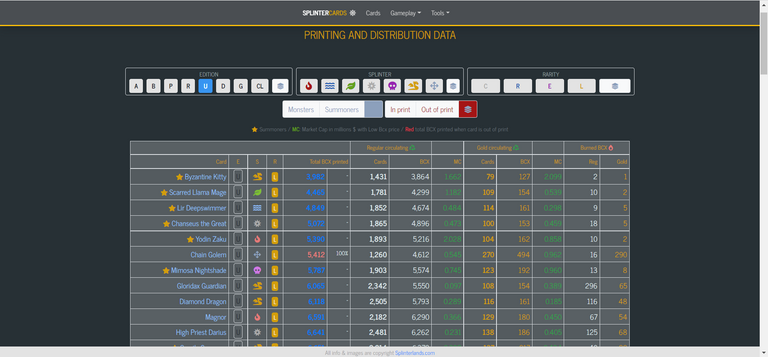 To get a view on each card circulation, you can estimate the price movement by using this feature.
---
Account Info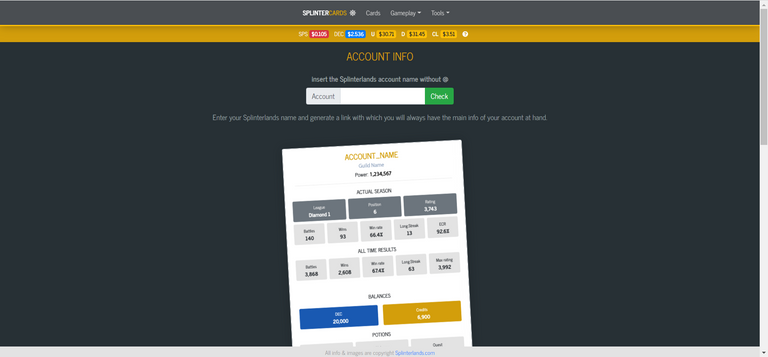 You can view on your account performance and asset available to your account.
---
Richlist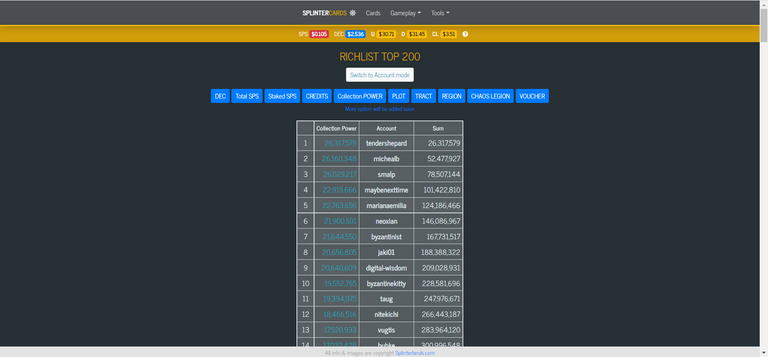 This feature can be used to identify on each major holders on SPL Asset
---
Cards by League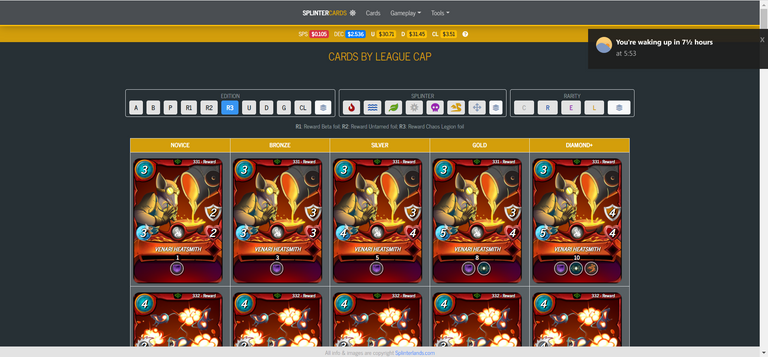 Easy view on each card abilities on each League
Outro
That's a complete breakdown on Splintercards.com features. My favorite part on this website is the Ablities and ruleset info so you can learn more about how to play better at Splinterlands. Other features like Staking SPS , also Airdrop and voucher Calculator can really help people to calculate on their investment. That's all about my breakdown you can also comment and give suggestion by commenting below
Final Words

Thank you for reading my post. I hope this can help many beginners like me to learn about #Splinterland and hopefully start their successful #Play2Earn journey.
You can also join Splinterlands using my referral here to get a 50 Dec Bonus from me
(Kindly Dm me to receive the rewards!)

Also, Check out my previous post!
Weekly Challenges - Feral Spirit
Weekly Challenges - Wood Nymph
Haunted by Shadows Death Deck in Gold League | Weekly Battle Challenge
Water Deck in Silver Leagues | Social Media Challenge
Having Fun with Death Deck in Gold League l Social Media Challenge
Queen of Dragons Selenia Sky l Weekly Battle Challenge
Card Buying Strategy! l Social Media Challenge
Diving Deep with Deeplurker!
Credits
@splinterlands
Mr. flauwy - Splinterlands Divider
@splintertools
@splintercards
@canva - for Thumbnail editing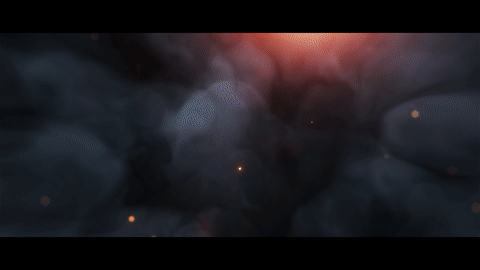 ---
---