GRUM FLAMEBLADE, The great warrior of Draykh-Nahka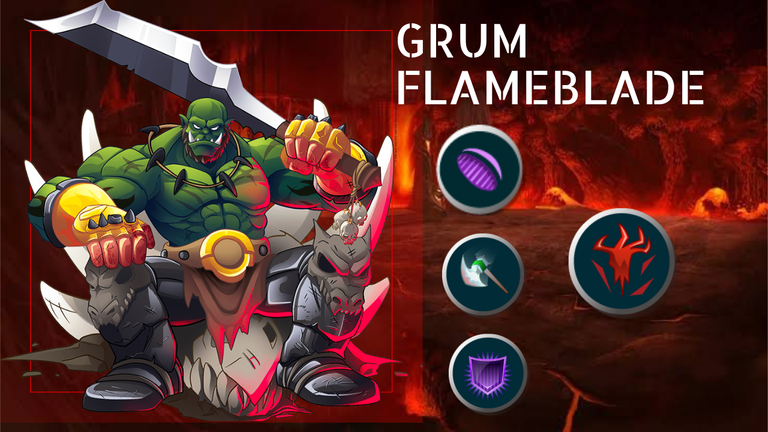 🇺🇸. The Bloodlust ability can only be used by two cards other than the new ones from the Gladius edition which are the GRUM FLAMEBLADE and JARED SCAR both from the Chaos Legion edition, but today we will only know this great orc of the fire element.
🇧🇷. A habilidade Bloodlust só pode ser utilizada por duas cartas fora as novas da edição Gladius que são o GRUM FLAMEBLADE e JARED SCAR ambos da edição Chaos Legion, mas hoje iremos conhecer apenas esse grande orc do elemento fogo.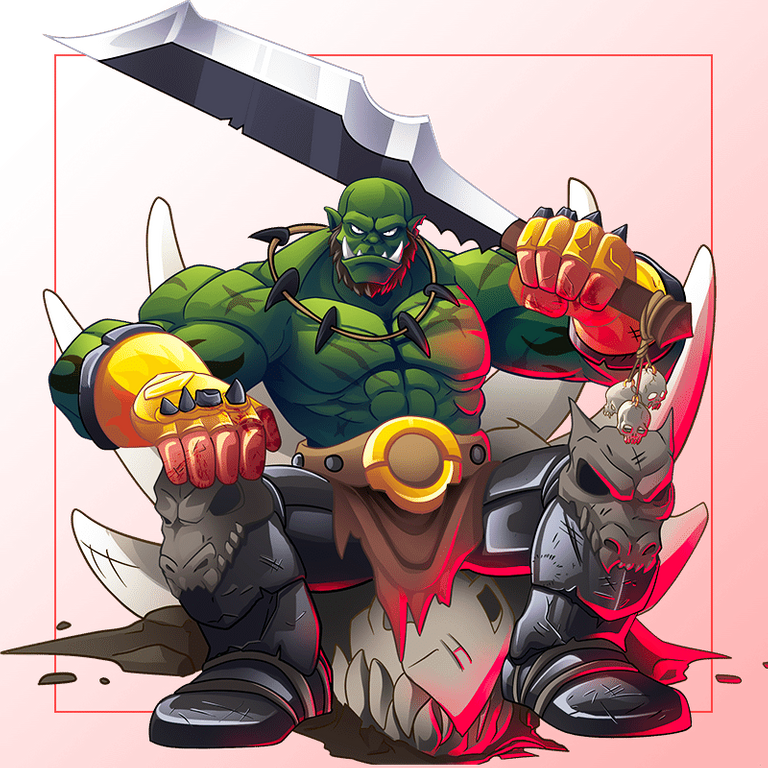 🇺🇸. GRUM FLAMEBLADE it can be said that he is a great tank even without the Shield ability as it comes with Void Armor which makes his health just reaching 10 points, 5 in armor, 4 in attack with only 1 speed, it couldn't be balanced if he had good speed could it? In addition to the skill Void Armor he has Bloodlust, Void and finally acquired at level 3 the skill Giant Killer which makes him an extraordinary combatant as he will decrease the opponent's magic attack even if applying the same in your armor and not on your life, increasing your attributes with each elimination and as your required amount of mana suggests, it is for battles with a high amount of mana involved, so your opponent will use cards greater than 10 points where this friend here will apply a monster damage capable of eliminating all the opponent's cards in the current round.
🇧🇷. GRUM FLAMEBLADE pode-se dizer que ele é um otimo tanque mesmo sem a habilidade Shield já que o mesmo vem com Void Armor oque faz justo a sua quantidade de vida chegando a 10 pontos, 5 em armadura, 4 de ataque com apenas 1 de velocidade, não poderia ser equilibrado se ele tivesse uma boa velocidade não é mesmo? Além da habilidade Void Armor ele tem Bloodlust, Void e por último adquirida no nível 3 a habilidade Giant Killer oque torna um combatente extraordinário já que ele ira diminuir o ataque mágico do oponente ainda sim aplicando o mesmo em sua armadura e não em sua vida, aumentando seus atributos a cada eliminação e como sugere sua quantidade de mana exigida, ele é para batalhas de alta quantidade de mana envolvida, logo seu oponente ira utilizar cartas maiores que 10 pontos onde esse amigo aqui vai aplicar um dano monstro capaz de ir eliminando todas as cartas do oponente na rodada atual.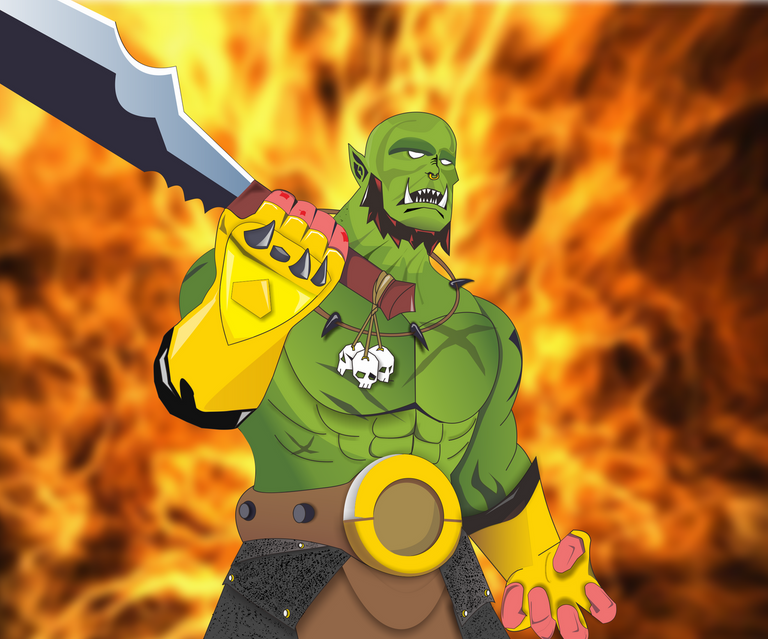 Art contest Splinterlands created by: @rqr4

---
---
Abilities | Habilidades
| Abilitie | Info |
| --- | --- |
| Bloodlust | Ability that activates after you eliminate any enemy, granting you +1 to all stats, with the exception of the Reverse Speed rule that causes you to lose -1 to speed |
| Void Armor | Void Amor causes the opponent's magic damage that would hit health ignoring the shield to affect the shield first, just like any other attack. |
| Void | This skill together with the skill above makes him an unbeatable tank and combatant in some battles, as Void will reduce the opponent's magic attack always rounded down, so if your opponent only deals 1 magic damage you can ignore it. |
| Giant Killer | The final skill of GRUM FLAMEBLADE as the name suggests really you will become a giant slayer, in addition to dealing double damage with this skill, killing opponents will activate Bloodlust which will give you more damage in the course of departure. |
| Habilidade | Informações |
| --- | --- |
| Bloodlust | Habilidade que ativa após você eliminar qualquer inimigo, concedendo a você +1 em todas as estatísticas, com exceção da regra Reverse Speed que faz com que você perca -1 na velocidade |
| Void Armor | Amor do Vazio causa o dano mágico do oponente que atingiria a saúde ignorando o escudo para afetar o escudo primeiro, assim como qualquer outro ataque. |
| Void | Essa habilidade junto com a habilidade acima faz dele um tanque e combatente imbatível em algumas batalhas, pois Void reduzirá o ataque mágico do oponente sempre arredondado para baixo, então se seu oponente causar apenas 1 dano mágico você pode ignorá-lo. |
| Giant Killer | A habilidade final de GRUM FLAMEBLADE como o nome sugere realmente você se tornará um matador gigante, além de causar o dobro de dano com essa habilidade, matar oponentes ativará Bloodlust que lhe dará mais dano no decorrer da partida . |
---
---
Strategies | Estratégias
🇺🇸. The sooner this monster eliminates the first card, the better to stay on the front line, but not only should you rely on your survival ability, it also needs some support cards that can help you win.
🇧🇷. Quanto mais cedo esse monstro eliminar a primeira carta sera melhor para se manter na linha de frente, porém não se deve apenas confiar em sua habilidade de sobrevivência, ele também precisa de algumas cartas suportes que lhe possam auxiliar para sua vitória.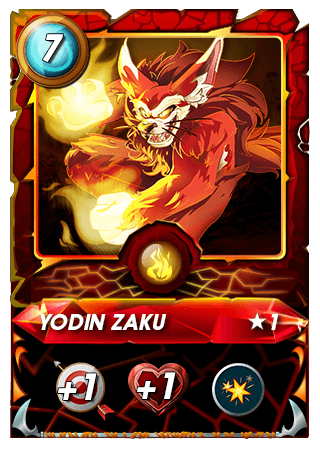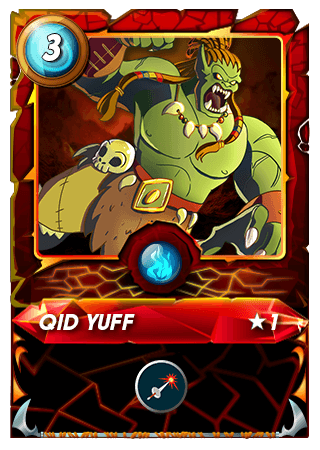 ---
---
🇺🇸. YODIN ZAKU
Even though it doesn't increase physical attack attributes like most fire element summoners, this card that is currently widely used in compositions in higher leagues due to its attribute of adding the ability Blast in addition to adding +1 to health, with the high damage that can be applied by the monster is possible to eliminate 2 opponents at a time depending on the established rule and the amount of life of the opponent, on the other hand it has a high cost to be used with any composition since it costs 7.
🇧🇷. YODIN ZAKU
Mesmo que não aumente os atributos de ataque físico como a maioria dos invocadores do elemento fogo, essa carta que atualmente é muito utilizada em composições em ligas superiores devido ao seu atributo de adicionar a habilidade Blast além de adicionar +1 em vida, com o alto dano que pode ser aplicado pelo monstro é possível ir eliminando 2 oponentes por vez dependendo da regra estabelecida e da quantidade de vida do oponente, em contrapartida ela tem um custo alto para ser usado com qualquer composição já que o mesmo custa 7.
---
---
🇺🇸. QID YUFF
This card will not increase any attribute of your team, but it will grant you the ability Piercing which is great for cards with a high attack value, since it will attack the armor and if the value exceeds the amount it will also affect opponents' health, a good skill for those compositions that the enemy's tank has the support of a monster that grants it Repair making its life more difficult, in addition to being very cheap to rent this card.
🇧🇷. QID YUFF
Essa carta não ira aumentar nenhum atributo de sua equipe, porém lhe concederá a habilidade Piercing que é otimo para cartas com um alto valor de ataque, já que o mesmo irá atacar a armadura e se o valor ultrapassar a quantidade ele também irá afetar a vida do oponentes, uma boa habilidade para aquelas composições que o tanque do inimigo tem o apóio de um monstro que lhe conceda Repair tornando sua vida mais difícil, além de ser muito barato alugar essa carta.
📤. MY REFERRAL SPLINTERLAND LINK: https://splinterlands.com?ref=wlffreitas
---
---