Rare gold foil or legendary reward monster? What better investment

🇺🇸. After the recent season update, card rentals have given a lot of momentum and feedback to players who have focused on acquiring and renting their cards instead of using them.
But focusing on the main subject of the post, buying legendary cards to increase my collection power or gold plated cards?
I will demonstrate some comparisons and why I chose to buy gold plated cards.
🇧🇷. Depois da recente atualização de temporadas o aluguel de cartas deu uma grande movimentação e retorno para jogadores que tem focado em adquirir e alugar suas cartas em vez de sua utilização.

Mas focando ao assunto principal da postagem, comprar cartas lendárias para aumentar meu poder de coleção ou cartas folheadas a ouro?

Irei demonstrar algumas comparações e o porquê eu escolhi comprar cartas folheadas a ouro.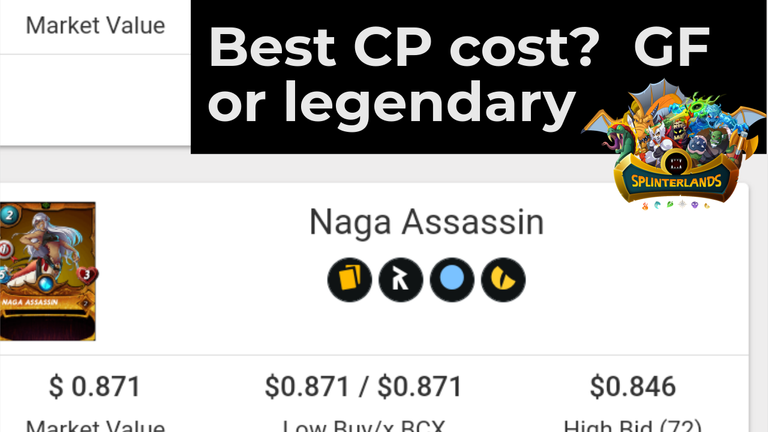 🇺🇸. Remembering that the lowest value cards for this purpose are from the Reward collection, which means that they tend to have their price reduced or without any significant increase until the end of their printing, an example is a monster that was used a lot before and also distributed in daily raffles in the Splinterlands community, I'm talking about SEA MONSTER if you still don't know this letter check out my post about it in A perhaps forgotten monster? This is the SEA MONSTER [PT/ENG].
My first comparison is between both monsters of the water element, and it will be like that with the others for a better use.
🇧🇷. Lembrando que as cartas de menor valor para esse propósito é da coleção Reward oque significa que elas tendem a ter seu preço reduzido ou sem algum aumento significativo até o fim de sua impressão, um exemplo é um monstro que antes era muito utilizado e também distribuído em sorteios diários na comunidade Splinterlands, estou falando do SEA MONSTER se você ainda não conhecê essa carta dê uma olhada no meu post referente a isso em A perhaps forgotten monster? This is the SEA MONSTER [PT/ENG].

Minha primeira comparação é entre ambos monstros do elemento água, e vai ser assim em diante com os demais para um melhor aproveitamento.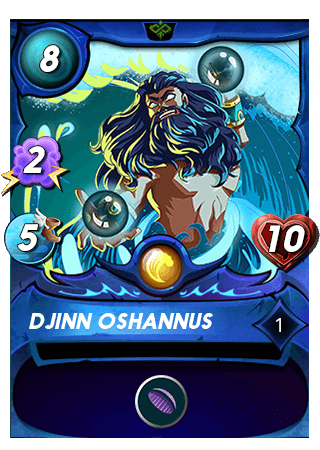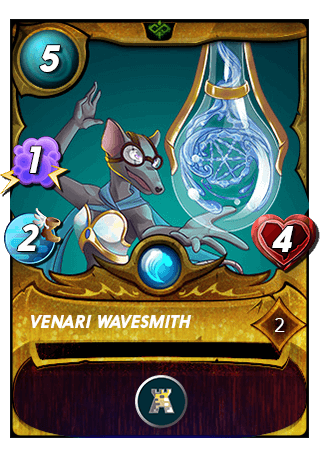 ---
---
🇺🇸. DJINN OSHANNUS is perhaps the best deal card in this current set, its ability to act as a tank and still do high damage in magic compositions, still raising the question of its high health with its *Void ability * thus making it worthy of its title, while VENARI WAVESMITH is a card used for compositions that need some protection as it provides armor to everyone and still deals magic damage, both have the same power distribution of collection (500) although the price has a small difference even though almost 50% of its distribution has already been done in both.
🇧🇷. DJINN OSHANNUS talvez seja a melhor carta em distribuição dessa coleção atual, sua possibilidade de atuar como um tanque e ainda sim causar um dano alto em composições mágicas, ainda levantando a questão de sua alta quantidade de vida com sua habilidade Void o tornando assim digno de seu título, enquanto que VENARI WAVESMITH é uma carta utilizada para composições que necessitam de alguma proteção já quê o mesmo provém armadura a todos e ainda causa dano mágico, ambos tem a mesma distribuição de poder de coleção (500) embora o preço tenha uma pequena diferença mesmo que quase 50% de sua distribuição já tenha sido feita em ambos.
| Monster | Market Price | Trend 1 Month |
| --- | --- | --- |
| DJINN OSHANNUS | $1.35 | -17% |
| VENARI WAVESMITH | $1.05 | -55% |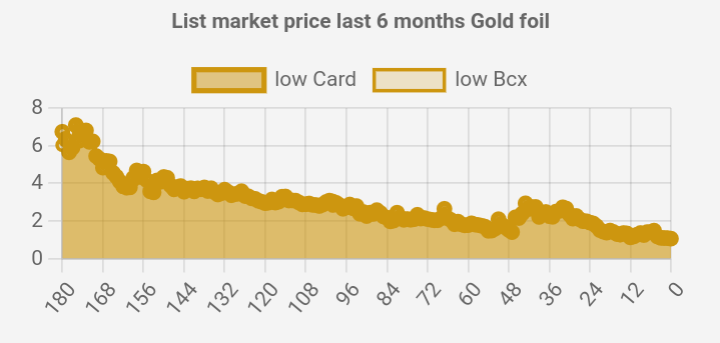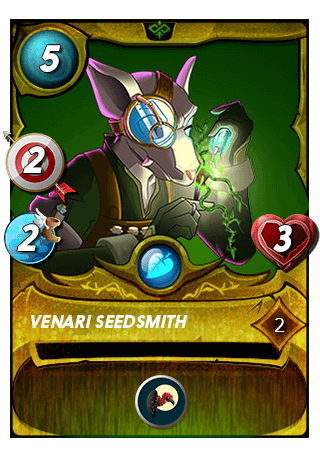 ---
---
🇺🇸. Even with the Camouflage ability of the legendary monster, I can't use it in a way that works in my strategies, it's even difficult for me to rent this card without the priority of using it, but just increasing my collection power, although VENARI SEEDSMITH I use it on many occasions since its ability allows it to increase its health as if others monsters dead, even if it reaches the first position where it makes it useless to attack I use the summoner MYLOR CROWLING and in most I get the victory.
🇧🇷. Mesmo com a habilidade Camouflage do monstro lendário, eu não consigo utilizar ele de modo que funcione em minhas estratégias, difícil mesmo eu alugar essa carta sem a prioridade de utilizar e sim de apenas aumentar meu poder de coleção, embora o VENARI SEEDSMITH eu o utilize em muitas ocasiões já que sua habilidade lhe permite ir aumentando sua vida a medida em que morre algum monstro, mesmo que ele chegue a primeira posição onde o torna inútil para ataque eu uso o invocador MYLOR CROWLING e na maioria eu consigo a vitória.
| Monster | Market | Trend 1 Month |
| --- | --- | --- |
| DJINN BILJKA | $0.88 | -37% |
| VENARI SEEDSMITH | $0.70 | -64% |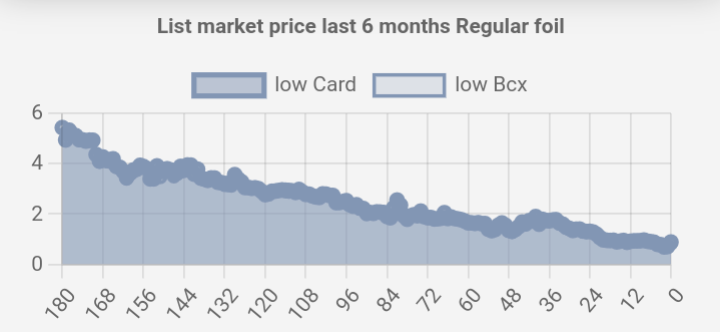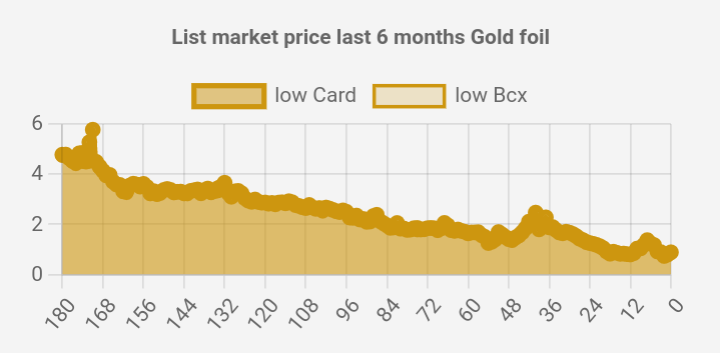 🇺🇸. Although legendary cards tend to have a higher valuation than gold-plated rare cards due to their smaller amount in distribution to players, it is still worth dispensing with them for those players who don't want to simply buy the card and wait for it to be valued and simply forget about it. in your inventory or just making it a source of income through rent.
In addition to being able to use most monsters at their level 2 without the need for a higher level summoner, it gives you a bonus in battle in DEC and points for season chests, which regular legendary cards don't have. to offer other than its gameplay.
But even for those looking only for resale, know that the price does not vary much from legendary to a rare leafed, an example followed by the first two cards presented DJINN OSHANNUS and VENARI WAVESMITH is that the highest price in 6 months of purchase of the two cards in the respective order went from $9.84 to $7.10, a difference of $2.74 dollars, nothing so harmful for their future purchase and resale, although the focus on cards of this type is for their use by the aforementioned bonuses.
🇧🇷. Embora cartas lendárias tendem a ter uma valorização maior que cartas raras folheadas a ouro devido a sua quantidade menor em distribuição aos jogadores, ainda sim vale a pena dispensar elas para aqueles jogadores que não querem simplesmente comprar a carta e esperar sua valorização e simplesmente a esquecem em seu inventário ou apenas a tornando uma fonte de renda através do aluguel.

Além de você poder utilizar os montros na maioria em seu nível 2 sem a necessidade de a utilização de um invocador de nível superior, ela lhe rende um bonus em batalha em DEC e pontos para os baús da temporada, coisa que cartas regulares lendárias não tem a oferecer a não ser na sua jogabilidade.

Mas ainda para àqueles que buscam apenas a revenda, saiba que o preço não varia muito de lendário para uma rara folheada, um exemplo seguido das duas primeiras cartas apresentadas DJINN OSHANNUS e VENARI WAVESMITH é que o maior preço em 6 meses de compra das duas cartas na respectiva ordem foram de $9.84 para $7.10, uma diferença de $2.74 dólares, nada tão prejudicial para sua compra e revenda futura, embora o foco em cartas desse tipo seja para sua utilização pelos bônus já citados.

Price, valuation and trading quantity information taken from the website Splintercards
📤. MY REFERRAL SPLINTERLAND LINK: https://splinterlands.com?ref=wlffreitas
---
---