Splinterlands, Esquadrão Suicida com a habilidade explosiva -[PT/ENG]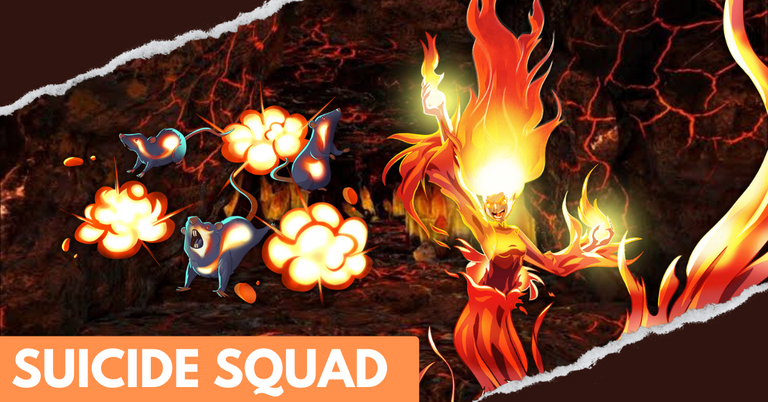 Olá a todos
Já faz um tempo que eu não tento uma nova estratégia em Splinterlands apenas para um retorno de divertimento ou algo do tipo, meu último experimento com os monstros foi a tentativa de uma composição mágica no elemento fogo e como todos sabemos esse elemento praticamente se tem um melhor desempenho focado em combate físico, eu mesmo utilizando o invocador YODIN eu prefiro a utilização de monstros corpo-a-corpo com habilidades de Sneak ou Opportunity esse último em específico já que consigo atingir em algumas ocasiões 3 monstros inimigos de uma vez embora ainda assim algumas pessoas prefiram a utilização de monstros a distância para aproveitar o bônus de ataque a distância promovido pelo invocador, se ficou interessado na postagem mencionada sobre a composição de fogo mágica pode ter a leitura completa aqui: Fire Magicians: This time our magic fire composition was good
Hello everybody

It's been a while since I tried a new strategy in Splinterlands just for a return of fun or something, my last experiment with monsters was trying to make a magic composition in the fire element and as we all know this element practically has a better performance focused on physical combat, myself using the YODIN summoner I prefer the use of melee monsters with Sneak or Opportunity abilities, this last one in particular since I can sometimes hit 3 enemy monsters at a time although still some people prefer to use ranged monsters to take advantage of the ranged attack bonus promoted by the summoner, if you were interested in the mentioned post about the composition of magic fire you can read the full thing here: Fire Magicians: This time our magic fire composition was good
Qual a composição dessa vez?
Hoje estou tentando uma composição que eu acho que pode ser chamada de Esquadrão Suicida que consiste da utilização de monstros com a habilidade Redemption e Blast, para quem não tem o costume da utilização de monstros com a habilidade Redemption já que é por ser uma habilidade que pode dar uma reviravolta no jogo ele ter como nível inicial é impossível e quase todos os monstros o tem apenas em seu último nível oque exige um custo de mediano a alto dependendo dos preços dos invocadores para sua utilização e outros afins.
What's the composition this time?

Today I'm trying a composition that I think can be called Suicide Squad which consists of using monsters with Redemption and Blast skills, for those who are not used to using monsters with the skill Redemption since it is an ability that can turn the game around, having it as an initial level is impossible and almost all monsters only have it at its last level, which requires a medium to high cost depending on the prices of the summoners for its use and the like.
Lembrando aqui que todos os monstros estão sendo indicados em seu nível máximo ou seja, um mediano / alto custo se for comprar então eu apenas indico o aluguel dos mesmos já que ode sair mais barato se você tiver a sorte de encontrar nesse nível, porém alguns monstros também funcionaram em níveis posteriores
Remembering here that all monsters are being indicated at their maximum level, that is, a medium / high cost if you are going to buy them, so I just recommend renting them as they can be cheaper if you are lucky enough to find them at that level, however some monsters also worked at later levels
---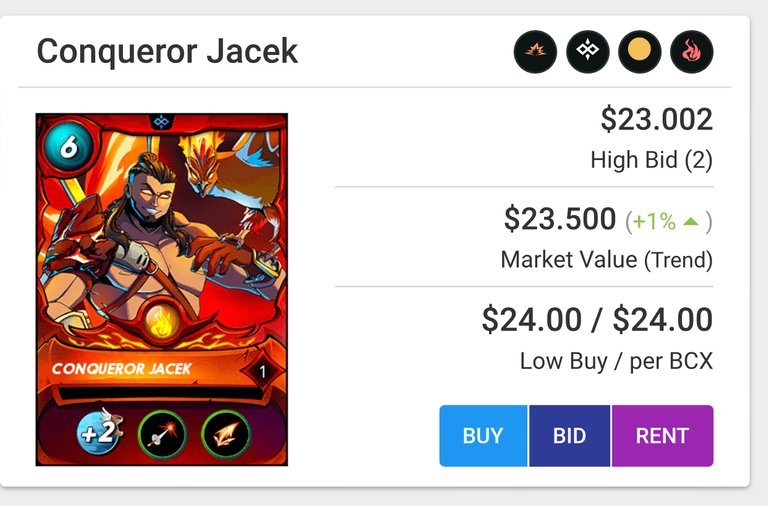 Começamos com o novo invocador que nos ira prover a habilidade Piercing para que nosso ataque explosivo não se perca na armadura do alvo caso o mesmo exceda a quantidade de pontos e ainda assim danifique a vida do oponente, além também da habilidade Scattershot que ira de forma aleatório dividir nosso ataque e como estamos falando de um ataque explosivo é sempe bem vindo qualquer acerto em monstros divididos pelo meio já que com isso teremos o acerto de três monstro em vez de apenas dois além da boa velocidade que podemos obter com esse invocador.
We start with the new summoner that will provide us with the Piercing skill so that our explosive attack doesn't get lost in the target's armor if it exceeds the amount of points and still damages the opponent's life, in addition to the Scattershot skill that will randomly divide our attack and as we are talking about an explosive attack, any hit on monsters divided in half is always welcome as with this we will have the hit of three monsters instead of just two in addition to the good speed we can get with this summoner.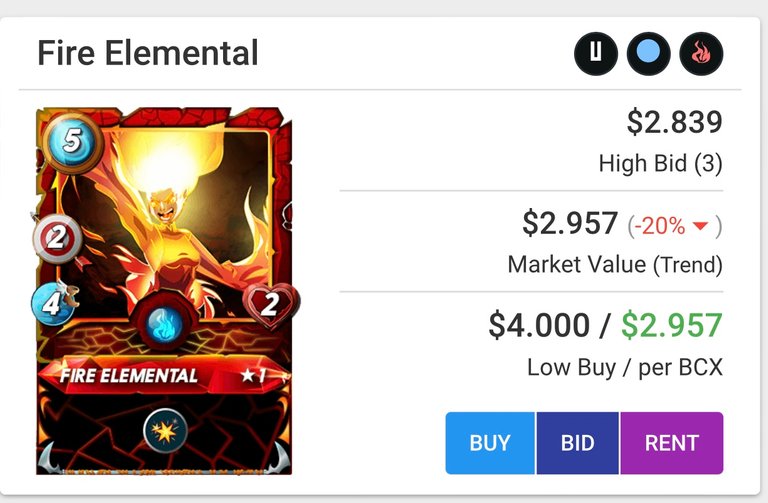 Quando eu pensei nessa possibilidade eu estava verificando comprar essa carta monstro, FIRE ELEMENTAL se destaca de início por sua habilidade Blast além da ótima velocidade e ataque mediano embora sua quantidade de vida máximo deixe a desejar em seu nível máximo ele obtém a habilidade que após sua eliminação ele ira danificar toda a equipe inimiga e como temos o invocador com Piercing não precisamos se preocupar com a armadura do oponente, não irei comentar sobre sua habilidade que corta a cura do seu alvo por que eu algo irrelevante para o nosso foco.
When I thought about this possibility I was checking to draw this monster card, FIRE ELEMENTAL stands out at first for its Blast ability in addition to the great speed and average attack although its maximum health amount leaves something to be desired at its maximum level it gets the skill that after his elimination he will damage the entire enemy team and as we have the summoner with Piercing we don't need to worry about the opponent's armor, I will not comment on his ability that cuts his target's healing because I something irrelevant to ours focus.
---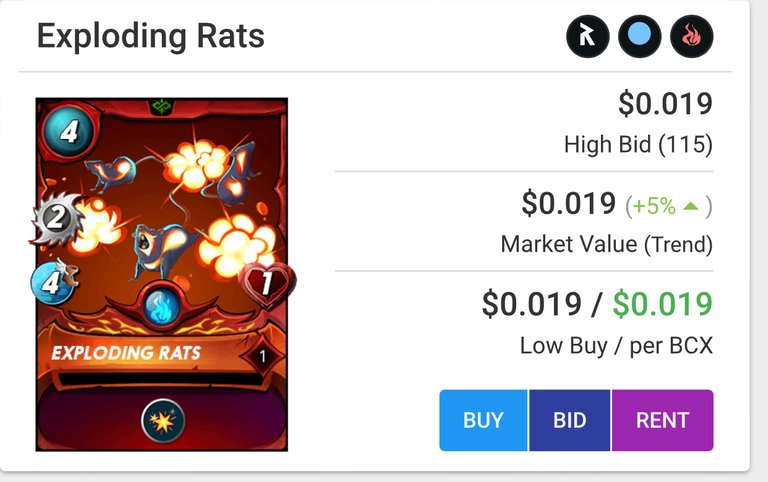 Logo em seguida temos o nosso rato suicida, praticamente esse será o seu uso para nosso time já que ele tem apenas 1 ponto de vida até mesmo em seu nível máximo então dificilmente você irá conseguir utilizar sua alta quantia de ataque (7) com a habilidade Blast oque irá causar exatamente (4) de dano aos monstros próximos se os mesmo não tiverem habilidades para reduzir ou anular esse feito, ele pode ter um aproveitamento de 100% com regras que permitem seu uso de qualquer posição ou adiciona a habilidade Sneak / Opportunity para todos os monstros corpo-a-corpo e apenas veja a emoção de satisfeito com seu investimento.
Right after that we have our suicide rat, practically this will be his use for our team as he has only 1 life point even at his maximum level so you will hardly be able to use his high amount of attack (7) with the skill Blast which will deal exactly (4) damage to nearby monsters if they don't have abilities to reduce or nullify this feat, it can have a 100% hit with rules that allow its use from any position or add the ability * Sneak / Opportunity* for all melee monsters and just see the thrill of satisfied with your investment.
---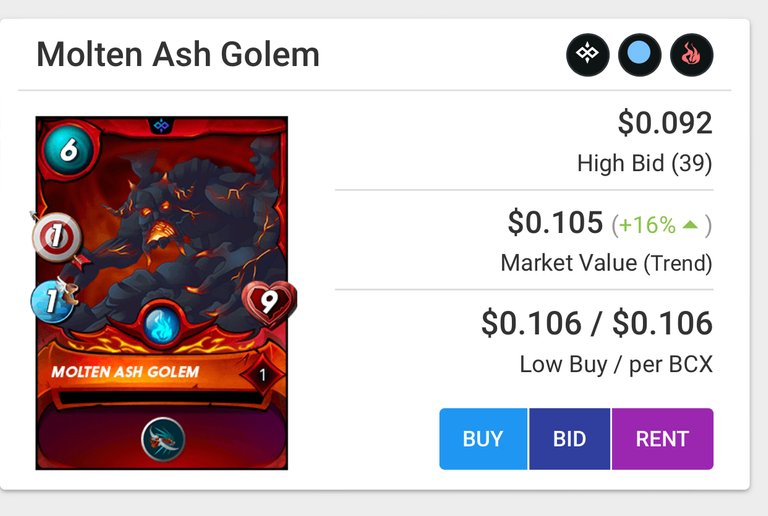 MOLTEN ASH GOLEM deve seguir como segundo tanque já que o mesmo é bastante capacitado para isso devido a sua alta quantidade de vida e sua habilidade que permite mesmo sendo um atacante a distância que ataque da primeira posição, além de que com a habilidade Weaken todos os inimigos irão ter sua saúde reduzida em -1 e -1 em ataque físico com Desmoralize eu acho que ele é um dos pilares dessa composição pela sua resistência já que temos 2 monstros "fracos" porém dependemos que eles sejam fracos para utilizar de sua habilidade única.
Um detalhe é que dentre todas essa carta tem o menor custo de compra e aluguel mesmo sua versão folheada a ouro.
MOLTEN ASH GOLEM should continue as a second tank as it is quite capable of doing so due to its high amount of health and its ability that even being a ranged attacker allows it to attack from the first position, in addition to the ability Weaken all enemies will have their health reduced by -1 and -1 in physical attack with Demoralize I think he is one of the pillars of this composition for his resistance since we have 2 "weak" monsters but we depend on them to be weak to use of your unique ability.
One detail is that among all this card has the lowest purchase and rent cost, even its gold-plated version.
---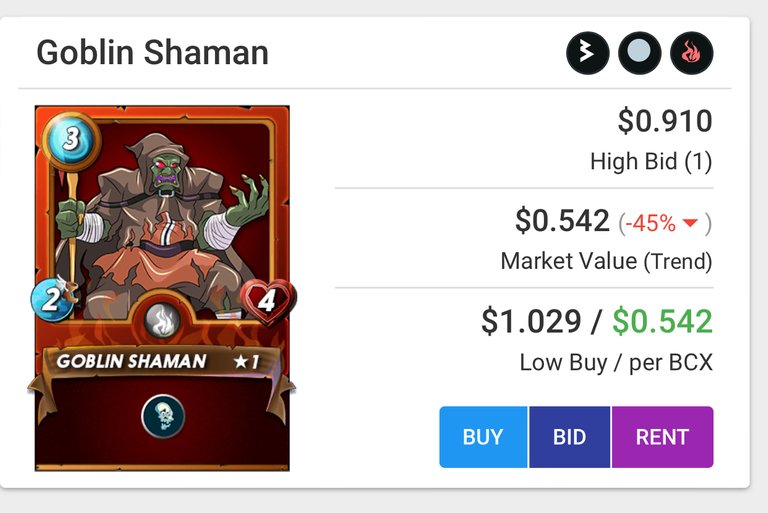 Com esse monstro e o citado anteriormente vocês já conseguiu o benefício de eliminar -2 pontos de vida da equipe adversária isso é se alguns monstro da equipe adversária tem 3 pontos de vida que em sua maioria quase sempre são os monstros com maior ataque sendo mágico ou a distância ele apenas restará com 1 oque já está declarado a vitória pela Redemption, com o bônus de velocidade recebido pelo invocador e você tendo em suas mãos a diminuição de velocidade através da habilidade desse monstro você pode ter absoluta certeza que você irá causar um grande estrago no primeiro turno graças ao Blast de sua equipe.
With this monster and the one mentioned above, you already got the benefit of eliminating -2 life points from the opposing team that is if some monsters from the opposing team have 3 life points which are almost always the monsters with the highest attack being magical or the distance it will only remain with 1 what is already declared the victory by Redemption, with the speed bonus received by the summoner and you having in your hands the speed decrease through the ability of this monster you can be absolutely sure that you will cause big damage in the first turn thanks to your team's Blast.
---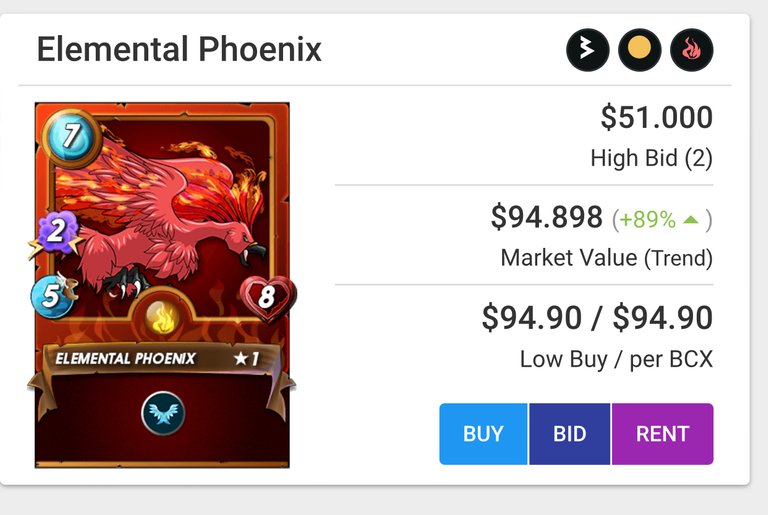 Esse monstro pode ser considerado o de maior valor de toda a composição até mesmo para simplesmente alugar devido ao fato de que além de ser lendário ele pertence a coleção Alfa e Beta e como é de se esperar todo monstro de raridade épico pra lendário tem seu preço elevadamente chegando a de menor preço custar $100 dólares, esse no caso ainda estava a $94 quando a publicação estava sendo criada, após eu revisar todo o conteúdo e editei essa parte pois já tinha sido vendida e voltou ao seu preço normal.
Eu gosto de utilizar ele como tanque quando possível já que mesmo sem a vantagem da armadura ele tem a combinação perigosa contra todo atacante físico: alta velocidade + Flying + Dodge porém pode facilmente ser eliminado contra composições mágicas mesmo tendo a possibilidade de refletir ataques desse tipo sua quantidade de vida máxima não é favorável a isso, eu sempre adquiro essa carta em início de temporada que além desses benefícios ele ainda é um ótimo causador e dano mágico.
This monster can be considered the highest value of the entire composition even for simply renting due to the fact that in addition to being legendary it belongs to the Alpha and Beta collection and as you would expect every monster of epic rarity to legendary has its price high reaching the lowest price costing $100 dollars, in this case it was still $94 when the publication was being created, after I reviewed all the content and edited this part because it had already been sold and went back to its normal price.
I like to use him as a tank when possible since even without the armor advantage he has the dangerous combo against every physical attacker: high speed + Flying + Dodge but he can easily be eliminated against magic compositions even with the possibility of reflect attacks of this type, its maximum health is not favorable to this, I always acquire this card at the beginning of the season that in addition to these benefits it is still a great deal and magic damage.
🗳️ Vote for @fernandosoder for Hive Witness.
Apoie a comunidade brasileira e delegue Hive Power para o @perfilbrasil ou vote para testemunha da comunidade Hive
🇧🇷 Participe da nossa comunidade brasileira HiveBR e apoie o perfil principal através da delegação para @hive-br

---
---