Utilizing the new FERNHEART summoner with the Scavenger strategy, Splinterlands [PT/ENG]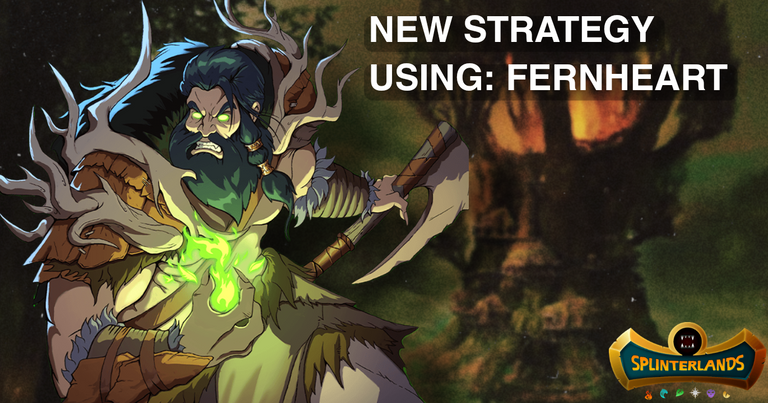 Com o recente lançamento da coleção Riftwatchers se obteve novas estratégias até então monstros quase esquecidos em ranqueadas passaram a ser bastante utilizado devido a sua utilidade e benefício com os novos invocadores, e recentemente eu estava fazendo um tipo de "experimento" com monstros do elemento terra e acabei por encontrar algo talvez interessante, trata-se da utilização de monstros a distância com a habilidade Scavenger para quem não conhecê pelo nome ela da a habilidade de que a cada monstro derrotado em batalha sendo inimigo ou não adiciona +1 em seus pontos de vida, nossa estratégia é utilizar desse benefício juntamente com a velocidade alta / mediana de algumas cartas para se criar um bom equilíbrio entre causar dano d conseguir se manter alguns turnos na linha de frente caso seja necessário em algum momento.
Já mencionado a um tempo, também usando o mesmo elemento eu compartilhei uma estratégia com o mesmo propósito de ataque a distância porém não tão eficiente quanto esse que estou a iniciar, se você quiser conferir a postagem: Backdoor at a distance, running away from the earth element magic pattern
With the recent release of the Riftwatchers collection, new strategies were obtained until then, monsters almost forgotten in ranked started to be used a lot due to their usefulness and benefit with new summoners, and recently I was doing a kind of "experiment" with monsters of the earth element and I ended up finding something perhaps interesting, it is the use of monsters from a distance with the skill Scavenger for those who don't know by name it gives the ability that each monster defeated in battle, being an enemy or not, adds +1 to your life points, our strategy is to use this benefit together with the high / medium speed of some cards to create a good balance between dealing damage and being able to stay a few turns on the front line if necessary at any time.

Already mentioned a while ago, also using the same element I shared a strategy with the same purpose of ranged attack but not as efficient as the one I'm starting, if you want to check the post: Backdoor at a distance, running away from the earth element magic pattern

Primeiramente essa estratégia envolve sempre a necessidade de utilização do invocador FERNHEART, ele adiciona a possibilidade de qualquer atirador da sua equipe de atacar da primeira posição além de adicionar +1 de vida, isso é muito importante para nossa estratégia já que utilizaremos no mínimo 3 atiradores essenciais na nossa composição, salvo aqui quantidades mínimas de mana disponível para a utilização da mesma, caso isso aconteça você deve escolher com cautela qual dos 3 monstros selecionar a fim de obter uma vitória e não uma derrota, os monstros apresentados são:
Firstly, this strategy always involves the need to use the summoner FERNHEART, it adds the possibility for any shooter on your team to attack from the first position in addition to adding +1 health, this is very important for our strategy as we will use at least 3 essential snipers in our composition, except here minimum amounts of mana available for its use, if this happens you must carefully choose which of the 3 monsters to select in order to obtain a victory and not a defeat, the monsters shown are: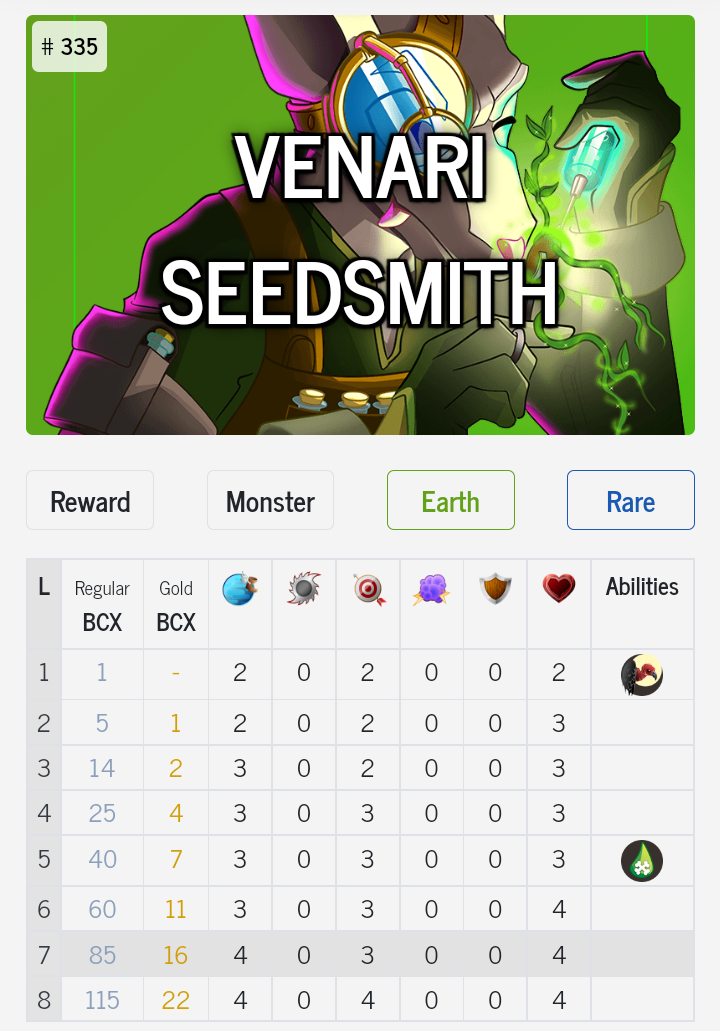 O VENARI SEEDSMITH é a carta mais acessível nessa composição até o momento, já que a mesma está sendo distribuída através da coleção Rewards, você facilmente vai encontrar ela no preço base de $0.010 , sua movimentação de mercado obteve um aumento de +12%, (droga alguém deve ter descoberto essa estratégia antes da criação dessa postagem), nível mínimo para se ter em batalha é o (2) já que o mesmo não obtém atributos interessantes além de +1 ponto de vida até após o nível (5) onde além de obter a possibilidade de envenenar seus oponentes ele tem +1 em ataque a distância e uma velocidade descente, para obter o monstro nesse nível através da compra direta eu recomendo o #peakmonsters pela sua interface ser mais amigável que a do jogo em si além dos benefícios que se obtém comprando cartas nesse site, o preço do nível (5) é de $0.940 ou seja por menos de $1 você consegue esse monstro em seu auge e todos os benefícios citados acima.
VENARI SEEDSMITH is the most accessible card in this composition so far, as it is being distributed through the Rewards collection, you will easily find it at the base price of $0.010, its market movement has increased by +12% , (damn someone must have discovered this strategy before creating this post), minimum level to have in battle is (2) as it doesn't get interesting attributes beyond +1 health until after level (5) where in addition to getting the possibility to poison your opponents he has +1 in ranged attack and a decent speed, to get the monster at that level through direct purchase I recommend #peakmonsters because its interface is more friendly than the game itself in addition to the benefits you get by buying cards on this site, the price of level (5) is $0.940, that is, for less than $1 you can get this monster at its peak and all the benefits mentioned above.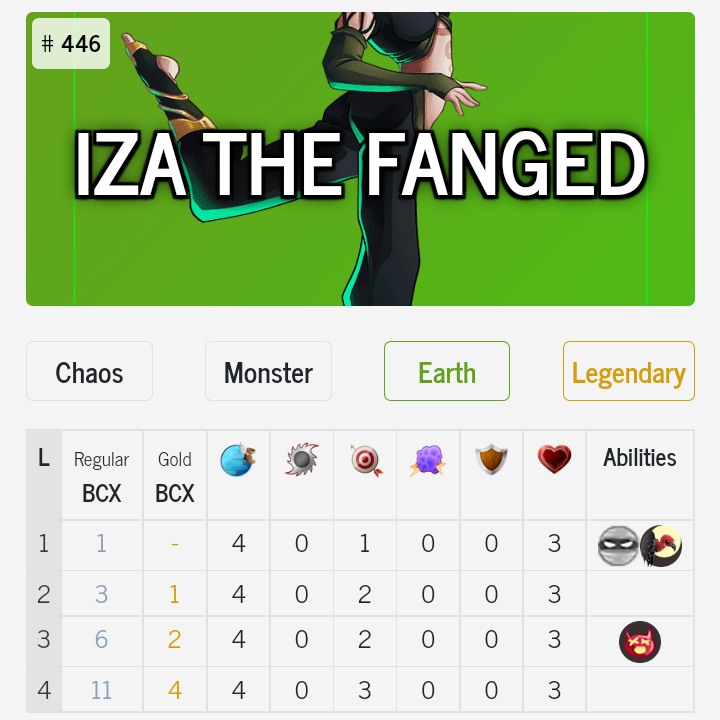 A lendária que chegou com a coleção do Chaos Legion, seu custo atual está em $2.500 porém sua tendência caiu hoje em -4% quase nada praticamente, sua vantagem está em se beneficiar da habilidade Sneak com o Scavenger já que normalmente na última posição ficam os monstros mais frágeis causadores de dano, salvo engano para aqueles malditos que conseguem um tanque com habilidade Shield oque negaria o ataque desse monstro caso você a utilize no seu nível inicial, particularmente eu penso que o nível (2) é o máximo para você já que o nível (3) você apenas obtém a possibilidade de atordoar seus inimigos, porém para isso você teria que investir mais tanto na compra do monstro quanto no invocador de nível superior, talvez um gasto desnecessário já que tem monstros do mesmo elemento com esse foco de atordoamento além de ser bem mais efetivo.
Claro se você deseja apenas alugar já elimina uma boa quantidade que iria para a compra das cartas já que seu aluguel costuma ser bastante acessível como mencionado na primeira parte da postagem alguns monstros que antes eram esquecidos agora podem ter uma chance de brilhar e então seu preço de aluguel é bem acessível para todos.
The legendary that arrived with the Chaos Legion collection, its current cost is $2,500 but its trend dropped today by -4% almost nothing, its advantage is in benefiting from the Sneak ability with the Scavenger since normally in the last position are the most fragile monsters that deal damage, except for those damned who get a tank with Shield skill which would negate this monster's attack if you use it at its initial level, particularly I think the level (2) is the maximum for you since level (3) you only get the possibility to stun your enemies, but for that you would have to invest more both in the purchase of the monster and in the higher level summoner, perhaps an unnecessary expense already which has monsters of the same element with this stun focus as well as being much more effective.
Of course if you just want to rent it already eliminates a good amount that would go to buy the cards as your rent is usually quite affordable as mentioned in the first part of the post some monsters that were previously forgotten may now have a chance to shine and so their price rental is very affordable for everyone.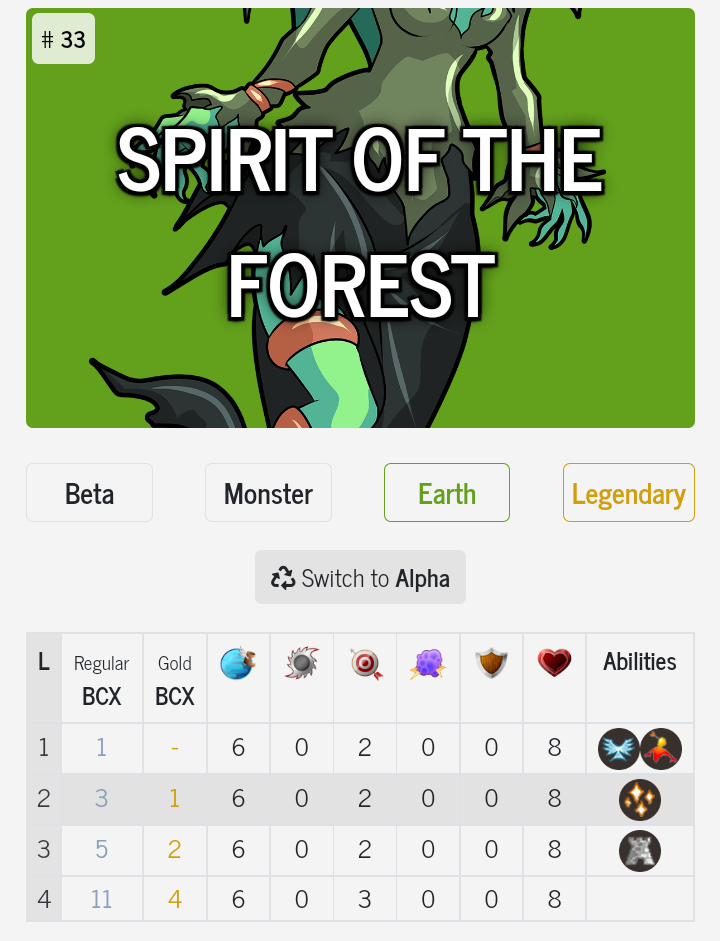 Ainda sonho em obter esse monstro da edição Beta mas por enquanto aínda está um preço salgado sendo o mínimo chegando a quase $100 dólares já deixei um lance de $30.000, muito abaixo do valor eu sei mais é para que algum vendedor desesperado o adicione ao mercado já que o último conseguiu adquirir ela por apenas $73.333, no máximo desejo adquirir por $50.000.
Já relatei sobre a eficiência desse monstro no artigo na primeira parte da postagem, eu estou utilizando ele nessa estratégia como um segundo tanque e as vezes como primeira posição, ela tem uma ótima velocidade além da habilidade Flying ela é quase um PHANTOM OF THE ABYSS do elemento terra, em seu segundo nível obter a habilidade cura é essencial para obter um aproveitamento de 100% da estratégia.
I still dream of getting this monster of the Beta edition but for now it's still a hefty price with the minimum reaching almost $100 dollars I've already left a bid of $30,000, far below the value I know more is for some desperate seller to add it to the market since the last one managed to buy it for only $73,333, at most I want to buy it for $50,000.
I already reported about the efficiency of this monster in the article in the first part of the post, I'm using it in this strategy as a second tank and sometimes as a first position, it has great speed in addition to the Flying skill it's almost a PHANTOM OF THE ABYSS of the earth element, at its second level getting the healing skill is essential to get a 100% advantage of the strategy.


🏆 My link to Splinterlands : https://splinterlands.com?ref=wlffreitas
🗳️ Vote for @fernandosoder for Hive Witness.
Apoie a comunidade brasileira e delegue Hive Power para o @perfilbrasil ou vote para testemunha da comunidade Hive
🇧🇷 Participe da nossa comunidade brasileira HiveBR e apoie o perfil principal através da delegação para @hive-br

---
---