Booker's License Now Available!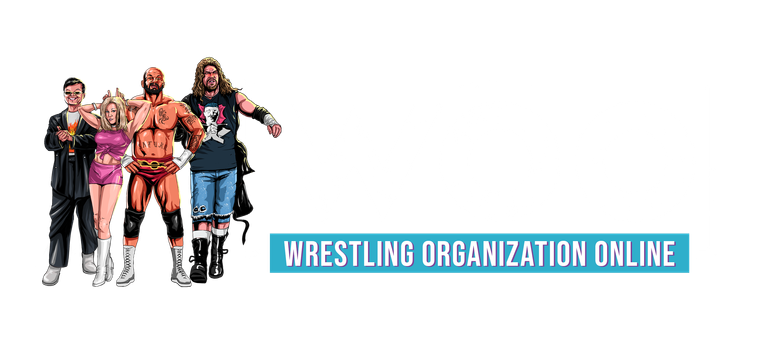 Get Your Booker's License For a Discount!
That's right, from now until the game releases you can obtain your Booker's License for the discounted price of $5! This promotional discount will continue until the game releases at which point the price per license will DOUBLE and will cost users $10. This is a perfect time to get your Booker's License early and be ready to earn rewards once the game is live.
Players without a Booker's License will not earn the $WOO token or any other rewards, but will still be able to play the game in a limited fashion, so don't miss out on this fantastic promotional deal!
Let's take a look at how easy it is to buy the Booker's License in a few easy steps!
How To Buy The Booker's License
First, head on over to our official website and log in with your #Hive account. Once you're logged in you will notice the "Get Booker's License" button as you see highlighted in the image below.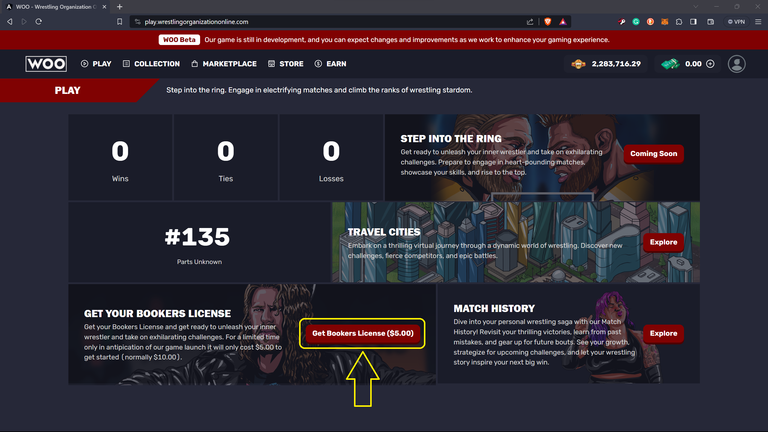 Once you click the highlighted button it will pop up a new modal as seen below.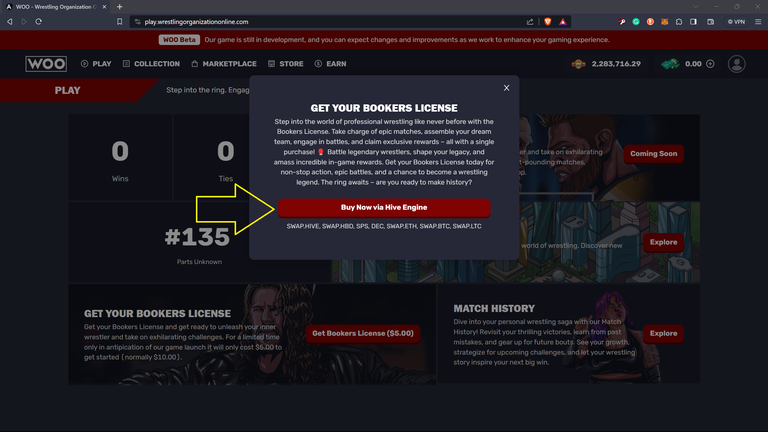 We currently only accept Hive Engine tokens, but more payment options will be added in the future. Click "Buy now via Hive Engine" to proceed.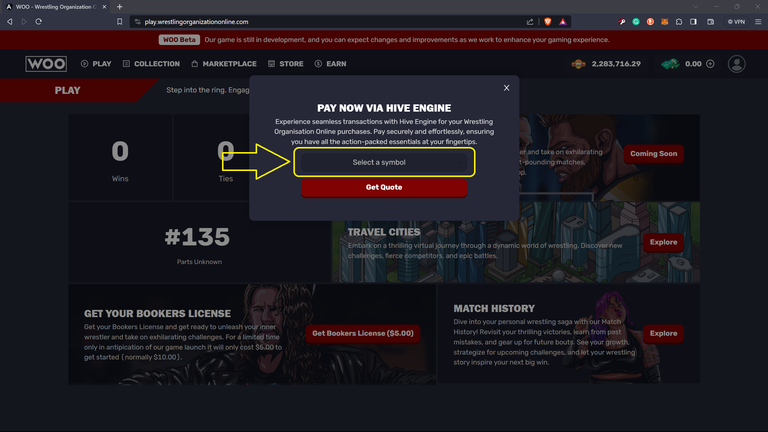 You can now click "Select a symbol" as highlighted above to see a list of supported tokens you can use for this purchase as seen below.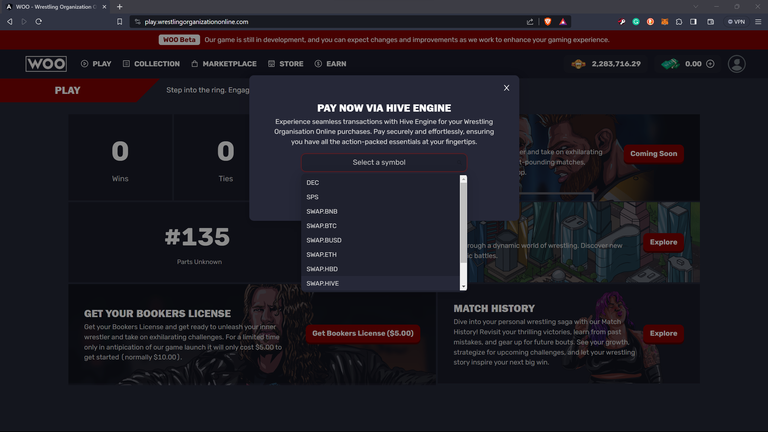 As you can see, we have many token options including #splinterlands assets like $DEC and $SPS. Let's go ahead and choose $SPS for this example.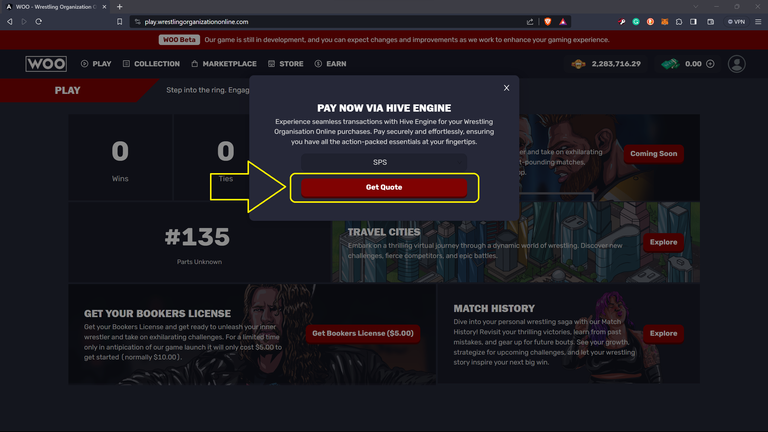 Once you have your token chosen, make sure you have enough of that token in your wallet before you press "Get Quote" or else it will come back with an error stating you do not have enough of the chosen token.
Click the button highlighted above and the modal will populate with the amount of $SPS needed to finalize this purchase, as seen below.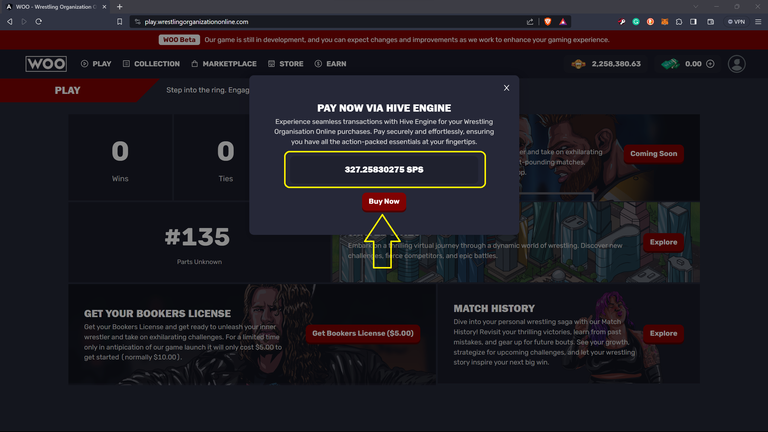 Now, it's as simple as clicking "Buy Now" to complete your purchase. Once your purchase is completed you will see a confirmation as seen below.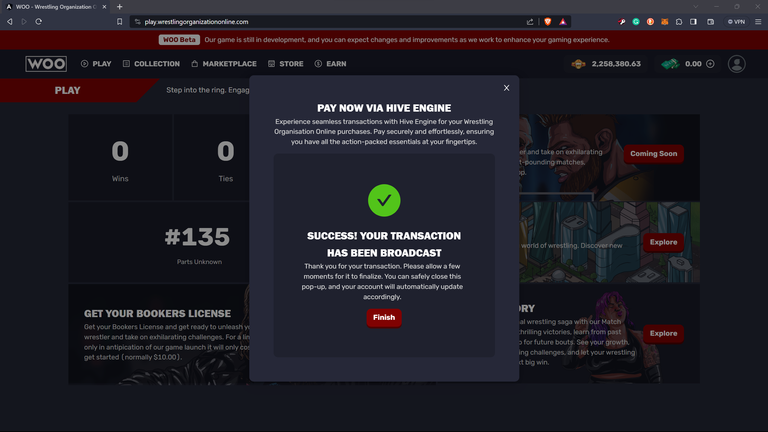 Now, if you click finish or reload the page you will notice under "Get Your Booker's License" the button is greyed out and states "Already Bought".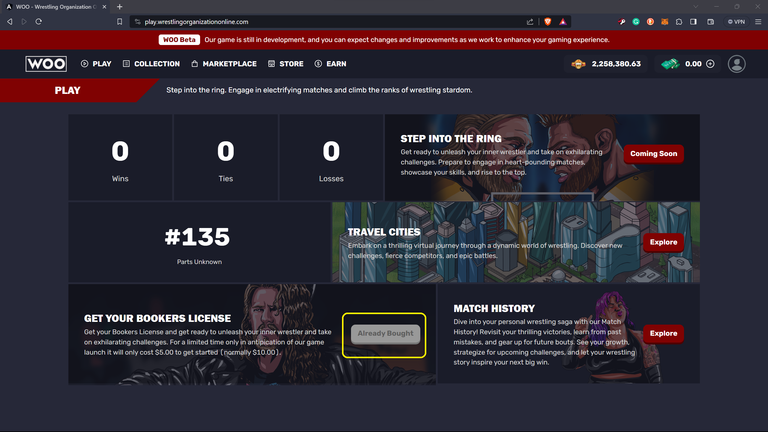 That's it! You have now purchased your Booker's License at a 50% discount and now you're ready to earn rewards once the game launches.
And, don't forget your purchase also helps out WOO's partnered wrestlers who have put their bodies on the line for everyone's entertainment. So, be proud that not only are you ready to earn rewards, but you also made a charitable action towards the betterment of the wrestling industry!
SEE YOU IN THE RING!

Did you know we've recently launched our witness for @wrestorgonline, if you like what we're creating please consider supporting us by voting here.
Buy WOO Token and stake your WOO for APY!
Claim your airdrops for holding packs!
Use your NFTs in our minigame or WOO NFT mining!
Follow WOO on Twitter and join our Discord!
Check out our WHITEPAPER!
Get your packs from Hive-Engine and Tribaldex
#oneup #ctp #leofinance #alive #aliveandthriving #archon #neoxian #proofofbrain #hivepizza #spt
---
---