WOO Sit Down With Sonny 2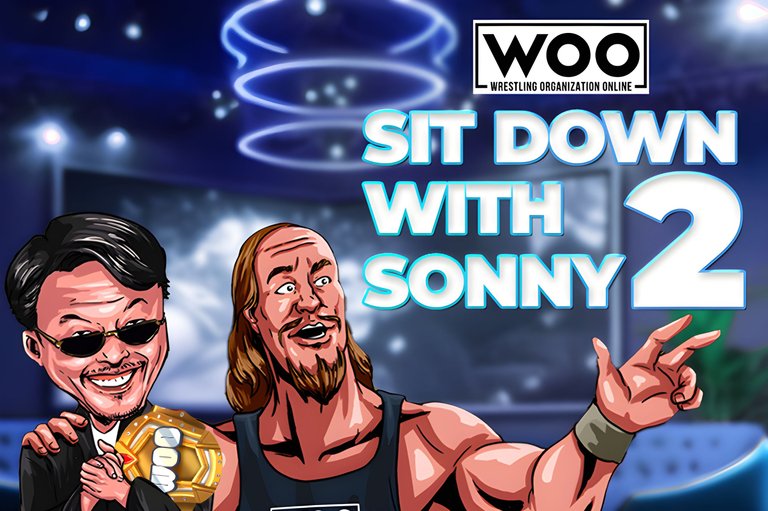 Image Created By @randumb
Sitdown With Sonny 2 - An Event Coming Thursday Night!
Wrestling Organization Online is thrilled to announce the second "Sitdown With Sonny" event, featuring the one and only Sonny Onoo, former WCW manager and wrestling legend. This exciting event is set to take place on Thursday night, March 29th, and promises to be an unforgettable experience for wrestling fans worldwide.
The first "Sitdown With Sonny" event was a huge success, and we're expecting even more excitement and engagement this time around. Sonny Onoo is one of the fascinating figures in the wrestling world, and he's sure to have plenty of stories and insights to share with fans during the event.
This upcoming event will be a unique opportunity for fans to get up close and personal with Sonny as he shares his experiences and perspectives on the world of professional wrestling. Whether you're a lifelong wrestling fan or just curious about this fascinating world, "Sitdown With Sonny" is the perfect opportunity to dive deeper into the sport and its history.
During the event, fans can submit questions and comments to Sonny, who will answer them live on air. This interactive format ensures everyone can participate and engage in the conversation, creating a fascinating and dynamic event.
We're proud to partner with Sonny Onoo for this event, and we're confident that he'll bring his trademark energy and enthusiasm to the proceedings. Don't miss your chance to be a part of this unforgettable experience!
We're also excited to announce that we're looking for #Hive blockchain users to join us in asking questions during the event. If you're a Hive user, you obviously are if you're reading this post, we encourage you to put your questions in the comments section of this post or join our Discord at https://discord.gg/woogame to submit your questions directly to Sonny.
This special WrestleMania weekend event promises to be a must-see for wrestling fans everywhere, and we're thrilled to offer our Hive community members a chance to participate. Don't forget to follow us on Twitch to catch the event's live stream and join in on the conversation.
We can't wait to see your questions for Sonny, so don't be shy! Submit your questions and join us for an unforgettable evening of wrestling talk and insight.

Did you know we've recently launched our witness for @wrestorgonline, if you like what we're creating please consider supporting us by voting here.
Buy WOO Token and stake your WOO for APY!
Claim your airdrops for holding packs!
Use your NFTs in our minigame or WOO NFT mining!
Follow WOO on Twitter and join our Discord!
Check out our WHITEPAPER!
Get your packs from Hive-Engine and Tribaldex
#oneup #ctp #leofinance #alive #aliveandthriving #archon #neoxian #proofofbrain #hivepizza #spt
---
---